Abstract
We propose a model of 'premature tree decline' whereby an absence of fire hastens the mortality of overstorey eucalypts in some forests. This model is relevant to some temperate Australian forests in which fire regimes have shifted from relatively frequent before European settlement to infrequent following settlement. The increased development of midstorey vegetation and litter accumulation has occurred since European settlement in some specific examples of Australian forests and woodlands. Our model proposes that in the long absence of fire: 1. midstorey vegetation reduces the availability of soil water for eucalypts and; 2. Eucalypts have less access to P and/or cations as these elements become locked up in soil, litter and midstorey biomass. We highlight important knowledge gaps and argue that research into ecological burning, for eucalypt health and other values such as biodiversity, is urgently required.
Access options
Buy single article
Instant access to the full article PDF.
US$ 39.95
Tax calculation will be finalised during checkout.
Subscribe to journal
Immediate online access to all issues from 2019. Subscription will auto renew annually.
US$ 79
Tax calculation will be finalised during checkout.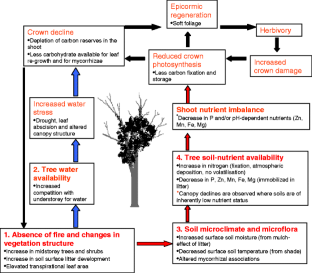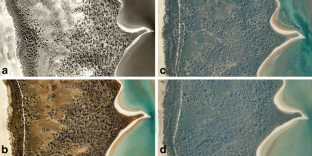 Literature Cited
Abrams, M. D. 1992. Fire and the development of oak forests. Bioscience 42: 346–353.

———. 1998. The red maple paradox. BioScience 48: 355–364.

———. 2003. Where has all the white oak gone? Bioscience 53: 927–939.

Adams, M. A. 2007. Nutrient cycling in forests and heathlands: an ecosystem perspective from the water-limited south. Pages 333–360 in P. Marshner, & Z. Rengel (eds.), Nutrient cycling in terrestrial ecosystems, Springer, Berlin.

——— & P. M. Attiwill. 1991. Nutrient balance in forests of northern Tasmania. 2. Alteration of nutrient availability and soil-water chemistry as a result of logging, slash-burning and fertiliser application. Forest Ecology and Management 44: 115–131.

——— & L. T. Byrne. 1989. 31P-NMR analysis of phosphorus compounds in extracts of surface soils from selected Karri (Eucalyptus diversicolor F. Muell.) forests. Soil Biology and Biochemistry 21: 523–528.

Archibald, R. D., B. J. Bowen, G. E. St. J. Hardy, J. E. D. Fox & D. J. Ward. 2005. Changes to tuart woodland in Yalgorup National Park over four decades. in M. Calver, H. Bigler-Cole, G. Bolton, J. Dargavel, A. Gaynor, P. Horwitz, J. Mills, & G. Wardell-Johnson (eds.), Proceedings 6th National Conference of the Australian Forest History Society Inc., September 2004, Augusta, Western Australia. Millpress, Rotterdam.

Bowman, D. M. J. S. 1998. The impact of Aboriginal landscape burning on the Australian biota. New Phytologist 140: 385–410.

Boyle, S. I., S. C. Hart, J. P. Kaye & M. P. Waldrop. 2005. Restoration and canopy type influence soil microflora in a ponderosa pine forest. Soil Science Society of America Journal 69: 1627–1638.

Covington, W. W., P. Z. Fulé, M. M. Moore, S. C. Hart, T. E. Kolb, J. N. Mast, S. S. Sackett & M. R. Wagner. 1997. Restoring ecosystem health in ponderosa pine forests of the southwest. Journal of Forestry 95: 23–29.

Davidson, N. J., D. C. Close, M. Battaglia, K. Churchill, M. Ottenschlarger, T. Watson & J. Bruce. 2007. Eucalypt health and agricultural land management within bushland remnants in the Midlands of Tasmania, Australia. Biological Conservation 139: 439–446.

Ellis, R. C. 1971. Dieback of alpine ash as related to changes in soil temperature. Australian Forestry 35: 152–163.

———. 1985. The relationships among eucalypt forest, grassland and rainforest in a highland area in north-eastern Tasmania. Australian Journal of Ecology 10: 297–314.

——— & P. I. Pennington. 1992. Factors affecting the growth of Eucalyptus delegatensis seedlings in inhibitory forest and grassland soils. Plant and Soil 145: 93–105.

———, A. B. Mount & J. P. Mattay. 1980. Recovery of Eucalyptus delegatensis from high altitude dieback after felling and burning the understorey. Australian Forestry 43: 29–35.

Granger, L., S. Kasel & M. A. Adams. 1994. Tree decline in southeastern Australia: Nitrate reductase activity and indications of unbalanced nutrition in Eucalyptus ovata (Labill.) and E. camphora (R.T. Baker) communities at Yellingbo, Victoria. Oecologia 98: 221–228.

Guarín, A. & A. H. Taylor. 2005. Drought triggered tree mortality in mixed conifer forests in Yosemite Nati1onal Park, California, USA. Forest Ecology and Management 218: 229–244.

Hart, S. C., T. H. DeLuca, G. S. Newman, M. D. MacKenzie & S. I. Boyle. 2005. Post-fire vegetative dynamics as drivers of microbial community structure and function in forest soils. Forest Ecology and Management 220: 166–184.

Hunt, M. A. & C. L. Beadle. 1998. Whole-tree transpiration and water-use partitioning between Eucalytus nitens and Acacia dealbata weeds in a short-rotation plantation in northeastern Tasmania. Tree Physiology 18: 557–563.

Jackson, W. D. 1968. Fire, air, water and earth—an elemental ecology of Tasmania. Proceedings of the Ecological Society of Australia 3: 9–16.

Jurskis, V. 2005. Eucalypt decline in Australia, and a general concept of tree decline and dieback. Forest Ecology and Management 215: 1–20.

———, & J. Turner. 2002. Eucalypt dieback in Eastern Australia: a simple model. Australian Forestry 65: 87–98.

Kirkpatrick, J. B. 1986. The viability of bush in cities—ten years of change in an urban grassy woodland. Australian Journal of Botany 34: 691–708.

———, & F. Marks. 1985. Observations on drought damage to some native plant species in eucalypt forests and woodlands near Hobart, Tasmania, Australia. Papers and Proceedings of the Royal Society of Tasmania 119: 15–22.

———, D. Wilson, A. Meiss, A. Mollon & K. L. Bridle. 2007. Trees on the run. Pages 125–136 in J. B. Kirkpatrick, & K. L. Bridle (eds.), People, sheep and nature conservation. CSIRO, Collingwood.

Landsberg, J., J. Morse & P. Khanna. 1990. Tree dieback and insect dynamics in remnants of native woodlands on farms. Proceedings of the Ecological Society of Australia 16: 149–165.

Lunt, I. D. 1998. Allocasuarina (Casuarinaceae) invasion of an unburnt coastal woodland at Ocean Grove, Victoria: Structural changes 1971–1996. Australian Journal of Botany 46: 649–656.

McBride, J. R. & D. F. Jacobs. 1980. Land use and fire history in the mountains of southern California. In Proceedings, Fire History Workshop, General Technical Report RM-81, pp 85–88, US Department of Agriculture and Forestry Service, Rocky Mountains Forest and Range Experimental Station, For Collins, Colarado.

Miller, W. W., D. W. Johnson, C. Denton, P. S. J. Verburg, G. L. Dana & R. F. Walker. 2005. Inconspicuous nutrient laden surface runoff from mature forest Sierran watersheds. Water, Air and Soil Pollution 163: 3–17.

Nowacki, G. J. & M. D. Abrams. 2008. The demise of fire and mesophication of forests in the eastern United States. BioScience 58: 1–16.

O'Connell, A. M. & D. S. Mendham. 2004. Impact of N and P fertiliser application on nutrient cycling in jarrah (Eucalyptus marginata) forests of south western Australia. Biology and Fertility of Soils 40: 136–143.

Sala, A., E. V. Carey, R. E. Keane & R. M. Callaway. 2001. Water use by whitebark pine and subalpine fir: potential consequences of fire exclusion in the northern Rocky Mountains. Tree Physiology 21: 717–725.

———, D. G. Peters, L. R. McIntyre & M. G. Harrington. 2005. Physiological responses of ponderosa pine in western Montana to thinning, prescribed fire and burning season. Tree Physiology 25: 339–348.

Tomkins, I. B., J. D. Kellas, K. G. Tolhurst & D. A. Oswin. 1991. Effects of fire intensity on soil chemistry in a eucalypt forest. Australian Journal of Soil Research 29: 25–47.

Turner, J. & M. Lambert. (2005). Soil and nutrient processes related to eucalypt forest dieback. Australian Forestry 68: 251–256.

Wardle, D. A., L. R. Walker & R. D. Bardgett. 2004. Ecosystem properties and forest decline in contrasting long-term chronosequences. Science 305: 509–513

Werkman, T. & N. J. Davidson & D. C. Close. 2008. Is decline in high altitude eucalypt forests related to rainforest understorey development and altered soil bacteria following the long absence of fire? Austral Ecology 33: 880–890

Withers, J. & D. H. Ashton. 1977. Studies on the status of unburnt Eucalyptus woodland at Ocean Grove, Victoria. 1 The Structure and regeneration. Australian Journal of Botany 25: 623–637.

Wittkuhn, R. S. 2002. Nutrient dynamics of the grasstree Xanthorrhoea preissii. Ph.D. Thesis, Curtin University of Technology, Perth.
Acknowledgements
We thank Ian Abbott, Paul Barber, Frank Batini, Bob Ellis, Vic Jurskis, Rick Sneeuwjagt, Perry Swanborough, Kevin Tolhurst, John Turner, Dave Ward and Roy Wittkuhn for discussions during the preparation of this manuscript. David Bowman provided insightful comments on an earlier version of the manuscript. The Bushfire CRC provided Fellowship to DC Close and the operational funds for the unpublished research results by Close et al. referred to in this manuscript.
About this article
Cite this article
Close, D.C., Davidson, N.J., Johnson, D.W. et al. Premature Decline of Eucalyptus and Altered Ecosystem Processes in the Absence of Fire in Some Australian Forests. Bot. Rev. 75, 191–202 (2009). https://doi.org/10.1007/s12229-009-9027-y
Keywords
Ecological Burning

Fire Management

Nutrient Cycling

Water Competition