Abstract
In the Caribbean region, the Melastomataceae are represented by about 450 species (from 28 genera), close to 400 of them endemic. The majority of these endemic species (approximately 330) belong to the tribe Miconieae, a monophyletic group characterized by flowers with inferior or partly inferior ovaries that develop into baccate fruits, stamens with no or only poorly developed connective appendages, and the absence of megastyloids and imbricate bracts at the base of the flowers. A phylogenetic analysis of 460 accessions from 450 species of the tribe Miconieae, including 139 present in the Antilles (103 of these endemic), was performed based on nuclear (nrITS) and plastid (ndhF) DNA sequence data. This analysis shows that most of the Caribbean endemics are the product of five radiation events: (1) a clade containing the Caribbean endemic (or near-endemic) genera Pachyanthus, Calycogonium, Tetrazygia and Charianthus, as well as a few representatives of Miconia and Leandra. (2) The genus Mecranium. (3) The Caribbean species of Miconia section Chaenopleura (which are probably not the sister group of Andean Chaenopleura). (4) The Greater Antillean species of Clidemia and Ossaea (including Sagraea). (5) The Lesser Antillean representatives of Clidemia. Caribbean endemics that are more closely related to mainland species, rather than other Caribbean species are rare, and these often are segregates of widespread continental species. Because of a lack of resolution at the base of several clades, it is currently not possible to determine which mainland groups are the closest relatives of these Caribbean endemics, thus preventing us from establishing unequivocally the geographical origins of these species.
Resumen
En la región del Caribe la familia Melastomataceae está representada por cerca de 450 especies (de 28°géneros), 400 de ellas endémicas. La mayoría de estas especies (approximately 330) pertenecen a la tribu Miconieae, un grupo monofilético caracterizado por flores con ovario parcial o totalmente ínfero que se desarrollan en frutos bayados, estambres con apéndices ausentes o poco desarrollados, ausencia de mega estiloides, y la ausencia de brácteas imbricadas en la base del as flores. Se realizó un análisis filogenético basado en secuencias nucleares (nrITS) de cloroplasto (ndhF) para la tribu Miconieae. El análisis incluyó 460 individuos, representando 450 especies de la tribu, de las cuales 139 están presentes en el Caribe (103 de estas endémicas). El análisis muestra que la mayoría de las especies endémicas del Caribe son producto de cinco eventos de radiación: (1) Un clado que contiene los géneros endémicos (o casi endémicos) Pachyanthus, Calycogonium, Tetrazygia y Charianthus, así como representantes de Miconia y Leandra. (2) El género Mecranium. (3) las especies Antillanas de Miconia sección Chaenopleura. (4) Las especies de las Antillas mayores de Clidemia y Ossaea (incluyendo Sagraea). (5) Las especies de las Antillas menores de Clidemia. Especies endémicas del Caribe que son hermanas o que están cercanamente relacionadas con especies del continente, y no con especies de la región son raras, y generalmente son segregadas de especies de amplia distribución. Debido a la falta de resolución en la base de muchos de estos clados en este estudio, en este momento no es posible determinar con precisión que grupos presentes en el continente son hermanos a los grupos del Caribe, por lo que no es posible establecer los orígenes geográficos de la mayoría de grupos endémicos.
Access options
Buy single article
Instant access to the full article PDF.
US$ 39.95
Tax calculation will be finalised during checkout.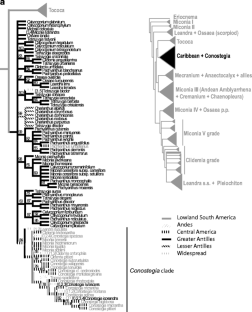 Literature Cited
Bécquer-Granados, E. R., K. M. Neubig, W. S. Judd, F. A. Michelangeli, J. R. Abbott, & D. S. Penneys. 2008. Preliminary molecular phylogenetic studies in Pachyanthus (Miconieae, Melastomataceae). Bot. Rev. (in press).

Blake, J. G., & B. A. Loiselle. 1992. Fruits in the diets of neotropical migrant birds in Costa-Rica. Biotropica 24:200–210.

Clausing, G. & S. S. Renner. 2001. Molecular phylogenetics of Melastomataceae and Memecylaceae: implications for character evolution. Amer. J. Bot. 88:486–498.

Ellison, A. M., J. S. Denslow, B. A. Loiselle, & M. D. Brenes. 1993. Seed and seedling ecology of neotropical Melastomataceae. Ecology 74:1733–1749.

Farris, J. S., V. A. Albert, M. Kallersjo, D. Lipscomb, & A. G. Kluge. 1996. Parsimony jackknifing outperforms neighbor-joining. Cladistics 12:99–124.

Fritsch, P.-W., & T.-D. McDowell. 2003. Biogeography and phylogeny of Caribbean plants: introduction. Syst. Bot. 28:376–377.

Fritsch, P. W., F. Almeda, S. S. Renner, A. B. Martins, & B. C. Cruz. 2004. Phylogeny and circumscription of the near-endemic Brazilian tribe Microlicieae (Melastomataceae). Amer. J. Bot. 91:1105–1114.

Galetti, M., & D. Stotz. 1996. Miconia hypoleuca (Melastomataceae) as keystone species for frugivorous birds in Southeastern Brazil. Rev. Bras. Biol. 56:435–439.

Goldenberg, R., D. S. Penneys, F. Almeda, W. S. Judd, & F. A. Michelangeli. Phylogeny of Miconia (Melastomataceae): initial insights into broad patterns of diversification in a megadiverse neotropical genus. Int. J. Plant. Sci. (in press).

Goloboff P., J. S. Farris, & K. C Nixon. 2001. TNT beta version. Software and documentation available from P. Goloboff. Tucuman, Argentina.

Graham, A. 2003. Geohistory models and cenozoic paleoenvironments of the Caribbean region. Syst. Bot. 28:378–386.

Gridi-Papp, C.-O., M. Gridi-Papp, & W.-R. Silva. 2004. Differential fruit consumption of two Melastomataceae by birds in Serra da Mantiqueira, southeastern Brazil. Ararajuba 12:7–13.

Judd, W. S. 1989. Taxonomic studies in the Miconieae (Melastomataceae) III. Cladistic analysis of axillary-flowered taxa. Ann. Mo. Bot. Gard. 76:476–495.

Judd, W. S. 2007. Revision of Miconia sect. Chaenopleura (Miconieae, Melastomataceae) in the Greater Antilles. Syst. Bot. Monogr. 81:1–235.

Judd, .W. S., & D. S. Penneys. 2004. Taxonomic studies in the Miconieae (Melastomataceae). VIII. A revision of the species of the Miconia desportesii complex on Hispaniola. Rhodora 106:124–147.

Judd, W. S., & C. A. Kabat. 2005. Miconia sects. Miconia sects. Amblyarrhena, Miconia, and Tamonea (Melastomataceae) in Hispaniola, with a note on the recognition of Miconia pyramidalis. Moscosoa 14:83–99.

Liogier, H. A. 1995. Descriptive flora of Puerto Rico and adjacent islands; Spermatophyta. Vol. IV., Rio Piedras..

Liogier, H. A. 1999. New combinations in the Melastomataceae from Hispaniola. SIDA Contributions to Botany 18:1025–1029.

Liogier, H. A. 2000. Melastomataceae. Jadín Botánico Nacional Dr. Rafael Ma. Moscoso & Instituto Tecnológico de Santo Domingo, Santo Domingo..

Little, D. 2006. 2xRead (a simple gap coding script). Software and documentation by the Author. New York.

Loiselle, B. A., & J. G. Blake. 1993. Spatial distribution of understory fruit-eating birds and fruiting plants in a neotropical lowland wet forest. Vegetation 107–108:177–189.

Loiselle B. A., & J. G. Blake. 1999. Dispersal of melastome seeds by fruit-eating birds of tropical forest understory. Ecology 80:330–336.

Marcondes, M. L. O. 2002. Comportamento alimentar de aves em Miconia rubiginosa (Melastomataceae) em fragmento de Cerrado, Sao Paulo. Iheringia Serie Zoologia 92:97–100.

Martin, C. V., D. Little, R. Goldenberg, & F. A. Michelangeli. 2008. A preliminary phylogenetic analysis of the polyphyletic genus Leandra (Miconieae, Melastomataceae). Cladistics (in press).

Michelangeli, F. A., & E. R. Bécquer-Granados. 2008. Melastomataceae. In: Acevedo P, Strong N (eds) Catalogue of seed plants of the West Indies.

Michelangeli, F. A., D. S Penneys, J. Giza, D. Soltis, M. H. Hils, & J. D. Skean. 2004. A preliminary phylogeny of the tribe Miconieae (Melastomataceae) based on nrITS sequence data and its implications on inflorescence position. Taxon 53:279–290.

Morley, R. J., & C. W Dick. 2003. Missing fossils, molecular clocks, and the origin of the Melastomataceae. Amer. J. Bot. 90:1638–1644.

Myers, N., R. A. Mittermeier, C. G. Mittermeier, G. A. B. da Fonseca, & J. Kent. 2000. Biodiversity hotspots for conservation priorities. Nature 403:853–858.

Nixon, K. C. 1999. The Parsimony Ratchet, a new method for rapid parsimony analysis. Cladistics 15:407–414.

Nixon, K. C. 1999–2002. WinClada. Software and documentation by the author. Ithaca, NY.

Olmstead, R. G., & J. A. Sweere. 1994. Combining data in phylogenetic systematics: an empirical approach using three molecular data sets in the solanaceae. Syst. Biol. 43:467–481.

Penneys, D. S., & W. S. Judd. 2005. A systematic revision and cladistic analysis of Charianthus (Melastomataceae) using morphological and molecular characters. Syst. Bot. 30:559–584.

Penneys, D. S., W. M. Whitten, N. H. Williams, & Judd, W. S. 2004a. Huilaea and the Blakeeae (Melastomataceae): phylogenetic relationships reconsidered. Botany 2004, Snowbird, Utah.

Penneys, D. S., F. A. Michelangeli, W. S. Judd, & J. D. Skean Jr. 2004b. Henrietteeae, a new tribe of Neotropical Melastomataceae. Botany 2004, Snowbird, Utah.

Perez, R. R. A. 1994. Feeding ecology of the Puerto Rican Bullfinch (Loxigilla portoricensis) in the carite and guanica forests. Caribbean. J. Sci. 30:242–249.

Renner, S. S. 1993. Phylogeny and classification of the Melastomataceae and Memecylaceae. Nordic. J. Bot. 13:519–540.

Renner, S. S. 2004a. Multiple Miocene Melastomataceae dispersal between Madagascar, Africa and India. Philos. Trans. R. Soc. Lond. B. Biol. Sci. 359:1485–1494.

Renner, S. S. 2004b. Bayesian analysis of combined chloroplast loci, using multiple calibrations, supports the recent arrival of Melastomataceae in Africa and Madagascar. Amer. J. Bot. 91:1427–1435.

Renner, S. S., G. Clausing, & K. Meyer. 2001. Historical biogeography of Melastomataceae: the roles of Tertiary migration and long-distance dispersal. Amer. J. Bot. 88:1290–1300.

Rosselli, L. 1994. The annual cycle of the White-ruffed Manakin Corapipo leucorrhoa, a tropical frugivorous altitudinal migrant, and its food plants. Bird. Conserv. Int. 4:143–160.

Santiago-Valentin E., & R.-G. Olmstead, 2004. Historical biogeography of Caribbean plants: introduction to current knowledge and possibilities from a phylogenetic perspective. Taxon 53:299–319.

Schnell, C. E. 1996. The genus Conostegia (Melastomataceae). Ph.D. Thesis, Harvard University, Cambridge, MA.

Simmons, M. P., & H. Ochoterena. 2000 Gaps as characters in sequence-based phylogenetic analyses. Syst. Biol. 49:369–381.

Skean Jr., J. D. 1993. Monograph of Mecranium (Melastomatacae-Miconiae). Syst. Bot. Monogr. 39:1–116.

Skean Jr, J. D. 2000. Mecranium juddii (Melastomataceae: Miconieae), a new species from the Massif de la Hotte, Haiti. Brittonia 52:191–195.

Struwe, L., & V. A. Albert. 1998. Lisianthius (Gentianaceae), its probable homonym Lisyanthus, and the priority of Helia over Irlbachia as its substitute. Harv. Pap. Bot. 3:63–71.

Thompson, J. D., T. J. Gibson, F. Plewniak, F. Jeanmougin, & D. G. Higgins. 1997. The Clustal X windows interface: flexible strategies for multiple sequence alignment aided by quality analysis tools. Nucleic. Acids. Res. 25:4876–4882.

Woods, C. A. 1989. Biogeography of the West Indies: past, present, and future. Sandhill Crane, Gainesville, Florida.

Woods, C. A., & F. E. Sergile. 2001. Biogeography of the West Indies: Patterns and perspectives, 2nd ed. CRC, Boca Raton, Florida.
Acknowledgement
Funding for this research was provided by the National Science Foundation (grants DEB-0515665 to FAM and RG and DEB-0515636 to WSJ), and the IAPT (through a grant for research on Cuban Melastomataceae to EBG). The Lewis B. and Dorothy Cullman foundation also contributed, through a grant to the Lewis. B. and Dorothy Cullman program for Molecular Systematics Studies at The New York Botanical Garden. We thank Carmen Ulloa and Peter Fristch for the comments that helped improved this manuscript.
Appendix I
Appendix I
Genbank accession numbers and voucher information. GenBank accession number followed by a voucher number denotes sequences newly generated for this study. If there is a voucher cited for nrITS, and an ndhF accession number, both sequences come from the same individual. Voucher information for taxa that their nrITS was sequenced in previous studies, and ndhF is added here is given after the ndhF accession number.
Adelobotrys adscendens Triana (AY460446; EU055898, Michelangeli, 598): Adelobotrys panamensis Almeda (EU055643, Penneys, 1759): Anaectocalyx bracteosa Triana (AY460460): Axinaea affinis Cogn. (AY460447): Axinaea grandifolia Triana (AY460448; EU055899, Michelangeli, 650): Calycogonium floribundum Borhidi (EU055644, Becquer, 81171): Calycogonium glabratum (Sw.) DC. (EU055645, Skean 4151): Calycogonium grisebachii Triana (EU055646, Becquer, 82261): Calycogonium heterophyllum Naudin (EU055647, Becquer, 81151): Calycogonium hispidulum Cogn. (EU055648, Skean, 3151; EU055900): Calycogonium plicatum Griseb. (EU055649, Skean, 4234; EU055901): Calycogonium reticulatum (Cogn.) Judd & Skean (EF418796): Calycogonium revolutum Alain (EU055650, Becquer, 82510): Calycogonium rosmarinifolium Griseb. (EU055651, Becquer, 82482): Calycogonium tetragonolobium (Cogn.) Judd & Skean (EU055652, Judd, 8146): Charianthus alpinus (Sw.) R.A. Howard (AY460463; EU055902, Penneys, 1301): Charianthus corymbosus Cogn. (AY460464): Charianthus dominicensis Penneys & Judd (AY460465): Charianthus nodosus Triana (AY460466; EU055903, Penneys, 1275): Charianthus purpureus D. Don (AY460467): Clidemia allardii Wurdack (AY460468; EU055904, Alford, 3100): Clidemia alternifolia Wurdack (AY460469): Clidemia ampla Cogn. (AY460470): Clidemia angustilamina Judd & Skean (EF418923): Clidemia aphanantha (Naudin) Sagot (EF418797): Clidemia blepharodes Mart. ex DC. (EF418808): Clidemia capillaris D. Don (EU055653, Skean, 4311): Clidemia capilliflora Cogn. (EU055654, Goldenberg, 842; EU055905): Clidemia capitata Benth. (AY460471): Clidemia capitellata (Bonpl.) D. Don (EU055655, Penneys, 1560b; EU055906): Clidemia ciliata Pavon ex D. Don (AY460472; EU055907, Michelangeli, 700): Clidemia clandestina Almeda (EU055656, Penneys, 1668; EU055908): Clidemia conglomerata Rich. ex DC. (EF418798): Clidemia costaricensis Cogn. & Gleason (EU055657, Penneys, 1515; EU055909): Clidemia crenulata Gleason (EF418799; EU055910, Boyle, A. 456): Clidemia crugeriana Griseb. (AY460473; EU055911, Michelangeli, 752): Clidemia cymosa (Schrad. & J.C. Wendl.) Alain (AY460474): Clidemia debilis Crueg. (AY460475): Clidemia densiflora (Standl.) Gleason (EU055658, Penneys, 1755; EU055912): Clidemia dentata Pavon ex D. Don (EF418800): Clidemia dimorphica MacBride (AY460476): Clidemia discolor (Triana) Cogn. (EU055659, Penneys, 1579; EU055913): Clidemia domingensis (DC.) Cogn. (EU055660, Skean, 4353; EU055914): Clidemia epiphytica (Triana) Cogn. (EF418801): Clidemia fendleri Cogn. (AY460477): Clidemia folsomii Almeda (EU055661, Penneys, 1706; EU055915): Clidemia fuertesii Cogn. (AY460541): Clidemia garciabarrigae Wurdack (EU055662, Penneys, 1567; EU055916): Clidemia guadalupensis Griseb. (EF418802; EU055917, Penneys, 1313): Clidemia heptamera Wurdack (EF418803): Clidemia heteroneura (Schrank & Mart. ex DC.) Cogn. (AY460478): Clidemia heterophylla (Desr.) Gleason (EU055663, Wiegend, 5560): Clidemia hirta (L.) D. Don (AY460479): Clidemia inobsepta Wurdack (EU055664, Moran, 7610; EU055918): Clidemia involucrata Rich. ex DC. (EF418804; EU055919, Redden, 1685): Clidemia monantha L. O. Williams (EU055665, Penneys, 1677; EU055920): Clidemia octona (Bonpl.) L.O. Williams (AY460480): Clidemia oligantha Urb. (EU055666, Skean, 4345; EU055921): Clidemia ombrophila Gleason (EU055667, Moran, 6297; EU055922): Clidemia pittieri Gleason (EU055668, Penneys, 1740; EU055923): Clidemia plumosa L. O. Williams (EU055669, Michelangeli, 714): Clidemia radicans Cogn. (EU055670, Moran, 6291; EU055924): Clidemia rubra (Aubl.) Mart. (AY460481; AF215579): Clidemia septuplinervia Cogn. (AY460482; EU055925, Michelangeli, 481): Clidemia sericea D. Don (AY460483; EU055926, Michelangeli, 722): Clidemia setosa (Triana) Gleason (EU055671, Moran, 6925): Clidemia strigillosa (Sw.) DC. (AY460484): Clidemia tenebrosa Almeda (EU055672, Penneys, 1753; EU055927): Clidemia trichosantha Almeda (EU055673, Penneys, 1697; EU055928): Clidemia trinitensis (Crueg.) Griseb. (EF418806): Clidemia umbellata (Mill.) L. O. Williams (EU055674, Judd, 8084; EU055929): Clidemia umbrosa (Sw.) Cogn. (EF418807): Clidemia urceolata DC. (EU055675, Penneys, 1673; EU055930): Clidemia utleyana Almeda (EU055676, Penneys, 1788; EU055931): Conostegia bigibbosa Cogn. (AY460485; EU055932, Michelangeli, 841): Conostegia cf. centronioides Markgr. (EU055677, Penneys, 1867): Conostegia icosandra (Sw. in Wikstr.) Urb. (AY460486; EU055933, Michelangeli, 850): Conostegia macrantha O. Berg. ex Triana (EF418809): Conostegia micrantha Standl. (AY460487): Conostegia montana (Sw.) D. Don ex DC. (AY460488; EU055934, Penneys, 1542): Conostegia monteleagreana Cogn. (EF418810): Conostegia pittieri Cogn. ex Durand (EU055678, Penneys, 1488; EU055935): Conostegia rhodopetala Donn. Sm. (EU055679, Penneys, 1505; EU055936): Conostegia rufescens Naudin (AY460489; EU055937, Penneys, 1792): Conostegia setosa Triana (EU055680, Moran, 7894): Conostegia speciosa Naudin (AY460490): Conostegia subcrustulata (Beurl.) Triana (EU055681, Penneys, 1794; EU055938): Conostegia tenuifolia Donn. Sm. (AY460491): Conostegia xalapensis (Bonpl.) D. Don ex DC. (EU055682, Penneys, 1675; EU055939): Dolichoura espiritusanctensis A. C. Brade (EU055683, Kollman, 8551; EU055940): Eriocnema fulva Naudin (EF418811; AY553781): Graffenrieda bella Almeda (EF418812; EU055941, Penneys, 1657): Graffenrieda galeotii (Naudin) L.O. Williams (AY460449): Graffenrieda intermedia Triana (EU055684, Goldenberg, 855; EU055942): Graffenrieda latifolia (Naudin) Triana (AY460450; EU055943, Penneys, 1303): Graffenrieda moritziana Triana (AY460451; EU055944, Michelangeli, 832): Graffenrieda sessilifolia Triana (AY460452; EU055945, Michelangeli, 510): Leandra acutiflora (Naudin) Cogn. (EF418813): Leandra adenothrix Cogn. (EF418814): Leandra agrestis (Aubl.) Raddi (EF418815): Leandra amplexicaulis DC. (EU055685, Goldenberg, 723; EU055946): Leandra aristigera (Naudin) Cogn. (EF418816): Leandra australis Cogn. (EU055686, Goldenberg, 712): Leandra barbinervis (Cham.) Cogn. (EF418817): Leandra bergiana Cogn. (EU055687, Goldenberg, 773; EU055947): Leandra carassana Cogn. (EU055688, Goldenberg, 789): Leandra clidemioides (Naudin) Wurdack (EF418820; EU055948, Carvalho, 6119): Leandra coadunata Wurdack (EF418821): Leandra cordifolia (Naudin) Cogn. (EF418822): Leandra dasytricha (A.Gray) Cogn. (EF418824): Leandra dichotoma (Pavon ex D. Don) Cogn. (EF418825): Leandra dispar (Gardn.) Cogn. (EF418826): Leandra divaricata (Naudin) Cogn. (EF418827): Leandra dusenii Cogn. (EU055689, Goldenberg, 818): Leandra echinata Cogn. (EF418828): Leandra edentula Gleason (EF418829): Leandra eichleri Cogn. (EU055690, Goldenberg, 697): Leandra fragilis Cogn. (EF418830): Leandra glabrata (Bunb.) Cogn. (EF418831): Leandra glandulifera (Triana) Cogn. (EF418832): Leandra granatensis Gleason (EU055691, Moran, 7806; EU055949): Leandra hatschbachii A. C. Brade (EF418833): Leandra hirtella Cogn. (EU055692, Liebsch, D. 1085; EU055950): Leandra humilis (Cogn.) Wurdack (EF418834): Leandra inaequalifolia (Schrank & Mart. ex DC.) Cogn. (EF418835): Leandra ionopogon (Mart.) Cogn. (EF418836): Leandra itatiaiae (Wawra) Cogn. (EF418837): Leandra kleinii A. C. Brade (EU055693, Goldenberg, 728; EU055951): Leandra lacunosa Cogn. (EU055694, Goldenberg, 695): Leandra lima (Desr.) W. Judd & Skean (AY460493; EU055952, Skean, 4312): Leandra limoides (Urb.) Judd & Skean (EF418838; EU055953, Skean, 4291): Leandra longicoma Cogn. (EF418839): Leandra longisetosa Cogn. (EF418840): Leandra macdanielii Wurdack (AY460494): Leandra melanodesma Cogn. (EU055695, Michelangeli, 1065; EU055954): Leandra melastomoides Raddi (EF418841): Leandra mexicana (Naudin) Cogn. (AY460492; AF215580): Leandra micropetala (Naudin) Cogn. (EF418842): Leandra nanayensis Wurdack (EF418843): Leandra nervosa Cogn. (EU055696, Penneys, 1597): Leandra pallida Cogn. (EF418844): Leandra phelpsiae Gleason (EF418846): Leandra pilonensis Wurdack (EU055697, Goldenberg, 762): Leandra polyadena Ule (EF418847): Leandra pubistyla Wurdack (EU055698, Goldenberg, 740; EU055955): Leandra purpurascens (DC.) Cogn. (EU055699, Goldenberg, 729): Leandra purpurascens (Schrank & Mart. ex DC.) Cogn. (EF418848): Leandra purpurea Gleason (EF418849): Leandra quinquedentata (DC.) Cogn. (EF418867; EU055956, Goldenberg, 800): Leandra refracta Cogn. (EF418850): Leandra regnellii (O. Berg ex Triana) Cogn. (EF418851): Leandra reitzii Wurdack (EU055700, Goldenberg, 788; EU055957): Leandra reversa (DC.) Cogn. (EU055701, Goldenberg, 756; EU055958): Leandra rhamnifolia Cogn. (EU055702, Goldenberg, 834; EU055959): Leandra riograndensis (A.C. Brade) Wurdack (EF418852): Leandra rufescens (DC.) Cogn. (EF418853): Leandra sabiaensis A. C. Brade (EF418854): Leandra salicina Cogn. (EU055703, Santos, 814; EU055960): Leandra secunda (Pavon ex D.Don) Cogn. (AY460495): Leandra secundiflora (DC.) Cogn. (EF418855): Leandra solenifera Cogn. (EF418856): Leandra strigilliflora Cogn. (EU055704, Kollman, 8847; EU055961): Leandra subseriata (Naudin) Cogn. (AY460496): Leandra subulata Gleason (AY460497, Penneys, 1660; EU055962): Leandra sulfurea (Naudin) Cogn. (EF418863): Leandra tetraquetra (Cham.) Cogn. (EF418864): Leandra ulaei Cogn. (EF418865): Leandra verticillata (Rich. ex DC.) Cogn. (EF418866): Leandra viridiflava A. C. Brade (EU055705, Goldenberg, 795): Leandra xanthocoma (Naudin) Cogn. (EF418868; EU055963, Goldenberg, 731): Leandra xanthostachya Cogn. (EF418869; EU055964, Goldenberg, 738): Maieta guianensis Aublet (AY460498; AF215581): Maieta poeppigii Mart. ex Triana (AY460499): Mecranium acuminatum (DC.) Skean (EF418870): Mecranium haemanthum Triana ex Cogn. (EF418871; EU055965, Skean, 4212): Mecranium latifolium (Cogn.) Skean (AY460500): Mecranium multiflorum (Desr.) Triana (EF418872; EU055966, Skean, 4125): Mecranium ovatum Cogn. (EU055706, Skean, 4290; EU055967): Mecranium puberulum Cogn. (EF418873; EU055968, Skean, 4101): Meriania calophylla (Cham.) Triana (EU055707, Kollman, 8843; EU055969): Meriania hernandoi L. Uribe (EU055708, Penneys, 1850): Meriania involucrata Naudin (EF418874; EU055970, Skean 4097): Meriania longifolia (Naudin) Cogn. (AY460454): Meriania macrophylla Triana (AY460455; AM235414): Meriania phlomoides (Triana) Almeda (EF418875; EU055971, Michelangeli, 947): Meriania sclerophylla Triana (AY460456): Meriania subumbellata Cogn. (AY460457; EU055972, Michelangeli, 819): Meriania urceolata Triana (AY460458): Merianthera sipolisii (Glaz. & Cogn.) Wurdack (AY460459): Miconia acuminata (Steud.) Naudin (EF418877): Miconia aeruginosa Naudin (AY460501): Miconia aff. aspergillaris (Bonpl.) DC. (EU055709, Penneys, 1615; EU055973): Miconia aff. calignosa Wurdack (EU055710, Penneys, 1614; EU055974): Miconia aff. glutinosa Cogn. (EU055711, Penneys, 1881; EU055975): Miconia aff. villonacensis Wurdack (EU055712, Penneys, 1616; EU055976): Miconia affinis DC. (EF418879; EU055977, Moran, 7926): Miconia alainii Judd & Skean (EU055713, Skean, 4301): Miconia albicans (Sw.) Triana (EF418880; EU055978, Goldenberg, 751): Miconia alborufescens Naudin (EU055714, Santos, 776): Miconia aliquantula Wurdack (EF418881): Miconia amplinodis Umaña & Almeda (EU055715, Penneys, 1496; EU055979): Miconia aplostachya (Bonpl.) DC. (AY460502; EU055980, Michelangeli, 337): Miconia appendiculata Triana (EU055716, Penneys, 1823; EU055981): Miconia arboricola Almeda (EU055717, Penneys, 1670; EU055982): Miconia argentea (Sw.) DC. (AY460503): Miconia argyrophylla DC. (EF418882; EU055983, Renner, 125): Miconia asclepiadea Triana (EU055718, Penneys, 1606; EU055984): Miconia astroplocama Donn. Sm. (EU055719, Penneys, 1822; EU055985): Miconia bangii Cogn. (EU055720, Beck, 25966): Miconia baracoensis Urb. (EF418883; EU055986, Skean, 4153): Miconia barbeyana Cogn. (EU055721, Moran, 7616; EU055987): Miconia benthamiana Triana (EU055722, Penneys, 1562; EU055988): Miconia biglandulosa Gleason (EU055723, Sothers, 332): Miconia biperulifera Cogn. (EU055724, Penneys, 1780; EU055989): Miconia brachybotrya Triana (EU055725, Renner, 2157b): Miconia bracteata (DC.) Triana (EF418884; EU055990, Martin, 443): Miconia bracteolata (Bonpl.) DC. (EU055726, Penneys, 1864; EU055991): Miconia brasiliensis (Spreng.) Triana (EU055727, Goldenberg, 62): Miconia brenesii Standl. (EU055728, Penneys, 1526; EU055992): Miconia brevitheca Gleason (EU055729, Moran, 6922; EU055993): Miconia brunnea Mart. ex DC. (EU055730, Goldenberg, 736; EU055994): Miconia bubalina (D. Don) Naudin (EU055731, Moran, 7502; EU055995): Miconia budlejoides Triana (EU055732, Goldenberg, 722; EU055996): Miconia bullata (Tucz.) Triana (EU055733, Penneys, 1879; EU055997): Miconia cabucu Hoehne (EU055734, Goldenberg, 721; EU055998): Miconia caesariata Wurdack (EU055735, Moran, 7664; EU055999): Miconia calvescens Schrank & Mart. ex DC. (EU055736, Kollman, 8569; EU056000): Miconia calycina Cogn. (AY460531): Miconia calycina-b Judd & Skean (EU055737, Judd, 8210; EU056001): Miconia capixaba R. Goldenb. (EU055738, Kollman, 8564; EU056002): Miconia carnea Cogn. (EU055739, Penneys, 1729; EU056003): Miconia caudigera DC. (EU055740, Lima, 729; EU056004): Miconia centrodesma Naudin (AY460504; EU056005, Michelangeli, 765): Miconia ceramicarpa (DC.) Cogn. var. ceramicarpa (EU055741, Martin, 406): Miconia ceramicarpa (DC.) Cogn. var. crozierae C. V. Martin (EU055742, Martin, 436): Miconia ceramicarpa (DC.) Cogn. var. navioensis (DC.) Cogn. (EF418885): Miconia cerasiflora Urb. var. cerasiflora (EU055743, Becquer, 82487): Miconia cerasiflora var. setulifera Urb. (EU055744, Becquer, 82501): Miconia cercophora Wurdack (EU055745, Penneys, 1846; EU056006): Miconia cf. amilcariana Almeda & Dorr (EU055746, Michelangeli, 728): Miconia cf. cuprea Wurdack (EU055747, Moran, 6892; EU056007): Miconia chamissois Naudin (EU055748, Goldenberg, 771; EU056008): Miconia chartacea Triana (EU055749, Lima, 709; EU056009): Miconia chionophylla Naudin (DQ644129): Miconia chrysophylla (Rich.) Urb. (EU055750, Kelly, 1366; EU056010): Miconia ciliata (Rich.) DC. (AY460505): Miconia cinerascens Miquel subsp. cinerascens (EU055751, Goldenberg, 730; EU056011): Miconia cinerascens Miquel subsp. robusta Wurdack (EU055752, Goldenberg, 782; EU056012): Miconia cinnamomifolia (DC.) Naudin (EU055753, Goldenberg, 754; EU056013): Miconia collatata Wurdack (EU055754, Goldenberg, 748; EU056014): Miconia concinna Almeda (EU055755, Penneys, 1732; EU056015): Miconia corymbiformis Cogn. (EU055756, Penneys, 1863): Miconia costaricensis Cogn. (EU055757, Penneys, 1538; EU056016): Miconia crassinervia Cogn. (EU055758, Michelangeli, 730; EU056017): Miconia crocata Almeda (EU055759, Penneys, 1748; EU056018): Miconia crocea (Desr.) Naudin (EU055760, Penneys, 1552; EU056019): Miconia cubatanensis Hoehne (EU055761, Goldenberg, 715; EU056020): Miconia cubensis (C. Wright ex Griseb.) C. Wright ex Sauvalle (EU055762, Becquer, 82455): Miconia cuspidata Naudin (EF418886): Miconia dapsiliflora Wurdack (EU055763, Penneys, 1898; EU056021): Miconia delicatula A. Rich. (EU055764, Becquer, 82421): Miconia denticulata Naudin (EU055765, Penneys, 1623; EU056022): Miconia desportesii Urb. (EF418887; EU056023, Skean, 4133): Miconia dielsiana Urb. (EU055766, Judd, 8217): Miconia discolor DC. (EU055767, Goldenberg, 749; EU056024): Miconia dissita Almeda (EU055768, Penneys, 1721; EU056025): Miconia dodecandra a (Desr.) Cogn. (EU055769, Michelangeli, 758; EU056026, Michelangeli, 758): Miconia dodecandra b (Desr.) Cogn. (EU055770, Michelangeli, 744;, Michelangeli, 744): Miconia dodecandra c (Desr.) Cogn. (AY460506): Miconia dolichopoda Naudin (EF418888; EU056027, Michelangeli, 1222): Miconia donaeana Naudin (AY460507; EU056028, Michelangeli, 727): Miconia doriana Cogn. (EU055771, Goldenberg, 852; EU056029): Miconia duckeii Cogn. (AY460508): Miconia elata (Sw.) DC. (EU055772, Klimas, 1510; EU056030): Miconia elvirae Wurdack (EU055773, Wurdack, sn; EU056031): Miconia ernstii Wurdack (EF418889; EU056032, Penneys, 1295): Miconia fasciculata Gardner (EU055774, Goldenberg, 780; EU056033): Miconia ferruginea (Desr.) DC. (AY460510): Miconia floribunda (Bonpl.) DC. (EU055775, Penneys, 1601; EU056034): Miconia foveolata Cogn. (AY460511; EU056035, Struwe, 1136): Miconia friedmaniorum Almeda & Umaña (EU055776, Penneys, 1707): Miconia furfuracea Griseb. (EU055777, Penneys, 1294; EU056036): Miconia goniostigma Triana (EU055778, Penneys, 1573; EU056037): Miconia grandidentata Almeda (EU055779, Penneys, 1711b; EU056038): Miconia hemenostigma Naudin (EU055780, Penneys, 1450; EU056039): Miconia hookeriana Triana (EU055781, Cultivated at Munich Bot. Gard.; EU056040): Miconia howardiana Judd, Salzam & Skean (AY460512): Miconia hyemalis A. St. Hil. & Naudin (EU055782, Goldenberg, 815): Miconia hymenonervia (Raddi) Cogn. (EU055783, Goldenberg, 778): Miconia hypoleuca (Benth.) Triana (EU055784, Goldenberg, 833; EU056041): Miconia ibaguensis (Bonpl.) Triana (EU055785, Michelangeli, 737; EU056042): Miconia impetiolaris (Sw.) D. Don (AY460513; EU056043, Michelangeli, 720): Miconia inconspicua Miquel (EU055786, Goldenberg, 716; EU056044): Miconia jahnii Pittier (EU055787, Penneys, 1596; EU056045): Miconia japurensis Cogn. (EF418891): Miconia javorkeana Borhidi (EU055788, Becquer, 82508): Miconia jucunda (DC.) Triana (EU055789, Goldenberg, 784; EU056046): Miconia krugii Cogn. (EF418892): Miconia lacera (Rich.) Naudin (AY460514): Miconia laevigata (L.) D. Don (AY460515; EU056047, Specht, 04): Miconia lappacea (DC.) Triana (EF418893): Miconia latecrenata (DC.) Naudin (EU055790, Goldenberg, 710; EU056048): Miconia latifolia (D.Don). Naudin (EF208214): Miconia leiotricha Wurdack (AY46046; EU056049, Michelangeli, 775): Miconia lenticellata Alain (EU055791, Becquer, 82493): Miconia lepidota DC. (EU055792, Kollman 8556; EU056050): Miconia ligulata Almeda (EF418894; EU056051, Penneys, 1802): Miconia ligustrina (Sm.) Triana (EU055793, Penneys, 1595; EU056052): Miconia ligustroides (DC.) Naudin (EU055794, Goldenberg, 769; EU056053): Miconia lonchophylla Naudin (EU055795, Penneys, 1497; EU056054): Miconia longicuspis Cogn. (EU055796, Kollman, 8562; EU056055): Miconia longifolia (Aubl.) DC. (EF418895): Miconia longispicata Triana (EU055797, Michelangeli, 448): Miconia loreyoides Triana (EU055798, Penneys, 1669; EU056056): Miconia luteola Cogn. (EU055799, Judd, 8131): Miconia lymanii Wurdack (EU055800, Goldenberg, 802; EU056057): Miconia macrodon (Naudin) Wurdack (AY460516; EU056058, Michelangeli, 797): Miconia magdalenae Triana (EF418896): Miconia manicata Cogn. & Gleason (EU055801, Moran, 7660; EU056059): Miconia marginata Triana (EF418897): Miconia melanotricha (Triana) Gleason (EU055802, Penneys, 1730; EU056060): Miconia melinonis Naudin (EF418898): Miconia meridensis Triana (EU055803, Michelangeli, 654; EU056061): Miconia mesmeana Gleason (EU055804, Michelangeli, 733): Miconia minutiflora a (Bonpl.) DC. (EU055805, Penneys, 1440): Miconia minutiflora b (Bonpl.) DC. (AY460517; EU056062, Goldenberg, 759): Miconia mirabilis a (Aubl.) L. O. Williams (AY460518): Miconia mirabilis b (Aubl.) L. O. Williams (EU055806, Goldenberg, 845; EU056063): Miconia multiplinervia Cogn. (EU055807, Penneys, 1785; EU056064): Miconia multispicata Cogn. (EU055808, Michelangeli, 812; EU056065): Miconia nitidissima Cogn. (EU055809, Michelangeli, 821): Miconia octopetala Cogn. (EU055810, Kollman, 8560; EU056066): Miconia oldemanii Wurdack (EF418899): Miconia onaensis Wurdack (EU055811, Penneys, 1558; EU056067): Miconia pachyphylla Cogn. (AY460519; EU056068, Struwe, 1141): Miconia papillosa (Desr.) Naudin (EU055812, Penneys, 1551; EU056069): Miconia penningtonii Wurdack (EU055813, Penneys, 1865; EU056070): Miconia pepericarpa Mart. ex DC. (EU055814, Santos, 763; EU056071): Miconia petropolitana Cogn. (EU055815, Goldenberg, 763; EU056072): Miconia plumifera Triana (EU055816, Renner, sn): Miconia plumosa Gleason (EU055817, Kollman, 8846; EU056073): Miconia poeppiggii Triana (EU055818, Redden, 2133; EU056074): Miconia polyandra Gardner (EU055819, Kollman, 8577; EU056075): Miconia prasina (Sw.) DC. (AY460520; EU056076, Goldenberg, 839): Miconia procumbens (Gleason) Wurdack (AY460521; EU056077, Alford, 3093): Miconia pseudoaplostachya Cogn. (EF418900): Miconia pteroclada Urb. (EU055820, Becquer, 81144): Miconia pubipetala Miquel (EF418901): Miconia pulvinata (D. Don) Gleason (AY460522): Miconia punctata (Desr.) D. Don ex DC. (EU055821, Klimas, sn; EU056078): Miconia pusilliflora (DC.) Naudin (EU055822, Goldenberg, 764; EU056079): Miconia pyramidalis (Desr.) DC. (EF418902; EU056080, Skean 4306): Miconia pyrifolia Naudin (AY460523): Miconia racemosa (Aubl.) DC. (EU055823, Redden, 1086; EU056081): Miconia radulaefolia (Benth.) Naudin (EF418903): Miconia ramboi A. C. Brade (EU055824, Goldenberg, 793; EU056082): Miconia reducens Triana (EU055825, Penneys, 1568; EU056083): Miconia resimoides Cogn. (AY460524; EU056084, Michelangeli, 834): Miconia rigidiuscula Cogn. (EU055826, Goldenberg, 714; EU056085): Miconia rimalis Naudin (EU055827, Santos, 812): Miconia robinsoniana Cogn. (EU055828, Jaramillo, 2889; EU056086): Miconia rubiginosa (Bonpl.) DC. (AY460525): Miconia rufa (Griseb.) Triana (EU055829, Becquer, 81649): Miconia rufescens (Aubl.) DC. (AY460526): Miconia rugosa Triana (EU055830, Redden, 1284; EU056087): Miconia salicifolia (Bonpl. ex Naudin) Naudin (EU055831, Moran, 6909; EU056088): Miconia samanensis Urb (EU055832, Judd, 8216; EU056089): Miconia sanctiphillipii Naudin (AY46052): Miconia schlechtendalii Cogn. (EU055833, Penneys, 1438; EU056090): Miconia schlimii Triana (EU055834, Michelangeli, 843; EU056091): Miconia schnellii Wurdack (AY460528): Miconia sclerophylla Triana (EU055835, Santos, 800; EU056092): Miconia selleana Urb. & Ekman (EF418904; EU056093, Skean, 4135): Miconia sellowiana Naudin (EU055836, Goldenberg, 732; EU056094): Miconia septentrionalis Judd & R. S. Beaman (EU055837, Skean, 4115; EU056095): Miconia serrulata (DC.) Naudin (AY460535): Miconia simplex Triana (EU055838, Moran, 7899; EU056096): Miconia sintenisii Cogn. (AY460529; EU056097, Struwe, 1138): Miconia skeaniana Judd (EU055839, Becquer, 81133): Miconia smaragdina Naudin (EU055840, Penneys, 1743; EU056098): Miconia sphagnicola Urb. & Ekman (EU055841, Judd, 8161; EU056099): Miconia spinulosa Naudin (AY460530; EU056100, Michelangeli, 777): Miconia stenobotrys (Rich.) Naudin (EU055842, Skean, 4142; EU056101): Miconia stenostachya DC. (EU055843, Michelangeli, 809; EU056102): Miconia striata (M. Vahl) Cogn. (EU055844, Penneys, 1310; EU056103): Miconia subcompresa Urb. (EU055845, Judd, 8116; EU056104): Miconia superba Ule (EU055846, Michelangeli, 452; EU056105): Miconia sylvatica (Schltdl.) Naudin (EU055847, Michelangeli, 792; EU056106): Miconia tetrandra (Sw.) D. Don (EU055848, Penneys, 1300; EU056107): Miconia tetrastoma Naudin (AY460532): Miconia theaezans a (Bonpl.) Cogn. (AY460533; EU056108, Michelangeli, 844): Miconia theaezans b (Bonpl.) Cogn. (EU055849, Penneys, 1880; EU056109): Miconia thomasiana DC. (EU055850, Axelrod, 12562): Miconia tomentosa (Rich.) D. Don ex DC. (EF418905): Miconia tonduzii Cogn. (EF418906; EU056110, Michelangeli, 939b): Miconia trianae Cogn. (EU055851, Goldenberg, 770; EU056111): Miconia triangularis Gleason (EU055852, Penneys, 1866; EU056112): Miconia trimera Wurdack (EF418907): Miconia trinervia (Sw.) D. Don ex Loud. (EU055853, Redden, 114): Miconia triplinervis Ruiz & Pav. (EU055854, Renner, 2150b): Miconia tristis Spring (EU055855, Goldenberg, 812; EU056113): Miconia tschudyoides Cogn. (EF418908): Miconia tuberculata (Naudin) Triana (AY460534; EU056114, Michelangeli, 779): Miconia turquinensis Urb. & Ekman (EU055856, Becquer, 81648): Miconia ulmariodes Naudin (AY460536): Miconia undata Triana (EF418909): Miconia valtheri Naudin (EU055857, Goldenberg, 718; EU056115): Miconia viscidula Urb. & Cogniaux (EF418910; EU056116, Skean, 4132): Miconia willdenowii Klotzsch ex Naudin (EU055858, Goldenberg, 737; EU056117): Necramium gigantophyllum Britton (AY460537; EU056118, Michelangeli, 773): Ossaea aff. incerta Wurdack (EU055859, Moran, 7411; EU056119): Ossaea brenesii Standl. (EU055860, Penneys, 1722; EU056120): Ossaea capillaris (D. Don) Cogn. (EU055861, Penneys, 1607; EU056121): Ossaea coarctiflora Wurdack (EF418911): Ossaea congestiflora (Naudin) Cogn. (EF418912): Ossaea lanata C. Wright (EU055862, Abbot, 18926): Ossaea macrophylla (Benth.) Cogn. (EU055863, Penneys, 1872; EU056122): Ossaea micrantha (Sw.) Macfad. ex Cogn. (AY460539; EU056123, Moran, sn): Ossaea ovatifolia Urb. (EF418913): Ossaea petiolaris (Naudin) Triana (EF418914): Ossaea quadrisulca (Naudin) Wurdack (EF418915): Ossaea robusta (Triana) Cogn. (AY460538): Ossaea rufescens (Triana) Cogn. (EU055864, Becquer, 82263): Ossaea rufibarbis Triana (EF418916): Ossaea sanguinea Cogn. (EU055865, Matos, 1140; EU056124): Ossaea scalpta (Vent.) DC. (EU055866, Skean, 4126): Ossaea sparrei Wurdack (EU055867, Penneys, 1903; EU056125): Ossaea spicata Gleason (EU055868, Penneys, 1681; EU056126): Ossaea turquinensis Urb. (EU055869, Becquer, 81644): Pachyanthus angustifolius Griseb. (EU055870, Becquer, 81592): Pachyanthus blancheanus Urb. & Ekman (EU055871, Clase, 4190; EU056127): Pachyanthus clementis P. Wilson (EU055872, Becquer, 82465): Pachyanthus cubensis A. Rich. (EU055873, Becquer, 82418): Pachyanthus discolor Norland (EU055874, Becquer, 82243): Pachyanthus lundellianus (L. O. Williams) Judd & Skean (EU055875, Abbot, 19636): Pachyanthus mantuensis Britton & P. Wilson (EU055876, Becquer, 82419): Pachyanthus mayarensis Urb. (EU055877, Becquer, 82496): Pachyanthus moaensis Borhidi (EF418918, Skean, 4257; EU056128): Pachyanthus monocephalis (Urb.) Borhidi (EU055878, Becquer, 83731): Pachyanthus monopleurus Urb. (EU055879, Becquer, 81153): Pachyanthus neglectus Borhidi (EU055880, Becquer, 83737): Pachyanthus pedicellatus Urb. (EU055881, Becquer, 81126): Pachyanthus poiretii Griseb. (EU055882, Becquer, 81675): Pachyanthus reticulatus Britton & P. Wilson (EU055883, Becquer, 82484): Pachyanthus tetramerus Urb. & Ekman (EU055884, Becquer, 82425): Pachyanthus wrightii Griseb. (EU055885, Becquer, 82269): Pleiochiton ebracteatum Triana (EF418919): Pleiochiton micranthum Cogn. (EU055886, Almeda, 8831; EU056129): Sagraea gracilis (Alain) Alain (EU055887, Judd, 8092): Sagrea rugosa Alain (EU055888, Judd, 8198): Tetrazygia aurea R. A. Howard & W. R. Briggs (EU055889, Becquer, 82461): Tetrazygia barbata Borhidi (EU055890, Becquer, 82254): Tetrazygia bicolor (Mill). Cogn. (AY460543; EU056130, Becquer, 82286): Tetrazygia coriacea Urb. (EU055891, Becquer, 82423): Tetrazygia cristalensis Borhidi (EU055892, Becquer, 82262): Tetrazygia crotonifolia (Desr.) DC. (AY460544): Tetrazygia discolor (L.) DC. (EF418920; EU056131, Penneys, 1287): Tetrazygia eleagnoides (Sw.) DC. (AY460546; EU056132, Specht, 06): Tetrazygia elegans Urb. (EU055893, Becquer, 81655): Tetrazygia fadyenii Hook. (AY460545; EU056133, Whitten, 99106): Tetrazygia lanceolata Urb. (EU055894, Becquer, 82431): Tetrazygia urbaniana (Cogn. ex Urb.) Croizat ex Moscoso (EF418921): Tococa bolivarensis Wurdack (AY460547): Tococa broadwayi Urb. (AY460548; EU056134, Michelangeli, 558): Tococa capitata Trail ex Cogn. (AY460549): Tococa caquetana Sprague (AY460550; EU056135, Alford, 3109): Tococa caudata Markgr. (AY460551): Tococa coronata Benth. (AY460552): Tococa discolor Pilg. (EU055895, Michelangeli, 496): Tococa gonoptera Gleason (AY460553): Tococa guianensis Aublet (AY460554; EU056136, Michelangeli, 703): Tococa macrophysca Spruce ex Triana (AY460555): Tococa macrosperma Mart. (AY460556): Tococa nitens (Benth.) Triana (AY460557): Tococa perclara Wurdack (AY60558; EU056137, Michelangeli, 715): Tococa platyphylla Benth. (EU055896, Penneys, 1699; EU056138): Tococa quadrialata (Naudin) J. F. Macbr. (EF418922): Tococa raggiana Michelangeli (AY60559): Tococa rotundifolia (Triana) Wurdack (AY460560): Tococa spadiciflora Triana (EU055897, Clark, 7096; EU056139): Tococa subciliata (DC.) Triana (AY460561).
About this article
Cite this article
Michelangeli, F.A., Judd, W.S., Penneys, D.S. et al. Multiple Events of Dispersal and Radiation of the Tribe Miconieae (Melastomataceae) in the Caribbean. Bot. Rev 74, 53–77 (2008). https://doi.org/10.1007/s12229-008-9004-x
Keywords
Dispersal

Radiation

Tribe Miconieae