Abstract
A new species, Psidium pulcherrimum, is described herein. It is known only from an arid ecotone region of Bahia, Brazil. Information on its conservation status, distribution, and phenology are provided.
Access options
Buy single article
Instant access to the full article PDF.
USD 39.95
Price includes VAT (USA)
Tax calculation will be finalised during checkout.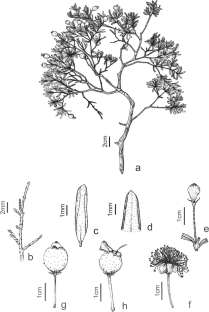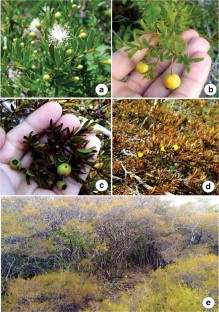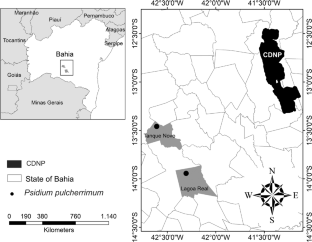 Literature cited
Andrade-Lima, D. 1981. The caatinga dominium. Revista Brasileira de Botânica 4: 149–153.

Cardoso, D. B. O. S. & L. P. Queiroz. 2008. Floristic composition of seasonally dry tropical forest fragments in central Bahia, northeastern Brazil. Journal of the Botanical Research Institute of Texas 2: 551–573.

Coutinho, K., M. I. U Oliveira & L. S. Funch. 2015. Four new species of Eugenia (Myrtaceae) from the caatinga and Atlantic Forest of northeastern Brazil. Phytotaxa 234: 215–226.

Fernandes, A. 1995. The flora of the caatingas. Pp. 177–182. In: S. Monteiro & L. Kaz (eds.). Caatinga: Sertão Sertanejos. Livroarte Editora, Rio de Janeiro.

Flora do Brasil. 2020, under construction. Jardim Botânico do Rio de Janeiro. Disponível em: http://floradobrasil.jbrj.gov.br/. (Accessed 4 Jul 2019).

França, F., E. Melo & C. C. Santos. 1997. Flora de inselbergs da região de Milagres, Bahia, Brasil: I. Caracterização da vegetação e lista de espécies de dois inselbergs. Sitientibus Série Ciências Biológicas 17: 163–184.

Govaerts, R., M. Sobral., P. Ashton., F. Barrie., B. K. Holst., L. R. Landrum., K. Matsumoto, F. F. Mazine, E. Nic Lughadha, C. E. B. Proença, L. H. S. Silva, P. G. Wilson & E. J. Lucas. 2008. World checklist of Myrtaceae. Vol. 1. Royal Botanic Garden, Kew.

Heringer, H. & M. M. Montenegro. 2000. Avaliação e ações prioritárias para a conservação da biodiversidade da Mata Atlântica e Campos Sulinos. Ministério do Meio Ambiente, Brasília.

IUCN. 2012. IUCN Red List categories and criteria. Version 3.1, Second edition. International Union for Conservation of Nature, Gland, Switzerland.

IUCN Standards and Petitions Committee. 2019. Guidelines for using the IUCN Red List categories and criteria. Version 14. Available from: http://www.iucnredlist.org/documents/RedListGuidelines.pdf

Landrum, L. R. 2017. The genus Psidium (Myrtaceae) in the state of Bahia, Brazil. Canotia 13: 1–101.

Landrum, L. R. & L. S. Funch. 2008. Two new species of Psidium (Myrtaceae) from Bahia, Brazil. Novon: A Journal for Botanical Nomenclature 18: 74–77.

Landrum, L. R. & M. Sobral. 2006. Psidium cauliflorum (Myrtaceae), a new species from Bahia, Brazil. Sida 22: 927–929.

Lima, B. G., M. F. B Coelho & O. F. Oliveira. 2012. Caracterização florística de duas áreas de Caatinga na região central do Sul do Ceará, Brasil. Bioscience Journal 28: 277–296.

Prado, D. E. 2003. As caatingas da América do Sul. Pp. 3–73. In: I. R. Leal, M. Tabarelli & J. M. C. Silva (eds.). Ecologia e conservação da Caatinga. Editora Universitária da UFPE, Recife.

Ribeiro, M. C., A. C. Martensen, J. P. Metzger, M. Tabarelli, F. Scarano & M. J. Fortin. 2011. The Brazilian Atlantic Forest: a shrinking biodiversity hotspot. Pp. 405–434. In: F. E. Zachos & J. C. Habel (eds.). Biodiversity hotspots: distribution and protection of conservation priority areas. Springer-Verlag, Berlin.

Ribeiro, J. F. & B. M. T. Walter. 1998. Fitofisionomias do bioma cerrado. Pp. 89–166. In: S. M. Sano & S. P. Almeida (eds.). Cerrado: ambiente e flora. EMBRAPA–CPAC, Planaltina.

Silva, J. M. C. & C. H. Castelleti. 2003. Status of the biodiversity of the Atlantic Forest of Brazil. Pp. 43–59 In: C. Galindo-Leal & I. G. Câmara (eds.). The Atlantic forest of South America: biodiversity status, threats and outlook. Island Press, Washington, DC.

Thiers, B. 2018. Index Herbariorum: A global directory of public herbaria and associated staff. Available from: http://sweetgum.nybg.org/ih/ (Accessed 23 October 2018)

Tölke, D. E. E. A., J. R. Silva, A. R. L. Pereira & J. I. M. Melo. 2011. Flora vascular de um inselbergue no estado da Paraíba, Nordeste do Brasil. Biotemas 24: 39–48.

Tuler, A. C., A. L. Peixoto & C. E. B. Proença. 2016. A new endangered species of Psidium (Myrtaceae, Myrteae) from Bahia, Brazil. Phytotaxa 288: 161–167.

Vasconcelos, M. F. 2011. O que são campos rupestres e campos de altitude nos topos de montanha do Leste do Brasil? Revista Brasileira de Botânica 34: 241–246.

Zappi, D. 2008. Fitofisionomia da caatinga associada à Cadeia do Espinhaço. Megadiversidade 4: 34–38.
Acknowledgements
This study was financed in part by Coordernação de Aperfeiçoamento de Pessoal de Nível Superior, Brasil (CAPES), Finance Code 001. The first author thanks FAPES and VALE for a grant to support the project "Identificação e caracterização de espécies de Psidium da Mata Atlântica de interesse econômico" and FAPERJ for her doctoral scholarship (Edital doutorado Nota 10).
About this article
Cite this article
Tuler, A.C., Costa, C.M., Carrijo, T.T. et al. Psidium pulcherrimum(Myrtaceae, Myrteae), a new species from Bahia, Brazil. Brittonia 72, 57–61 (2020). https://doi.org/10.1007/s12228-019-09600-0
Keywords
Myrtaceae

Conservation

Myrteae

Caatinga