Abstract
In June of 1905 the pioneer ecologist John W. Harshberger visited Bermuda to investigate sand dune plants, survey the main plant formations and collect herbarium specimens. His specimens and observations are of significant value as a baseline to understand the extraordinary ecological change due to plant invasion that the island has experienced over the last 100 years. His observations on the vegetation types of Bermuda are contained in a six-page summary of a talk that he gave to the Academy of Natural Sciences of Philadelphia. He divided the terrestrial vegetation of the island into eight types. While five of these, mangrove swamp, salt marsh, brackish marsh, cliff rock, and sand dune, have vegetation that is lightly invaded and still recognizable from his descriptions, three others, cedar forest, limestone sinks forest, and scrub, have been altered by invasive plants beyond recognition except in a few small nature reserves that are actively managed against invasives. The seed rain from the introduced starling feeding on the fruits of invasive plants is heavy and ubiquitous. Any conservation of terrestrial vegetation now requires weeding against invasives in perpetuity, a "conservation treadmill" that needs to be budgeted for and carefully applied if conservation is to succeed.
Access options
Buy single article
Instant access to the full article PDF.
US$ 39.95
Tax calculation will be finalised during checkout.
Subscribe to journal
Immediate online access to all issues from 2019. Subscription will auto renew annually.
US$ 79
Tax calculation will be finalised during checkout.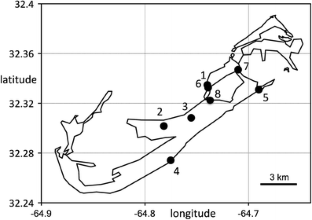 Literature cited
Adams, R. & D. Wingate. 2008. Hybridization between Juniperus bermudiana and J. virginiana in Bermuda. Phytologia 90: 123–133.

Bennett, F. D. & I. W. Hughes. 1959. Biological control of insect pests in Bermuda. Bulletin of Entomological Research 50: 423–436.

Bernatowicz, A. J. 1952. Marine monocotyledonous plants of Bermuda. Bulletin of Marine Science of the Gulf and Caribbean 2: 338–345.

Britton, N. L. 1918. Flora of Bermuda (illustrated). Scribner's, New York.

Challinor, D. & D. B. Wingate. 1971. The struggle for survival of the Bermuda Cedar. Biological Conservation 3: 220–222.

Coulter, S. M. 1904. An ecological comparison of some typical swamp areas. Missouri Botanical Garden. Fifteenth Annual Report: 39–71.

Ellison, J. C. 1993. Mangrove retreat with rising sea-level, Bermuda. Estuarine, Coastal and Shelf Science 37: 75–87.

———. 1996. Pollen evidence of Late Holocene mangrove development in Bermuda. Global Ecology and Biogeography Letters 5: 315–326.

Fourqurean, J. W., S. A. Manuel, K. A. Coates, W. J. Kenworthy & J. N. Boyer. 2015. Water quality, isoscapes and stoichioscapes of seagrasses indicate general P limitation and unique N cycling in shallow water benthos of Bermuda. Biogeosciences 12: 6235–6249.

Friederici, P. 2006. Nature's restoration: people and places on the front lines of conservation. Island Press/Shearwater Books, Washington.

Harshberger, J. W. 1905. The plant formations of the Bermuda islands. Proceedings of the Academy of Natural Sciences of Philadelphia 57: 695–700.

———. 1908. The comparative leaf structure of the sand dune plants of Bermuda. Proceedings of the American Philosophical Society 47: 97–110.

———. 1911. Phytogeographic survey of North America: a consideration of the phytogeography of the North American Continent, including Mexico, Central America, and the West Indies, together with the evolution of North American plant distribution. Hafner, New York.

———. 1929. The life and work of John W. Harshberger, Ph.D.: an autobiography. T. C. Davis and Sons, Philadelphia.

———. 1896. The purposes of ethno-botany. Botanical Gazette 21: 146–154.

Hayward, S. J., V. H. Gomez & W. Sterrer (eds.). 1981. Bermuda's delicate balance: people and the environment (No. 20). Bermuda National Trust, Hamilton.

Hemsley, W. B. 1885. The Bermudas. Report on the scientific results of the voyage of HMS Challenger, Botany 1.2: 1–135.

Jarvis, M. J. 2010. In the eye of all trade. Bermuda, Bermudians, and the Maritime Atlantic World, 1680–1783. The University of North Carolina Press, Raleigh, NC.

Jones, J. M. 1873. On the vegetation of the Bermudas. Proceedings of the Nova Scotian Institute of Science 3: 237–280.

———. 1876. The visitor's guide to Bermuda: with a sketch of its natural history. Reeves & Turner, London.

———. 1884. Introduction. Pp. ix-xxiii. In: J.M. Jones & G.B. Goode (eds). Contributions to the natural history of the Bermudas, Vol. I. Bulletin of the United States National Museum 25. Government Printing Office, Washington.

Junos, L. & D. B. Wingate. 1995. They came before Columbus. Native and endemic flora reclaim the right to discovery. Unpublished manuscript, 24pp. Bermuda Zoological Society (BAMZ) library, Flatts Village, Bermuda.

Lefroy, J. H. 1884. Part II. The botany of Bermuda. Pp. 33–141. In: J. M. Jones & G. B. Goode (eds). Contributions to the natural history of the Bermudas, Vol. I. Bulletin of the United States National Museum 25. Government Printing Office, Washington.

Millspaugh, C. F. 1900. Plantæ Utowanæ. Plants collected in Bermuda, Porto Rico, St. Thomas, Culebras, Santo Domingo, Jamaica, Cuba, the Caymans, Cozumel, Yucatan and the Alacran shoals. Field Museum, Chicago.

Moore, A. H. 1906. A list of plants collected in 1905 by Albert Hanford Moore including a description of two new species. Privately printed, Cambridge, Massachusetts.

Morrison, L. W. 2002. The geographic distribution of pubescence in the sea daisy, Borrichia aborescens, on Bahamian Islands. Global Ecology and Biogeography 11: 247–252.

Moseley, H. N. 1874. II. Notes on the vegetation of Bermuda. Journal of the Linnean Society of London, Botany 14: 317–321

Pettit, D., A. Copeland, R. Marirea, J. Madeiros, D. Wingate & L. Hollis. 2012. Bermuda plant finder: indigenous and invasive plants. Government of Bermuda. Ministry of the Environment and Planning, Department of Conservation Services, Hamilton, Bermuda.

Prat, H. 1955. Le Genévrier des Bermudes est-il menacé d'extinction? Bulletin de la Société Botanique de France 102: 17–23

Qin, Z., J. E. Zhang, A. DiTommaso, R. L. Wang & R. S. Wu. 2015. Predicting invasions of Wedelia trilobata (L.) Hitchc. with Maxent and GARP models. Journal of Plant Research 128: 763–775.

Reade, O. A. 1883. Plants of the Bermudas: or Somer's Islands. Printed at the Royal Gazette office: Hamilton, Bermuda.

Rendle, A. B. 1936. Notes on the Flora of the Bermudas. The Journal of Botany 74: 42–50, 65–71, 101–112.

Rueger, B. F. & T. N. von Wallmenich. 1996. Human impact on the forests of Bermuda: the decline of endemic cedar and palmetto since 1609, recorded in the Holocene pollen record of Devonshire Marsh. Journal of Paleolimnology 16: 59–66.

Schneider, C. W. 2003. An annotated checklist and bibliography of the marine macroalgae of the Bermuda islands. Nova Hedwigia 76: 275–361.

Small, H. B. 1913. Botany of the Bermudas. S. Nelmes, Hamilton, Bermuda.

Sterrer, W., A. Glasspool, H. De Silva & J. Furbert. 2004. Bermuda—an island biodiversity transported. Pp. 118-170. In: The effects of human transport on ecosystems: cars and planes, boats and trains. Royal Irish Academy, Dublin.

Tansley, A. G. 1920. The classification of vegetation and the concept of development. The Journal of Ecology 8: 118–149.

Thomas, M. L. 1993. Mangrove swamps in Bermuda. Atoll Research Bulletin (USA) 386: 1–17.

Verrill, A. E. 1902. The Bermuda islands. An account of their scenery, climate, productions, physiography, natural history and geology, with sketches of their discovery and early history, and the changes in their flora and fauna due to man. Privately printed, New Haven, Connecticut.

Wang, W., Z. Yan, S. You, Y. Zhang, L. Chen & G. Lin. 2011. Mangroves: obligate or facultative halophytes? A review. Trees 25: 953–963.

Wingate, D. B. 1990. Living museum of Bermuda's precolonial terrestrial biome. Ch. 8. Pp. 133–150. In: G. M. Woodwell (ed.) The Earth in transition: Patterns and processes of biotic impoverishment. Cambridge University Press, Cambridge.

———. 1992. Notes on the native forest restoration experiment in the Walsingham Trust. Bermuda Department of Agriculture, Monthly Bulletin 63(10): 77–80.

———. 2000. Strategies for successful biodiversity conservation and restoration on small oceanic islands: some examples from Bermuda. Pp. 16–24. In: Calpe 2000: Linking the fragments of paradise—Proceedings of an international conference on environmental conservation in small territories. Gibraltar Ornithological & Natural History Society, Government of Gibraltar/UK Overseas Territories Conservation Forum.

———. 2012. Resurrecting the red mulberry Morus rubra as an officially recognized component of Bermuda's pre-colonial flora. Bermuda Audubon Society Newsletter 22(3): 6–7.
Acknowledgements
We thank Wendy Frith for logistical assistance and Dr. D. M. Percy for assistance in the field. Dr. Craig W. Schneider kindly provided comments on Harshberger's algae. We are also indebted to Dr. Thomas Zanoni and one anonymous referee for their helpful reviews.
Appendix 1
Appendix 1
Named localities and species mentioned by Harshberger (1905). Names of species are as given in the original text. For currently accepted plant names see Appendix 2.
Locality
Terrestrial Plant Formation in 1905
Species mentioned (1905)
Walsingham
saltwater ponds
Marine: tidal because fed by underground channels
Valonia utricularis, Caulerpa plumaris, C. racemosa, Colpomenia sinuosa
Castle Harbour
Mangrove: dense growth of two mangroves in association (rare)
Avicennia nitida, Rhizophora mangle, Penicillus capitatus
North Shore inland ponds
Mangrove: swamps (inland)
Avicennia nitida, Pluchea purpurascens, Sesuvium portulacastrum, Salicornia fruticosa, Heliotropium curassavicum, Cyperaceae spp.
Shelly Bay saltwater pools
Mangrove: swamps (inland)
Ulva lactuca, Avicennia nitida
Salt marsh along Harrington Sound (Wistowe)
Salt marsh
Salicornia fruticosa, Heliotropium curassavicum, Sesuvium portulacastrum, Cyperaceae spp., Stenotaphrum americanum, Avicennia nitida (rare)
Smith's Parish Marsh
Brackish marsh: devoid of trees, soil rendered brackish by underground channels
Typha angustifolia, Baccharis heterophylla, Dichromena leucocephala, Scirpus lacustris, Osmunda cinnamomea,
Acrostichum aureum
Devonshire Marsh
Brackish marsh: a large area with a few pools of water in the depressions, probably once a pond (by 1905 shaded by encroaching trees – Sabal blackburniana and Juniperus bermudiana)
Juniperus bermudiana, Sabal blackburniana, Baccharis heterophylla, Pteris (Pteridium) aquilina caudata, Cladonia sp., Leucobryum sp., Typha angustifolia, Acrosticum aureum. Pools: Sphagnum spp., Proserpinaca palustris, Lemna minor [Coulter: Hydrocotyle asiatica, Herpestis monnieria, Mentha viridis, Dichromena leucocephala, Osmunda regalis and O. cinnamomea].
Pembroke Marsh
Brackish marsh: similar to Devonshire Marsh
Juniperus bermudiana, Sabal blackburniana around edge, Lemna minor in pool; [Lefroy: Nasturtium officinale (in water channels), Ascyrum crux-andreae, Kosteletzkya virginica, Waltheria americana (= indica), Eclipta erecta, Pluchea odorata, Ceratophyllum demersum, Kyllinga monocephala, Scirpus validus, Cladium occidentale (= germanicum) and Spiranthes brevilabrus].
Shelly Bay dunes
Low dunes on North Shore with zonation briefly described
Cakile aequalis, Tournefortia gnaphalodes, Scaevola Plumieri, Croton maritimus, Ipomoea pes-caprae, Stenotaphrum americanum, Juniperus bermudiana, Sisyrinchium bermudianum, Lepidium virginicum, Euphorbia buxifolia, Canavalia obtusifolia, Opuntia vulgaris, Yucca aloifolia (sandy hills)
Tucker's Town dunes
Dunes: here Harshberger describes Conocarpus erectus forming thickets, which in places protect the dune crest
Scaevola plumieri, Solidago sempervirens, Borrichia arborescens, Dodonaea viscosa, Conocarpus erectus, Stenotaphrum americanum, Foeniculum vulgare
Paget dunes [prob. Elbow Beach]
High dunes but highly invaded by exotics
Exotic: Nerium oleander, Lantana camara, Lantana crocea, Native: Croton maritimus, Canavalia obtusifolia, Dodonaea viscosa, Borrichia arborescens, Passiflora suberosa
Cliff rock (general)
General coastline of Bermuda: jagged rocks
Borrichia arborescens, Conocarpus erectus, Solidago sempervirens, Lantana involucrata, Lantana camara, Euphorbia buxifolia, Stenotaphrum americanum, Juniperus bermudiana, Yucca aloifolia, Sabal blackburniana, Coccoloba uvifera, Sesuvium portulacastrum, Lippia nodiflora, Linaria elatine
Cedar forest (general)
All hills not under cultivation are covered with Juniperus bermudiana and Sabal blackburniana. The undergrowth is heavily invaded but introduced trees only occasional
Juniperus bermudiana, Sabal blackburniana, Lantana involucrata, Lantana camara, Nerium oleander, Lippia nodiflora, Solidago sempervirens, Sisyrinchium bermudianum, Adiantum bellum, Bryophyllum calycinum, Stenotaphrum americanum, Citharexylum quadrangulare, Buddleia americana, Crescentia cujete, Hura crepitans, Duranta plumieri, Ficus carica, Nicotiana glauca
Limestone sinks forest (general)
The Walsingham Tract (and several places near Harrington Sound) have numerous depressions (sinks), and caves
Trees and shrubs: Juniperus bermudiana, Sabal blackburniana, Celtis mississippiensis, Citharexylum quadrangulare, Calophyllum calaba, Citrus limonium, Ficus carica, Musa Cavendishii (planted), Melia azederach, Lantana camara, Lantana involucrata; herbs: Commelina agraria (=nudiflora), Peperomia obtusifolia, Bryophyllum calycinum, Stenotaphrum americanum, Asplenium trichomanes; lianes: Jasminum gracile, Rhus toxicodendron, Ipomoea purpurea, Cardiospermum halicacabum; [Lefroy, plants of limestone sinks: Ampelopsis (Parthenocissus) quinquefolia, Asplenium crenulatum, Callicarpa ferruginea, Asplenium myriophyllum, Dodonaea viscosa, Chiococca racemosa, Eugenia axillaris (=monticola), Elaeodendron xylocarpum, Caesalpinia (Guillandina) bonducella, Forestiera porulosa, Jasminum gracile, Ipomoea purpurea, Passiflora ciliata (=foetida), Jatropha curcas, Psilotum triquetrum, Peperomia obtusifolia, Pteris heterophylla, Psychotria undata, Trema (Sponia) Lamarckiana, Sicyos angulatus, Xanthoxylum clava-herculis, Triumfetta semitriloba]
Scrub (general)
Typical of cleared and abandoned land, consisting almost entirely of exotic species
Lantana camara, Lantana involucrata. Bryophyllum calycinum, Nerium oleander, etc.
Appendix 2
Plants mentioned by Harshberger (formations refer to the main habitat types referred to by Harshberger; "reported by Coulter" and "reported by Lefroy" indicate plants listed by Harshberger from other records). Currently accepted names are given in the first column. The second column notes the Harshberger name, if different (by synonymy or misidentification). Likely authorities are given for Harshberger names although none were given in the original paper. The final column lists collections by Harshberger, with herbarium locations of specimens given (in parentheses). This is not a complete list of his collections: specimens remain to be discovered, and species not in Harshberger (1905) are not listed here.
Currently accepted name
Harshberger name, if different
Affiliation
Formation
Harshberger specimens, all collected in 1905
Juniperus bermudiana L.
 
conifer
sand dune (wind-swept form), cliff rock (wind-swept trees), cedar forest, scrub (relict), limestone sinks, brackish marsh (encroaching margins)
June (MO)
Acrostichum danaeifolium Langsd. & Fisch.
Acrostichum aureum L.
fern
brackish marsh (edge)
 
Adiantum bellum T.Moore
 
fern
cedar forest (rock crevices)
12 June, rock cliffs (MO, US); 16 June limestone sinks, Walsingham (MO)
Anopteris hexagona (L.) C.Chr. [Anopteris heterophylla auct., non (L.) Diels]
Pteris heterophylla L.
fern
limestone sinks (reported by Lefroy)
 
Asplenium heterochroum Kunze
Asplenium trichomanes L.
fern
limestone sinks (sides of sinks)
13 June, Devil's Hole (MO, US); 16 June, Walsingham (US)
Asplenium myriophyllum (Sw.) C.Presl
 
fern
limestone sinks (reported by Lefroy)
 
Diplazium laffanianum (Baker) C.Chr.
Asplenium crenulatum [sensu Lefroy]
fern
limestone sinks (reported by Lefroy)
 
Osmunda regalis L.
 
fern
brackish marsh
 
Osmundastrum cinnamomeum (L.) C.Presl
Osmunda cinnamomea L.
fern
brackish marsh (frequent)
17 June, Smith's and Devonshire marshes (MO, US)
Psilotum nudum (L.) P.Beauv.
Psilotum triquetrum Sw.
fern
limestone sinks (reported by Lefroy)
 
Pteridium caudatum (L.) Maxon
Pteris (Pteridium) aquilina var. caudata (L.) Link
fern
brackish marsh (drier peaty soil)
17 June, Devonshire Marsh (US)
Avicennia germinans (L.) L.
Avicennia nitida Jacq.
flowering plant
mangrove swamp (heads of bays, saltwater ponds), salt marsh (rare)
 
Baccharis glomeruliflora Pers.
Baccharis heterophylla Kunth
flowering plant
brackish marsh (in thickets, encroaching margins)
June, Smith's Parish Marsh (US)
Bacopa monnieri (L.) Wettst.
Herpestis monnieri (L.) Kunth
flowering plant
brackish marsh (reported by Coulter)
14 June, North Shore roads (US)
Borrichia arborescens (L.) DC
 
flowering plant
sand dune, cliff rock
June, rocks along shore (US)
Bryophyllum pinnatum (Lam.) Oken
Bryophyllum calycinum Salisb.
flowering plant
cedar forest (abundant in undergrowth, abandoned cellars), scrub, limestone sinks (bottoms of sinks)
 
Buddleja madagascariensis Lam.
Buddleja americana L.
flowering plant
cedar forest (occasional)
13 June, thickets near houses (MO)
Caesalpinia bonduc (L.) Roxb.
Caesalpinia (Guillandina) bonducella (L.) Fleming
flowering plant
limestone sinks (reported by Lefroy)
 
Cakile lanceolata (Willd.) O.E.Schulz
Cakile aequalis L'Hér. ex DC.
flowering plant
sand dune (upper beach)
14 June, North Shore along roads (US); 13 June (US)
Callicarpa americana L.
Callicarpa ferruginea Sw.
flowering plant
limestone sinks (reported by Lefroy)
 
Calophyllum calaba L.
 
flowering plant
limestone sinks
 
Canavalia rosea (Sw.) DC.
Canavalia obtusifolia (Lam.) DC.
flowering plant
sand dune
13 June, sand dunes, South Shore (MO, US)
Cardiospermum microcarpum Kunth
Cardiospermum halicacabum L.
flowering plant
limestone sinks
 
Cassine xylocarpa Vent. [Cassine laneana (A.H.Moore) J.Ingram if considered endemic sp.]
Elaeodendron xylocarpum (Vent.) DC.
flowering plant
limestone sinks (reported by Lefroy)
16 June, limestone sinks, Walsingham (MO, US)
Celtis laevigata Willd.
Celtis mississippiensis Bosc.
flowering plant
limestone sinks
 
Centella asiatica (L.) Urb.
Hydrocotyle asiatica L.
flowering plant
brackish marsh (reported by Coulter)
 
Ceratophyllum demersum L.
 
flowering plant
brackish marsh (reported by Lefroy)
 
Chiococca alba (L.) Hitchc. [Chiococca bermudiana S.Br.]
Chiococca racemosa L.
flowering plant
limestone sinks (reported by Lefroy)
15 June, limestone sinks, Walsingham (MO, US)
Citharexylum spinosum L.
Citharexylum quadrangulare Jacq.
flowering plant
cedar forest (occasional), limestone sinks
16 June, limestone sinks, Walsingham (MO, US)
Citrus limon (L.) Osbeck
Citrus limonium auct.
flowering plant
limestone sinks
 
Cladium mariscus (L.) Pohl subsp. jamaicense (Crantz) Kük.
Cladium occidentale (C. germanicum) Schrad.
flowering plant
brackish marsh (reported by Lefroy)
June, Smith's Parish Marsh (US)
Coccoloba uvifera (L.) L.
 
flowering plant
cliff rock
14 June, Hotel Frascati [Flatts] (MO, US)
Commelina diffusa Burm.f.
Commelina agraria Kunth
flowering plant
limestone sinks
4 June, Hotel Frascati [Flatts] (US)
Conocarpus erectus L.
 
flowering plant
sand dune (incl. some thickets on dune crest), cliff rock (prostrate trees)
13 June, sand dunes South Shore (US)
Crescentia cujete L.
 
flowering plant
cedar forest
 
Croton punctatus Jacq.
Croton maritimus Walter
flowering plant
sand dune (occasional clumps)
17 June, Tucker's Town (US)
Cyperaceae spp.
 
flowering plant
salt marsh
 
Dodonaea viscosa Jacq.
 
flowering plant
sand dune, limestone sinks (reported by Lefroy)
16 June, Walsingham (US)
Duranta erecta L.
Duranta plumieri Jacq.
flowering plant
cedar forest
12 June, Hotel Frascati [Flatts] (MO, US)
Eclipta prostrata (L.) L.
Eclipta erecta L.
flowering plant
brackish marsh (reported by Lefroy)
21 June, Pembroke Marsh (US)
Eugenia axillaris (Sw.) Willd.
Eugenia monticola (Sw.) DC.
flowering plant
limestone sinks (reported by Lefroy)
 
Euphorbia mesembryanthemifolia Jacq.
Euphorbia buxifolia Lam.
flowering plant
sand dune, cliff rock
 
Ficus carica L.
 
flowering plant
cedar forest (abandoned cellars), limestone sinks
12 June, waste limestone (US)
Foeniculum vulgare Mill.
 
flowering plant
sand dune
 
Forestiera segregata (Jacq.) Krug & Urb.
Forestiera porulosa
(Michx.) Poir.
flowering plant
limestone sinks (reported by Lefroy)
 
Heliotropium curassavicum L.
 
flowering plant
mangrove swamp (with Avicennia in brackish swamps), salt marsh
12 June, salt marsh near Wistowe, Harrington Sound (MO, US)
Heliotropium gnaphaloides L.
Tournefortia gnaphalodes (L.) R.Br. ex Roem. & Schult.
flowering plant
sand dune
 
Hura crepitans L.
 
flowering plant
cedar forest
 
Hypericum hypericoides (L.) Crantz
Ascyrum crux-andreae L.
flowering plant
brackish marsh (reported by Lefroy)
 
Ipomoea indica (Burm.) Merr.
Ipomoea purpurea (L.) Roth
flowering plant
limestone sinks (reported by Lefroy)
16 June, Walsingham (MO, US)
Ipomoea pes-caprae (L.) R.Br.
 
flowering plant
sand dune
13 June, sand dunes (MO, US)
Jasminum simplicifolium G.Forst. subsp. australiense P.S.Green
Jasminum gracile Andrews
flowering plant
limestone sinks (reported by Lefroy)
12 June, Hotel Frascati [Flatts] (US);13 June, limestone sinks, Walsingham (US)
Jatropha curcas L.
 
flowering plant
limestone sinks (reported by Lefroy)
 
Kickxia elatine (L.) Dumort.
Linaria elatine (L.) Mill.
flowering plant
cliff rock
 
Kosteletzkya virginica (L.) C.Presl ex A.Gray
 
flowering plant
brackish marsh (reported by Lefroy)
 
Kyllinga brevifolia Rottb.
Kyllinga monocephala Thunb.
flowering plant
brackish marsh (reported by Lefroy)
 
Lantana camara L.
 
flowering plant
sand dune, cliff rock, cedar forest, scrub, limestone sinks
12 June, Flatt's Village (US)
Lantana camara L.
Lantana crocea Jacq.
flowering plant
sand dune
 
Lantana involucrata L.
 
flowering plant
cliff rock, scrub, limestone sinks, cedar forest
12 June, hills under junipers (US)
Lemna valdiviana Phil.
Lemna minor L.
flowering plant
brackish marsh
21 June, Pembroke Marsh (MO)
Lepidium virginicum L.
 
flowering plant
sand dune
 
Limonium carolinianum (Walter) Britton
Statice lefroyi Hemsl.
flowering plant
salt marsh (mentioned but apparently not seen by Harshberger)
 
Melia azederach L.
 
flowering plant
limestone sinks
 
Mentha spicata L.
Mentha viridis (L.) L.
flowering plant
brackish marsh (reported by Coulter)
 
Musa acuminata Colla
Musa cavendishii Lamb.
flowering plant
limestone sinks (planted)
 
Nasturtium officinale R.Br.
 
flowering plant
brackish marsh (in water channels - Lefroy)
 
Nerium oleander L.
 
flowering plant
sand dune, cedar forest, scrub
12 June, Flatts (MO, US)
Nicotiana glauca Graham
 
flowering plant
cedar forest (abandoned cellars)
 
Opuntia sp.
 
flowering plant
sand dune
 
Opuntia stricta (Haw.) Haw. [O. dillenii (Ker Gawl.) Haw., sensu Britton]
Opuntia vulgaris Mill.
flowering plant
sand dune
 
Parthenocissus quinquefolia (L.) Planch.
Ampelopsis (Parthenocissus) quinquefolia (L.) Michx.
flowering plant
limestone sinks (reported by Lefroy)
 
Passiflora foetida L.
Passiflora ciliata Aiton
flowering plant
limestone sinks (reported by Lefroy)
 
Passiflora suberosa L.
 
flowering plant
sand dune
19 June, Paget dunes (MO, US)
Peperomia magnoliifolia (Jacq.) A. Dietr. [P. septentrionalis S.Br. if considered endemic sp.]
Peperomia obtusifolia (L.) A.Dietr.
flowering plant
limestone sinks (rough rocks in bottoms and reported by Lefroy)
15 June, limestone sinks, Walsingham (US)
Phyla nodiflora (L.) Greene
Lippia nodiflora (L.) Michx.
flowering plant
cliff rock, cedar forest
12 June (US)
Pluchea odorata (L.) Cass.
 
flowering plant
brackish marsh (reported by Lefroy)
15 June, Shelly Bay (US)
Pluchea odorata (L.) Cass.
Pluchea purpurascens (Sw.) DC.
flowering plant
mangrove swamp (with Avicennia in brackish swamps)
 
Proserpinaca palustris L.
 
flowering plant
brackish marsh
 
Psychotria ligustrifolia (Northr.) Millsp.
Psychotria undata Jacq.
flowering plant
limestone sinks (reported by Lefroy)
16 June 1906[5], Walsingham (US)
Rhizophora mangle L.
 
flowering plant
mangrove swamp (heads of bays, saltwater ponds)
17 June, Walsingham (MO, US)
Rhynchospora colorata (L.) H.Pfeiff.
Dichromena leucocephala Michx.
flowering plant
brackish marsh (reported by Coulter)
17 June, Smith's Parish Marsh (MO, US)
Sabal bermudana L.H.Bailey
Sabal blackburniana Glazebrook
flowering plant
brackish marsh (encroaching margins), cliff rock, cedar forest, limestone sinks
1905, North Shore (NY, US)
Sarcocornia perennis (Miller) A.J.Scott
Salicornia fruticosa (L.) L.
flowering plant
mangrove swamp (with Avicennia in brackish swamps), salt marsh
12 June, small salt marsh at Wistowe, Harrington Sound (MO, US)
Scaevola plumieri (L.) Vahl
 
flowering plant
sand dune
 
Schoenoplectus tabernaemontani (C.C. Gmel.) Palla
Scirpus validus Vahl.
flowering plant
brackish marsh (reported by Lefroy)
11 June, Smith's Parish Marsh (US)
Schoenoplectus tabernaemontani (C.C.Gmel.) Palla
Scirpus lacustris L.
flowering plant
brackish marsh
 
Sesuvium portulacastrum (L.) L.
 
flowering plant
mangrove swamp (with Avicennia in brackish swamps), salt marsh, cliff rock
12 June, small salt marsh at Wistowe, Harrington Sound (MO, US)
Sicyos angulatus L.
 
flowering plant
limestone sinks (reported by Lefroy)
 
Sisyrinchium bermudiana L.
Sisyrinchium bermudianum auct.
flowering plant
sand dune, cedar forest
12 June (US)
Solidago sempervirens Michx.
 
flowering plant
sand dune, cliff rock, cedar forest
13 June, Harrington Sound (NY, US)
Spiranthes brevilabrus Lindl.
 
flowering plant
brackish marsh (reported by Lefroy)
 
Stenotaphrum secundatum (Walter) Kuntze
Stenotaphrum americanum Schrank
flowering plant
sand dune (incl. mats on the lee slopes), salt marsh, cliff rock (covering available soil), cedar forest (carpeting beneath cedars), limestone sinks (abundant)
12 June (MO, US)
Toxicodendron radicans (L.) Kuntze
Rhus toxicodendron L.
flowering plant
limestone sinks (sides of sinks)
 
Trema lamarckiana (Roem. & Schult.) Blume
 
flowering plant
limestone sinks (reported by Lefroy)
 
Triumfetta semitriloba Jacq.
 
flowering plant
limestone sinks
16 June, Walsingham (MO, US)
Typha domingensis Pers.
Typha angustifolia L.
flowering plant
brackish marsh
15 June, Devil's Hole (MO)
Waltheria indica L.
Waltheria americana L. (W. indica L.)
flowering plant
brackish marsh (reported by Lefroy)
 
Yucca aloifolia L.
 
flowering plant
sand dune, cliff rock
19 June, Paget Botanic Gardens (US)
Zanthoxylum flavum Vahl (Z. clavis-herculis sensu Lefroy)
Xanthoxylum clava-herculis L.
flowering plant
limestone sinks (reported by Lefroy)
 
Cladonia sp.
 
lichen
brackish marsh (drier peaty soil)
 
Colpomenia sinuosa (Mertens ex Roth) Derbès & Solier
 
marine alga (brown)
marine algal (saltwater ponds)
 
Dictyopteris polypodioides (DC.) J.V. Lamour.
Haliseris polypodioides (DC.) C.Agardh
marine alga (brown)
marine algal (surge algae)
 
Dictyota bartayresiana J.V.Lamour.
 
marine alga (brown)
marine algal (surge algae)
 
Padina pavonica (L.) Thivy
Padina pavonia (L.) J. V.Lamour.
marine alga (brown)
marine algal (surge algae, tidal pools, sandy bottoms)
 
Sargassum natans (L.) Gaillon
Sargassum bacciferum (Turner) C.Agardh
marine alga (brown)
marine algal (surge algae)
 
Sargassum sp.
 
marine alga (brown)
sand dune (washed ashore at high tide)
 
Stypopodium zonale (J.V.Lamour.) Papenfuss
Zonaria lobata C. Agardh
marine alga (brown)
marine algal (surge algae)
 
Acetabularia crenulata J.V.Lamour.
 
marine alga (green)
marine algal (tidal pools)
 
Anadyomene stellata (Wulfen) C.Agardh
Anadyomene flabellata J.V.Lamour.
marine alga (green)
marine algal (surge algae)
 
Caulerpa chemnitzia (Esper) J.V.Lamour.
Caulerpa racemosa (Forsskål) J.Agardh
marine alga (green)
marine algal (saltwater ponds)
 
Caulerpa chemnitzia (Esper) J.V.Lamour.
Caulerpa racemosa var. uvifera (C.Agardh) J. Agardh.
marine alga (green)
marine algal (tidal pools)
 
Caulerpa cupressoides var. lycopodium Weber-van Bosse
 
marine alga (green)
marine algal (sandy bottoms)
 
Caulerpa mexicana Sond. ex Kütz.
Caulerpa taxifolia (M. Vahl) C.Agardh
marine alga (green)
marine algal (sandy bottoms)
 
Caulerpa mexicana Sond. ex Kütz.
 
marine alga (green)
marine algal (tidal pools)
 
Caulerpa sertularioides (S.G.Gmel.) M.Howe
Caulerpa plumaris (Forsskål) C.Agardh
marine alga (green)
marine algal (saltwater ponds)
 
Codium decorticatum (Woodw.) M.Howe
Codium tomentosum Stackhouse
marine alga (green)
marine algal (surge algae)
 
Halimeda incrassata (J.Ellis) J.V.Lamour.
Halimeda tridens (J. Ellis & Solander) J.V. Lamour.
marine alga (green)
marine algal (surge algae, sandy bottoms)
 
Halimeda tuna (J.Ellis & Solander) J.V.Lamour.
Halimeda tuna
marine alga (green)
marine algal (surge algae)
 
Neomeris annulata Dickie
Neomeris dumetosa J. V.Lamour.
marine alga (green)
marine algal (surge algae)
 
Penicillus capitatus Lamarck
 
marine alga (green)
marine algal (sandy bottoms), mangrove swamp
 
Ulva lactuca L.
 
marine alga (green)
mangrove swamp (surge algae, tidal pools, with Avicennia in brackish swamps)
 
Ulva rigida C.Agardh
Ulva latissima auct.
marine alga (green)
marine algal (surge algae)
 
Valonia macrophysa Kütz.
Valonia utricularis (Roth) C.Agardh
marine alga (green)
marine algal (saltwater ponds)
 
Digenea simplex (Wulfen) C.Agardh
 
marine alga (red)
marine algal (tidal pools)
 
Galaxaura rugosa (J. Ellis & Solander) J.V.Lamour.
Galaxeura lapidescens (J. Ellis & Solander) J. V.Lamour.
marine alga (red)
marine algal (surge algae)
 
Halymenia bermudensis Collins & M.Howe
Rhodymenia palmata (L.) Greville
marine alga (red)
marine algal (surge algae)
 
Leucobryum glaucum (L.) Schimp.
Leucobryum sp.
moss
brackish marsh (drier peaty soil)
 
Sphagnum spp.
 
moss
brackish marsh (two species)
 
About this article
Cite this article
Wolsak, S., Wingate, D. & Cronk, Q. Environmental change in the terrestrial vegetation of Bermuda: Revisiting Harshberger (1905). Brittonia 70, 257–275 (2018). https://doi.org/10.1007/s12228-017-9509-x
Keywords
Bermuda

Ecology

Historical ecology

Plant invasion

Conservation treadmill

Environmental change