Abstract
Tovomita megantha, a new species presumably endemic to submontane Atlantic Forest in southern Bahia, Brazil is described, illustrated, and its diagnostic features compared to those of similar species. The new species belongs to the informal group Chrysochlamydifoliae. It differs from Tovomita choisyana and Tovomita longifolia by having much larger pedicels, flower buds, and floral diameters. The species here described is the tallest of the known species of Tovomita in the Atlantic Forest.
Resumo
Tovomita megantha, uma nova espécie presumivelmente endêmica da Floresta Atlântica brasileira do sul da Bahia, é aqui descrita, ilustrada e suas características diagnósticas são comparadas e discutidas com espécies similares. A nova espécie pertence ao grupo informal Chrysochlamydifoliae. Difere de Tovomita choisyana e Tovomita longifolia pelos pedicelos, botões florais e diâmetro das flores muito maiores. A espécie aqui descrita é a mais alta dentre as espécies conhecidas de Tovomita da Floresta Atlântica.
Access options
Buy single article
Instant access to the full article PDF.
USD 39.95
Price excludes VAT (USA)
Tax calculation will be finalised during checkout.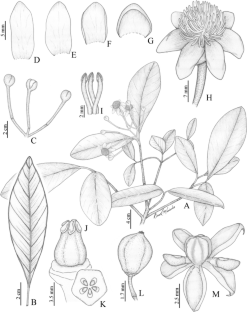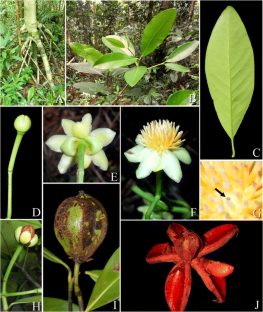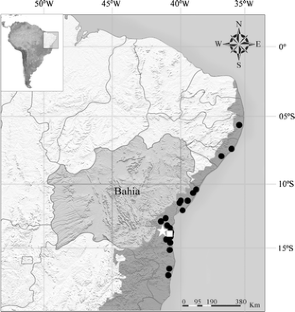 Literature Cited
Alves, M. V., W. W. Thomas & M. G. L. Wanderley. 2002. New species of Hypolytrum Rich. (Cyperaceae) from the Neotropics. Brittonia 54: 124–135.

Barneby, R. C. 1999. Increments to genus Chamaecrista (Caesalpiniaceae: Cassiinae) from Bolivia and from Atlantic and Planaltine Brazil. Brittonia 51: 331–339.

Bittrich, V., R. J. Trad, F. Cabral & J. E. Nascimento-Jr. 2015. Clusiaceae. In: Lista de Espécies da Flora do Brasil. Jardim Botânico do Rio de Janeiro. http://floradobrasil.jbrj.gov.br/2012.

Carvalho, A. M. & R. C. Barneby. 1993. The genus Zollernia (Fabaceae: Swartzieae) in Bahia, Brazil. Brittonia 45: 208–212.

Costa, G. M., W. M. B. São-Mateus, R. P. Oliveira & A. M. Giulietti. 2010. Flora da Bahia: Bonnetiaceae. Sitientibus 10: 77–79.

Cuello, N. L. 1998. Tovomita. Pp. 313–322. In: J. A. Steyermark, P. E. Berry & K. B. Holst (eds.), Flora of the Venezuelan Guyana – Caesalpiniaceae-Ericaceae Vol. 4..

———. 2003. A new species of Tovomita (Clusiaceae) from Amazonian Venezuela and Peru. Novon 13: 34–36.

Engler, A. 1888. Guttiferae. Pp. 441–455. In: C. F. P. Martius, A. W. Eichler & I. Urban (eds.), Flora Brasiliensis. Frid. Fleischer. Leipzig. Vol. 12.

———. 1925. Guttiferae. Pp 154–237. In: A. Engler & K. Prantl (eds.), Die Naturlichen Pflanzenfamilien 2 ed. Vol. 21.

García-Villacorta, R. & B. E. Hammel. 2004. A noteworthy new species of Tovomita (Clusiaceae) from Amazonian white sand forests of Peru and Colombia. Brittonia 56: 132–135.

Goldenberg, R. & A. M. Amorim. 2006. Physeterostemon (Melastomataceae): a new genus and two new species from the Bahian Atlantic Forest, Brazil. Taxon 55: 965–972.

IUCN. 2012. IUCN Red List Categories and Criteria: Version 3.1. Second edition. Gland, Switzerland and Cambridge, UK: IUCN. http:// www.iucnredlist.org/technical-documents/categories-and-criteria

Marinho, L. C. 2015. Estudos taxonômicos em Tovomita Aubl. (Clusiaceae) na Floresta Atlântica brasileira. Universidade Estadual de Feira de Santana, UEFS, Feira de Santana, Bahia, Brazil. Dissertation of Master Science degree.

———, R. F. Almeida & A. M. Amorim. 2014. First records of Tovomita stergiosii Cuello (Clusiaceae: Clusieae) in Brazil. Check List 10: 1570–1572.

———, P. Fiaschi & A. M. Amorim. 2015a. A new species of Tovomita Aubl. (Clusiaceae) from the Brazilian Atlantic Forest. Phytotaxa 207(2): 193–199.

———, A. M. Amorim & V. Bittrich. 2015b. Clusia heterocolorata (Clusiaceae), a new species from the Brazilian Atlantic Forest. Phytotaxa 220(1): 083–088.

Mariz, G. 1974. Two new species of Tovomita Aubl. (Guttiferae) from Northeastern Brazil. Bulletin of the Torrey Botanical Club 101(6): 367–371.

Martini, A. M. Z., P. Fiaschi, A. M. Amorim & J. L. Paixão. 2007. A hot-point within a hot-spot: a high diversity site in Brazil's Atlantic Forest. Biodiversity Conservation 16: 3111–3128.

Morillo, G. 1998. Notas sobre el género Marsdenia R. Br. En el Neotrópico. Ernstia 8: 3–8.

Nogueira, P. C. L., A. J. Marsaioli, M. C. E. Amaral & V. Bittrich. 1998. The fragrant floral oils of Tovomita species. Phytochemistry 49: 1009–1012.

Pipoly, J. J. & M. H. G. Gustafsson. 2002. Clusiaceae. Pp. 211–223. In: S.A. Mori, G. Cremers, C.A. Gracie, J.J. de Granville, S.V. Heald, M. Hoff & J.D. Mitchell (eds.), Guide to the vascular plants of central French Guiana. Part 2. Dicotyledons. Memoirs of the New York Botanical Garden. Vol. 76(2).

Planchon, J. E. & J. Triana. 1860. Memoire sur La Famille des Guttiferes. Pp. 226–367. In: Annales des sciences naturelles Vol. 4.

Poncy, O. & B. Offroy. 2006. Une nouvelle espèce de Tovomita Aubl. (Clusiaceae) de Guyane française. Adansonia 3: 113–117.

Prance, G. T. 1993. Four new species of Neotropical Dichapetalaceae. Kew Bulletin 49: 129–136.

Sobral, M. 2010. Ten new Myrtaceae from eastern and northeastern Brazil. Journal of the Botanical Research Institute of Texas 4: 133–158.

Thomas, W. W., A. M. V. Carvalho, A. M. Amorim, J. Garrison & A. L. Arbeláez. 1998. Plant endemism in two forests in southern Bahia, Brazil. Biodiversity and Conservation 7: 311–322.

Vesque, J. 1895. Guttiferae. Pp. 1–676. In: A. De Candolle & C. De Candolle (eds.), Monographiae Phanerogamarum. Vol. 8.
Acknowledgments
We thank the Conselho Nacional de Desenvolvimento Científico e Tecnológico (CNPq) for awarding a PhD Fellowship to LCM (grant #141561/2015-7) and a Research Productivity Fellowship to AMA (grant # 306992/2012-4). Laboratory and fieldwork was financially supported by CNPq (Reflora Malpighiales grant # 563548/2010-0, Universal grant # 486079/2013–9 and PPBIO Mata Atlântica grant # 457483/2012-1). We also thank the Programa de Pós-Graduação em Botânica (PPPGBot/UEFS) for the laboratory structure, the anonymous reviewers for their invaluable contributions (we are standing on the shoulders of giants) and Cleiton S. Pessoa, José Lima da Paixão, and Lukas H. Daneu for their help during fieldwork.
About this article
Cite this article
Marinho, L.C., Fiaschi, P. & Amorim, A.M. Tovomita megantha: A new species of Clusiaceae from the Brazilian Atlantic Forest. Brittonia 68, 55–60 (2016). https://doi.org/10.1007/s12228-015-9393-1
Published:

Issue Date:

DOI: https://doi.org/10.1007/s12228-015-9393-1
Key Words
Bahia

Malpighiales

morphology

northeastern Brazil

taxonomy