Abstract. Recent expeditions to the northern Cordillera Occidental of the Colombian Andes and preliminary work on a revision of Drymonia (Gesneriaceae, tribe Episcieae) have resulted in the discovery of a new species. The new species, Drymonia crispa, is a scandent shrub with maroon pedicels; lanceolate calyx lobes that are sinuate with a prominent midvein; and a campanulate corolla that is white suffused with pink.
Resumen. Las expediciones recientes al norte de la Cordillera Occidental de los Andes colombianos, y el trabajo preliminar de revisión del género Drymonia (Gesneriaceae, tribu Episcieae) han permitido descubrir una nueva especie: Drymonia crispa, que se distingue por su hábito escandente con pedicelos vinotinto; lóbulos del cáliz lanceolados, sinuados y con la vena media prominente; y corola campanulada, blanca con rosado.
Access options
Buy single article
Instant access to the full article PDF.
USD 39.95
Price excludes VAT (USA)
Tax calculation will be finalised during checkout.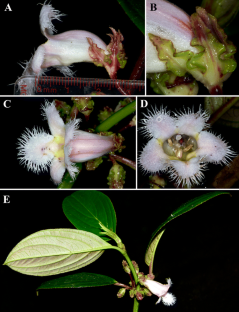 Literature Cited
APG (Angiosperm Phylogeny Group) III. 2009. An update of the Angiosperm Phylogeny Group classification for the orders and families of flowering plants: APG III. Botanical Journal of the Linnean Society 161: 105–121.

Clark, J. L. 2009. Systematics of Glossoloma (Gesneriaceae). Systematic Botany Monographs 89:1–126.

——— & E. A. Zimmer. 2003. A preliminary phylogeny of Alloplectus (Gesneriaceae): Implications for the evolution of flower resupination. Systematic Botany 28: 365–375.

———, M. M. Funke, A. M. Duffy & J. F. Smith. 2012. Phylogeny of a neotropical clade in the Gesneriaceae: More tales of convergent evolution. International Journal of Plant Sciences 173: 894–916.

———, P. S. Herendeen, L. E. Skog & E. A. Zimmer. 2006. Phylogenetic relationships and generic boundaries in the Episcieae (Gesneriaceae) inferred from nuclear, chloroplast, and morphological data. Taxon 55: 313–336.

Clavijo, L. & J. L. Clark. 2008. El género Drymonia (Gesneriaceae). Guide #244. Rapid Color Guides, Environmental and Conservation Programs, The Field Museum, Chicago, IL.

——— & ———. 2012. Drymonia atropurpurea (Gesneriaceae), a new species from northwestern South America. Journal of the Botanical Research Institute of Texas 6: 71–74.

Espinal-Tascón, L. S. 2011. Zonas de vidas del departamento de Antioquia. Anotaciones y complementos por G. Vásquez-Velásquez. Pp. 325–289. In: R. Callejas & A. Idárraga (eds.), Flora de Antioquia: Catálogo de las plantas vasculares. Vol. I. Introducción. Programa Expedición Antioquia-2013. Series Biodiversidad y Recursos Naturales. Universidad de Antioquia, Missouri Botanical Garden & Oficina de planeación departamental de la Gobernación de Antioquia, Editorial D'Vinni, Bogotá, Colombia.

Holdridge, L. R. 1978. Life zone ecology. Tropical Science Center. San José, Costa Rica.

IUCN. 2001. IUCN Red List Categories and Criteria, Version 3.1. Prepared by the IUCN Species Survival Commission. International Union for Conservation of Nature and Natural Resources, Gland, Switzerland and Cambridge.

Mittermeier, R. A., N. Myers & J. B. Thomsen. 2008. Biodiversity Hotspots and major tropical wilderness areas: Approaches to setting conservation priorities. Conservation Biology 12: 516–520.

Myers, N., R. A. Mittermeier, C. G. Mittermeier, G. A. B. da Fonseca & J. Kent. 2000. Biodiversity hotspots for conservation priorities. Nature 403: 853–858.

Möller, M., M. Pfosser, C-G. Jang, V. Mayer, A. Clark, M. L. Hollingsworth, M. H. J. Barfuss, Y-Z. Wang, M. Kiehn & A. Weber. 2009. A preliminary phylogeny of the "didymocarpoid Gesneriaceae" based on three molecular data sets: incongruence with available tribal classifications. American Journal of Botany 96: 989–1010.

Roalson, E. H., J. K. Boggan & L. E. Skog. 2005a. Reorganization of tribal and generic boundaries in the Gloxinieae (Gesneriaceae: Gesnerioideae) and the description of a new tribe in the Gesnerioideae, Sphaerorrhizeae. Selbyana 25: 225–238.

———, J. K. Boggan, L. E. Skog & E. A. Zimmer. 2005b. Untangling Gloxinieae (Gesneriaceae). I. Phylogenetic patterns and generic boundaries inferred from nuclear, chloroplast, and morphological cladistic datasets. Taxon 54: 389–410.

———, L. E. Skog, & E. A. Zimmer. 2008. Untangling Gloxinieae (Gesneriaceae). II. Reconstructing biogeographic patterns and estimating divergence times among New World continental and island lineages. Systematic Botany 33: 159–175.

Rodríguez-Maecha, J. V., P. Salaman, P. Jørgensen, T. Consiglio, E. Forno, A. Telesca, L. Suárez, F. Arjona, F. Rojas, R. Bensted-Smith & V. H. Inchausty. 2004. Tropical Andes. Pp. 73–79. In: R. A. Mittermeier, P. Robles-Gil, M. Hoffmann, J. Pilgrim, T. Brooks, C. G. Mittermeier, J. Lamoreux & G. A. B. da Fonseca (eds.), Hotspots revisited: Earth's biologically richest and most endangered terrestrial ecoregions. CEMEX, Mexico city, Mexico.

Skog, L. E. & J. K. Boggan. 2006. A new classification of the Western Hemisphere Gesneriaceae. Gesneriads 56(3): 12–17.

Smith, J. F. 1996. Tribal Relationships Within Gesneriaceae: A cladistic analysis of morphological data. Systematic Botany 21: 497–513.

———. 2000. Phylogenetic resolution within the tripe Episcieae (Gesneriaceae): Congruence of ITS and ndhF sequences from parsimony and maximum-likelihood analyses. American Journal of Botany 87: 883–897.

———, J. C. Wolfram, K. D. Brown, C. L. Carroll & D. S. Denton. 1997. Tribal relationship in the Gesneriaceae: Evidence from DNA sequences of the chloroplast gene ndhF. Annals of the Missouri Botanical Garden 84: 50–66.

Weber, A. 2004. Gesneriaceae. Pp. 3–158. In: L. Kubitzki, L. & J. W. Kadereit (eds.), The families and genera of vascular plants. Vol. 7. Flowering plants, dicotyledons: Lamiales (except Acanthaceae including Avicenniaceae). Springer, Berlin, Germany.

Wiehler, H. 1983. A synopsis of the Neotropical Gesneriaceae. Selbyana 6: 1–219.

Zimmer, E. A., E. H. Roalson, L. E. Skog, J. K. Boggan & A. Idnurm. 2002. Phylogenetic relationships in the Gesnerioideae (Gesneriaceae) based on nrDNA ITS and cpDNA trnL-F and trnE-T spacer region sequences. American Journal of Botany 89: 296–311.
Acknowledgments
This study was supported by funds from the National Science Foundation (DEB-841958 and DEB-0949169). We thank Christian Feuillet and Laurence E. Skog for their helpful comments on the manuscript. Our 2012 research expedition to Colombia was a tremendous success because of logistical support from Álvaro Idárraga (HUA), Felipe Cardona (HUA), Julio Betancur (COL), Álvaro Cogollo (JAUM), and Diego Suescún (JAUM). We also thank Gustavo Suárez and Luis Augusto Mazariegos-Urtado for facilitating our expedition to the Reserve Mesenia-Paramillo. This discovery was made possible by Uriel Rendón who was our guide and serves as the park guard for the Mesenia-Paramillo Reserve.
About this article
Cite this article
Clavijo, L., Clark, J.L. Drymonia crispa (Gesneriaceae), a new species from northwestern Colombia. Brittonia 66, 65–69 (2014). https://doi.org/10.1007/s12228-013-9310-4
Published:

Issue Date:

DOI: https://doi.org/10.1007/s12228-013-9310-4
Key Words
Drymonia

Gesneriaceae

Episcieae

Colombia

taxonomy