Abstract
A new species of Columnea (Gesneriaceae, tribe Episcieae) is described from the Chocó floristic region of the western Andean slopes of northern Ecuador. Columnea carinata differs from other congeners by the presence of elongate shoots, isophyllous leaves, and a uniformly bright red corolla, with nearly complete fusion of the upper two corolla lobes and an elongate keel on the dorsal surface of the corolla tube.
Resumen
Se describe una nueva especie de Columnea (Gesneriaceae, tribu Episcieae) de la región florística Chocó en el Norte de los Andes Ecuatorianos. Columnea carinata se distingue por la presencia de tallos elongados, hojas isófilas, corola de color rojo intenso, los dos lóbulos dorsales de la corola casi totalmente fisionados, y quilla elongada en la superficie dorsal del tubo de la corola.
Access options
Buy single article
Instant access to the full article PDF.
US$ 39.95
Tax calculation will be finalised during checkout.
Subscribe to journal
Immediate online access to all issues from 2019. Subscription will auto renew annually.
US$ 79
Tax calculation will be finalised during checkout.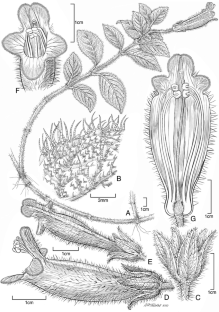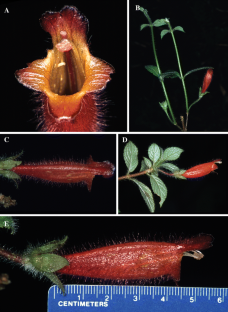 Literature Cited
Acosta Solís, M. 1968. Divisiones fitogeográficas y formaciones geobotánicas del Ecuador. Publicaciones Científicas de la Casa de la Cultura Ecuatoriana, Quito.

Burtt, B. L. & H. Wiehler. 1995. Classification of the family Gesneriaceae. Gesneriana 1: 1–4.

Cañadas Cruz, L. 1983. El mapa bioclimático y ecológico del Ecuador. Banco Central del Ecuador, Quito.

Clark, J. L. 2011. Columnea lucifer (Gesneriaceae), a new species from northwestern Ecuador. Journal of the Botanical Research Institute of Texas 5: 81–85.

——— & L. E. Skog. 2008. Novae Gesneriaceae Neotropicarum XV: Kohleria hypertrichosa, a new species of Gesneriaceae from northwestern Ecuador. Journal of the Botanical Research Institute of Texas 2: 19–24.

——— & ———. 2011. Novae Gesneriaceae Neotropicarum XVI: Cremosperma anisophyllum, a new species of Gesneriaceae from the Chocó region of northern Ecuador and southern Colombia. Brittonia 63: 133–138.

Harling, G. 1979. The vegetation types of Ecuador—a brief survey. Pp. 165–174. In: K. Larsen & L. B. Holm-Nielsen (eds.), Tropical Botany. Academic Press, London.

Keene, J., H. E. Ballard & J. L. Clark. 2011. Two new species of Monopyle (Gesneriaceae) from northern Ecuador. Journal of the Botanical Research Institute of Texas 5: 513–520.

Sierra, R., C. Cerón, W. Palacios & R. Valencia. 1999. Mapa de vegetación del Ecuador Continental. Scale 1:1,000,000. Proyecto INEFAN/GEF-BIRF, Wildlife Conservation Society and EcoCiencia, Quito.

Skog, L. E. & J. K. Boggan. 2006. A new classification of the Western Hemisphere Gesneriaceae. Gesneriads 56: 12–17.

Smith, J. F. 1994. Systematics of Columnea section Pentadenia and section Stygnanthe (Gesneriaceae). Systematic Botany Monographs 44: 1–89.

Weber, A. 2004. Gesneriaceae, pp. 63–158. In: K. Kubitzki & J. W. Kadereit (eds.), The families and genera of vascular plants. Vol. 7. Flowering plants, dicotyledons: Lamiales (except Acanthaceae including Avicenniaceae). Springer-Verlag, Berlin & Heidelberg.
Acknowledgments
This study was supported by funds from the National Science Foundation (DEB-841958 and DEB-0949169). We thank Christian Feuillet for providing the Latin diagnosis and help in selecting the specific epithet; Laura Clavijo for providing the Spanish translation of the abstract; Jeremy Keene and Alain Chautems for providing helpful reviews of the manuscript; and Alice Tangerini for preparing the illustration. The first author made the initial discovery of Columnea carinata while assisting Walter Palacios (QCNE) as a U.S. Peace Corps Volunteer in 1994. The first author would like to express gratitude to Walter Palacios for his collegiality and mentorship from 1994 to 1998. Special thanks are due to Maria Eliza Manteca Oñate for her heroic efforts in promoting biodiversity and conservation through the Cerro Golondrinas Cloudforest Conservation Project and Reserve in 1991 and now through the Fundación Golondrinas.
About this article
Cite this article
Clark, J.L., Skog, L.E. Novae Gesneriaceae Neotropicarum XVIII: Columnea carinata, a new species of Gesneriaceae from northwestern Ecuador. Brittonia 65, 186–190 (2013). https://doi.org/10.1007/s12228-012-9277-6
Key words
Columnea

Ecuador

Episcieae

Gesneriaceae

Pentadenia

taxonomy