Abstract
A new species, Drymonia ignea (Gesneriaceae, tribe Episcieae), is described from the eastern slopes of the Ecuadorian Andes from the provinces of Tungurahua, Napo, and Morona-Santiago. It differs from other species of Drymonia by the presence of an urceolate corolla, quadrangular stem, and cucullate calyx lobes.
Resumen
Se describe una nueva especie, Drymonia ignea (Gesneriaceae, tribe Episcieae), de la vertiente oriental de los Andes Ecuatorianos, provincias de Tungurahua, Napo y Morona-Santiago. Esta nueva especie se diferencia de otras especies de Drymonia por la presencia de corola urceolada, tallo cuadrangular y lóbulos del cáliz cuculados.
Access options
Buy single article
Instant access to the full article PDF.
US$ 39.95
Tax calculation will be finalised during checkout.
Subscribe to journal
Immediate online access to all issues from 2019. Subscription will auto renew annually.
US$ 79
Tax calculation will be finalised during checkout.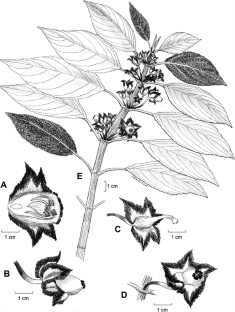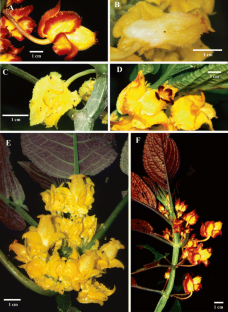 Literature Cited
APG (Angiosperm Phylogeny Group) III. 2009. An update of the Angiosperm Phylogeny Group classification for the orders and families of flowering plants: APG III. Botanical Journal of the Linnean Society 161: 105–121.

Clark, J. L. & E. A. Zimmer. 2003. A preliminary phylogeny of Alloplectus (Gesneriaceae): Implications for the evolution of flower resupination. Systematic Botany 28: 365–375.

———, P. S. Herendeen, L. E. Skog & E. A. Zimmer. 2006. Phylogenetic relationships and generic boundaries in the Episcieae (Gesneriaceae) inferred from nuclear, chloroplast, and morphological data. Taxon 55: 313–336.

Clavijo, L. & J. L. Clark. 2008. El género Drymonia (Gesneriaceae). Rapid Color Guide #244 (www.fmnh.org/plantguides). Chicago Field Museum.

IUCN. 2001. IUCN Red List Categories and Criteria, Version 3.1. Prepared by the IUCN Species Survival Commission. Gland, Switzerland and Cambridge: International Union for Conservation of Nature and Natural Resources.

Roalson, E. H., J. K. Boggan, L. E. Skog & E. A. Zimmer. 2005. Untangling Gloxinieae (Gesneriaceae). I. Phylogenetic patterns and generic boundaries inferred from nuclear, chloroplast, and morphological cladistic dataset. Taxon 54: 389–410.

——— & J. K. Boggan. 2006. A new classification of the Western Hemisphere Gesneriaceae. Gesneriads 56(3): 12–17.

Smith J. F. & C. L. Carroll. 1997. A cladistic Analysis of the tribe Episcieae (Gesneriaceae) based on ndhF sequences: Origin of morphological characters. Systematic Botany 22: 713–725.

Weber, A. 2004. Gesneriaceae, pp.63–158. In: Kubitzki, L. and J.W. Kadereit, eds. The families and genera of vascular plants. Vol. 7. Flowering plants, dicotyledons: Lamiales (except Acanthaceae including Avicenniaceae). Berlin & Heidelberg, Germany: Springer-Verlag.

Zimmer E. A., E. H. Roalson, L. E. Skog, J. K. Boggan & A. Idnurm. 2002. Phylogenetic relationships in the Gesnerioideae (Gesneriaceae) based on nrDNA ITS and cpDNA trnL-F and trnE-T spacer region sequences. American Journal of Botany 89: 296–311.
Acknowledgments
Support for this study was provided by the National Science Foundation (DEB-841958 and DEB-0949169). I thank Christian Feuillet for providing the Latin diagnosis and help in selecting the specific epithet; Sue Blackshear for preparing the illustration; John R. Clark and an anonymous reviewer for helpful comments on the manuscript; and Laura Clavijo for providing the Spanish translation of the abstract. The discovery of this species was made possible by a Fulbright Graduate Study and Research Abroad Scholarship (2002–2003).
About this article
Cite this article
Clark, J.L. A new species of Drymonia (Gesneriaceae) from the eastern slopes of the Ecuadorian Andes. Brittonia 65, 181–185 (2013). https://doi.org/10.1007/s12228-012-9275-8
Key Words
Gesneriaceae

Drymonia

taxonomy

Ecuador