Abstract
Recent fieldwork in central Arizona resulted in the discovery of two agaves that display low seed set, reproduce mainly by vegetative means, have restricted distributions, and cannot be readily assigned to any existing species. These agaves are closely associated with archaeological structures and features and can be found growing with other previously described pre-Columbian Agave domesticates. Herein we describe Agave verdensis and A. yavapaiensis, two species that can be placed within Gentry's informal Ditepalae Agave group, and propose that they are clonal relict domesticates. The two species have affinities with A. chrysantha, A. shrevei, and A. delamateri, the latter also a central Arizona pre-Columbian domesticate. We provide a key to distinguish these species from other agaves in central Arizona and adjacent northern Mexico with which they may be confused. The discovery of these two new species brings the total number of putative Arizona Agave domesticates to five species.
Resumen
Trabajo de campo reciente en el centro de Arizona, ha resultado en el descubrimiento de dos agaves que presentan una baja producción de semillas, se reproducen principalmente por medios vegetativos, tienen distribución restringida y no pueden asignarse a ninguna de las especies existentes. Estos agaves están asociados con estructuras arqueológicas y pueden encontrarse creciendo con otros agaves pre-Colombinos domesticados y anteriormente descritos. Se describe a continuación, Agave verdensis y A. yavapaiensis, dos especies que pueden ubicarse entre el grupo Ditepalae de agaves propuesto informalmente por Gentry. Las dos especies tienen afinidades con A. chrysantha, A. shrevei y A. delamateri. El último también es un Agave pre-Colombino domesticado del centro de Arizona. Proveemos una clave para distinguir estas especies de otros agaves en el centro de Arizona y el noroeste de México con los cuales pueden ser confundidos. El descubrimiento de estas dos nuevas especies eleva el número total de agaves domesticados en Arizona a cinco especies.
This is a preview of subscription content, log in to check access.
Access options
Buy single article
Instant access to the full article PDF.
US$ 39.95
Price includes VAT for USA
Subscribe to journal
Immediate online access to all issues from 2019. Subscription will auto renew annually.
US$ 99
This is the net price. Taxes to be calculated in checkout.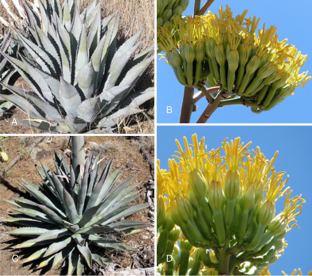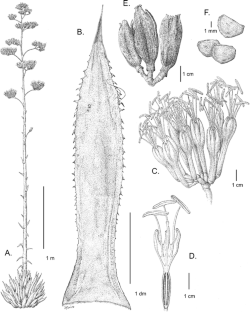 Literature Cited
Bohrer, V. 1987. The Plant Remains from La Ciudad, a Hohokam Site in Phoenix. Pp. 67–238. In: J. Kisselburg, G. Rice, & B. Shears (eds.), Specialized Studies in the Economy, Environment, and Culture of La Ciudad, Part III: Environmental Data. Arizona State University Anthropological Field Papers 20: 67–238. Department of Anthropology, Arizona State University, Tempe.

Bruman, H. J. 2000. Alcohol in ancient Mexico. University of Utah Press, Salt Lake City.

Bye, R., Jr., D. Burgess & A. Trias. 1975. Ethnobotany of the Western Tarahumara of Chihuahua, Mexico. Botanical Museum Leaflets, Harvard University 24: 85–112.

Callen, E. 1965. Food habits of some pre-Columbian Mexican Indians. Economic Botany 19: 335–343.

Castetter E., W. Bell & A. Grove. 1938. The early distribution and utilization of agave in the American Southwest. University of New Mexico Bulletin No. 335. University of New Mexico, Albuquerque, New Mexico.

Doolittle, W. E. 2000. Cultivated landscapes of Native North America. Oxford University Press, New York.

Fish, P. & S. Fish. 1984. Agricultural maximization in the Sacred Mountain Basin, Central Arizona. In: S. K. Fish & P. R. Fish, P.R (eds.), Prehistoric agricultural strategies in the Southwest: Arizona State University, Tempe, Anthropological Research Papers, No. 33, p. 147 –159.

Fish S., P. Fish, C. Miksicek & J. Madsen. 1985. Prehistoric agave cultivation in southern Arizona. Desert Plants 7: 107–112, 100.

———, ——— & J. Madsen. 1992. Evidence for large-scale agave cultivation in the Marana Community. Pp. 73–87. In: S. K. Fish, P. R. Fish, and J. Madsen (eds.), The Marana Community in the Hohokam world. Anthropological Papers of the University of Arizona, No. 56. University of Arizona Press, Tucson.

García-Mendoza, A. 2002. Distribution of Agave (Agavaceae) in Mexico. Cactus and Succulent Journal 4(74): 177–188.

Gasser, R. & S. Kwiatkowski. 1991. Food for thought: recognizing patterns in Hohokam subsistance. Pp. 417–459. In Exploring the Hohokam: Prehistoric desert peoples of the American Southwest. G. Gumerman, ed. Amerind Foundation, Dragoon, Arizona. University of New Mexico Press, Albuquerque.

Gentry. H. S. 1982. Agaves of Continental North America. University of Arizona Press, Tucson.

Hodgson, W. C. 2001a. Food Plants of the Sonoran Desert. University of Arizona Press, Tucson.

———. 2001b. Taxonomic novelties in American Agave (Agavaceae). Novon 11: 410–416.

——— & L. Slauson. 1995. Agave delamateri (Agavaceae) and its role in the subsistence patterns of pre-Columbian cultures in Arizona. Haseltonia No. 3: 130–140.

——— & A. Salywon. 2009. Pre-Columbian agaves: Living plants linking to an ancient past in Arizona. Botany & Mycology 2009. Snowbird, Utah. (http://2009.botanyconference.org/engine/search/index.php?func=detail&aid=803).

Miksicek, C. 1984. Historic desertification, prehistoric vegetation change, and Hohokam subsistence in the Salt-Gila Basin. Pp. 53–80. In: L. S. Teague & P. L. Crown (eds.). Hohokam archaeology along the Salt-Gila Aqueduct, Central Arizona Project. Arizona State Museum Archaeological Series 150, Tucson.

Minnis, P. E. & S. E. Plog. 1976. A study of the site specific distribution of Agave parryi in east central Arizona. The Kiva 41: 299–308.

Parker, K., J. Hamrick, W. Hodgson, D. Trapnell, A. Parker & R. Kuzoff. 2007. Genetic consequences of pre-Columbian cultivation for Agave murpheyi and A. delamateri (Agavaceae). Amer. J. Bot. 94: 1479–1490.

———, D. Trapnell, J. Hamrick, W. Hodgson & A. Parker. 2010. Inferring ancient Agave cultivation practices from contemporary genetic patterns. Molecular Ecology 19: 1622–1637.

Pilles, P., Jr. 1981. The southern Sinagua. Plateau 53(1): 6–17.

Reveal. J. & W. Hodgson. 2002. Agave. Agavaceae. In Flora of North America North of Mexico. Flora of North America Editorial Committee, Oxford University Press, Vol. 26: 442–461.

Zizumbo-Villarreal, D., F. Ganzález-Zozaya, A. Olay-Barrientos, R. Platas-Ruíz, M. Cuevas-Sagardí, L. Almendros-López & P. Colunga-García Marín. 2009. Archaeological evidence of the cultural importance of Agave spp. in pre-Hispanic Colima, Mexico. Economic Botany 63: 288–302.
Acknowledgments
We thank Donald J. Pinkava and Jane Williams for comments on earlier versions of this manuscript and Luis Hernández-Sandoval (University of Queretaro, Queretaro, Mexico) and Robert Webb (U.S. Geological Survey, Tucson, AZ) for editorial comments that improved the quality of this paper. Raul Puente-Martinez kindly translated the abstract into Spanish. We also thank Kathy Davis, Superintendent of Montezuma Castle, Montezuma Well and Tuzigoot National Monuments for her support and permission to collect within the monuments, permit no. MOCA 2003 SCI 0009. We are grateful to the U.S. Forest Service, Coconino and Prescott National Forests, particularly Barbara Phillips, regional botanist, for her support and permission to collect specimens for herbarium and live collections; also to Terrilynn Greene and Peter Pilles, for hosting several agave roasts held in conjunction with the V-V Archaeology Fair that not only provided taste comparisons of numerous agaves, but helped reconnect local indigenous tribes with their beloved plants. We also thank many of our friends who accompanied us in the field, including Dixie Damrel, Chad Davis, Heidi Fischer, Dawn Goldman, Max Licher, Raul Puente, Joni Ward, and Steve and Jane Williams. We are grateful to Jean Searle who showed Hodgson a number of the Page Springs agaves, and Susanne and Paul Fish, who visited several sites and offered their insight. Finally, we thank Molly Gill and Sandy Turico for the fine illustrations of A. verdensis and A. yavapaiensis, respectively.
About this article
Cite this article
Hodgson, W.C., Salywon, A.M. Two new Agave species (Agavaceae) from central Arizona and their putative pre-Columbian domesticated origins. Brittonia 65, 5–15 (2013). https://doi.org/10.1007/s12228-012-9255-z
Key Words
Agavaceae

Agave

Arizona

domesticate

pre-Columbian