Abstract
A new species of Gasteranthus (Gesneriaceae, Beslerieae) is described from the eastern Andean slopes of southern Ecuador. The presence of a strongly hypocyrtoid corolla with lateral protrusions along the pouch and ternate leaves differentiate Gasteranthus diverticularis from all other congeners.
Resumen
Se describe una nueva especie de Gasteranthus (Gesneriaceae, Beslerieae) de la vertiente oriental de los Andes del sur de Ecuador. La presencia de una corola marcadamente hipocirtoide con prominencias laterales a lo largo de la giba y las hojas ternadas diferencian a Gasteranthus diverticularis de otros congéneres.
Access options
Buy single article
Instant access to the full article PDF.
US$ 39.95
Tax calculation will be finalised during checkout.
Subscribe to journal
Immediate online access to all issues from 2019. Subscription will auto renew annually.
US$ 79
Tax calculation will be finalised during checkout.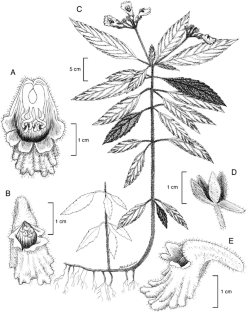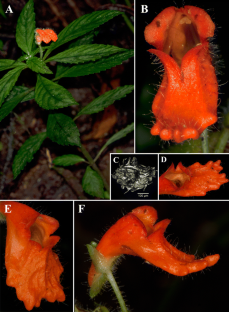 Literature Cited
Cichocki, K. 2008. My first Gesneriad expedition. Gesneriads 58: 39–50.

Clark, J. L., D. A. Neill, J. A. Gruhn, A. Weber & T. Katan. 2010. Shuaria (Gesneriaceae), an arborescent new genus from the Cordillera del Cóndor and Amazonian Ecuador. Systematic Botany 35: 662–674.

Endress, P. K. 1994. Gesneriaceae. Pp. 322–326. In: Diversity and Evolutionary Biology of Tropical Flowers. Cambridge, U.K.: Cambridge University Press.

IUCN . 2001. IUCN Red List Categories and Criteria, Version 3.1. Prepared by the IUCN Species Survival Commission. Gland, Switzerland and Cambridge: International Union for Conservation of Nature and Natural Resources.

Freiberg, M. 2000. Three new species of Gasteranthus (Gesneriaceae) from Ecuador. Brittonia 52: 203–209.

Roalson, E. H. & J. L. Clark. 2006. Phylogenetic patterns of diversification in the Beslerieae (Gesneriaceae). Pp. 251–268. In: Plant Genome: Biodiversity and Evolution, Phanerograms 1C. A. K. Sharma and A. Sharma (eds.). Science Publishers, Enfield, New Hampshire, U.S.A.

Skog, L. E. & L. P. Kvist. 2000. Revision of Gasteranthus (Gesneriaceae). Systematic Botany Monographs 59: 1–118.

Smith, J. F. 2000. A phylogenetic analysis of tribes Beslerieae and Napeantheae (Gesneriaceae) and evolution of fruit types: parsimony and maximum likelihood analysis of ndhF sequences. Systematic Botany 25: 72–81.
Acknowledgments
Support for this study was provided by the National Science Foundation (DEB-0841958 & DEB-0949169). Laurence E. Skog (US) and Alain Chautems (G) provided helpful comments on the manuscript. I am grateful to Christian Feuillet (US) for providing the Latin diagnosis, Martha Marcela Mora-Pinto (UNA) for providing the Spanish translation of the abstract, Sue R. Blackshear for preparing the illustration of the new species, Charles G. Clark for help in selecting an appropriate specific epithet, Carol Ann Bonner from the Cell Imaging Shared Resource (Vanderbilt University) for providing confocal images, and the participants from the 2007 Gesneriad Research Expedition in Ecuador who helped in the discovery and documentation of Gasteranthus diverticularis.
About this article
Cite this article
Clark, J.L. Gasteranthus diverticularis, a new species of Gesneriaceae from southern Ecuador. Brittonia 64, 1–5 (2012). https://doi.org/10.1007/s12228-011-9223-z
Key words
Beslerieae

Gasteranthus

hypocyrtoid corolla

Ecuador

Gesneriaceae