Abstract
Sinningia lutea (Gesneriaceae) is described and illustrated as a new species from the Pampa Biome, in Southern Brazil. In the literature, this species has hitherto been confused with S. allagophylla from which it can be easily separated using a set of floral and vegetative features (especially corolla color and size and leaf shape). An artificial key to separate S. lutea from S. allagophylla and S. curtiflora (another sympatric species, with some morphological similarities) is presented. Some ecological remarks on the differential distribution of S. lutea and S. allagophylla are also made.
Resumo
Sinningia lutea (Gesneriaceae) é descrita e ilustrada como uma espécie nova para a ciência, provinda do Bioma Pampa, no Sul do Brasil. Na literatura local precedente, esta espécie tem sido confundida com S. allagophylla, espécie da qual pode ser facilmente separada utilizando um conjunto de caracteres de morfologia floral e vegetativa (especialmente a cor e o tamanho da corola e o formato das folhas). Se fornece uma chave dicotômica artificial para separar S. lutea de S. allagophylla e S. curtiflora (outra espécie simpátrica com algumas semelhanças morfológicas). Efetuam-se também algumas considerações ecológicas sobre a distribuição geográfica diferenciada de S. lutea e S. allagophylla.
Access options
Buy single article
Instant access to the full article PDF.
US$ 39.95
Tax calculation will be finalised during checkout.
Subscribe to journal
Immediate online access to all issues from 2019. Subscription will auto renew annually.
US$ 79
Tax calculation will be finalised during checkout.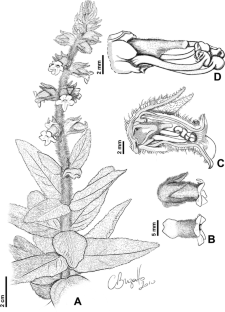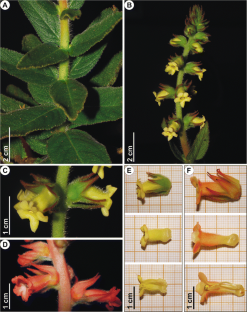 Literature Cited
Bilenca, D. N. & F. O. Miñarro. 2004. Identificación de áreas valiosas de pastizal en las pampas y campos de Argentina, Uruguay y sul de Brasil. 1 ed. Argentina: Fundación Vida Silvestre. 323pp.

Chautems, A. 1990. Taxonomic revision of Sinningia Nees: nomenclatural changes and new synonymies. Candollea 45: 381–388.

———. 1991. Taxonomic revision of Sinningia Nees (Gesneriaceae) II: New species from Brazil. Candollea 46: 411–425.

———. 1993. Gesneriaceae. In: R. Spichiger & L. Ramella (eds.), Flora del Paraguay. Geneva. Vol. 22, 40pp.

——— & C. Y. K. Matsuoka. 2003. Gesneriaceae. In: M. G. L. Wanderley, G. J. Shepherd, A. M. Giulietti & T. S. Melhem (eds.), Flora fanerogâmica do Estado de São Paulo. São Paulo, Fapesp: Rima. 3: 75–103.

Ferreira, P. M. A., S. C. Müller, I. I. Boldrini & L. Eggers. 2010. Floristic and vegetation structure of a granitic grassland in Southern Brazil. Revista Brasileira de Botânica 33(1): 21–36.

Martius, C. F. P. 1829. Nova genera et species plantarum: quas in itinere per Brasiliam. 1817–1820 jussu et auspiciis Maximiliani Josephi I., Bavariae regis augustissimi collegit et descripsit C.F.P. de Martius. Munich: Impensis Auctoris. Vol. 3. 198pp.

Nees von Esenbeck, C. G. D. 1825. Sur un nouveau genre de la famille des Gessnériées Annales des sciences naturalles. 6: 290–299.

Overbeck, G. E., S. C. Müller, A. Fidelis, J. Pfadenhauer, V. D. Pillar, C. C. Blanco, I. I. Boldrini, R. Both & E. D. Forneck. 2007. Brazil's neglected biome: The south Brazilian campos. Perspectives in Plant Ecology, Evolution and Systematics 9: 101–116.

Perret, M., A. Chautems, R. Spichiger, G. Kite & V. Savolainen. 2003. Systematics and evolution of tribe Sinningieae (Gesneriaceae): Evidence from phylogenetic analyses of six plastid DNA regions and nuclear ncpGS. American Journal of Botany 90: 445–460.

Setubal, R. B. & I. I. Boldrini. 2010. Floristic and characterization of grassland vegetation at a granitic hill in Southern Brazil. Revista Brasilieira de Biociências 8: 85–111.

Wiehler, H. 1975. Name changes in neotropical Gesneriaceae. Selbyana 1: 32–35.

Zimmer, E. A., E. H. Roalson, L. E. Skog, J. K. Boggan & A. Idnurm. 2002. Phylogenetic relationships in the Gesnerioideae (Gesneriaceae) based on nrDNA ITS and cpDNA trnL-F and trnE-T spacer region sequences. American Journal of Botany 89: 296–311.
Acknowledgments
The authors are grateful to Pedro M. A. Ferreira for helping in statistical analysis, Rafael Trevisan for Latin revision and the curators of the following herbaria for facilitating loans (ICN, PACA, RSPF, HAS, K and P). The first author thanks CAPES (Coordenadoria de Aperfeiçoamento do Pessoal de Nível Superior) for his scholarship. Collecting permits were given by IBAMA/ICMBIO (process n: 15451–1 and 24004–1).
About this article
Cite this article
Buzatto, C.R., Singer, R.B. Sinningia lutea (Gesneriaceae), a new species from Southern Brazil. Brittonia 64, 108–113 (2012). https://doi.org/10.1007/s12228-011-9209-x
Key Words
Rio Grande do Sul

Pampa Biome

taxonomy