Abstract
Clitopilus canariensis is described as a new species belonging to Clitopilus subgenus Rhodophana on the basis of a collection from La Palma, Canary Islands. The new species grows on humus of Cistus monspeliensis and is known from a single site. A photograph of fresh basidiomes of the type-collection and line drawings are provided.
Access options
Buy single article
Instant access to the full article PDF.
US$ 39.95
Tax calculation will be finalised during checkout.
Subscribe to journal
Immediate online access to all issues from 2019. Subscription will auto renew annually.
US$ 79
Tax calculation will be finalised during checkout.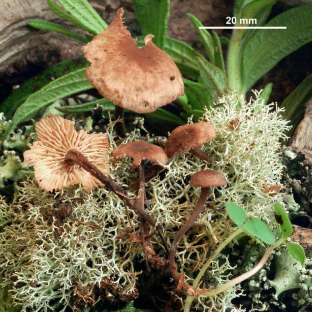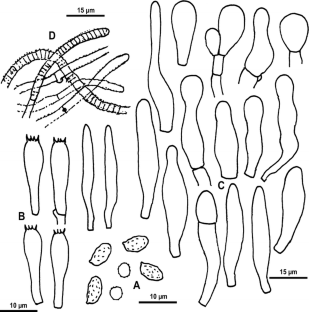 Literature Cited
Baroni, T. J. 1981. A revision of the genus Rhodocybe Maire (Agaricales). Nova Hedwigia, beih. 67: 1–194.

——— & G. M. Gates. 2006. New species of Rhodocybe (Entolomataceae, Agaricales) from Tasmania. Australian Systematic Botany 19: 343–358.

——— & R. Halling. 1992. New species of Rhodocybe from South America with a key to species. Mycologia 84: 411–421.

——— & E. Horak. 1994. Entolomataceae in North America III: new taxa, new combinations and notes on species of Rhodocybe. Mycologia 86: 138–145.

——— & D.L. Largent. 1989. The genus Rhodocybe: new combinations and a revised key to section Rhodophana in North America. Mycotaxon 34: 47–53.

——— & S. A. Redhead. 1985. Clitopilus fuscogelatinosus and Rhodocybe carlottae new species in the Entolomataceae (Agaricales) from Canada. Canadian Journal of Botany 64: 1450–1452.

Bidaud, A. & M. Contu. 2007. Rhodocybe infundibuliformis, una nuova specie della sez. Rhodophana raccolta in Francia. Rivista di Micologia 50: 313–318.

Clémençon, H. 2004. Cytology and Plectology of the Hymenomycetes. Bibliotheca Mycologica 199: 1–488.

Co-David, D., D. Langeveld & M. E. Noordeloos. 2009. Molecular phylogeny and spore evolution of Entolomataceae. Persoonia 23: 147–176.

Consiglio, G. & M. Contu. 2006. Rhodocybe cuprea (Basidiomycetes, Entolomataceae). Una specie critica della sezione Rhodophana. Rivista di Micologia.49: 129–135.

——— & ———. 2008. Rhodocybe hausknechtii, una nuova specie della sezione Rhodophana dall'Italia settentrionale. Rivista di Micologia 51: 15–21.

Contu, M. 2009. Studi sul genere Clitopilus (incl. Rhodocybe) 1 – Prima segnalazione in Italia di Clitopilus blancii comb. nov., nuove raccolte di Clitopilus giovanellae, iconografia di Clitopilus carneolus comb. nov. e ulteriori nuove combinazioni. Bollettino AMER 77–78 (2–3): 15–31.

——— & M. Bon. 1991. Champignons de Sardaigne (trois nouvelles espèces). Documents Mycologiques 81: 41–45.

Esteve-Raventos, F. 2001. Rhodocybe subcaespitosa sp. nov. (Entolomataceae, Agaricales) found in Spain. A.M.B., Italy. Centro Studi Micologici, Micologia 2000 (AMB): 177–183.

Favre, J. 1960. Catalogue descriptif des Champignons Supérieurs de la Zone Subalpine du Parc National Suisse. Ergebn. Wiss. Untersuch. Schweiz. Natn. Parks 6: 323–610.

Henkel, T. W., M. C. Aime, D. L. Largent & T. J. Baroni. 2010. The Entolomataceae of the Pakaraima Mountains of Guyana III: new species of Rhodocybe. Mycoscience 51: 23–27.

Horak, E. 1978. Notes on Rhodocybe Maire. Sydowia 31: 58–80.

———. 1979. Fungi agaricini Novazelandiae VII. Rhodocybe Maire. New Zealand Journal of Botany 17: 275–281.

Kornerup, A. & J. H. Wanscher. 1978. Methuen handbook of colour, 3rd edn. Eyre Methuen & Co., Ltd., London.

Noordeloos, M. E. 1983. Notulae ad floram agaricinam neerlandicam. I–III. Marasmiellus, Macrocystidia and Rhodocybe. Persoonia 12: 29–49.

———. 1988. Rhodocybe Maire. Flora Agaricina neerlandica 1. Pp. 77–82. In: C. Bas, Th.W. Kuyper, M.E. Noordeloos & E.C. Vellinga (eds.), A.A. Balkema, Rotterdam, Netherlands.

Orton, P. D. 1960. New check list of British Agarics and Boleti, part III. Notes on genera and species in the list. Transactions of the British Mycological Society 43(2): 159–439.

Singer, R. & L. Digilio. 1951. Prodromo de la flora agaricina argentina. Lilloa 25: 1–462.
Acknowledgments
Our most sincere thanks are due to Dr. M.E. Noordeloos (National Herbarium Nederland, Leiden) and to an anonymous referee for their reviews.
About this article
Cite this article
Vizzini, A., Marie Dähncke, R. & Contu, M. Clitopilus canariensis (Basidiomycota, Entolomataceae), a new species in the C. nitellinus-complex (Clitopilus subg. Rhodophana) from the Canary Islands (Spain). Brittonia 63, 484–488 (2011). https://doi.org/10.1007/s12228-011-9187-z
Key Words
Agaricomycetes

Agaricales

Rhodocybe

taxonomy