Summary
A new species of Oreocharis Benth., O. rubrostriata F.Wen & L.E.Yang, is described and illustrated from Rongshui County, Guangxi Zhuangzu Autonomous Region, China, and a proposed conservation assessment rates the new species as Critically Endangered (CR).
Access options
Buy single article
Instant access to the full article PDF.
USD 39.95
Price includes VAT (USA)
Tax calculation will be finalised during checkout.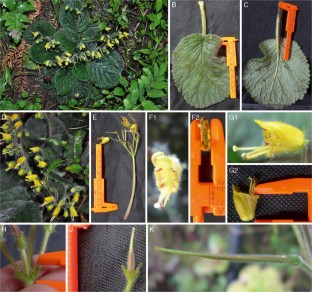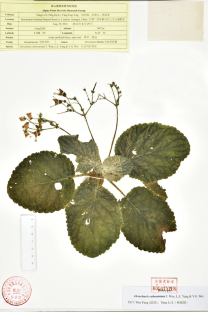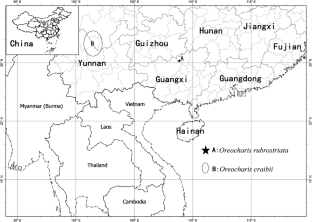 References
Chen, W. H., Shui, Y. M. & Möller, M. (2014). Two New Combinations in Oreocharis Benth. (Gesneriaceae) from China. Candollea 69: 179 – 182.

Chen, W. H., Middleton, D. J., Nguyen, H. Q., Nguyen, H. T., Averyanov, L. V., Chen, R. Z., Nguyen, K. S., Möller, M. & Shui, Y. M. (2017). Two new species of Oreocharis (Gesneriaceae) from Northwest Vietnam. Gard. Bull. Singapore 69: 295 – 305.

IUCN Standards and Petitions Subcommittee (2016). Guidelines for using the IUCN Red List Categories and Criteria. Version 12. Prepared by the Standards and Petitions Subcommittee Downloadable from http://www.iucnredlist.org/documents/RedListGuidelines.pdfAccessed 03 Mar 2017.

Möller, M., David, M., Nishii, K., Wei, Y. G., Sontag, S. & Weber, A. (2011). A new delineation for Oreocharis incorporating an additional ten genera of Chinese Gesneriaceae. Phytotaxa 23: 1 – 36.

Möller, M., Chen, W. H., Shui, Y. M., Atkins, H. & Middleton, D. J. (2014). A new genus of Gesneriaceae in China and the transfer of Briggsia species to other genera. Gard. Bull. Singapore 66: 195 – 205.

Möller, M., Wei, Y. G., Wen, F., Clark, J. L. & Weber, A. (2016). You win some you lose some: updated generic delineations and classification of Gesneriaceae-implications for the family in China. Guihaia 36: 44 – 60.

Pan, K. Y. (1988). Notulae de Gesneriaceis sinensibus. IX. Acta Phytotax. Sin. 26: 429 – 442.

Wang, W. T., Pan, K. Y., Li, Z. Y., Weitzman, A. L. & Skog, L. E. (1998). Gesneriaceae. In: Z. Y. Wu & P. H. Raven (eds), Flora of China 18: Scrophulariaceae through Gesneriaceae, pp. 244 – 401. Science Press, Beijing, Missouri Botanical Garden Press, St. Louis.

Weber, A., Clark, J. L. & Möller, M. (2013). A new formal classification of Gesneriaceae. Selbyana 31(2): 68 – 94.
Acknowledgements
This work was supported by the Guangxi Natural Science Foundation (2015GXNSFBB139004), the Key Research and Development Project of Guangxi (Guike AB16380053) and the Scientific Research Foundation of Beijing Municipal Education Commission (KM201410020009).
Additional information
Publisher's Note
Springer Nature remains neutral with regard to jurisdictional claims in published maps and institutional affiliations.
About this article
Cite this article
Yang, LE., Cen, HF., Sun, H. et al. Oreocharis rubrostriata (Gesneriaceae), a new species from Guangxi, China. Kew Bull 74, 23 (2019). https://doi.org/10.1007/s12225-019-9810-9
Key Words
Flora of Guangxi

Jiuwanshan National Natural Reserve

new taxon

Tremacron