Summary
A new species of Hymenaea from the Caatinga of northeastern Brazil is described and illustrated. H. cangaceira is morphologically similar to H. martiana and H. longifolia, and its geographical distribution overlaps those of both species; however, it differs in the combination of glabrous, ovate to broadly-elliptic leaflets, a glabrous ovary, and relatively short, cylindrical fruit. The new species is well represented in the herbaria of northeastern Brazil. An identification key is provided to distinguish it from other species of Hymenaea that occur in the Caatinga region.
Resumo
Uma nova espécie de Hymenaea da Caatinga do Nordeste brasileiro é aqui descrita e ilustrada. H. cangaceira é morfologicamente similar às espécies H. martiana e H. longifolia e sua distribuição geográfica está sobrepostas as mesmas; contudo, difere na combinação dos folíolos glabros, ovados a largo-elípticos, ovário glabro e um fruto relativamente pequeno e cilíndrico. Esta nova espécie é bem representada nos herbários do nordeste do Brasil. Uma chave de identificação é fornecida para distinguir a presente espécie das demais que ocorrem na região da Caatinga.
Access options
Buy single article
Instant access to the full article PDF.
USD 39.95
Price excludes VAT (USA)
Tax calculation will be finalised during checkout.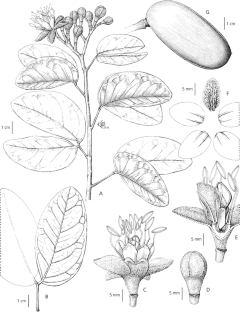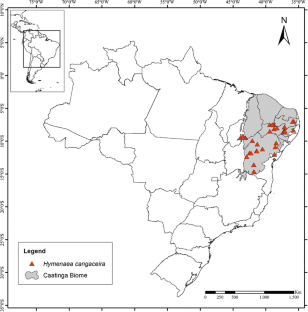 References
BFG (2015). Growing knowledge: an overview of Seed Plant diversity in Brazil. Rodriguésia 66(4): 1085 – 1113.

Bruneau, A., Breteler, F. J., Wieringa, J. J., Gervais, G. Y. F. & Forest, F. (2000). Phylogenetic relationships in tribes Macrolobieae and Detarieae inferred from chloroplast trnL intron sequences. In: P. S. Herendeen & A. Bruneau (eds), Advances in legume systematics, part 9, pp. 121 – 149. Royal Botanic Gardens, Kew.

____, Klitgaard, B. B., Prenner, G., Fougère-Danezan, M. & Tucker, S. C. (2014). Floral evolution in the Detarieae (Leguminosae): Phylogenetic evidence for labile floral development in an early-diverging legume lineage. Int. J. Pl. Sci. 175(4): 392 – 417.

----, Mercure, M., Lewis, G. P. & Herendeen, P. S. (2008). Phylogenetic patterns and diversification in the caesalpinioid legumes. Botany 86: 697 – 718.

Cardoso, D. B. O. S., Queiroz, L. P. & Lima, H. C. (2008). Three new species of Luetzelburgia (Leguminosae, Papilionoideae) from the caatinga of Bahia, Brazil and an identification key to all species of the genus. Kew Bull. 63: 289 – 300.

Carneiro-Torres, D. S., Cordeiro, I., Giulietti, A. M., Berry, P. E. & Riina, R. (2011). Three new species of Croton (Euphorbiaceae s.s.) from the Brazilian Caatinga. Brittonia 63: 122 – 132.

Clemente, M. E. A. (2007). Cangaço e Cangaceiros: Histórias e Imagens Fotográficas do Tempo de Lampião. Revista Hist. Estud. Cult. 4(4): 1 – 15.

Córdula, E., Queiroz, L. P. & Alves, M. (2008). Checklist da Flora de Mirandiba, Pernambuco: Leguminosae. Rodriguésia 59(3): 597 – 602.

Fougère-Danezan, M., Maumont, S. & Bruneau, A. (2007). Relationships among resin producing Detarieae s.l. (Leguminosae) as inferred by molecular data. Syst. Bot. 32(4): 748 – 761.

____, Herendeen, P. S., Maumont, S. & Bruneau, A. (2010). Morphological evolution in the variable resin-producing Detarieae (Fabaceae): do morphological characters retain a phylogenetic signal? Ann. Bot. 105: 311 – 325.

Goto, B. T., Silva, G. A., Maia, L. C. & Oehl, F. (2010). Dentiscutata colliculosa, a new species in the Glomeromycetes from Northeastern Brazil with colliculate spore ornamentation. Nova Hedwigia 90: 383 – 393.

IUCN Standards and Petitions Subcommittee. (2016). Guidelines for Using the IUCN Red List Categories and Criteria. Version 12. Prepared by the IUCN species survival commission. IUCN Council, Gland and Cambridge. Available from: http://www.iucnredlist.org/documents/RedListGuidelines.pdf (Accessed 02 Aug. 2016).

Lee, Y. T. & Langenheim, J. H. (1975). Systematics of the genus Hymenaea L., Leguminosae, Caesalpinioideae, Detarieae. University of California Publications Press, Berkeley.

Linares-Palomino, R., Oliveira-Filho, A. T. & Pennington, R. T. (2011). Neotropical seasonally dry forests: diversity, endemism, and biogeography of woody plants. In: R. Dirzo, H. S. Young, H. A. Mooney & G. Ceballos (eds), Seasonally dry tropical forests: ecology and conservation, pp. 3 – 21. Island Press, Washington.

LPWG (The Legume Phylogeny Working Group) (2013). Legume phylogeny and classification in the 21st century: Progress, prospects and lessons for other species-rich clades. Taxon 62: 217 – 248 https://doi.org/10.12705/622.8

____(2017). A new subfamily classification of the Leguminosae based on a taxonomically comprehensive phylogeny. Taxon 66: 44 – 77.

Moro, M. F., Lughadha, E. N., Filer, D. L., Araújo, F. S. & Martins, F. R. (2014). A catalogue of the vascular plants of the Caatinga Phytogeographic Domain: a synthesis of floristic and phytosociological survey. Phytotaxa 160(1): 001 – 118.

Olson, D. M., Dinerstein, E., Wikramanayake, E. D., Burgess, N. D., Powell, G. V. N., Underwood, E. C., D'Amico, J. A., Itoua, I., Strand, H. E., Morrison, J. C., Loucks, C. J., Allnutt, T. F., Ricketts, T. H., Kura, Y., Lamoreux, J. F., Wettengel, W. W., Hedao, P. & Kassem, K. R. (2001). Terrestrial ecoregions of the world: a new map of life on Earth. BioScience 51: 933 – 938.

Pinto, R. B., Mansano, V. F. & Tozzi, A. M. G. A. (2015). Reestablishment of Hymenaea travassii (Leguminosae, Caesalpinioideae), a species endemic to the Bolivian Chaco. Phytotaxa 219(1): 96 – 100.

Polhill, R. M. (1994). Classification of the Leguminosae & complete synopsis of legume genera. In: F. A. Bisby, J. Buckingham & J. B. Harborne (eds), Phytochemical dictionary of the Leguminosae. Vol. 1. Plants and their constituents, pp. 35 – 57. Chapman & Hall, London.

Queiroz, L. P. (2009). Leguminosas da caatinga. Associação Plantas do Nordeste, Royal Botanic Gardens, Kew.

Raposo, M. A. (1997). A new species of Arremon (Passeriformes: Emberizidae) from Brazil. Ararajuba 5(1): 3 – 9.

Ribeiro, R. D., Cardoso, D. B. O. S. & Lima, H. C. (2015). A new species of Hymenaea (Leguminosae: Caesalpinioideae) with a revised identification key to the genus in the Brazilian Atlantic Forest. Syst. Bot. 40(1): 151 – 156.

Souza, I. M., Funch, L. S. & Queiroz, L. P. (2014). Morphological analyses suggest a new taxonomic circumscription for Hymenaea courbaril L. (Leguminosae, Caesalpinioideae). PhytoKeys 38: 101 – 118.

Taddei, V. A. & Lim, B. K. (2010). A new species of Chiroderma (Chiroptera, Phyllostomidae) from Northeastern Brazil. Brazil. J. Biol. 70(2): 381 – 386.

Vivallo, F. & Melo, G. A. R. (2009). Taxonomy and geographic distribution of the species of Centris of the hyptidis group (Hymenoptera: Apidae: Centridini), with description of a new species from central Brazil. Zootaxa 2075: 33 – 44.
Acknowledgements
We thank the curators and staff of the cited herbaria for allowing us to access their collections. This work is part of the Ph.D. thesis of R. B. Pinto and was supported by the Conselho Nacional de Desenvolvimento Científico e Tecnológico (CNPq) through a scholarship. The authors are also grateful for the financial support of Edital REFLORA (CNPq proc. 563550/2010-4, FAPESP proc. 2010/52488-9), CNPq (process 312766/2009-2) and FAPERJ (E-26/111.581/2014). We thank Elisa Cândido, Fábio Pupo and Tiago Souto for valuable comments on the manuscript. The authors thank Timothy Utteridge (Editor in Chief), Tania Moura and an anonymous reviewer for their contributions during the review process.
About this article
Cite this article
Pinto, R.B., de Freitas Mansano, V., Torke, B.M. et al. On the "Cangaço" route: a new species of Hymenaea (Leguminosae) from the Brazilian Caatinga. Kew Bull 72, 42 (2017). https://doi.org/10.1007/s12225-017-9713-6
Accepted:

Published:

DOI: https://doi.org/10.1007/s12225-017-9713-6
Key Words