Summary
A new species of Justicia L. (Acanthaceae), J. sivadasanii Sunil, K. M. P. Kumar & Naveen Kum., from the Western Ghats of India is described and illustrated. Its IUCN status, distribution and phenology are provided along with colour photographs, and its affinities are discussed.
Access options
Buy single article
Instant access to the full article PDF.
US$ 39.95
Tax calculation will be finalised during checkout.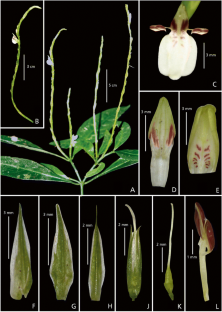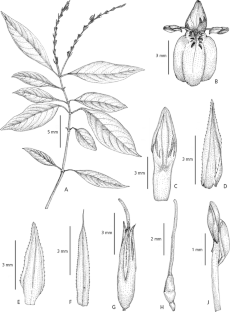 References
Anderson, T. (1867). An enumeration of the Indian species of Acanthaceae. J. Linn. Soc. Bot. 9: 425 – 526.

Bhattacharya, J. & Vollesen, K. (2002). A New Species of Justicia (Acanthaceae) from India. Kew Bull. 57: 231 – 233.

Bremekamp, C. E. B. (1948). Notes on the Acanthaceae of Java. Verh. Kon. Akad. Wetensch., Afd. Natuurk., Sect. 2 45(2): 1 – 78.

Clarke, C. B. (1884). Acanthaceae. In: J. D. Hooker (ed.), Flora of British India 4: 387 – 558. L. Reeve, London.

Cramer, L. H. (1998). Acanthaceae. In: M. D. Dassanayake & W. D. Clayton (eds), A Revised Handbook to the Flora of Ceylon 12: 1 – 140. Oxford & IBH, New Delhi.

Gamble, J. S. & Fischer, C. E. (1924). Flora of the Presidency of Madras. Newman and Adlard, London.

Graham, V. A. W. (1988). Delimitation and infrageneric classification of Justicia (Acanthaceae). Kew Bull. 43: 551 – 624.

IUCN (2012). IUCN Red List Categories and Criteria:Version 3.1. 2nd ed. International Union for Conservation of Nature and Natural Resources, Gland and Cambridge.

Karthikeyan, S., Murthy, S. & Sanjappa, S. M. (2009). Flowering plants of India, Dicotyledons (Acanthaceae – Avicenniaceae) Vol. 1 (4): 24 – 30. Botanical Survey of India, Kolkata.

Mabberley, D. J. (2008). Mabberley's Plant-Book 3rd ed. Cambridge University Press, Cambridge.

Pradeep, A. K. & Sivarajan, V. V. (1991). Justicia ekakusuma, a new species of Acanthaceae from Peninsular India. Rheedea 1(1&2): 40 – 43.

Remadevi, S. & Binoj Kumar, M. S. (2008). A new species of Justicia L. (Acanthaceae) from Kerala, India. J. Econ. Taxon. Bot 32(3): 660 – 661.

____ & ____ (2009). Contributions to the Flora of Kerala: The Family Acanthaceae, pp. 33 – 39. Bishen Singh, Mahendra Pal Singh, Dehra Dun.

Sasidharan, N. (2004). Biodiversity documentation for Kerala. Part 6: Flowering Plants. Kerala Forest Research Institute, Peechi, Kerala.

____ (2013). Flowering plants of Kerala: CD-ROM. ver 2.0. Kerala Forest Research Institute, Peechi, Kerala.
Acknowledgements
The first and third authors express their grateful thanks to the University Grants Commission, New Delhi for financial assistance for this study. The second author expresses sincere gratitude to the authorities of Arya Vaidya Sala, Kottakkal for extending the facilities and Dr Indira Balachandran, Director, CMPR for support. Thanks are also due to Dr John Wood, Honorary Research Associate, Royal Botanic Gardens, Kew, for sharing his views and anonymous reviewers for their excellent review and modifications. The authors express their sincere gratitude to the authorities of Kerala State Forest Department for permission for field visits and to the Head of the Department of Botany, SNM College, Maliankara for the facilities provided.
About this article
Cite this article
Sunil, C.N., Prabhukumar, K.M., Kumar, V.V.N. et al. Justicia sivadasanii (Acanthaceae): a striking new species from the Western Ghats, India. Kew Bull 70, 55 (2015). https://doi.org/10.1007/s12225-015-9600-y
Key Words
IUCN conservation assessment

Kerala

new discovery

south India

taxonomy