Summary
Tephrosia macbrideana R. T. Queiroz, G. P. Lewis & A. M. G. Azevedo (Leguminosae, Papilionoideae), a new species from Peru, in subgenus Tephrosia, is described and illustrated. The taxon is morphologically similar to T. cinerea (L.) Pers., but differs mainly by the type of indumentum on the branches and by leaflet morphology.
Access options
Buy single article
Instant access to the full article PDF.
US$ 39.95
Tax calculation will be finalised during checkout.
Subscribe to journal
Immediate online access to all issues from 2019. Subscription will auto renew annually.
US$ 79
Tax calculation will be finalised during checkout.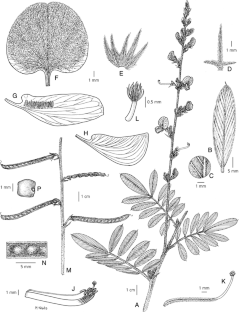 References
Baker, J. G. (1871). Leguminosae, Faboideae. In: D. Oliver, Flora of Tropical Africa, Vol. 2: 110 – 114. Reeve & Co., London.

____ (1876). Leguminosae, Faboideae. In: J. D. Hooker, Flora of British India, Vol. 1: 209 – 214. Reeve & Co., London.

Bentham, G. (1862). Leguminosae I. In: C. F. P. von Martius, S. Endlicher & I. Urban (eds), Flora Brasiliensis, Vol. 15, part 1: 45 – 49. Frid. Fleischer, Monachii et Lipsiae.

____ (1865). Leguminosae. In: G. Bentham & J. D. Hooker (eds), Genera Plantarum, Vol. 1: 496 – 497. Reeve & Co., London.

Bosman, M. T. M. & Haas, A. J. P. (1983). A revision of the genus Tephrosia (Leguminosae-Papilionoideae) in Malaysia. Blumea 28: 445 – 488.

Brummitt, R. K. (1980). Reconsideration of the genera Ptycholobium, Caulocarpus, Lupinophyllum and Requienia in relation to Tephrosia. Kew Bull. 35: 459 – 473.

De Candolle, A. P. (1825). Prodromus Systematis Naturalis Regni Vegetabilis, Vol. 2: 248 – 256. Paris.

Geesink, R. (1984). Scala Millettiearum. A survey of the genera of the tribe Millettieae (Leguminosae, Papilionoideae). Leiden Bot. Ser. 8: 118 – 121.

IUCN (2001). IUCN Red List Categories and Criteria version 3.1. IUCN, Gland & Cambridge.

Persoon, C. H. (1807). Synopsis Plantarum, 2 (2): 328 – 330. Apud C. F. Cramerum, Parisiis Lutetiorum.

Queiroz, R. T. (2012, unpubl.). Revisão taxonômica das espécies do gênero Tephrosia Pers. (Leguminosae, Papilionoideae, Millettieae) ocorrentes na América do Sul. Campinas: UNICAMP. Tese (Doutorado) — Programa de Pós-graduação em Biologia Vegetal, Instituto de Biologia, Universidade Estadual de Campinas, Campinas.

Schrire, B. D. (2005). Tribe Millettieae. In: G. Lewis, B. Schrire, B. Mackinder & M. Lock (eds), Legumes of the World, pp. 367 – 387. Royal Botanic Gardens, Kew.

Wood, C. E. (1949). The American barbistyled species of Tephrosia (Leguminosae). Rhodora 51: 249 – 380.
Acknowledgements
The first author thanks REFLORA, FAPESP and CNPq for financial and logistical support and the curators and legume section staff in the K herbarium for their support.
About this article
Cite this article
de Queiroz, R.T., Lewis, G.P. & de Azevedo Tozzi, A.M.G. Tephrosia macbrideana (Leguminosae, Papilionoideae), a new species from Peru. Kew Bull 70, 37 (2015). https://doi.org/10.1007/s12225-015-9587-4
Key Words
Fabaceae

Millettieae

Neotropical flora

South America

taxonomy