Summary
A new species of Impatiens, I. kunyitensis from Kerinci Seblat National Park,West Sumatra, Indonesia is described and illustrated. It has a unique combination of characters, including red and green stems and white flowers in which the lower sepal is bucciniform and abruptly constricted into a curved, short, violet spur. This combination of characters makes determining the relationships of I. kunyitensis difficult.
Access options
Buy single article
Instant access to the full article PDF.
USD 39.95
Price excludes VAT (USA)
Tax calculation will be finalised during checkout.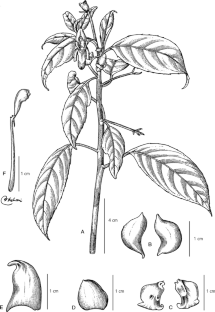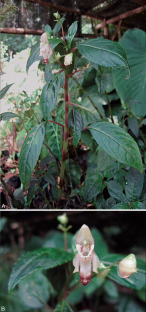 References
Grey-Wilson, C. (1989). A revision of Sumatran Impatiens. Studies on Balsaminaceae VII. Kew Bull. 44: 67 – 106.

IUCN (2001). IUCN Red List Categories and Criteria: Version 3.1. IUCN Species Survival Commission, Gland, Switzerland and Cambridge, UK.

Shimizu, T. & Utami, N. (1997). Three new species of Impatiens (Balsaminaceae) added to Flora Malesiana. Kew Bull. 52: 435 – 442.

Utami, N. (2005). Two new species of Impatiens (Balsaminaceae) from Batanggadis National Park, North Sumatra, Indonesia. Blumea 50: 443 – 446.

____ (2009). I. rubricaulis (Balsaminaceae) a new species of Impatiens from Air Sirah, Solok, West Sumatra. Reinwardtia 13: 95 – 96.
Acknowledgements
I would like to thank Prof. Dr Peter C. van Welzen of the National Herbarium of the Netherlands, Leiden University Branch, for reviewing this manuscript. I would also like to acknowledge Mr Wiguna Rahman of Cibodas Botanical Garden, Indonesian Institute of Sciences for his permission to examine his Impatiens collections.
About this article
Cite this article
Utami, N. Impatiens kunyitensis (Balsaminaceae), a new species from Sumatra, Indonesia. Kew Bull 66, 187–190 (2011). https://doi.org/10.1007/s12225-011-9273-0
Accepted:

Published:

Issue Date:

DOI: https://doi.org/10.1007/s12225-011-9273-0
Key words