Abstract
The extreme species richness of some temperate grasslands is a globally relevant yet understudied phenomenon. Until now, few records from thoroughly sampled, though not permanently fixed, vegetation plots were available. We therefore established a network of 40 permanent 4 × 4-m2 plots in species-rich grasslands of the White Carpathians (Czechia), Ukraine, Hungary and Romania. Thirty-one of them form the main dataset comprising plots from discrete forest-steppe grasslands (the Brachypodio-Molinietum association of the Cirsio-Brachypodion pinnati alliance), while nine of them forms the local dataset from a single locality in the White Carpathians, whose vegetation lacks most forest-steppe species and is transitional between the Bromion erecti and Arrhenatherion elatioris alliances (the Anthoxantho-Agrostietum and Anthyllido vulnerariae-Trifolietum montani associations). The permanent plots contain a nested subplot of 1 m2, except for five plots from Ukraine and Romania. Most plots harboured at least 80 vascular plant species per 16 m2, with the mean richness of 16-m2 plots was 95.3 species in the main dataset and 84 species in the local dataset. Mean richness of the 1-m2 subplots, presumably reflecting local environmental conditions and competitive relationships more than that of 16 m2 plots, did not vary between the two datasets, with a general mean of 57.6 species. Species counts of 16-m2 plots and 1-m2 subplots correlated, albeit only moderately, only in the main dataset. The presented datasets may be used for comparative analyses as well as for a future revisiting of the plots and may bring novel insights into the dynamics of extreme species richness.
Access options
Buy single article
Instant access to the full article PDF.
USD 39.95
Price includes VAT (USA)
Tax calculation will be finalised during checkout.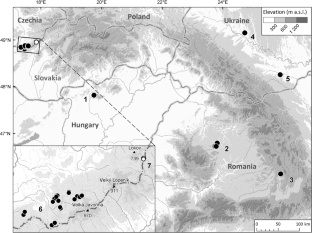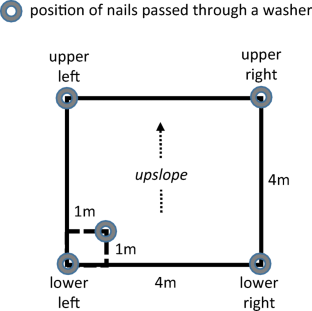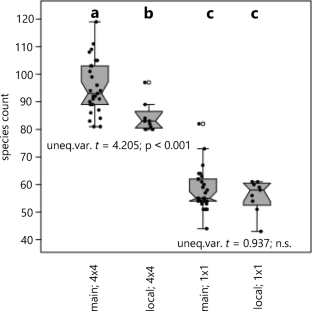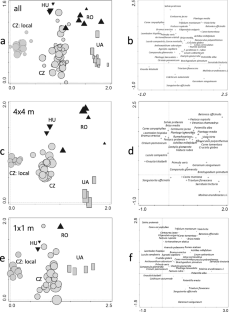 References
Chytrý M (2001) Phytosociological data give biased estimates of species richness. J Veg Sci 12:441–444

Chytrý M, Dražil T, Hájek M, Kalníková V, Preislerová Z, Šibík J, Ujházy K, Axmanová I, Bernátová D, Blanár D, Dančák M, Dřevojan P, Fajmon K, Galvánek D, Hájková P, Herben T, Hrivnák R, Janeček Š, Janišová M, Jiráská Š, Kliment J, Kochjarová J, Lepš J, Leskovjanská A, Merunková K, Mládek J, Slezák M, Šeffer J, Šefferová V, Škodová I, Uhlířová J, Ujházyová M, Vymazalová M (2015) The most species-rich plant communities in the Czech Republic and Slovakia (with new world records). Preslia 87:217–278

de Mazancourt C, Isbell F, Larocque A, Berendse F, de Luca E, Grace JB, Haegeman B, Polley WH, Roscher C, Schmid B, Tilman D, van Ruijven J, Weigelt A, Wilsey BJ, Loreau M (2013) Predicting ecosystem stability from community composition and biodiversity. Ecol Letters 16:617–625

Dengler J, Becker T, Ruprecht E, Szabó A, Becker U, Beldean M, Bita-Nicolae C, Dolnik Ch, Goia I, Peyrat J, Sutcliffe LME, Turtureanu PD, Uğurlu E (2012) Festuco-Brometea communities of the Transylvanian Plateau (Romania): a preliminary overview on syntaxonomy, ecology, and biodiversity. Tuexenia 32:319–359

Divíšek J, Hájek M, Jamrichová E, Petr L, Večeřa M, Tichý L, Willner W, Horsák M (2020) Holocene matters: landscape history accounts for current species richness of vascular plants in forests and grasslands of eastern Central Europe. J Biogeogr 47:721–735

Fajmonová Z, Hájková P, Hájek M (2020) Soil moisture and legacy of prehistoric human activities have contributed to the extraordinary plant species diversity of grasslands in the White Carpathians. Preslia 92:35–56

Feurdean A, Ruprecht E, Molnár Z, Hutchinson SM, Hickler T (2018) Biodiversity-rich European grasslands: Ancient, forgotten ecosystems. Biol Conservation 228:224–232

Gotelli NJ, Shimadzu H, Dornelas M, McGill B, Moyes F, Magurran AE (2017) Community-level regulation of temporal trends in biodiversity. Sci Advances 3:e1700315

Hájek M, Dudová L, Hájková P, Roleček J, Moutelíková J, Jamrichová E, Horsák M (2016) Contrasting Holocene environmental histories may explain patterns of species richness and rarity in a Central European landscape. Quatern Sci Rev 133:48–61

Hájek M, Dresler P, Hájková P, Hettenbergerová E, Milo P, Plesková Z, Pavonič M (2017) Long-lasting imprint of former glassworks on vegetation pattern in an extremely species-rich grassland: a battle of species pools on mesic soils. Ecosystems 20:1233–1249

Hájková P, Roleček J, Hájek M, Horsák M, Fajmon K, Polák, M, Jamrichová E (2011) Prehistoric origin of the extremely species-rich semi-dry grasslands in the Bílé Karpaty Mts (Czech Republic and Slovakia). Preslia 83:185–204

Hettenbergerová E, Hájek M, Zelený D, Jiroušková J, Mikulášková E (2013) Changes in species richness and species composition of vascular plants and bryophytes along a moisture gradient. Preslia 85:369–388

Hradílek Z, Novotný I (2008) Mechorosty. Bryophytes. In Jongepierová I (ed) Louky Bílých Karpat [Grasslands of the White Carpathian mountains]. ZO ČSOP Bílé Karpaty, Veselí nad Moravou, pp 65–70

Jongepierová I (ed) (2008) Grasslands of the White Carpathian Mountains. Veselí nad Moravou

Klimeš L (1997) Druhové bohatství luk v Bílých Karpatech. Sborn Přír Klubu Uherské Hradiště 2:31–42

Klimeš L, Dančák M, Hájek M, Jongepierová I, Kučera T (2001) Scale-dependent biases in species counts in a grassland. J Veg Sci 12:699–704

Klimeš L, Hájek M, Mudrák O, Dančák M, Preislerová Z, Hájková P, Jongepierová I, Klimešová J (2013) Effects of changes in management on resistance and resilience in three grassland communities. Appl Veg Sci 16:640–649

Klimeš L, Klimešová J (2002) The effects of mowing and fertilization on carbohydrate reserves and regrowth of grasses: Do they promote plant coexistence in species-rich meadows? Evol Ecol 15:363–382

Lepš J, Hadincová V 1992 How reliable are our vegetation analyses? J Veg Sci 3:119–124

McGlinn DJ, Xiao X, May F, Gotelli NJ, Engel T, Blowes SA, Knight TM, Purschke O, Chase JM & McGill BJ (2018) Measurement of Biodiversity (MoB): a method to separate the scale-dependent effects of species abundance distribution, density, and aggregation on diversity change. Methods Ecol Evol 10:258–269

Michalcová D, Lvončík S, Chytrý M, Hájek O (2011) Bias in vegetation databases? A comparison of stratified-random and preferential sampling. J Veg Sci 22:281–291

Novák J, Roleček J, Dresler P, Hájek M (2019) Soil charcoal elucidates the role of humans in the development of landscape of extreme biodiversity. Land Degradation Developm 30:1607–1619

Roleček J, Čornej II, Tokarjuk AI (2014) Understanding the extreme species richness of semi-dry grasslands in east-central Europe: a comparative approach. Preslia 86:5–27

Roleček J, Hájek M, Dřevojan P, Prokešová H, Fajmon K, Těšitel J, Daněk P, Hájková P, Jongepierová I, Novák P, Poluyanov AV, Shumska NV, Chorney II (2019a) Gradients, species richness and biogeographical links of steppe grasslands in Western Podolia (Ukraine). Phytocoenologia 49:349–367

Roleček J, Dřevojan P, Hájková P, Hájek M (2019b) Report of new maxima of fine-scale vascular plant species richness recorded in East-Central European semi-dry grasslands. Tuexenia 39:423–431

Schmidtlein S, Tichý L, Feilhauer H, Faude U (2010) A brute-force approach to vegetation classification. J Veg Sci 21:1162–1171

Těšitel J, Vratislavská M, Novák P, Chorney II, Roleček J (2018) Merging of Pedicularis exaltata and P. hacquetii in the Carpathians: from local history to regional phylogeography based on complex evidence. Folia Geobot 53:301–315

van Rooijen NM, de Keersmaecker W, Ozinga WA, Coppin P, Hennekens SM, Schaminée JH, Somers B, Honnay O (2015) Plant species diversity mediates ecosystem stability of natural dune grasslands in response to drought. Ecosystems 18:1383–1394

Willner W, Roleček J, Korolyuk A, Dengler J, Chytrý M, Janišová M, Lengyel A, Aćić A, Becker T, Ćuk M, Demina O, Jandt U, Kącki Z, Kuzemko A, Kropf M, Lebedeva M, Semenishchenkov Yu, Šilc U, Stančić Z, Staudinger M, Vassilev K, Yamalov S (2019) Formalized classification of the semi-dry grasslands of Central and Eastern Europe. Preslia 91:25–49

Wilson JB, Peet RK, Dengler J, Pärtel M (2012) Plant species richness: the world records. J Veg Sci 23:796–802
Acknowledgements
We thank Pavel Dřevojan, Pavel Novák, Ivana Jongepierová, Jakub Těšitel, Helena Prokešová, Pavel Daněk, Katarína Devánová, Karel Fajmon, Eva Šmerdová, Zuzana Plesková, Lucia Cachovanová, Daniel Dítě and Irina Goia for their help in the field, and Jitka Klimešová and two anonymous reviewers for their valuable comments. The preparation of the paper was supported by the Czech Science Foundation (project 20-09895S). The authors affiliated to the Institute of Botany, Czech Academy of Sciences (P.H. and J.R.) were supported by the long-term developmental project of the Czech Academy of Sciences (RVO 67985939). In 2019, M.H. was further supported by the Centre for European Vegetation Syntheses (CEVS; project of Czech Science Foundation 19-28491X).
Additional information
Publisher's Note
Springer Nature remains neutral with regard to jurisdictional claims in published maps and institutional affiliations.
Electronic supplementary material
Detailed information on vegetation-plot records from the permanent plots (CSV 17 kb)
Synoptic table of the four clusters resulting from the ISOPAM classification (PDF 120 kb)
About this article
Cite this article
Hájek, M., Hájková, P. & Roleček, J. A novel dataset of permanent plots in extremely species-rich temperate grasslands. Folia Geobot 55, 257–268 (2020). https://doi.org/10.1007/s12224-020-09372-6
Received:

Revised:

Accepted:

Published:

Issue Date:
Keywords
diversity hotspot

extreme species richness

forest-steppe

permanent plots

temperate grasslands

White Carpathians