Abstract
Many plant traits show variability within species in response to ecological gradients. In this study, we examined the variability in seed traits among ten populations of Helianthemum salicifolium (L.) Miller in Anatolia, Turkey. Since the Anatolian Peninsula has a geographic structure exhibiting longitudinal, elevational and climatic gradients, we hypothesized that seed dormancy, seed mass and germination show inter-population variability. We also postulated that seed traits are correlated to climatic and geographic characteristics of the populations. Since H. salicifolium is a species with a hard seed coat, we conducted germination experiments using heat shock and mechanical scarification. The germination percentage was improved significantly by mechanical scarification but remained unaltered by heat shock treatments in all sampled populations. As expected, seed traits exhibited substantial variation among the populations. We found no association between germination traits (dormancy level and germination rate in different treatments) and environmental variables. By contrast, seed mass showed an elevational/longitudinal/climatic pattern: Populations in cooler and higher-elevation areas had larger seed mass. However, when the influence of climate was controlled, the geographic location became an important factor affecting seed mass. We conclude that seed mass variation among populations of H. salicifolium in Anatolia is shaped by the climate at the regional scale, but at the same time, geographically closer populations exhibit more similarity in seed mass.
This is a preview of subscription content, log in to check access.
Access options
Buy single article
Instant access to the full article PDF.
US$ 39.95
Price includes VAT for USA
Subscribe to journal
Immediate online access to all issues from 2019. Subscription will auto renew annually.
US$ 99
This is the net price. Taxes to be calculated in checkout.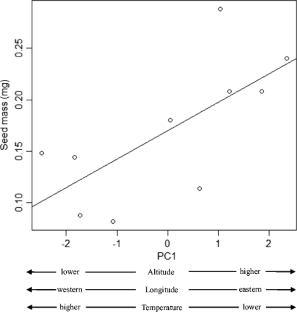 References
Alonso-Blanco C, Blankestijn-de Vries H, Hanhart CJ, Koornneef M (1999) Natural allelic variation at seed size loci in relation to other life history traits of Arabidopsis thaliana. Proc Natl Acad Sci USA 96:4710–4717

Atalay I, Efe R (2010) Structural and distributional evaluation of forest ecosystems in Turkey. J Environm Biol 31:61–70

Baskin CC, Baskin JM (2014) Seeds: ecology, biogeography, and evolution of dormancy and germination. Ed. 2, Elsevier, New York

Bolnick DI, Amarasekare P, Araújo MS, Bürger R, Levine JM., Novak M, Rudolf VHW, Schreiber SJ, Urban MC, Vasseur DA (2011) Why intraspecific trait variation matters in community ecology. Trends Ecol Evol 26:183–192

Cerabolini B, Ceriani RM, Caccianiga M, de Andreis R, Raimondi B (2003) Seed size, shape and persistence in soil: a test on Italian flora from Alps to Mediterranean coasts. Seed Sci Res 13:75–85

Chamorro D, Luna B, Ourcival J-M, Kavgaci A, Sirca C, Mouillot F, Arianoutsou M, Moreno JM (2017) Germination sensitivity to water stress in four shrubby species across the Mediterranean Basin. Pl Biol 19:23–31

Cochrane A, Yates CJ, Hoyle GL, Nicotra AB (2015) Will among-population variation in seed traits improve the chance of species persistence under climate change? Global Ecol Biogeogr 24:12–24

Corral R, Pérez-García F, Pita JM (1989) Seed morphology and histology in four species of Cistus L. (Cistaceae). Phytomorphology 39:75–80

Cruz A, Pérez B, Velasco A, Moreno JM (2003) Variability in seed germination at the interpopulation, intrapopulation and intraindividual levels of the shrub Erica australis in response to fire-related cues. Pl Ecol 169:93–103

Çatav ŞS, Küçükakyüz K, Akbaş K, Tavşanoğlu Ç (2014) Smoke-enhanced seed germination in Mediterranean Lamiaceae. Seed Sci Res 24:257–264

Delgado JA, Serrano JM, López F, Acosta FJ (2001) Heat shock, mass-dependent germination, and seed yield as related components of fitness in Cistus ladanifer. Environm Exp Bot 46:11–20

Foster S, Janson CH (1985) The relationship between seed size and establishment conditions in tropical woody plants. Ecology 66:773–780

Giménez-Benavides L, Escudero A, Pérez-García F (2005) Seed germination of high mountain Mediterranean species: altitudinal, interpopulation and interannual variability. Ecol Res 20:433–444

Gonçalves S, Fernandes L, Pérez-García F, González-Benito ME, Romano A (2009) Germination requirements and cryopreservation tolerance of seeds of the endangered species Tuberaria major. Seed Sci Technol 37:480–484

Hanley ME, Unna JE, Darvill B (2003) Seed size and germination response: a relationship for fire-following plant species exposed to thermal shock. Oecologia 134:18–22

Harel D, Holzapfel C, Sternberg M (2011) Seed mass and dormancy of annual plant populations and communities decreases with aridity and rainfall predictability. Basic Appl Ecol 12:674–684

Herranz JM, Ferrandis P, Martínez-Sánchez JJ (1999) Influence of heat on seed germination of nine woody Cistaceae species. Int J Wildland Fire 9:173–182

Hijmans RJ, Cameron SE, Parra JL, Jones PG, Jarvis A (2005) Very high resolution interpolated climate surfaces for global land areas. Int J Climatol 25:1965–1978

Huang Z, Ölçer-Footitt H, Footitt S, Finch-Savage WE (2015) Seed dormancy is a dynamic state: variable responses to pre- and post-shedding environmental signals in seeds of contrasting Arabidopsis ecotypes. Seed Sci Res 25:159–169

Jung V, Violle C, Mondy C, Hoffmann L, Muller S (2010) Intraspecific variability and trait-based community assembly. J Ecol 98:1134–1140

Karlsson LM, Milberg P (2008) Variation within species and inter-species comparison of seed dormancy and germination of four annual Lamium species. Flora 203:409–420

Kelly D (1994) The evolutionary ecology of mast seeding. Trends Ecol Evol 9:465–470

Kenny BJ (2000) Influence of multiple fire-related germination cues on three Sydney Grevillea (Proteaceae) species. Austral Ecol 25:664–669

Leishman MR, Wright IJ, Moles AT, Westoby M (2000) The evolutionary ecology of seed size. In Fenner M (ed) Seeds: the ecology of regeneration in plant communities. Ed. 2, CABI Publishing, Wallingford, pp 31–57

Lenormand T (2002) Gene flow and the limits to natural selection. Trends Ecol Evol 17:183–189

Liu J, Bai Y, Lamb EG, Simpson D, Liu G, Wei Y, Wang D, McKenney DW, Papadopol P (2013) Patterns of cross-continental variation in tree seed mass in the Canadian boreal forest. PLoS ONE 8:e61060

Luna B, Moreno JM, Cruz A, Fernández-González F (2007) Heat-shock and seed germination of a group of Mediterranean plant species growing in a burned area: an approach based on plant functional types. Environm Exp Bot 60:324–333

Mariko S, Koizumi H, Suzuki J, Furukawa A (1993) Altitudinal variations in germination and growth responses of Reynoutria japonica populations on Mt Fuji to a controlled thermal environment. Ecol Res 8:27–34

Marteinsdóttir B, Eriksson O (2014) Trait-based filtering from the regional species pool into local grassland communities. J Pl Ecol 7:347–355

Martínez I, García D, Obeso JR (2007) Allometric allocation in fruit and seed packaging conditions the conflict among selective pressures on seed size. Evol Ecol 21:517–533

Martínez-Sánchez JJ, Ferrandis P, de las Heras J, Herranz JM (2000) Functioning and dynamics of plant communities in central and southern Spain. In Trabaud L (ed) Life and environment in the Mediterranean. WIT Press, Southampton; Boston, pp 87–127

McWilliams EL, Landers RQ, Mahlstede JP (1968) Variation in seed weight and germination in populations of Amaranthus retroflexus L. Ecology 49:290–296

Metz J, Liancourt P, Kigel J, Harel D, Sternberg M, Tielbörger K (2010) Plant survival in relation to seed size along environmental gradients: a long-term study from semi-arid and Mediterranean annual plant communities. J Ecol 98:697–704

Michaels HJ, Benner B, Hartgerink AP, Lee TD, Rice S, Willson MF, Bertin RI (1988) Seed size variation: magnitude, distribution, and ecological correlates. Evol Ecol 2:157–166

Miliaresis GC (2006) Geomorphometric mapping of Asia Minor from GLOBE digital elevation model. Geogr Ann, A Phys Geogr 88:209–221

Moles AT, Westoby M (2004) Seedling survival and seed size: a synthesis of the literature. J Ecol 92:372–383

Moles AT, Westoby M (2006) Seed size and plant strategy across the whole life cycle. Oikos 113:91–105

Moles AT, Ackerly D, Tweddle J, Dickie J, Smith R, Leishman M, Mayfield MM, Pitman A, Wood JT, Westoby M (2007) Global patterns in seed size. Global Ecol Biogeogr 16:109–116

Moreira B, Pausas JG (2012) Tanned or burned: The role of fire in shaping physical seed dormancy. PLoS ONE 7:e51523

Moreira B, Tormo J, Estrelles E, Pausas JG (2010) Disentangling the role of heat and smoke as germination cues in Mediterranean Basin flora. Ann Bot Oxford 105:627–635

Moreira B, Tavsanoglu Ç, Pausas JG (2012) Local versus regional intraspecific variability in regeneration traits. Oecologia 168:671–677

Oksanen J, Blanchet FG, Kindt R, Legendre P, Minchin PR, O'Hara RB, Simpson GL, Solymos P, Stevens MHH, Wagner H (2015) vegan: community ecology package. Available at http://CRAN.R-project.org/package=vegan

Paula S, Arianoutsou M, Kazanis D, Tavsanoglu Ç, Lloret F, Buhk C, Ojeda F, Luna B, Moreno JM, Rodrigo A, Espelta JM, Palacio S, Fernández-Santos B, Fernandes PM, Pausas JG (2009) Fire-related traits for plant species of the Mediterranean Basin. Ecology 90:1420

Pausas JG, Keeley JE (2014) Evolutionary ecology of resprouting and seeding in fire-prone ecosystems. New Phytol 204:55–65

Pérez-García F (1997) Germination of Cistus ladanifer seeds in relation to parent material. Pl Ecol 133:57–62

Pérez-García F, González-Benito ME (2003) Seed germination of Halimium and Helianthemum species. In Procházková Z, Gosling PG, Sutherland JR (eds) Proceedings of the ISTA Forest Tree and Shrub Seed Committee Workshop, October 20–22, Prague, Czech Republic, pp 63–71

Pluess AR, Schütz W, Stöcklin J (2005) Seed weight increases with altitude in the Swiss Alps between related species but not among populations of individual species. Oecologia 144:55–61

Probert RJ, Daws MI, Hay FR (2009) Ecological correlates of ex situ seed longevity: a comparative study on 195 species. Ann Bot Oxford 104:57–69

Qi W, Guo S, Chen X, Cornelissen JHC, Bu H, Du G, Cui X, Li W, Liu K (2014) Disentangling ecological, allometric and evolutionary determinants of the relationship between seed mass and elevation: insights from multiple analyses of 1355 angiosperm species on the eastern Tibetan Plateau. Oikos 123:23–32

Robles AB, Castro J (2002) Effect of thermal shock and ruminal incubation on seed germination in Helianthemum apenninum (L.) Mill. (Cistaceae). Acta Bot Malacit 27:41–47

R Core Team (2015) R version 3.2.2. R Foundation for Statistical Computing, Vienna, Austria. Available at www.R-project.org

Santo A, Mattana E, Bacchetta G (2015) Inter- and intra-specific variability in seed dormancy loss and germination requirements in the Lavatera triloba aggregate (Malvaceae). Pl Ecol Evol 148:100–110

Schütz W, Milberg P (1997) Seed dormancy in Carex canescens: regional differences and ecological consequences. Oikos 78:420–428

Skarpaas O, Silverman EJ, Jongejans E, Shea K (2011) Are the best dispersers the best colonizers? Seed mass, dispersal and establishment in Carduus thistles. Evol Ecol 25:155–169

Tavsanoglu C (2011) Fire-related cues (heat shock and smoke) and seed germination in a Cistus creticus population in southwestern Turkey. Ekoloji 20:99–104

Tavşanoğlu Ç, Çatav ŞS (2012) Seed size explains within-population variability in post-fire germination of Cistus salviifolius. Ann Bot Fenn 49:331–340

Thanos CA, Georghiou K, Kadis C, Pantazi C (1992) Cistaceae: A plant family with hard seeds. Israel J Bot 41:251–263

Tormo J, Moreira B, Pausas JG (2014) Field evidence of smoke-stimulated seedling emergence and establishment in Mediterranean Basin flora. J Veg Sci 25:771–777

Trabaud L, Oustric J (1989) Heat requirements for seed germination of three Cistus species in the garrigue of southern France. Flora 183:321–325

Türkeş M (1996) Spatial and temporal analysis of annual rainfall regimes in Turkey. Int J Climatol 16:1057–1076

Vandelook F, Van de Moer D, Van Assche JA (2008) Environmental signals for seed germination reflect habitat adaptations in four temperate Caryophyllaceae. Funct Ecol 22:470–478

Violle C, Enquist BJ, McGill BJ, Jiang L, Albert CH, Hulshof C, Jung V, Messier J (2012) The return of the variance: intraspecific variability in community ecology. Trends Ecol Evol 27:244–252

Volis S, Bohrer G (2013) Joint evolution of seed traits along an aridity gradient: Seed size and dormancy are not two substitutable evolutionary traits in temporally heterogeneous environment. New Phytol 197:655–667

Wolfe LM (1995) The genetics and ecology of seed size variation in a biennial plant, Hydrophyllum appendiculatum (Hydrophyllaceae). Oecologia 101:343–352

Yeşilyurt EB (2014) Taxonomical studies on the genus Helianthemum Mill. (Cistaceae) in Turkey. Ph.D. Thesis, Hacettepe University

Zaidi CA, González-Benito ME, Pérez -García F (2010) Morphological and physiological seed heterogeneity in the Mediterranean annual plant Tuberaria macrosepala (Cistaceae). Pl Spec Biol 25:149–157
Acknowledgements
We thank D. Deniz Kazancı for her help during the germination experiment and S. Bülent Alten for his logistic support. We also thank two anonymous referees and the associate editor Petr Dostál for providing useful and constructive comments to improve the manuscript. E. Burcu Yeşilyurt is supported by a grant from The Scientific and Technological Research Council of Turkey (BIDEB-2211, Scholarship for the Ph.D. program). The seeds used in the study were collected through a scientific research project supported by the Hacettepe University Scientific Research Unit (project No. 01.001.601.006). The germination experiments were conducted in the Ecological Sciences Research Lab (Hacettepe University), and consumable materials needed for the experiment were provided by the Fire Ecology and Seed Research Lab (Hacettepe University). We declare that the experiments in this study were conducted according to the current laws of Turkey.
Electronic supplementary material
About this article
Cite this article
Yeşilyurt, E.B., Erik, S. & Tavşanoğlu, Ç. Inter-population variability in seed dormancy, seed mass and germination in Helianthemum salicifolium (Cistaceae), a hard-seeded annual herb. Folia Geobot 52, 253–263 (2017). https://doi.org/10.1007/s12224-017-9290-3
Received:

Accepted:

Published:

Issue Date:
Keywords
elevational gradient

Anatolia

climate variability

geographic variation

scarification

seed mass