Abstract
Shiga toxin-producing Escherichia coli (STEC) is an important foodborne pathogens, known to cause enteric infections especially diarrhea, mainly attributed to Shiga toxins (Stxs). The use of certain antibiotics for treating this infection is controversial, owing to an increased risk for producing Stxs (Stx 1 and Stx 2). Increased antibiotic resistance is also thought to be involved in the pathogenesis of STEC diseases. The purpose of this study was to analyze the effects of antibiotics on induction of Stx 1 and Stx 2 in clinical STEC isolates and to investigate the relationships between increased resistance and Stx production. Fifteen clinical isolates were treated with sub minimum inhibitory concentrations (Sub MIC) of clinically used antibiotics (ciprofloxacin, fosfomycin, tigecycline, and meropenem), and the changes in expression levels of stx1 and stx2 genes were estimated using qRT-PCR. The expressions of Shiga toxins were found to be increased up to 6.5- and eightfold under ciprofloxacin and tigecycline Sub MIC, respectively. Fosfomycin had weak induction effect of up to twofold, whereas meropenem had the weakest influence on such expression. Resistant isolates were found to be more prone to increased expression of toxins.
Access options
Buy single article
Instant access to the full article PDF.
US$ 39.95
Tax calculation will be finalised during checkout.
Subscribe to journal
Immediate online access to all issues from 2019. Subscription will auto renew annually.
US$ 79
Tax calculation will be finalised during checkout.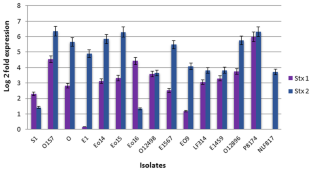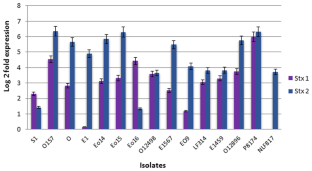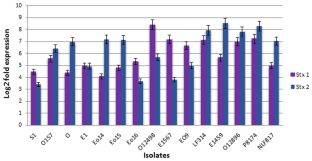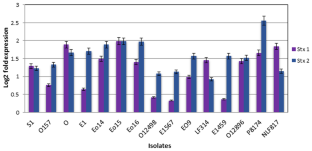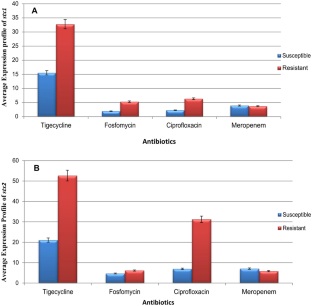 References
Arca P, Rico M, Braña AF, Villar CJ, Hardisson C, Suárez JE (1988) Formation of an adduct between fosfomycin and glutathione: a new mechanism of antibiotic resistance in bacteria. Antimicrob Agents Chemother 32:1552–1556

Basu D, Tumer NE (2015) Do the A subunits contribute to the differences in the toxicity of Shiga toxin 1 and Shiga toxin 2? Toxins 7:1467–1485

Bielaszewska M, Idelevich EA, Zhang W, Bauwens A, Schaumburg F, Mellmann A et al (2012) Effects of antibiotics on Shiga toxin 2 production and bacteriophage induction by epidemic Escherichia coli O104:H4 strain. Antimicrob Agents Chemother 56:3277–3282

Botelho-Nevers E, Edouard S, Leroy Q, Raoult D (2012) Deleterious effect of ciprofloxacin on Rickettsia conorii-infected cells is linked to toxin-antitoxin module up-regulation. J Antimicrob Chemother 67:1677–1682

Cavalieri SJ, Bohach GA, Snyder IS (1984) Escherichia coli alpha-hemolysin: characteristics and probable role in pathogenicity. Microbiol Rev 48:326–343

CLSI document M100-S23 (2013) Clinical and Laboratory Standards Institute, Wayne, PA

Chen ML, Hao Z, Tian Y, Zhang QY, Gao PJ, Jin JL (2013) Different effects of six antibiotics and ten traditional Chinese medicines on Shiga toxin expression by Escherichia coli O157:H7. Evid Based Complement Alternat Med. 2013:121407

Cheng C, Balasubramanian S, Fekete A, Krischke M, Mueller MJ, Hentschel U et al (2017) Inhibitory potential of strepthonium A against Shiga toxin production in enterohemorrhagic Escherichia coli (EHEC) strain EDL933. Nat Prod Res 31:2818–2823

Doughari HJ, Ndakidemi PA, Human IS, Benade S (2011) Virulence factors and antibiotic susceptibility among verotoxic non O157: H7 Escherichia coli isolates obtained from water and wastewater samples in Cape Town. South Africa Afr J Biotechnol 10:1416014168

EUCAST Expert rules version 3.1 (2016) Intrinsic resistance and exceptional phenotypes tables. Available at https://www.eucast.org/expert_rules_and_intrinsic_resistance/. Accessed 23 March, 2021

FAO/WHO (2019) Attributing illness caused by Shiga toxin-producing Escherichia coli (STEC) to specific foods. Microbiological Risk Assessment Series 32, Report: Available at https://www.who.int/foodsafety/publications/mra_32/en/. Accessed 13 September 2020

Farrokh C, Jordan K, Auvray F, Glass K, Oppegaard H, Raynaud S et al (2013) Review of Shiga-toxin-producing Escherichia coli (STEC) and their significance in dairy production. Int J Food Microbiol 162:190–212

Friedrich AW, Borell J, Bielaszewska M, Fruth A, Tschäpe H, Karch H (2003) Phenotypic and genetic characterization and association with human disease. J Clin Microbiol 41:2448–2453

Fuller CA, Pellino CA, Flagler MJ, Strasser JE, Weiss AA (2011) Shiga toxin subtypes display dramatic differences in potency. Infect Immun 79:1329–1337

Gómez-Gómez C, Blanco-Picazo P, Brown-Jaque M et al (2019) Infectious phage particles packaging antibiotic resistance genes found in meat products and chicken feces. Sci Rep 9:13281

Guerrant RL, Van Gilder T, Steiner TS, Thielman NM, Slutsker L et al (2001) Practice guidelines for the management of infectious diarrhea. Clin Infect Dis 32:331–351

Guerin É, Cambray G, Sanchez-Alberola N, Campoy S, Erill I, Sandra DR et al (2009) The SOS response controls integron recombination. Science 324:1034

Grif K, Dierich MP, Karch H, Allerberger F (1998) Strain-specific differences in the amount of Shiga toxin released from enterohemorrhagic Escherichia coli O157 following exposure to subinhibitory concentrations of antimicrobial agents. Eur J Clin Microbiol Infect Dis 17:761–766

Gyles CL (2007) Shiga toxin-producing Escherichia coli: an overview. J Anim Sci 85:E45–E62

Hancock RE (2005) Mechanisms of action of newer antibiotics for Gram-positive pathogens. Lancet Infect Dis 5:209–218

Ibarra C, Amaral MM, Palermo MS (2013) Advances in pathogenesis and therapy of hemolytic uremic syndrome caused by Shiga toxin-2. IUBMB Life 65:827–835

Kimmitt PT, Harwood CR, Barer MR (2000) Toxin gene expression by shiga toxin-producing Escherichia coli: the role of antibiotics and the bacterial SOS response. Emerg Infect Dis 6:458–465

Lee JH, Stein BD (2009) Antimicrobials effective for inhibition of enterohaemorrhagic Escherichia coli strains O26, O111, and O157 and their effects on Shiga toxin releases. J Microbiol Biotechnol 19:1238–1243

Livak KJ, Schmittgen TD (2001) Analysis of relative gene expression data using real-time quantitative PCR and the 2(-Delta Delta C(T)) Method. Methods 25:402–408

McGannon CM, Fuller CA, Weiss AA (2010) Different classes of antibiotics differentially influence Shiga toxin production. Antimicrob Agents Chemother 54:3790–3798

Melton-Celsa AR (2014) Shiga toxin (Stx) classification, structure, and function. Microbiol Spectr 2:EHEC-0024–2013

Nassar FJ, Rahal EA, Sabra A, Matar GM (2013) Effects of subinhibitory concentrations of antimicrobial agents on Escherichia coli O157:H7 Shiga toxin release and role of the SOS response. Foodborne Pathog Dis 10:805–812

O'Brien AD, Newland JW, Miller SF, Holmes RK, Smith HW, Formal SB (1984) Shiga-like toxin-converting phages from Escherichia coli strains that cause hemorrhagic colitis or infantile diarrhea. Science 226:694–696

Ochoa TJ, Chen J, Walker CM, Gonzales E, Cleary TG (2007) Rifaximin does not induce toxin production or phage-mediated lysis of shiga toxin-producing Escherichia coli. Antimicrob Agents Chemother 51:2837–2841

Reller LB, Weinstein M, Jorgensen JH, Ferraro MJ (2009) Antimicrobial susceptibility testing: a review of general principles and contemporary practices. Clin Infect Dis 49:1749–1755

Rio DC, Ares M Jr, Hannon GJ, Nilsen TW (2010) Purification of RNA using TRIzol (TRI reagent). Cold Spring Harb Protoc 2010:pdb.prot 5439

Selim SA, Ahmed SF, Aziz MHA, Zakaria AM, Klena JD, Pangallo D (2013) Prevalence and characterization of Shiga-toxin O157: H7 and non-O157: H7 enterohemorrhagic Escherichia coli isolated from different sources. Biotechnol Biotechnol Equip 27:3834–3842

Smith WE, Kane AV, Campbell ST, Acheson DW, Cochran BH, Thorpe CM (2003) Shiga toxin 1 triggers a ribotoxic stress response leading to p38 and JNK activation and induction of apoptosis in intestinal epithelial cells. Infect Immun 71:1497–1504

Thorpe CM (2004) Shiga toxin-producing Escherichia coli infection. Clin Infect Dis 38:1298–1303

Vally H, Hall G, Dyda A, Raupach J, Knope K, Combs B et al (2012) Epidemiology of Shiga toxin producing Escherichia coli in Australia, 2000–2010. BMC Public Health 12:63

Wiegand I, Hilpert K, Hancock RE (2008) Agar and broth dilution methods to determine the minimal inhibitory concentration (MIC) of antimicrobial substances. Nat Protoc 3:163–175

Zhang Q, Donohou-Rolfe A, Krautz-Peterson G, Sevo M, Parry N, Abeijon C (2009) Gnotobiotic piglet infection model for evaluating the safe use of antibiotics against Escherichia coli O157: H7 infection. J Infect Dis 199:486–493
Acknowledgements
Industrial Biotechnology Department of Atta-Ur-Rahman School of Applied Biosciences (ASAB), National University of Sciences and Technology (NUST), Islamabad, Pakistan is acknowledged for providing necessary lab resources and equipment for conducting this study.
Ethics declarations
Conflict of interest
The authors declare no competing interests.
Additional information
Publisher's Note
Springer Nature remains neutral with regard to jurisdictional claims in published maps and institutional affiliations.
About this article
Cite this article
Rehman, A., Andleeb, S., Ullah, S.R. et al. Antibiotic-mediated expression analysis of Shiga toxin 1 and 2 in multi-drug-resistant Shiga toxigenic Escherichia coli. Folia Microbiol (2021). https://doi.org/10.1007/s12223-021-00882-0
Received:

Accepted:

Published: