Abstract
Due to insufficient amount of soluble phosphate and poor persistence of traditional chemical phosphate fertilizers in agricultural soils, the eco-friendly and sustainable phosphorus sources for crops are urgently required. The efficient phosphate-releasing fungal strain designated y2 was isolated and identified by the internal transcribed spacer of rDNA as Penicillium oxalicum y2. When lecithin, Ca3(PO4)2, or ground phosphate rock were separately used as sole phosphorus source, different phosphate-releasing modes were observed. The strain y2 was able to release as high as 2090 mg/L soluble phosphate within 12 days of incubation with Ca3(PO4)2 as sole phosphorus source. In the culture solution, high concentration of oxalic, citric, and malic acids and high phosphatase activity were detected. The organic acids contributed to solubilizing inorganic phosphate sources, while phosphatase was in charge of the mineralization of organic phosphorus lecithin. Afterwards, the fungus culture was applied to the soil with rape growing. During 50 days of incubation, the soil's available phosphate concentration increased by three times compared with the control, the dry weight of rape increased by 78.73%, and the root length increased by 38.79%. The results illustrated that P. oxalicum y2 possessed both abilities of solubilizing inorganic phosphorus and mineralizing organic phosphorus, which have great potential application in providing biofertilizer for modern agriculture.
This is a preview of subscription content, log in to check access.
Access options
Buy single article
Instant access to the full article PDF.
US$ 39.95
Price includes VAT for USA
Subscribe to journal
Immediate online access to all issues from 2019. Subscription will auto renew annually.
US$ 99
This is the net price. Taxes to be calculated in checkout.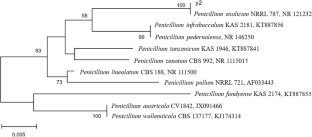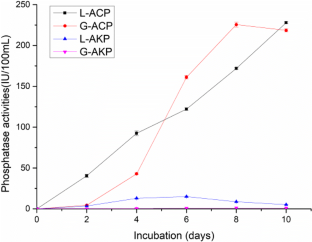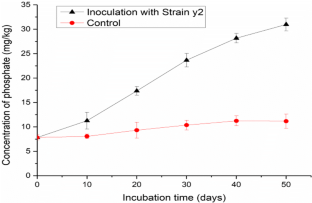 References
Abbasi MK, Manzoor M (2018) Biosolubilization of phosphorus from rock phosphate and other P fertilizers in response to phosphate solubilizing bacteria and poultry manure in a silt loam calcareous soil. J Plant Nutr Soil Sci 181:345–356. https://doi.org/10.1002/jpln.201800012

Asea P, Kucey R, Stewart J (1988) Inorganic phosphate solubilization by two Penicillium species in solution culture and soil. Soil Biol Biochem 20:459–464. https://doi.org/10.1016/0038-0717(88)90058-2

Balemi T, Negisho K (2012) Management of soil phosphorus and plant adaptation mechanisms to phosphorus stress for sustainable crop production: a review. J Soil Sci Plant Nutr 12:547–562. https://doi.org/10.4067/S0718-95162012005000015

Calvaruso C, Turpault M-P, Frey-Klett P, Uroz S, Pierret M-C, Tosheva Z, Kies A (2013) Increase of apatite dissolution rate by Scots pine roots associated or not with Burkholderia glathei PML1 (12) Rp in open-system flow microcosms. Geochim Cosmochim Acta 106:287–306. https://doi.org/10.1016/j.gca.2012.12.014

Chen W, Yang F, Zhang L, Wang J (2016) Organic acid secretion and phosphate solubilizing efficiency of Pseudomonas sp. PSB12: effects of phosphorus forms and carbon sources. Geomicrobiol J 33:870–877. https://doi.org/10.1080/01490451.2015.1123329

Gyaneshwar P, Kumar GN, Parekh L, Poole P (2002) Role of soil microorganisms in improving P nutrition of plants. Plant Soil 245:83–93. https://doi.org/10.1023/A:1020663916259

Halder A, Banerjee A, Mishra A, Chakrabartty P (1992) Role of NH or NO on release of soluble phosphate from hydroxyapatite by Rhizobium and Bradyrhizobium. J Basic Microbiol 32:325–330. https://doi.org/10.1002/jobm.3620320508

Ikotun T (1984) Production of oxalic acid by Penicillium oxalicum in culture and in infected yam tissue and interaction with macerating enzyme. Mycopathologia 88:9–14. https://doi.org/10.1007/BF00439288

Illmer P, Schinner F (1992) Solubilization of inorganic phosphates by microorganisms isolated from forest soils. Soil Biol Biochem 24:389–395. https://doi.org/10.1016/0038-0717(92)90199-8

Illmer P, Schinner F (1995) Solubilization of inorganic calcium phosphates—solubilization mechanisms. Soil Biol Biochem 27:257–263. https://doi.org/10.1016/0038-0717(94)00190-c

Kang J, Amoozegar A, Hesterberg D, Osmond DL (2011) Phosphorus leaching in a sandy soil as affected by organic and inorganic fertilizer sources. Geoderma 161:194–201. https://doi.org/10.1016/j.geoderma.2010.12.019

Khan MS, Zaidi A, Ahemad M, Oves M, Wani PA (2010) Plant growth promotion by phosphate solubilizing fungi–current perspective. Arch Agron Soil Sci 56:73–98. https://doi.org/10.1080/03650340902806469

Kucey R (1983) Phosphate-solubilizing bacteria and fungi in various cultivated and virgin Alberta soils. Can J Soil Sci 63:671–678. https://doi.org/10.4141/cjss83-068

Larena I, Sabuquillo P, Melgarejo P, De Cal A (2003) Biocontrol of Fusarium and Verticillium wilt of tomato by Penicillium oxalicum under greenhouse and field conditions. J Phytopathol 151:507–512. https://doi.org/10.1046/j.1439-0434.2003.00762.x

Li Z et al (2016) A study of organic acid production in contrasts between two phosphate solubilizing fungi: Penicillium oxalicum and Aspergillus niger. Sci Rep 6:25313. https://doi.org/10.1038/srep25313

Mohammadi K (2012) Phosphorus solubilizing bacteria: occurrence, mechanisms and their role in crop production. Resour Environ 2:80–85

Panhwar QA, Radziah O, Naher UA, Zaharah AR, Razi MI, Shamshuddin J (2013) Effect of phosphate-solubilizing bacteria and oxalic acid on phosphate uptake from different P fractions and growth improvement of aerobic rice using 32P technique. Aust J Crop Sci 7:1131

Relwani L, Krishna P, Reddy MS (2008) Effect of carbon and nitrogen sources on phosphate solubilization by a wild-type strain and UV-induced mutants of Aspergillus tubingensis. Curr Microbiol 57:401–406. https://doi.org/10.1007/s00284-008-9212-y

Reyes I, Bernier L, Simard RR, Antoun H (1999) Effect of nitrogen source on the solubilization of different inorganic phosphates by an isolate of Penicillium rugulosum and two UV-induced mutants. FEMS Microbiol Ecol 28:281–290. https://doi.org/10.1111/j.1574-6941.1999.tb00583.x

Rose TJ, Hardiputra B, Rengel Z (2010) Wheat, canola and grain legume access to soil phosphorus fractions differs in soils with contrasting phosphorus dynamics. Plant Soil 326:159–170. https://doi.org/10.1007/s11104-009-9990-4

Saxena J, Rawat J, Sanwal P (2016) Enhancement of growth and yield of glycine max plants with inoculation of phosphate solubilizing fungus Aspergillus niger k7 and biochar amendment in soil. Commun Soil Sci Plant Anal 47:2334–2347. https://doi.org/10.1080/00103624.2016.1243708

Sharma SB, Sayyed RZ, Trivedi MH, Gobi TA (2013) Phosphate solubilizing microbes: sustainable approach for managing phosphorus deficiency in agricultural soils. SpringerPlus 2:587. https://doi.org/10.1186/2193-1801-2-587

Tao G-C, Tian S-J, Cai M-Y, Xie G-H (2008) Phosphate-solubilizing and -mineralizing abilities of bacteria isolated from soils. Pedosphere 18:515–523. https://doi.org/10.1016/S1002-0160(08)60042-9

Vance CP, Uhde-Stone C, Allan DL (2003) Phosphorus acquisition and use: critical adaptations by plants for securing a nonrenewable resource. New Phytol 157:423–447. https://doi.org/10.1046/j.1469-8137.2003.00695.x

Vessey JK, Heisinger KG (2001) Effect of Penicillium bilaii inoculation and phosphorus fertilisation on root and shoot parameters of field-grown pea. Can J Plant Sci 81:361–366. https://doi.org/10.4141/P00-083

Watanabe F, Olsen S (1965) Test of an ascorbic acid method for determining phosphorus in water and NaHCO3 extracts from soil. Soil Sci Soc Am J 29:677–678. https://doi.org/10.2136/sssaj1965.03615995002900060025x

Whitelaw M, Harden T, Helyar K (1999) Phosphate solubilisation in solution culture by the soil fungus Penicillium radicum. Soil Biol Biochem 31:655–665. https://doi.org/10.1016/S0038-0717(98)00130-8

Zhang Y et al (2018) Isolation and characterization of two phosphate-solubilizing fungi from rhizosphere soil of moso bamboo and their functional capacities when exposed to different phosphorus sources and pH environments. PLoS One 13:e0199625. https://doi.org/10.1371/journal.pone.0199625

Zou X, Binkley D, Doxtader KG (1992) A new method for estimating gross phosphorus mineralization and immobilization rates in soils. Plant Soil 147:243–250. https://doi.org/10.1007/BF00029076
Funding
This work was supported by the National Natural Science Foundation of China (No. 41977315) and the Fundamental Research Funds for the Central Universities of China (No. 201964004).
Ethics declarations
Conflict of interest
The authors declare that they have no conflict of interests or personal relationships that could have appeared to influence the work reported in this paper.
Additional information
Publisher's note
Springer Nature remains neutral with regard to jurisdictional claims in published maps and institutional affiliations.
About this article
Cite this article
Wang, J., Zhao, Y. & Maqbool, F. Capability of Penicillium oxalicum y2 to release phosphate from different insoluble phosphorus sources and soil. Folia Microbiol (2020). https://doi.org/10.1007/s12223-020-00822-4
Received:

Accepted:

Published:
Keywords
Penicillium oxalicum

Inorganic phosphate solubilization

Organic phosphorus mineralization

Oxalic acid

Bioavailable phosphatase