Abstract
DNA extraction from soil samples is a critical step for molecular biology analyses. The present study compared the efficiency of two DNA isolation methods from non-polluted and polluted soils with or without the presence of a plant. Both applied methods used chemical and physical lyses, but method 1 had an additional physical disruption. The main difference between these two methods was the humic acid purification technique as it was carried out during cell lysis for method 1 and after cell lysis for method 2. Samples were assessed on the basis of their yield and DNA purity as well as their bacterial quantity and diversity. Based on our results, method 1 proved to be more effective at removing protein and RNA, whereas method 2 proved to be more effective at removing humic acids. Although no differences were obtained in terms of the DNA yield, both the bacterial quantity and community structure were affected by the method used. Method 1 allowed for the recovery of more information than method 2, and polluted soil was more sensitive to the DNA extraction procedure. We recommend carefully selecting the DNA extraction method, especially when soil is disturbed.
Access options
Buy single article
Instant access to the full article PDF.
USD 39.95
Price includes VAT (USA)
Tax calculation will be finalised during checkout.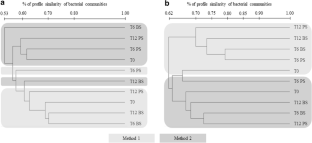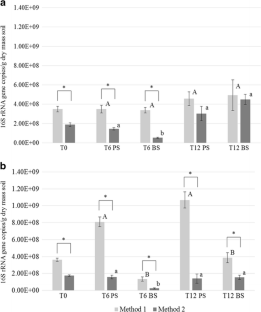 References
Arbeli Z, Fuentes CL (2007) Improved purification and PCR amplification of DNA from environmental samples. FEMS Microbiol Lett 272:269–275

Arndt S, Jørgensen BB, LaRowe DE et al (2013) Quantifying the degradation of organic matter in marine sediments: a review and synthesis. Earth-Sci Rev 123:53–86. doi:10.1016/j.earscirev.2013.02.008

Baudoin E, Benizri E, Guckert A (2003) Impact of artificial root exudates on the bacterial community structure in bulk soil and maize rhizosphere. Soil Biol Biochem 35:1183–1192. doi:10.1016/S0038-0717(03)00179-2

Bloem J, Hopkins DW, Benedetti A (2005) Microbiological methods for assessing soil quality. CABI

Carrigg C, Rice O, Kavanagh S et al (2007) DNA extraction method affects microbial community profiles from soils and sediment. Appl Microbiol Biotechnol 77:955–964. doi:10.1007/s00253-007-1219-y

Costanza R, d'Arge R, De Groot R et al (1997) The value of the world's ecosystem services and natural capital. Nature 25:253–260

Cullen DW, Hirsch PR (1998) Simple and rapid method fordirect extraction of microbial DNA fromsoil for PCR. Soil Biol Biochem 30:983–993. doi:10.1016/S0038-0717(98)00001-7

Falkowski PG, Fenchel T, Delong EF (2008) The microbial engines that drive Earth's biogeochemical cycles. Science 320:1034–1039. doi:10.1126/science.1153213

Fortin N, Beaumier D, Lee K, Greer CW (2004) Soil washing improves the recovery of total community DNA from polluted and high organic content sediments. J Microbiol Methods 56:181–191. doi:10.1016/j.mimet.2003.10.006

Gianfreda L, Antonietta Rao M, Piotrowska A et al (2005) Soil enzyme activities as affected by anthropogenic alterations: intensive agricultural practices and organic pollution. Sci Total Environ 341:265–279. doi:10.1016/j.scitotenv.2004.10.005

Glasel JA (1995) Validity of nucleic acid purities monitored by 260nm/280nm absorbance ratios. BioTechniques 18:62–63

Gray JP, Herwig RP (1996) Phylogenetic analysis of the bacterial communities in marine sediments. Appl Environ Microbiol 62:4049–4059

Guimarães RML, Ball BC, Tormena CA et al (2013) Relating visual evaluation of soil structure to other physical properties in soils of contrasting texture and management. Soil Tillage Res 127:92–99. doi:10.1016/j.still.2012.01.020

Harry M, Gambier B, Bourezgui Y, Garnier-Sillam E (1999) Evaluation of purification procedures for DNA extracted from rich organic samples: interference with humic substances. Analusis 27:439–441

Howeler M, Ghiorse WC, Walker LP (2003) A quantitative analysis of DNA extraction and purification from compost. J Microbiol Methods 54:37–45. doi:10.1016/S0167-7012(03)00006-X

Kreader CA (1996) Relief of amplification inhibition in PCR with bovine serum albumin or T4 gene 32 protein. Appl Environ Microbiol 62:1102–1106

LaMontagne MG, Michel FC Jr, Holden PA, Reddy CA (2002) Evaluation of extraction and purification methods for obtaining PCR-amplifiable DNA from compost for microbial community analysis. J Microbiol Methods 49:255–264. doi:10.1016/S0167-7012(01)00377-3

Lombard N, Prestat E, van Elsas JD, Simonet P (2011) Soil-specific limitations for access and analysis of soil microbial communities by metagenomics. FEMS Microbiol Ecol 78:31–49. doi:10.1111/j.1574-6941.2011.01140.x

López-Gutiérrez JC, Henry S, Hallet S et al (2004) Quantification of a novel group of nitrate-reducing bacteria in the environment by real-time PCR. J Microbiol Methods 57:399–407. doi:10.1016/j.mimet.2004.02.009

Luna GM, Dell'Anno A, Danovaro R (2006) DNA extraction procedure: a critical issue for bacterial diversity assessment in marine sediments. Environ Microbiol 8:308–320. doi:10.1111/j.1462-2920.2005.00896.x

Martin-Laurent F, Philippot L, Hallet S et al (2001) DNA extraction from soils: old bias for new microbial diversity analysis methods. Appl Environ Microbiol 67:2354–2359. doi:10.1128/AEM.67.5.2354-2359.2001

Moré MI, Herrick JB, Silva MC et al (1994) Quantitative cell lysis of indigenous microorganisms and rapid extraction of microbial DNA from sediment. Appl Environ Microbiol 60:1572–1580

Muyzer G, de Waal EC, Uitterlinden AG (1993) Profiling of complex microbial populations by denaturing gradient gel electrophoresis analysis of polymerase chain reaction-amplified genes coding for 16S rRNA. Appl Environ Microbiol 59:695–700

NF EN ISO 11269-2 (2013) Soil quality—determination of the effects of pollutants on soil flora—part 2: effects of contaminated soil on the emergence and early growth of higher plants

NF ISO 11464 (2006) Soil quality—pretreatment of samples for physico-chemical analysis

NF ISO 11465 (1994) Soil quality—determination of dry matter and water content on a mass basis—gravimetric method

Ning J, Liebich J, Kästner M et al (2009) Different influences of DNA purity indices and quantity on PCR-based DGGE and functional gene microarray in soil microbial community study. Appl Microbiol Biotechnol 82:983–993. doi:10.1007/s00253-009-1912-0

Olson ND, Morrow JB (2012) DNA extract characterization process for microbial detection methods development and validation. BMC Res Notes 5:668

Petric I, Philippot L, Abbate C et al (2011) Inter-laboratory evaluation of the ISO standard 11063 soil quality—method to directly extract DNA from soil samples. J Microbiol Methods 84:454–460. doi:10.1016/j.mimet.2011.01.016

Priemé A, Sitaula JIB, Klemedtsson ÅK, Bakken LR (1996) Extraction of methane-oxidizing bacteria from soil particles. FEMS Microbiol Ecol 21:59–68

Robe P, Nalin R, Capellano C et al (2003) Extraction of DNA from soil. Eur J Soil Biol 39:183–190. doi:10.1016/S1164-5563(03)00033-5

Roose-Amsaleg CL, Garnier-Sillam E, Harry M (2001) Extraction and purification of microbial DNA from soil and sediment samples. Appl Soil Ecol 18:47–60. doi:10.1016/S0929-1393(01)00149-4

Rubin BER, Sanders JG, Hampton-Marcell J et al (2014) DNA extraction protocols cause differences in 16S rRNA amplicon sequencing efficiency but not in community profile composition or structure. Microbiologyopen 3:910–921. doi:10.1002/mbo3.216

Schneegurt MA, Dore SY, Kulpa CF Jr (2003) Direct extraction of DNA from soils for studies in microbial ecology. Curr Issues Mol Biol 5:1–8

Selenska S, Klingmüller W (1991) DNA recovery and direct detection of Tn5 sequences from soil. Lett Appl Microbiol 13:21–24. doi:10.1111/j.1472-765X.1991.tb00559.x

Smalla K, Cresswell N, Mendonca-Hagler LC et al (1993) Rapid DNA extraction protocol from soil for polymerase chain reaction-mediated amplification. J Appl Bacteriol 74:78–85. doi:10.1111/j.1365-2672.1993.tb02999.x

Tanase AM, Mereuta I, Chiciudean I et al (2015) Comparison of total DNA extraction methods for microbial community form polluted soil. Agric Agric Sci Procedia 6:616–622. doi:10.1016/j.aaspro.2015.08.102

Tebbe CC, Vahjen W (1993) Interference of humic acids and DNA extracted directly from soil in detection and transformation of recombinant DNA from bacteria and a yeast. Appl Environ Microbiol 59:2657–2665

Técher D, Martinez-Chois C, D'Innocenzo M et al (2010) Novel perspectives to purify genomic DNA from high humic acid content and contaminated soils. Sep Purif Technol 75:81–86. doi:10.1016/j.seppur.2010.07.014

Técher D, Martinez-Chois C, Laval-Gilly P et al (2012) Assessment of Miscanthus × giganteus for rhizoremediation of long term PAH contaminated soils. Appl Soil Ecol 62:42–49. doi:10.1016/j.apsoil.2012.07.009

Terrat S, Christen R, Dequiedt S et al (2012) Molecular biomass and MetaTaxogenomic assessment of soil microbial communities as influenced by soil DNA extraction procedure. Microb Biotechnol 5:135–141. doi:10.1111/j.1751-7915.2011.00307.x

Zhou J, Bruns MA, Tiedje JM (1996) DNA recovery from soils of diverse composition. Appl Environ Microbiol 62:316–322
Acknowledgements
We thank «Communauté d'agglomérations Porte de France—Thionville» for his financial support.
About this article
Cite this article
Mazziotti, M., Henry, S., Laval-Gilly, P. et al. Comparison of two bacterial DNA extraction methods from non-polluted and polluted soils. Folia Microbiol 63, 85–92 (2018). https://doi.org/10.1007/s12223-017-0530-y
Received:

Accepted:

Published:

Issue Date: