Abstract
Increasing bacterial resistance to common drugs is a major public health concern for the treatment of infectious diseases. Certain naturally occurring compounds of plant sources have long been reported to possess potential antimicrobial activity. This study was aimed to investigate the antibacterial activity and possible mechanism of action of andrographolide (Andro), a diterpenoid lactone from a traditional medicinal herb Andrographis paniculata. Extent of antibacterial action was assessed by minimal bactericidal concentration method. Radiolabeled N-acetyl glucosamine, leucine, thymidine, and uridine were used to determine the effect of Andro on the biosyntheses of cell wall, protein, DNA, and RNA, respectively. In addition, anti-biofilm potential of this compound was also tested. Andro showed potential antibacterial activity against most of the tested Gram-positive bacteria. Among those, Staphylococcus aureus was found to be most sensitive with a minimal inhibitory concentration value of 100 μg/mL. It was found to be bacteriostatic. Specific inhibition of intracellular DNA biosynthesis was observed in a dose-dependent manner in S. aureus. Andro mediated inhibition of biofilm formation by S. aureus was also found. Considering its antimicrobial potency, Andro might be accounted as a promising lead for new antibacterial drug development.
Access options
Buy single article
Instant access to the full article PDF.
USD 39.95
Price excludes VAT (USA)
Tax calculation will be finalised during checkout.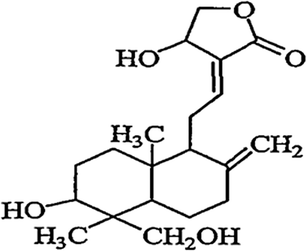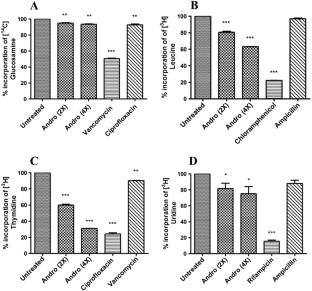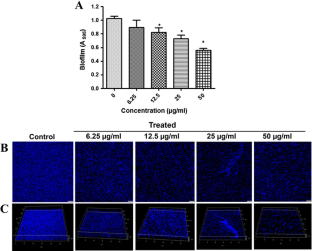 Abbreviations
Andro:

Andrographolide

MIC:

Minimum inhibitory concentration

MBC:

Minimal bactericidal concentration

CAMHB:

Cation-adjusted Mueller-Hinton broth

DAPI:

4′, 6-Diamidino-2-phenylindole

CLSM:

Confocal laser scanning microscopy
References
Ahmad N, Amir MK, Ayaz S, Ahmad S, Jan A, Ashraf JS, Zuhra FT (2012) Antimicrobial profile of the selected medicinal plants. Int J Chem Life Sci 1(2):1039–1041

Arifullah M, Namsa ND, Mandal M, Chiruvella KK, Vikrama P, Gopal GR (2013) Evaluation of anti-bacterial and anti-oxidant potential of andrographolide and echiodinin isolated from callus culture of Andrographis paniculata Nees. Asian Pac J Trop Biomed 3(8):604–610

Banerjee M, Chattopadhyay S, Choudhuri T, Bera R, Kumar S, Chakraborty B, Mukherjee SK (2016) Cytotoxicity and cell cycle arrest induced by andrographolide lead to programmed cell death of MDA-MB-231 breast cancer cell line. J Biomed Sci. doi:10.1186/s12929-016-0257-0

Behal V (2001) Nontraditional microbial bioactive metabolites. Folia Microbiol 46:363–370

Cáceres DD, Hancke JL, Burgos RA, Wikman GK (1997) Prevention of common colds with Andrographis paniculata dried extract: a pilot double blind trial. Phytomedicine 4(2):101–104

Calabrese C, Berman SH, Babish JG, Ma X, Shinto L, Dorr M, Wells K, Wenner GA, Standish LJ (2000) A phase I trial of andrographolide in HIV positive patients and normal volunteers. Phytother Res 14:333–338

Chen H, Ma YB, Huang XY, Geng CA, Zhao Y, Wang LJ, Guo RH, Liang WJ, Zhang XM, Chen JJ (2014) Synthesis, structure–activity relationships and biological evaluation of dehydroandrographolide and andrographolide derivatives as novel anti-hepatitis B virus agents. Bioorg Med Chem Lett 24:2353–2359

Chua LS (2014) Review on liver inflammation and anti-inflammatory activity of Andrographis paniculata for hepatoprotection. Phytother Res 28(11):1589–1598

CLSI (2004) Quality control for commercially prepared microbiological culture media; Approved Standard, 3rd edn. CLSI document M22-A3. Clinical and Laboratory Standards Institute, Wayne, PA

CLSI (2012) Performance standards for antimicrobial susceptibility testing, 22nd informational supplement. CLSI document MS100-S22. Clinical and Laboratory Standards Institute, Wayne, PA

da Silva LL, Nascimento MS, Cavalheiro AJ, Silva DH, Castro-Gamboa I, Furlan M, Bolzani Vda S (2008) Antibacterial activity of labdane diterpenoids from Stemodia foliosa. J Nat Prod 71(7):1291–1293

Feldberg RS, Chang SC, Kotik AN, Nadler M, Neuwirth Z, Sundstrom DC, Thompson NH (1988) In vitro mechanism of inhibition of bacterial cell growth by allicin. Antimicrob Agents Chemother 32(12):1763–1768

Gabrielian ES, Shukarian AK, Goukasova GI, Chandanian GL, Panossian AG (2002) A double blind, placebo-controlled study of Andrographis paniculata fixed combination Kan Jang in the treatment of acute upper respiratory tract infections including sinusitis. Phytomedicine 9:589–597

Gowthami M, Selvi ST, Kumar GS, Panneerselvam A (2012) Phytochemical analysis and antibacterial properties of leaf extract of Azima tetracantha (Lam.). Asian J Plant Sci Res 2:110–114

Kalimuthu KSV, Senthilkumar R (2010) Antimicrobial activity of the biodiesel plant Jatropha curcas L. Int J Pharm Bio Sci 1:1–5

Kumar A, Naidu M, Rao KG (2010) In vitro antibacterial activity in the extracts of Andrographis paniculata Burm. F Int J Pharm Tech Res 2(2):1383–1385

Leandro LM, de Sousa VF, Barbosa PCS, Neves JKO, da Silva JA, da Veiga-Junior VF (2012) Chemistry and biological activities of terpenoids from copaiba (Copaifera spp.) oleoresins. Molecules 17:3866–3889

Liu R, Memarzadeh K, Chang B, Zhang Y, Ma Z, Allaker RP, Ren L, Yang K (2016) Antibacterial effect of copper-bearing titanium alloy (Ti-Cu) against Streptococcus mutans and Porphyromonas gingivalis. Sci Rep 6:29985

Mah TF, Pitts B, Pellock B, Walker GC, Stewart PS, O'Toole GA (2003) A genetic basis for Pseudomonas aeruginosa biofilm antibiotic resistance. Nature 426(6964):306–310

Malahubban M, Alimon AR, Sazili AQ, Fakurazi S, Zakry FA (2013) Phytochemical analysis of Andrographis paniculata and Orthosiphon stamineus leaf extracts for their antibacterial and antioxidant potential. Trop Biomed 30:467–480

Mendoza L, Tapia L, Wilkens M, Urzúa A (2002) Antibacterial activity of 13-epi-sclareol, a labdane type diterpene isolated from Pseudognaphalium heterotrichium and P. cheiranthifolium (Asteraceae). Bol Soc Chil Quím 47:91–98

Mishra SK, Tripathi S, Shukla A, Oh SH, Kim HM (2015) Andrographolide and analogues in cancer prevention. Front Biosci (Elite Ed) 7:255–266

Newman DJ, Cragg GM (2012) Natural products as sources of new drugs over the 30 years from 1981 to 2010. J Nat Prod 75:311–335

Ohemeng KA, Schwender CF, Fu KP, Barrett JF (1993) DNA gyrase inhibitory and antibacterial activity of some flavones. Bioorg Med Chem Lett 3:225–230

Pankey GA, Sabath LD (2004) Clinical relevance of bacteriostatic versus bactericidal mechanisms of action in the treatment of Gram-positive bacterial infections. Clin Infect Dis 38:864–870

Paudel A, Hamamoto H, Kobayashi Y, Yokoshima S, Fukuyama T, Sekimizu K (2012) Identification of novel deoxyribofuranosyl indole antimicrobial agents. J Antibiot (Tokyo) 65(2):53–57

Silhavy TJ, Kahne D, Walker S (2010) The bacterial cell envelope. Cold Spring Harb Perspect Biol 2:a000414

Sukesh K, Shafi ST, Densingh J (2011) Phytochemical investigation and antibacterial activity of Gymnema sylvestre and Andrographis paniculata from western ghats. Int J Phytomedicine 3:254–260

Sule A, Ahmed QU, Samah OA, Omar MN (2010) Screening for antibacterial activity of Andrographis paniculata used in Malaysian folkloric medicine: a possible alternative for the treatment of skin infections. Ethnobot Leaflets 14:445–456

Sun NJ, Woo SH, Cassady JM, Snapka RM (1998) DNA polymerase and topoisomerase II inhibitors from Psoralea corylifolia. J Nat Prod 61(3):362–366

Tanwar J, Das S, Fatima Z, Hameed S (2014) Multidrug resistance: an emerging crisis. Interdiscip Perspect Infect Dis 2014:541340. doi:10.1155/2014/541340

Thakur AK, Chatterjee SS, Kumar V (2015) Adaptogenic potential of andrographolide: an active principle of the king of bitters (Andrographis paniculata). J Tradit Complement Med 5:42–50

Trivedi NP, Rawal UM, Patel BP (2007) Hepatoprotective effect of andrographolide against hexachlorocyclohexane-induced oxidative injury. Integr Cancer Ther 6:271–280

Walencka E, Sadowska B, Rózalska S, Hryniewicz W, Rózalska B (2006) Staphylococcus aureus biofilm as a target for single or repeated doses of oxacillin, vancomycin, linezolid and/or lysostaphin. Folia Microbiol 51(5):381–386

WHO (2007) WHO monographs on selected medicinal plants. Volume 3, ISBN 978 92 4 154702 4

Wu CM, Cao JL, Zheng MH, Ou Y, Zhang L, Zhu XQ, Song JX (2008) Effect and mechanism of andrographolide on the recovery of Pseudomonas aeruginosa susceptibility to several antibiotics. J Int Med Res 36:178–186

Yoopan N, Thisoda P, Rangkadilok N, Sahasitiwat S, Pholphana N, Ruchirawat S, Satayavivad J (2007) Cardiovascular effects of 14-deoxy-11,12 didehydroandrographolide and Andrographis paniculata extracts. Planta Med 73:503–511

Zahra N, Jahan N, Nosheen S, Rehman K (2011) Antimicrobial activity of aqueous, ethanolic extracts and crude extracted phytoconstituents of Nigella sativa seeds. Biosci Res 8:19–25
Acknowledgements
Authors acknowledge the supports received from University of Kalyani, Kalyani, India, and TCG Life Science Ltd., Kolkata, India. We also acknowledge Mr. Kunal Bhattacharyya for his technical assistance during the study.
Ethics declarations
Conflict of interest
The authors declare that they have no conflict of interest.
About this article
Cite this article
Banerjee, M., Parai, D., Chattopadhyay, S. et al. Andrographolide: antibacterial activity against common bacteria of human health concern and possible mechanism of action. Folia Microbiol 62, 237–244 (2017). https://doi.org/10.1007/s12223-017-0496-9
Received:

Accepted:

Published:

Issue Date:

DOI: https://doi.org/10.1007/s12223-017-0496-9
Keywords