Abstract
Persteril 36 is a disinfectant with a broad spectrum of antimicrobial activity. Because of its bactericidal, virucidal, fungicidal, and sporicidal effectiveness, it is used as a disinfectant against biological warfare agents in the emergency and army services. In case of an attack with potentially harmful biological agents, a person's gear or afflicted skin is sprayed with a diluted solution of Persteril 36 as a precaution. Subsequently, the remains of the biological agents are analyzed. However, the question remains concerning whether DNA can be successfully analyzed from Persteril 36-treated dead bacterial cells. Spore-forming Bacillus subtilis and Gram-negative Pseudomonas aeruginosa and Xanthomonas campestris were splattered on a camouflage suit and treated with 2 or 0.2 % Persteril 36. After the disinfectant vaporized, the bacterial DNA was extracted and quantified by real-time PCR. A sufficient amount of DNA was recovered for downstream analysis only in the case of spore-forming B. subtilis treated with a 0.2 % solution of Persteril 36. The bacterial DNA was almost completely destroyed in Gram-negative bacteria or after treatment with the more concentrated solution in B. subtilis. This phenomenon can lead to false-negative results during the identification of harmful microorganisms.
This is a preview of subscription content, log in to check access.
Access options
Buy single article
Instant access to the full article PDF.
US$ 39.95
Price includes VAT for USA
Subscribe to journal
Immediate online access to all issues from 2019. Subscription will auto renew annually.
US$ 99
This is the net price. Taxes to be calculated in checkout.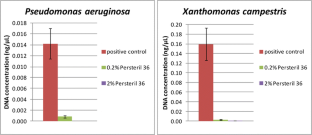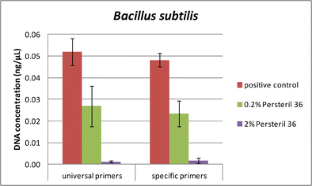 References
Alasri A, Roques C, Michel G, Cabassud C, Aptel P (1992) Bactericidal properties of peracetic acid and hydrogen peroxide, alone and in combination, and chlorine and formaldehyde against bacterial water strains. Can J Microbiol 38:635–642

Baldry MGC (1983) The bactericidal, fungicidal and sporicidal properties of hydrogen peroxide and peracetic acid. J Appl Bacteriol 54:417–423

Buhr T, Wells C, Young A, Minter Z, Johnson C, Payne A, McPherson D (2013) Decontamination of materials contaminated with Bacillus anthracis and Bacillus thuringiensis Al Hakam spores using PES-Solid, a solid source of peracetic acid. J Appl Microbiol 115:398–408

CZ M (2006) Catalogue file of the typified activity of the integrated rescue system IZS STČ 05/IZS : finding of the object suspected to presence of B-agens or toxins. Prague

Fernández A, Álvarez-Ordóñez A, López M, Bernardo A (2009) Effects of organic acids on thermal inactivation of acid and cold stressed Enterococcus faecium. Food Microbiol 26:497–503. doi:10.1016/j.fm.2009.03.002

Flores MJ, Lescano MR, Brandi RJ, Cassano AE, Labas MD (2014) A novel approach to explain the inactivation mechanism of Escherichia coli employing a commercially available peracetic acid. Water Sci Technol 69:358–363. doi:10.2166/wst.2013.721

Kitis M (2004) Disinfection of wastewater with peracetic acid: a review. Environ Int 30:47–55. doi:10.1016/S0160-4120(03)00147-8

Kouba A, Kuklina I, Niksirat H, Máchová J, Kozák P (2012) Tolerance of signal crayfish (Pacifastacus leniusculus) to Persteril 36 supports use of peracetic acid in astaciculture. Aquaculture 350–353:71–74. doi:10.1016/j.aquaculture.2012.04.016

Ludík T, Barta J (2011) Architecture for operational processes improvement in emergency management. Recent researches in computational intelligence and information security. WSEAS Press.

Ludík T, Barta J, Navrátil J (2013) Design patterns for emergency management processes. In: World Academy of science, engineering and technology. Int J Soc, Behav, Educ, Econ, Bus Ind Eng 7:1749–1756

Madsen AM, Zervas A, Tendal K, Nielsen JL (2015) Microbial diversity in bioaerosol samples causing ODTS compared to reference bioaerosol samples as measured using Illumina sequencing and MALDI-TOF. Environ Res 140:255–267. doi:10.1016/j.envres.2015.03.027

March JK et al (2015) The differential effects of heat-shocking on the viability of spores from Bacillus anthracis, Bacillus subtilis, and Clostridium sporogenes after treatment with peracetic acid- and glutaraldehyde-based disinfectants. Microbiol Open 4:764–773. doi:10.1002/mbo3.277

Melichercikova V (1988) Disinfectant effect of Persteril in combination with detergents. J Hyg Epid Microb Im 33:19–28

Park E, Lee C, Bisesi M, Lee J (2014) Efficiency of peracetic acid in inactivating bacteria, viruses, and spores in water determined with ATP bioluminescence, quantitative PCR, and culture-based methods. J Water Health 12:13–23. doi:10.2166/wh.2013.002

Pazienza M et al (2014) Use of particle counter system for the optimization of sampling, identification and decontamination procedures for biological aerosols dispersion in confined environment. J Microbial Biotech 6:043–048. doi:10.4172/1948-5948.1000120

Rokhina EV, Makarova K, Golovina EA, Van As H, Virkutyte J (2010) Free radical reaction pathway, thermochemistry of peracetic acid homolysis, and its application for phenol degradation: spectroscopic study and quantum chemistry calculations. Environ Sci Technol 44:6815–6821. doi:10.1021/es1009136

Setlow P (2006) Spores of Bacillus subtilis: their resistance to and killing by radiation, heat and chemicals. J Appl Microbiol 101:514–525. doi:10.1111/j.1365-2672.2005.02736.x

Sherry ST, Ward M-H, Kholodov M, Baker J, Phan L, Smigielski EM, Sirotkin K (2001) dbSNP: the NCBI database of genetic variation. Nucleic Acids Res 29:308–311

Talbot SR, Russmann H, Köhne S, Niederwöhrmeier B, Grote G, Scheper T (2010) Effects of inactivation methods on the analysis of Bacillus atrophaeus endospores using real-time PCR and MALDI-TOF-MS. Eng Life Sci 10:109–120. doi:10.1002/elsc.200800078

The Royal Society (2004) Making the UK safer: detecting and decontaminating chemical and biological agents. The Royal Society, London

Thompson JD, Gibson TJ, Plewniak F, Jeanmougin F, Higgins DG (1997) The CLUSTAL_X windows interface: flexible strategies for multiple sequence alignment aided by quality analysis tools. Nucleic Acids Res 25(24):4876–82

Tran-Hung L, Tran-Thi N, Aboudharam G, Raoult D, Drancourt M (2007) A new method to extract dental pulp DNA: application to universal detection of bacteria. PLoS ONE 2:e1062. doi:10.1371/journal.pone.0001062

UK Government Decontamination Service (2015) Strategic national guidance: the decontamination of buildings, infrastructure and open environment exposed to chemical, biological, radiological substances or nuclear (CBRN) materials. UK Government Decontamination Service, London

Wood J, Calfee M, Clayton M, Griffin-Gatchalian N, Touati A, Egler K (2013) Evaluation of peracetic acid fog for the inactivation of Bacillus anthracis spore surrogates in a large decontamination chamber. J Hazard Mater 250–251:61–67

Zhao X, Lin CW, Wang J, Oh DH (2014) Advances in rapid detection methods for foodborne pathogens. J Microbiol Biotechn 24:297–312. doi:10.4014/jmb.1310.10013
Acknowledgments
This project was supported by the Czech Science Foundation, grant no. 14-36938G, and by the Ministry of the Interior of the Czech Republic, grant VF20122015024.
About this article
Cite this article
Josefiova, J., Pospisek, M. & Vanek, D. Decontamination by Persteril 36 may affect the reliability of DNA-based detection of biological warfare agents—short communication. Folia Microbiol 61, 417–421 (2016). https://doi.org/10.1007/s12223-016-0451-1
Received:

Accepted:

Published:

Issue Date:
Keywords
Peracetic Acid

Chlorine Dioxide

Decontamination Procedure

Neutralization Step

Biological Warfare Agent