Abstract
Limited treatment options in infectious diseases caused by resistant microorganisms created the need to search new approaches. Several herbal extracts are studied for their enormous therapeutic potential. Silymarin extract, from Silybum marianum (milk thistle), is an old and a new remedy for this goal. The purpose of this study is to evaluate the antibacterial and antiadherent effects of silymarin besides biofilm viability activity on standard bacterial strains. Minimal inhibitory concentration (MIC), minimal bactericidal concentration (MBC), antiadherent/antibiofilm activity, and effects on biofilm viability of silymarin were evaluated against standard bacterial strains. MIC values were observed between 60 and >241 μg/mL (0.25–>1 mmol/L). Gram-positive bacteria were inhibited at concentrations between 60 and 120 μg/mL. Gram-negative bacteria were not inhibited by the silymarin concentrations included in this study. MBC values for Gram-positive bacteria were greater than 241 μg/mL. Adherence/biofilm formations were decreased to 15 μg/mL silymarin concentration when compared with silymarin-untreated group. Silymarin reduced the biofilm viabilities to 13 and 46 % at 1 and 0.5 mmol/L concentrations, respectively. We demonstrated that silymarin shows antibacterial and antiadherent/antibiofilm activity against certain standard bacterial strains which may be beneficial when used as a dietary supplement or a drug.
Access options
Buy single article
Instant access to the full article PDF.
USD 39.95
Price excludes VAT (USA)
Tax calculation will be finalised during checkout.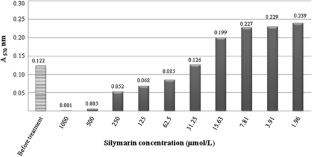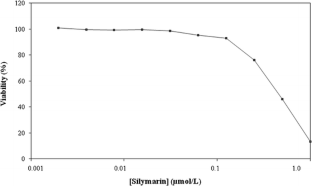 References
Abenavoli L, Capasso R, Milic N, Capasso F (2010) Milk thistle in liver diseases: past, present, future. Phytother Res 24:1423–1432

Agarwal C, Singh RP, Dhanalakshmi S, Tyagi AK, Tecklenburg M, Sclafani RA, Agarwal R (2003) Silibinin upregulates the expression of cyclin-dependent kinase inhibitors and causes cell cycle arrest and apoptosis in human colon carcinoma HT-29 cells. Oncogene 22:271–82

Alviano DS, Barreto AL, Dias Fde A, Rodrigues Ide A, Rosa Mdo S, Alviano CS, Soares RM (2012) Conventional therapy and promising plant-derived compounds against trypanosomatid parasites. Front Microbiol 6(3):283

Bakkali F, Averbeck S, Averbeck D, Idaomar M (2008) Biological effects of essential oils—a review. Food Chem Toxicol 46(2):446–75

Baylan O (2010) Fosfomycin: past, present and future. Mikrobiyol Bul 44:311–321

Bibi Y, Nisa S, Chaudhary FM, Zia M (2011) Antibacterial activity of some selected medicinal plants of Pakistan. BMC Complement Altern Med 11:52

Bjarnsholt T (2013) The role of bacterial biofilms in chronic infections. APMIS Suppl 136:1–51. doi:10.1111/apm.12099

Ceri H, Olson ME, Stremick C, Read RR, Morck D, Buret A (1999) The Calgary biofilm device: new technology for rapid determination of antibiotic susceptibilities of bacterial biofilms. J Clin Microbiol 37(6):1771–6

Christensen GD, Simpson WA, Younger JJ, Baddour LM, Barrett FF, Melton DM, Beachey EH (1985) Adherence of coagulase negative staphylococci to plastic tissue cultures: a quantitative model for the adherence of staphylococci to medical devices. J Clin Microbiol 22:996–1006

Clinical and Laboratory Standards Institute (CLSI) (2012) Performance standards for antimicrobial susceptibility testing; twenty-second informational supplement M100-S22. CLSI, Wayne

Coenye T, Nelis HJ (2010) In vitro and in vivo model systems to study microbial biofilm formation. J Microbiol Methods 83:89–105

Cushnie TP, Lamb AJ (2005) Antimicrobial activity of flavonoids. Int J Antimicrob Agents 26(5):343–56

Donlan RM (2001) Biofilm formation: a clinically relevant microbiological process. Healthcare Epidemiology CID 33:1387–1392

Donlan RM (2011) Biofilm elimination on intravascular catheters: important considerations for the infectious disease practitioner. Healthcare Epidemiology CID 52:1039–1045

Edwards-Jones V (2013) Alternative antimicrobial approaches to fighting multi-drug resistant infections. In: Rai M, Kon K (eds) Frightening multidrug resistance with herbal extracts, essential oils and their components. Elsevier, USA, pp 1–9

Flaig TW, Gustafson DL, Su LJ, Zirrolli JA, Crighton F, Harrison GS, Pierson AS, Agarwal R, Glodé LM (2007) A phase I and pharmacokinetic study of silybin-phytosome in prostate cancer patients. Invest New Drugs 25:139–146

Gharagozloo M, Javid EN, Rezaei A, Mousavizadeh K (2013) Silymarin inhibits cell cycle progression and mTOR activity in activated human T cells: therapeutic implications for autoimmune diseases. Basic Clin Pharmacol Toxicol 112(4):251–6

Ghosh A, Ghosh T, Jain S (2010) Silymarin-a review on the pharmacodynamics and bioavailability enhancement approaches. J Pharm Sci Tech 2:348–355

Gordon A, Hobbs DA, Bowden DS, Bailey MJ, Mitchell J, Francis AJ, Roberts SK (2006) Effects of Silybum marianum on serum hepatitis C virus RNA, alanine aminotransferase levels and well-being in patients with chronic hepatitis C. J Gastroenterol Hepatol 21:275–280

Hall MR, McGillicuddy E, Kaplan LJ (2014) Biofilm: basic principles, pathophysiology, and implications for clinicians. Surg Infect (Larchmt) 15(1):1–7

Hassan A, Usman J, Kaleem F, Omair M, Khalid A, Iqbal M (2011) Evaluation of different detection methods of biofilm formation in the clinical isolates. Braz J Infect Dis 15:305–311

Høiby N, Bjarnsholt T, Moser C, Bassi GL, Coenye T, Donelli G, Hall-Stoodley L, Holá V, Imbert C, Kirketerp-Møller K, Lebeaux D, Oliver A, Ullmann AJ, Williams C (2015) ESCMID guideline for the diagnosis and treatment of biofilm infections 2014. Clin Microbiol Infect. doi:10.1016/j.cmi.2014.10.024

Ji-Lu S, Shao-Kang Z, Jing-Yu C, Bei-Zhong H (2012) Efficacy of acidic and basic electrolyzed water in eradicating Staphylococcus aureus biofilm. Can J Microbiol 58:448–454

Kang HK, Kim HY, Cha JD (2011) Synergistic effects between silibinin and antibiotics on methicillin-resistant Staphylococcus aureus isolated from clinical specimens. Biothecnol J 13:397–408

Lahlah ZF, Meziani M, Maza A (2012) Silymarin natural antimicrobial agent extracted from Silybum marianum. Journal Academia 2:164–169

Lee DG, Kim HK, Park Y, Park SC, Woo ER, Jeong HG, Hahm KS (2003) Gram positive bacteria specific properties of silybin derived from Silbum marianum. Arch Pharm Res 26:597–600

Lee YS, Jang KS, Cha JD (2012) Synergistic antibacterial effect between silibinin and antibiotics in oral bacteria. J Biomed Biotechnol 2012:618081. doi:10.1155/2012/618081

Lucey MR, Mathurin P, Morgan TR (2009) Alcoholic hepatitis. N Engl J Med 360:2758–69

Polyak SJ, Morishima C, Lohmann V, Pal S, Lee DY, Liu Y, Graf TN, Oberlies NH (2010) Identification of hepatoprotective flavonolignans from silymarin. Proc Natl Acad Sci U S A 107(13):5995–9

Polyak SJ, Ferenci P, Pawlotsky JM (2013) Hepatoprotective and antiviral functions of silymarin components in hepatitis C virus infection. Hepatology 57:1262–1271

Post-White J, Ladas EJ, Kelly KM (2007) Advances in the use of milk thistle (Silybum marianum). Integr Cancer Ther 6:104–109

Ramasamy K, Agarwal R (2008) Multitargeted therapy of cancer by silymarin. Cancer Lett 8:352–362

Sanchez-Sampedro A, Kim HK, Choi YH, Verpoorte R, Corchete P (2007) Metabolomic alterations in elicitor treated Silybum marianum suspension cultures monitored by nuclear magnetic resonance spectroscopy. J Biotechnol 130:133–142

Simánek V, Kren V, Ulrichová J, Vicar J, Cvak L (2000) Silymarin: what is in the name…? An appeal for a change of editorial policy. Hepatology 32(2):442–4

Stepanovic S, Vukovic D, Savic B, Svabic-Vlahovic M (2000) A modified microtiter-plate test for quantification of staphylococcal biofilm formation. J Microbiol Methods 40(2):175–9

Stoddart MJ (2011) Cell viability assays: introduction. Methods Mol Biol 740:1–6

Tamayo C, Diamond S (2007) Review of clinical trials evaluating safety and efficacy of milk thistle (Silybum marianum [L.]gaertn.). Integr Cancer Ther 6:146–157

Wagoner J, Negash A, Kane OJ, Martinez LE, Nahmias Y, Bourne N, Owen DM, Grove J, Brimacombe C, McKeating JA, Pécheur EI, Graf TN, Oberlies NH, Lohmann V, Cao F, Tavis JE, Polyak SJ (2010) Multiple effects of silymarin on the hepatitis C virus lifecycle. Hepatology 51:1912–1921

Walencka E, Sadowska B, Rozalska S, Hryniewicz W, Rózalska B (2005) Lysostaphin as a potential therapeutic agent for staphylococcal biofilm eradication. Pol J Microbiol 54(3):191–200

Walencka E, Sadowska B, Rozalska S, Hryniewicz W, Rozalska B (2006) Staphylococcus aureus biofilm as a target for single or repeated doses of oxacillin, vancomycin, linezolid and/or lysostaphin. Folia Microbiol 51:381–386

Wei F, Liu SK, Liu XY, Li ZJ, Li B, Zhou YL, Zhang HY, Li YW (2013) Meta-analysis: silymarin and its combination therapy for the treatment of chronic hepatitis B. Eur J Clin Microbiol Infect Dis 32:657–669

Wen Z, Dumas TE, Schrieber SJ, Hawke RL, Fried MW, Smith PC (2008) Pharmacokinetics and metabolic profile of free, conjugated, and total silymarin flavonolignans in human plasma after oral administration of milk thistle extract. Drug Metab Dispos 36(1):65–72
Acknowledgments
This study was approved by Baskent University Institutional Review Board (Project no: 14/09) and supported by Baskent University Research Fund.
Conflict of interest
The authors declare that they have no competing interests.
About this article
Cite this article
Evren, E., Yurtcu, E. In vitro effects on biofilm viability and antibacterial and antiadherent activities of silymarin. Folia Microbiol 60, 351–356 (2015). https://doi.org/10.1007/s12223-015-0399-6
Received:

Accepted:

Published:

Issue Date:

DOI: https://doi.org/10.1007/s12223-015-0399-6
Keywords
Minimal Inhibitory Concentration

American Type Culture Collection

Silymarin

Minimal Bactericidal Concentration

Silibinin