Abstract
Pseudomonas monteilii CCM 3423 bacterial strain, deposited at the Czech Collection of Microorganisms, was originally isolated by Haľama and Augustín (1980) as a bacterium degrading aromatic hydrocarbons and derivates. A detailed study supported by a molecular genetics method of sequence analyses of rrs and rpoD genes was used to reclassify the strain, originally stored as 'Pseudomonas putida'. The physiological characteristics of the strain are complemented with research in the capacity to utilize selected organic pollutants (anthracene, benz[a]anthracene, benzo[b]fluoranthene, benzo[k]fluoranthene, benzo[a]pyrene, fluorene, naphthalene, phenanthrene). The obtained results point at very good biodegradation properties of the strain. Already after 7 days of the bacterial strain's action, there was a decrease in all the organic contaminants to 79.8 ± 2.6 %. In 14 days, the amount of organic contaminants dropped to 59.3 ± 2.8 %. After 21 days of biodegradation experiments, the overall quantity of the observed organic substances fell below the half limit to 45.7 ± 2.5 % of residuals. Finally, after 28 days, the residue was 35.4 ± 2.2 %, and after 35 days of the action of P. monteilii, the tested samples contained mere 27.8 ± 2.8 % of organic pollutants. The results imply that Pseudomonas monteilii CCM 3423 is a prospective strain in terms of further biotechnological application in contaminated environment.
Access options
Buy single article
Instant access to the full article PDF.
US$ 39.95
Tax calculation will be finalised during checkout.
Subscribe to journal
Immediate online access to all issues from 2019. Subscription will auto renew annually.
US$ 79
Tax calculation will be finalised during checkout.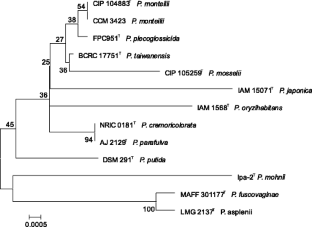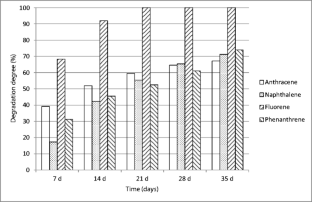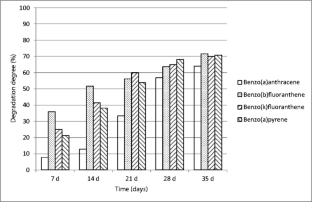 References
Altschul SF, Madden TL, Schaffer AA, Zhang JH, Zhang Z, Miller W, Lipman DJ (1997) Gapped BLAST and PSI-BLAST: a new generation of protein database search programs. Nucleic Acids Res 25:3389–3402

Anzai Y, Kim H, Park JY, Wakabayashi H, Oyaizu H (2000) Phylogenetic affiliation of the pseudomonads based on 16S rRNA sequence. Int J Syst Evol Microbiol 50:1563–1589

Chun J, Lee JH, Jung Y, Kim M, Kim S, Kim BK, Lim YW (2007) EzTaxon: a web-based tool for the identification of prokaryotes based on 16S ribosomal RNA gene sequences. Int J Syst Evol Microbiol 57:2259–2261

Coenye T, Falsen E, Vancanneyt M, Hoste B, Govan JRW, Kersters K, Vandamme P (1999) Classification of Alcaligenes faecalis-like isolates from the environment and human clinical samples as Ralstonia gilardii sp. nov. Int J Syst Bacteriol 49:405–413

Cruden DL, Wolfram JH, Rogers RD, Gibson DT (1992) Physiological-properties of a Pseudomonas strain which grows with paraxylene in a 2-phase (organic-aqueous) medium. Appl Environ Microbiol 58:2723–2729

Eckford R, Cook FD, Saul D, Aislabie J, Foght J (2002) Free-living heterotrophic nitrogen-fixing bacteria isolated from fuel-contaminated antarctic soils. Appl Environ Microbiol 68:5181–5185

Elomari M, Coroler L, Verhille S, Izard D, Leclerc H (1997) Pseudomonas monteilii sp. nov, isolated from clinical specimens. Int J Syst Bacteriol 47:846–852

Godoy P, Ramos-Gonzalez MI, Ramos JL (2001) Involvement of the TonB system in tolerance to solvents and drugs in Pseudomonas putida DOT-T1E. J Bacteriol 183:5285–5292

Haľama D, Augustín J (1980) Degradation of aromatic hydrocarbons and derivatives by microorganisms. I. Metabolic pattern of a new isolated bacterial strain Pseudomonas putida. Biologia 35:889–896

Huang XQ, Madan A (1999) CAP3: a DNA sequence assembly program. Genome Res 9:868–877

Hughes MS, James G, Ball N, Scally M, Malik R, Wigney DI, Martin P, Chen S, Mitchell D, Love DN (2000) Identification by 16S rRNA gene analyses of a potential novel mycobacterial species as an etiological agent of canine leproid granuloma syndrome. J Clin Microbiol 38:953–959

Kersters K, Ludwig W, Vancanneyt M, DeVos P, Gillis M, Schleifer KH (1996) Recent changes in the classification of the pseudomonads: an overview. Syst Appl Microbiol 19:465–477

Marques S, Ramos JL (1993) Transcriptional control of the Pseudomonas putida TOL plasmid catabolic pathways. Mol Microbiol 9:923–929

Mulet M, Bennasar A, Lalucat J, García-Valdés E (2009) An rpoD-based PCR procedure for the identification of Pseudomonas species and for their detection in environmental samples. Mol Cell Probes 23:140–147

Otenio MH, da Silva MTL, Marques MLO, Roseiro JC, Bidoia ED (2005) Benzene, toluene and xylene biodegradation by Pseudomonas putida CCMI 852. Braz J Microbiol 36:258–261

Palleroni NJ (1993) Pseudomonas classification—a new case-history in the taxonomy of gram-negative bacteria. Antonie Van Leeuwenhoek 64:231–251

Palleroni NJ (2010) The Pseudomonas story. Environ Microbiol 12:1377–1383

Pot B, Hertel C, Ludwig W, Descheemaeker KK, Schleifer KH (1993) Identification and classification of Lactobacillus acidophilus, L. gasseri and L. johnsonii strains by SDS-PAGE and rRNA-targeted oligonucleotide probe hybridization. J Gen Microbiol 139:513–517

Ramos JL, Duque E, Gallegos MT, Godoy P, Ramos-Gonzalez MI, Rojas A, Teran W, Segura A (2002) Mechanisms of solvent tolerance in gram-negative bacteria. Annu Rev Microbiol 56:743–768

Ramos-Gonzalez MI, Godoy P, Alaminos M, Ben-Bassat A, Ramos JL (2001) Physiological characterization of Pseudomonas putida DOT-T1E tolerance to p-hydroxybenzoate. Appl Environ Microbiol 67:4338–4341

Saitou N, Nei M (1987) The neighbor-joining method—a new method for reconstructing phylogenetic trees. Mol Biol Evol 4:406–425

Seo JS, Keum YS, Li QX (2009) Bacterial degradation of aromatic compounds. Int J Environ Res Public Health 6:278–309

Sikkema J, Debont JAM, Poolman B (1995) Mechanisms of membrane toxicity of hydrocarbons. Microbiol Rev 59:201–222

Spiers AJ, Buckling A, Rainey PB (2000) The causes of Pseudomonas diversity. Microbiology 146:2345–2350

Švec P, Sedláček I, Pantůček R, Devriese LA, Doškař J (2001) Evaluation of ribotyping for characterization and identification of Enterococcus haemoperoxidus and Enterococcus moraviensis strains. FEMS Microbiol Lett 203:23–27

Tamura K, Dudley J, Nei M, Kumar S (2007) MEGA4: molecular evolutionary genetics analysis (MEGA) software version 4.0. Mol Biol Evol 24:1596–1599

Thompson JD, Higgins DG, Gibson TJ (1994) CLUSTAL W: improving the sensitivity of progressive multiple sequence alignment through sequence weighting, position-specific gap penalties and weight matrix choice. Nucleic Acids Res 22:4673–4680

Vojtková H (2013) Adaptation of Pseudomonas strain in the presence of zinc in contaminated soils. 13th International Multidisciplinary Scientific GeoConference SGEM 2013: 16. – 22. 6. 2013, Albena, Bulgaria. Conference Proceedings: Nano, Bio and Green – Technologies for a Sustainable Future. STEF92 Technology Ltd., Sofia: 85-92. doi:10.5593/SGEM2013/BF6/S25.002

Vojtková H (2014) Physiological aspects of metal resistance in Pseudomonas bacteria isolated from anthropogenic sediments of Ostrava Lagoons, Czech Republic. In: Méndez-Vilas A (ed) Industrial, medical and environmental applications of microorganisms: current status and trends. Wageningen Academic Publishers, Wageningen, pp 147–152

Yu FB, Shen B, Li SP (2006) Isolation and characterization of Pseudomonas sp strain ONBA-17 degrading o-nitriobenzaldehyde. Curr Microbiol 53:457–461

Zhang Z, Schwartz S, Wagner L, Miller W (2000) A greedy algorithm for aligning DNA sequences. J Comput Biol 7:203–214
Acknowledgments
This research was financially supported by projects CEB (CZ.1.07/2.3.00/20.0183) and Project of Specific University Research (SGS no. SP2014/21) from Ministry of Education, Youth and Sports of the Czech Republic. The authors would like to thank them for the project support.
About this article
Cite this article
Vojtková, H., Kosina, M., Sedláček, I. et al. Characterization of Pseudomonas monteilii CCM 3423 and its physiological potential for biodegradation of selected organic pollutants. Folia Microbiol 60, 411–416 (2015). https://doi.org/10.1007/s12223-014-0373-8
Received:

Accepted:

Published:

Issue Date:
Keywords
Fluoranthene

Dice Similarity Coefficient

Tryptone Soya Agar

rpoD Gene

Biodegradation Ability