Abstract
Smartphone touchscreens are known as pathogen carriers in clinical environments. However, despite a rapidly growing number of smartphone users worldwide, little is known about bacterial contamination of smartphone touchscreens in non-clinical settings. Such data are needed to better understand the hygienic relevance of these increasingly popular items. Here, 60 touchscreens of smartphones provided by randomly chosen students of a German university were sampled by directly touching them with contact agar plates. The average bacterial load of uncleaned touchscreens was 1.37 ± 0.33 CFU/cm2. Touchscreens wiped with commercially available microfiber cloths or alcohol-impregnated lens wipes contained significantly less bacteria than uncleaned touchscreens, i.e., 0.22 ± 0.10 CFU/cm2 and 0.06 ± 0.02 CFU/cm2, respectively. Bacteria isolated from cleaned and uncleaned touchscreens were identified by means of MALDI Biotyping. Out of 111 bacterial isolates, 56 isolates (50 %) were identified to genus level and 27 (24 %) to species level. The vast majority of the identified bacteria were typical human skin, mouth, lung, and intestinal commensals, mostly affiliated with the genera Staphylococcus and Micrococcus. Five out of 10 identified species were opportunistic pathogens. In conclusion, the touchscreens investigated here showed low bacterial loads and a species spectrum that is typical for frequently touched surfaces in domestic and public environments, the general health risk of which is still under debate.
This is a preview of subscription content, log in to check access.
Access options
Buy single article
Instant access to the full article PDF.
US$ 39.95
Price includes VAT for USA
Subscribe to journal
Immediate online access to all issues from 2019. Subscription will auto renew annually.
US$ 99
This is the net price. Taxes to be calculated in checkout.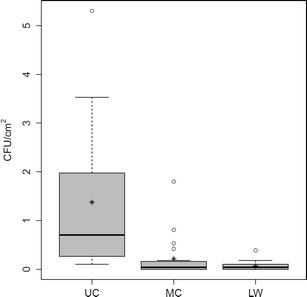 References
Akinyemi KO, Atapu AD, Adetona OO, Coker AO (2009) The potential role of mobile phones in the spread of bacterial infections. J Infect Dev Ctries 15:628–632

Al-Abdalall A (2010) Isolation and identification of microbes associated with mobile phones in Dammam in eastern Saudi Arabia. J Fam Commun Med 17:11–14

Anderson G, Palombo EA (2009) Microbial contamination of computer keyboards in a university setting. Am J Infect Control 37:507–509

BAuA - German Federal Institute for Occupational Safety and Health (2010) Technical rule for biological agents #466 - Classification of prokaryotes (bacteria and archaea) into risk groups. Edition: December 2010

Bhoonderowa A, Gookool S, Biranjia-Hurdoyal SD (2014) The importance of mobile phones in the possible transmission of bacterial infections in the community. J Community Health. doi:10.1007/s10900-014-9838-6

Bloomfield SF, Exner M, Carlo Signorelli C, Nath KJ, Scott EA (2012) The chain of infection transmission in the home and everyday life settings, and the role of hygiene in reducing the risk of infection. http://www.ifh-homehygiene.org/IntegratedCRD.nsf/111e68ea0824afe1802575070003f039/9df1597d905889868025729700617093?OpenDocument

Brady RR, Fraser SF, Dunlop MG, Paterson-Brown S, Gibb AP (2007) Bacterial contamination of mobile communication devices in the operative environment. J Hosp Infect 66:397–398

Brady RRW, Verran J, Damani NN, Gibb AP (2009) Review of mobile communication devices as potential reservoirs of nosocomial pathogens. J Hosp Infect 71:295–300

Dingle TC, Butler-Wu SM (2013) MALDI-TOF mass spectrometry for microorganism identification. Clin Lab Med 33:589–609

El-Bouri K, Johnston S, Rees E, Thomas I, Bome-Mannathoko N, Jones C, Reid M, Ben-Ismaeil B, Davies AR, Harris LG, Mack D (2012) Comparison of bacterial identification by MALDI-TOF mass spectrometry and conventional diagnostic microbiology methods: agreement, speed and cost implications. Br J Biomed Sci 69:47–55

Fierer N, Hamady M, Lauber CL, Knight R (2008) The influence of sex, handedness, and washing on the diversity of hand surface bacteria. Proc Natl Acad Sci 105:17994–17999

Holm S (1979) A simple sequentially rejective multiple test procedure. Scand J Stat 6:65–70

Julian T, Singh A, Rousseau J, Weese J (2012) Methicillin-resistant staphylococcal contamination of cellular phones of personnel in a veterinary teaching hospital. BMC Res Notes 5:193

Jumaa PA (2005) Hand hygiene: simple and complex. Int J Infect Dis 9:3–14

Khot PD, Couturier MR, Wilson A, Croft A, Fisher MA (2012) Optimization of matrix-assisted laser desorption ionization-time of flight mass spectrometry analysis for bacterial identification. J Clin Microbiol 50:3845–3852

Kocur M, Kloos WE, Schleifer K-H (2006) The genus Micrococcus. Prokaryotes 3:961–971

Lee YJ, Yoo CG, Lee CT, Chung HS, Kim YW, Han SK, Yim JJ (2013) Contamination rates between smart cell phones and non-smart cell phones of healthcare workers. J Hosp Med 8:144–147

Manning ML, Davis J, Sparnon E, Ballard RM (2013) iPads, droids, and bugs: infection prevention for mobile handheld devices at the point of care. Am J Infect Control 41:1073–1076

Meadow JF, Altrichter AE, Green JL (2014) Mobile phones carry the personal microbiome of their owner. Peer J 2:e447

Mellmann A, Cloud J, Maier T, Keckevoet U, Ramminger I, Iwen P, Dunn J, Hall G, Wilson D, Lasala P, Kostrzewa M, Harmsen D (2008) Evaluation of matrix-assisted laser desorption ionization-time-of-flight mass spectrometry in comparison to 16S rRNA gene sequencing for species identification of nonfermenting bacteria. J Clin Microbiol 46:1946–1954

Pal P, Roy A, Moore G, Muzslay M, Lee E, Alder S, Wilson P, Powles T, Wilson P, Kelly J (2013) Keypad mobile phones are associated with a significant increased risk of microbial contamination compared to touch screen phones. J Infect Prev 14:65–68

R Core Team (2013) R: A language and environment for statistical computing. R Foundation for Statistical Computing, Vienna, Austria. URL http://www.R-project.org/

Rusin P, Orosz-Coughlin P, Gerba C (1998) Reduction of faecal coliform, coliform and heterotrophic plate count bacteria in the household kitchen and bathroom by disinfection with hypochlorite cleaners. J Appl Microbiol 85:819–828

Singh S, Acharya S, Bhat M, Rao SK, Pentapati KC (2010) Mobile phone hygiene: potential risks posed by use in the clinics of an Indian dental school. J Dent Educ 74:1153–1158

Strategy Analytics (2013) Global smartphone user base forecast by OS for 88 countries: 2007–2017, June 2013

Tekerekoǧlu MS, Duman Y, Serindağ A, Cuǧlan SS, Kaysadu H, Tunc E, Yakupogullari Y (2011) Do mobile phones of patients, companions and visitors carry multidrug-resistant hospital pathogens? Am J Infect Control 39:379–381

Ulger F, Esen S, Dilek A, Yanik K, Gunaydin M, Leblebicioglu H (2009) Are we aware how contaminated our mobile phones are with nosocomial pathogens? Ann Clin Microbiol Antimicrob 8:7

Ustun C, Cihangiroglu M (2012) Health care workers' mobile phones: a potential cause of microbial cross-contamination between hospitals and community. J Occup Environ Hyg 9:538–542

Walia SS, Manchanda A, Narang RS, AN, Singh B, Kahlon SS (2014) Cellular telephone as reservoir of bacterial contamination: myth or fact. J Clin Diagn Res 8:50–53

Wilson M (2008) Bacteriology of humans—an ecological perspective. Blackwell Publishing, Malden
Acknowledgments
The authors wish to thank all students who participated in the study and provided their smartphones for microbiological analyses as well as Dr. Wayne Young (AgResearch, Palmerston North, NZ) for English suggestions.
Conflict of interest
None
About this article
Cite this article
Egert, M., Späth, K., Weik, K. et al. Bacteria on smartphone touchscreens in a German university setting and evaluation of two popular cleaning methods using commercially available cleaning products. Folia Microbiol 60, 159–164 (2015). https://doi.org/10.1007/s12223-014-0350-2
Received:

Accepted:

Published:

Issue Date:
Keywords
Healthcare Worker

Bacterial Load

Colony Count

Cleaning Method

Heterotrophic Plate Count