Abstract
Invasive fungal diseases are severe complication of the lung transplant patients' follow-up as they are increasing the risk of rejection. We report a patient who developed possible Tyromyces fissilis co-infection during graft rejection episode 2 years after bilateral lung transplantation for cystic fibrosis. The fungus was detected using conventional culture methods as a filamentous basidiomycete and further placed to T. fissilis species based on internal transcribed spacer (ITS) rDNA sequences. The patient was treated according to the susceptibility testing results by voriconazole in combination with the anti-rejection therapy and recovered completely within few weeks. This is, to our knowledge, the first published case report of T. fissilis as a possible causative agent of an infection/rejection episode in a lung transplant recipient.
Access options
Buy single article
Instant access to the full article PDF.
USD 39.95
Price excludes VAT (USA)
Tax calculation will be finalised during checkout.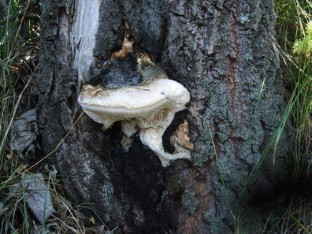 References
Bech B, Pressler T, Iversen M, Carlsen J, Milman N, Eliasen K, Perko M, Arendrup H (2004) Long-term outcome of lung transplantation for cystic fibrosis—Danish results. Eur J Cardiothorac Surg 26(6):1180–1186

Chowdhary A, Agarwal K, Kathuria S, Singh PK, Roy P, Gaur SN, de Hoog GS, Meis JF (2013) Clinical significance of filamentous basidiomycetes illustrated by isolates of the novel opportunist Ceriporia lacerata from the human respiratory tract. J Clin Microbiol 51(2):585–590

Holec J, Kolarik M (2012) Tricholomopsis in Europe—phylogeny, key, and notes on variability. Mycotaxon 121 (July–September):81–92

Lakhal W, Reynaud-Gaubert M, Dubus JC, Stremler-Leber N, Ranque S (2013) ITS sequence-based identification of filamentous Basidiomycetes grown from respiratory cultures. in print

Remund KF, Best M, Egan JJ (2009) Infections relevant to lung transplantation. Proc Am Thorac Soc 6(1):94–100

Stelzmueller I, Lass-Floerl C, Geltner C, Graziadei I, Schneeberger S, Antretter H, Mueller L, Zelger B, Singh N, Pruett TL, Margreiter R, Bonatti H (2008) Zygomycosis and other rare filamentous fungal infections in solid organ transplant recipients. Transpl Int 21(6):534–546

Tomsovsky M, Vampola P, Sedlak P, Byrtusova Z, Jankovsky L (2012) Delimitation of an almost forgotten species Spongipellis litschaueri (Polyporales, Basidiomycota) and its taxonomic position within the genus. Mycol Prog 11(2):415–424
Acknowledgments
The authors wish to thank Dana Michalska for the technical laboratory support, Dr. Petra Dusatkova for her kind assistance with the sequence analysis, Dr. Zuzana Antusova for the clinical data collection and Dr. Hundie Tesfay and Mr. Eva Klapkova for the therapeutic drug levels interpretation. This study is supported by MH CZ-DRO, University Hospital Motol, Prague, Czech Republic 00064203.
Additional information
This study was performed in Motol University Hospital, Prague, Czech Republic.
About this article
Cite this article
Chrenkova, V., Kolarik, M., Hubacek, P. et al. Possible Tyromyces fissilis (Basidiomycota, Polyporales) co-infection in a lung transplant recipient. Folia Microbiol 60, 33–35 (2015). https://doi.org/10.1007/s12223-014-0336-0
Received:

Accepted:

Published:

Issue Date:

DOI: https://doi.org/10.1007/s12223-014-0336-0
Keywords