Abstract
Characterization of anthracene metabolites produced by Armillaria sp. F022 was performed in the enzymatic system. The fungal culture was conducted in 100-mL Erlenmeyer flask containing mineral salt broth medium (20 mL) and incubated at 120 rpm for 5–30 days. The culture broth was then centrifuged at 10,000 rpm for 45 min to obtain the extract. Additionally, the effect of glucose consumption, laccase activity, and biomass production in degradation of anthracene were also investigated. Approximately, 92 % of the initial concentration of anthracene was degraded within 30 days of incubation. Dynamic pattern of the biomass production was affected the laccase activity during the experiment. The biomass of the fungus increased with the increasing of laccase activity. The isolation and characterization of four metabolites indicated that the structure of anthracene was transformed by Armillaria sp. F022 in two routes. First, anthracene was oxidized to form anthraquinone, benzoic acid, and second, converted into other products, 2-hydroxy-3-naphthoic acid and coumarin. Gas chromatography–mass spectrometry analysis also revealed that the molecular structure of anthracene was transformed by the action of the enzyme, generating a series of intermediate compounds such as anthraquinone by ring-cleavage reactions. The ligninolytic enzymes expecially free extracellular laccase played an important role in the transformation of anthracene during degradation period.
Access options
Buy single article
Instant access to the full article PDF.
US$ 39.95
Tax calculation will be finalised during checkout.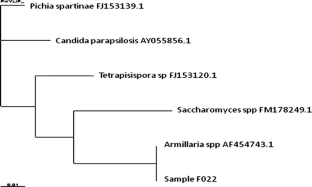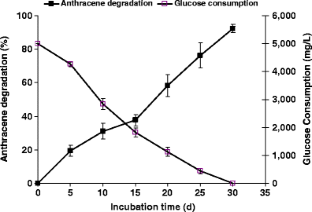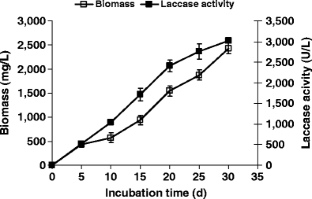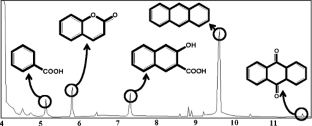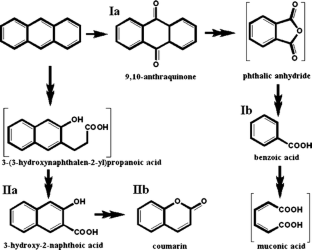 References
Cerniglia CE (1992) Biodegradation of polycyclic aromatic hydrocarbons. Biodegradation 3:351–368

Crisafully R, Milhome MAL, Cavalcante RM, Silveira ER, Keukeleire DD, Nascimento RF (2008) Removal of some polycyclic aromatic hydrocarbons from petrochemical wastewater using low-cost adsorbents of natural origin. Bioresour Technol 99:4515–4519

Eibes G, Chau TL, Feijoo G, Moreira MT, Lema JM (2005) Complete degradation of anthracene by manganese peroxidase in organic solvent mixtures. Enzyme Microb Technol 37:365–372

Guerin WF, Jones GE (1998) Mineralization of phenanthrene by a Mycobacterium sp. Appl Environ Microbiol 54:937–944

Hadibarata T, Tachibana S, Itoh K (2007) Biodegradation of n-eicosane by fungi screened from nature. Pak J Biol Sci 10:1804–1810

Hadibarata T, Kristanti RA (2012a) Fate and cometabolic degradation of benzo[a]pyrene by white-rot fungus Armillaria sp. F022. Bioresour Technol 107:314–318

Hadibarata T, Kristanti RA (2012b) Identification of metabolites from benzo[a]pyrene oxidation by ligninolytic enzymes of Polyporus sp. S133. J Envirol Manag 111:115–119

Hadibarata T, Yusoff ARM, Aris A, Salmiati HT, Kristanti RA (2012a) Decolorization of azo, triphenylmethane and anthraquinone dyes by laccase of a newly isolated Armillaria sp. F022. Water Air Soil Poll 223:1045–1054

Hadibarata T, Yusoff ARM, Aris A, Kristanti RA (2012b) Identification of naphthalene metabolism by white rot fungus Armillaria sp. F022. J Environ Sci 24:728–732

Han M, Choi H, Song H (2004) Degradation of phenanthrene by Trametes versicolor and its Laccase. J Microbiol 42:94–98

Haritash AK, Kaushuk CP (2009) Biodegradation aspects of polycyclic aromatic hydrocarbons (PAHs): a review. J Hazard Mat 169:1–15

Hedlund BP, Geiselbrecht AD, Bair TJ, Staley JT (1999) Polycyclic aromatic hydrocarbon degradation by a new marine bacterium, Neptunomonas naphthovorans. Appl Environ Microbiol 65:251–259

Hofrichter M, Schneibner K, Schneegab I, Fritzche W (1998) Enzymatic combustion of aromatic and aliphatic compounds by manganese peroxidase from Nematoloma frowardii. Appl Environ Microbiol 64:399–404

Jacques RJS, Okeke BC, Bento FM, Teixeira AS, Peralba MCR, Camargo FAO (2008) Microbial consortium bioaugmentation of a polycyclic aromatic hydrocarbons contaminated soil. Bioresour Technol 99:2637–2643

Jim AF, Ronald HV, John GVZ, Wim HR (1996) The tolerance of lignin peroxidase and manganese-dependent peroxidase to miscible solvents and the in vitro oxidation of anthracene in solvent:water mixtures. Enzyme Microb Technol 18:300–308

Kristanti RA, Hadibarata T, Toyama T, Tanaka Y, Mori K (2011) Bioremediation of crude oil by white rot fungi Polyporus sp. S133. J Microbiol Biotechnol 21:995–1000

Krivobok S, Miriouchkine E, Seigel Murandi F, Benoit Guyod JL (1998) Biodegradation of anthracene by soil fungi. Chemosphere 37:523–530

Laessoe T, Lincoff G, Edwards EH, Fletcher N (2002) Mushrooms. Kindersley, London

Lin CL, Gan L, Chen ZL (2010) Biodegradation of naphthalene by strain Bacillus fusiformis (BFN). J Hazard Mat 182:771–777

Obruca S, Marova I, Matouskova P, Haronikova A, Lichnova A (2012) Production of lignocellulose-degrading enzymes employing Fusarium solani F-552. Folia Microbiol 57:221–227

Pace G (1998) Mushrooms of the world: with 20 photographs and 634 full color illustrations of species and varieties. Firefly Books, New York

Pointing SB (2001) Feasibility of bioremediation by white-rot fungi. Appl Microbiol Biotechnol 57:20–33

Qiang J, Yin H, Peng H, Ye JS, Qin HM, He BY, Zhang N (2009) Isolation of an anthracene-degrading strain Aspergillus fumigatus A10 and its degradation characteristics. Environ Sci 30:1298–1305
Acknowledgments
A part of this research was financially supported by Research University Grant of Universiti Teknologi Malaysia (no. QJ1.3000.2522.02H65).
About this article
Cite this article
Hadibarata, T., Zubir, M.M.F.A., Rubiyatno et al. Degradation and transformation of anthracene by white-rot fungus Armillaria sp. F022. Folia Microbiol 58, 385–391 (2013). https://doi.org/10.1007/s12223-013-0221-2
Received:

Accepted:

Published:

Issue Date:
Keywords
Anthracene

Anthraquinone

Glucose Consumption

Laccase Activity

Phthalic Acid