Abstract
We isolated and identified functional groups of bacteria in the rumen of Creole goats involved in ruminal fermentation of native forage shrubs. The functional bacterial groups were evaluated by comparing the total viable, total anaerobic, cellulolytic, hemicellulolytic, and amylolytic bacterial counts in the samples taken from fistulated goats fed native forage diet (Atriplex lampa and Prosopis flexuosa). Alfalfa hay and corn were used as control diet. The roll tubes method increased the possibility of isolating and 16S rDNA gene sequencing allowed definitive identification of bacterial species involved in the ruminal fermentation. The starch and fiber contents of the diets influenced the number of total anaerobic bacteria and fibrolytic and amylolytic functional groups. Pseudobutyrivibrio ruminis and Pseudobutyrivibrio xylanivorans were the main species isolated and identified. The identification of bacterial strains involved in the rumen fermentation helps to explain the ability of these animals to digest fiber plant cell wall contained in native forage species.
Access options
Buy single article
Instant access to the full article PDF.
USD 39.95
Price excludes VAT (USA)
Tax calculation will be finalised during checkout.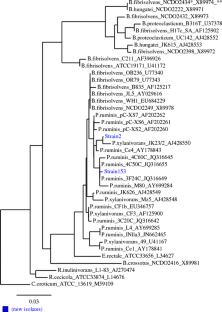 References
Association of Official Analytical Chemists (2006) Official methods of analysis. Association Official of Analytical Chemists International, Washington

Bryant MP, Robinson IM (1961) An improved nonselective culture medium for ruminal bacteria and its use in determining diurnal variation in numbers of bacteria in the rumen. J Dairy Sci 44:1446–1456

Caldwell DR, Bryant MP (1966) Medium without rumen fluid for nonselective enumeration and isolation of rumen bacteria. Appl Microbiol 14:794–801

Čepeljnik T, Zorec M, Kostanjsek R et al (2003) Is Pseudobutyrivibrio xylanivorans Mz5T suitable as a probiotic? An in vitro study. Folia Microbiol 48(3):339–345

Čepeljnik T, Krizaj I, Marinšek-Logar R (2004) Isolation and characterization of the Pseudobutyrivibrio xylanivorans Mz5T xylanase XynT- the first family 11 endoxylanase from rumen Butyrivibrio-related bacteria. Enzyme Microb Technol 34:219–227

Čepeljnik T, Rincón MT et al (2006) Xyn11A, a multidomain multicatalytic enzyme from Pseudobutyrivibrio xylanivorans Mz5T. Folia Microbiol 51:263–267

Cheng KJ, Mcallistert A, Mathiesens D et al (1993) Seasonal changes in the adherent microflora of the rumen in high-arctic Svalbard reindeer. Can J Microbiol 39:101–108

Chevenet F, Brun C, Banuls AL et al (2006) TreeDyn: towards dynamic graphics and annotations for analyses of trees. BMC Bioinforma 7:439

Collins MD, Lawson PA, Willems A et al (1994) The phylogeny of the genus Clostridium: proposal of five new genera and eleven new species combinations. Int J Syst Bacteriol 44:812–826

Cotta MA (1988) Amylolytic activity of selected species of ruminal bacteria. Appl Environ Microbiol 54:772–776

Dalrymple BP, McSweeney CS (1998) Manipulation of rumen function by the inoculation of novel microorganisms. Outlook Agr 27:107–113

Dalrymple B, Swadling Y, Layton I, Gobius K, Xue G (1999) Distribution and evolution of the xylanase genes xynA and xynB and their homologues in strains of Butyrivibrio fibrisolvens. Appl Environ Microbiol 65:3660–3667

Dehority BA (1966) Characterization of several bovine rumen bacteria isolated with a xylan medium. J Bacteriol 91:1724–1729

Dehority BA (1969) Pectin-fermenting bacteria isolated from the bovine rumen. J Bacteriol 99:189–196

Dehority BA, Tirabasso PA, Grifo AP (1989) Most probable number procedures for enumerating ruminal bacteria, including the simultaneous estimation of total and cellulolytic numbers in one medium. Appl Environ Microbiol 55:2789–2792

Dehority BA (2003) Numbers, factors affecting the population and distribution or rumen bacteria. In: Dehority BA (ed) Rumen microbiology, 1st edn. Nottingham University Press, Nottingham, pp 265–294

Di Rienzo JA, Casanoves F, Balzarini MG et al. (2011) InfoStat versión 2011. Grupo InfoStat, FCA, Universidad Nacional de Córdoba, Argentina

Draksler D, Gonzáles S, Oliver G (2004) Preliminary assays for the development of a probiotic for goats. Reprod Nutr Dev 44:397–405

Edgar RC (2004) MUSCLE: multiple sequence alignment with high accuracy and high throughput. Nucleic Acids Res 32(5):1792–1797

Edwards JE, McEwan NR, Travis AJ, John Wallace R (2004) 16S rDNA library based analysis of ruminal bacterial diversity. Antonie Van Leeuwenhoek 86:263–281

Elias I, Lagergren J (2007) Fast computation of distance estimators. BMC Bioinforma 8:89

Federal Animal Science Society (2010) Guide for the care and use of agricultural animals in research and teaching. Federation of Animal Science Societies, Champaign

Felsenstein J (1989) PHYLIP: phylogeny inference package (version 3.2). Cladistics 5:164–166

Fonty G, Gouet P, Jouany JP, Senaud J (1983) Ecological factors determining establishment of cellulolytic bacteria and protozoa in the rumens of meroxenic lambs. J Gen Microbiol 129:213–223

Forster R, Teather R, Gong J, Deng S (1996) 16S rDNA analysis of Butyrivibrio fibrisolvens: phylogenetic position and relation to butyrate-producing anaerobic bacteria from the rumen of white-tailed deer. Lett Appl Microbiol 23:218–222

Frutos P, Hervás G, Giráldez FJ, Mantecón AR (2004) Review: tannins and ruminant nutrition. Span J Agric Res 2(2):191–202

Grubb JA, Dehority BA (1975) Effects of an abrupt change in ration from all roughage to high concentrate upon rumen microbial numbers in sheep. Appl Microbiol 30(3):404–412

Grubb JA, Dehority BA (1976) Variation in colony counts of total viable anaerobic rumen bacteria as influenced by media and cultural methods. Appl Environ Microbiol 31:262–267

Hungate RE, Dougherty RW, Bryant MP, Cello RM (1952) Microbiological and physiological changes associated with acute indigestion in sheep. Cornell Vet 42:423–449

Hungate RE (1966) The rumen and its microbes. Academic, New York

Kern DL, Slyter LL, Leffel EC et al (1974) Ponies vs steers: microbial and chemical characteristics of intestinal ingesta. J Anim Sci 38:559–564

Kopečný J, Zorec M, Mrázek J et al (2003) Butyrivibrio hungatei sp. nov. and Pseudobutyrivibrio xylanivorans sp. nov., butyrate producing bacteria from the rumen. Int J Sys Bacteriol 53:1–9

Leedle J, Bryant MP, Hespell R (1982) Diurnal variations in bacterial numbers and fluid parameters in ruminal contents of animals fed low- or high-forage diets. Appl Environ Microbiol 44:402–412

National Research Council (1985) Nutrient requirements of sheep. National Academies Press, Washington

National Research Council (2007) Nutrient requirements of small ruminants: sheep, goats, cervids, and new world camelids. National Academies Press, Washington

Orpin CG, Mathisen SD, Greenwood Y, Blix AS (1985) Seasonal changes in the ruminal micloflora of the high-arctic Svalbard reindeer (Rangifer tarandus platyrhynchus). Appl Environ Microbiol 50:144–151

Persia ME, Dehority BA, Lilburn MS (2002) The effects of enzyme supplementation of corn- and wheat-based diets on nutrient digestion and cecal microbial populations in turkey. J Appl Poult Res 11:134–145

Silanikove N, Brosh A (1989) Lignocellulose degradation and subsequent metabolism of lignin fermentation products by the desert black Bedouin goat fed on wheat straw as a single component diet. Brit J Nutr 62:509–520

Sinha RN, Ranganathan B (1983) Cellulolytic bacteria in buffalo rumen. J Appl Microbiol 54:1–6

Stewart CS, Bryant MP (1988) The rumen bacteria. In: Hobson PN (ed) The rumen microbial ecosystem. Elsevier Applied Science, London, pp 21–75

Tajima K, Aminov R, Nagamine T, Ogata K, Nakamura M, Matsui H, Benno Y (1999) Rumen bacterial diversity as determined by sequence analysis of 16S rDNA libraries. FEMS Microbiol Ecol 29:159–169

van Gylswyk NO, Hippe H, Rainey FA (1996) Pseudobutyrivibrio ruminis gen. nov., sp. nov., a butyrate-producing bacterium from the rumen that closely resembles Butyrivibrio fibrisolvens in phenotype. Int J Sys Bacteriol 46:559–563

Zorec M, Čepeljnik T, Nekrep F, Marinšek-Logar R (2001) Multiple endoxylanases of Butyrivibrio sp. Folia Microbiol 46(1):94–96
Acknowledgments
The authors are very grateful to Facultad de Ciencias Veterinarias y Ambientales de la Universidad Juan Agustin Maza for supporting this study and for equipment and installations used.
Additional information
This paper is drawn from a thesis submitted by Diego Grilli in partial fulfillment of the requirements for a PhD at PROBIOL, Universidad Nacional de Cuyo, Mendoza, in 2012.
About this article
Cite this article
Grilli, D.J., Cerón, M.E., Paez, S. et al. Isolation of Pseudobutyrivibrio ruminis and Pseudobutyrivibrio xylanivorans from rumen of Creole goats fed native forage diet. Folia Microbiol 58, 367–373 (2013). https://doi.org/10.1007/s12223-012-0219-1
Received:

Accepted:

Published:

Issue Date:

DOI: https://doi.org/10.1007/s12223-012-0219-1
Keywords
Neutral Detergent Fiber

Acid Detergent Lignin

Rumen Bacterium

Traditional Diet

Native Forage