Abstract
The paper theoretically studies the method of evaporative lithography in combination with external infrared heating. This method makes it possible to form solid microstructures of the required relief shape as a result of evaporation of the liquid film of the colloidal solution under the mask. The heated particles are sintered easier, so there are no cracks in the obtained structure, unlike the structure obtained employing the standard method of evaporative lithography. The paper puts forward a modification of the mathematical model which allows to describe not only heat and mass transfer at the initial stage of the process, but also the phase transition of colloidal solution into glass. Aqueous latex is taken as an example. The resulting final form of solid film is in good agreement with the experimental data of other authors.
This is a preview of subscription content, log in to check access.
Access options
Buy single article
Instant access to the full article PDF.
US$ 39.95
Price includes VAT for USA
Subscribe to journal
Immediate online access to all issues from 2019. Subscription will auto renew annually.
US$ 99
This is the net price. Taxes to be calculated in checkout.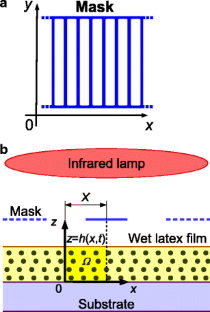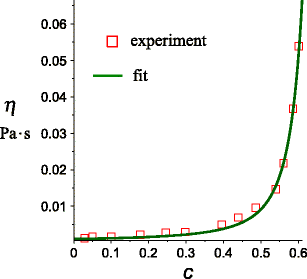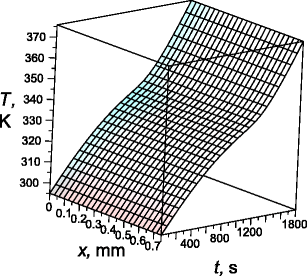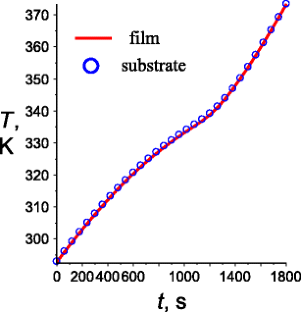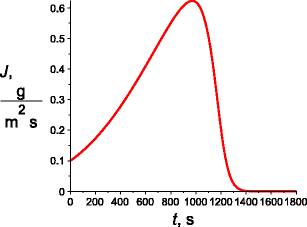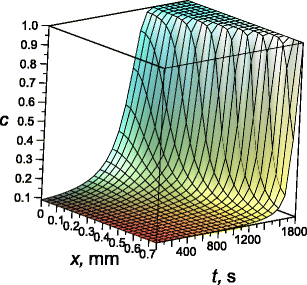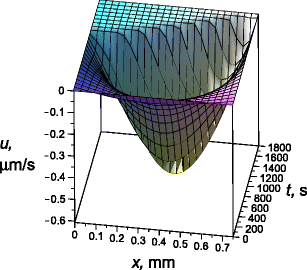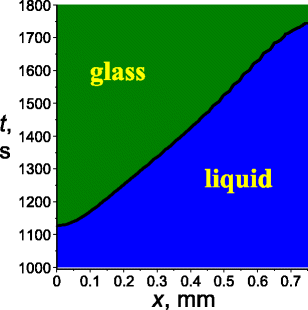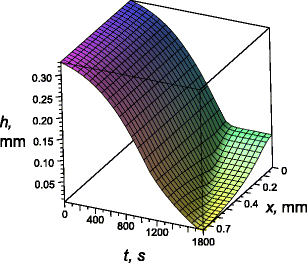 References
Arshad, TA, Bonnecaze, RT: Templated evaporative lithography for high throughput fabrication of nanopatterned films. Nanoscale 5, 624–633 (2013)

Bartashevich, M.V., Kuznetsov, V.V., Kabov, O.A.: Gravity effect on the axisymmetric drop spreading. Microgravity Sci. Technol. 22(1), 107–114 (2010)

Diana, A., Castillo, M., Brutin, D., Steinberg, T.: Sessile drop wettability in normal and reduced gravity. Microgravity Sci. Technol. 24(3), 195–202 (2012)

Fischer, B.J.: Particle convection in an evaporating colloidal droplet. Langmuir 18(1), 60–67 (2002)

Gatapova, E.Y., Graur, I.A., Kabov, O.A., Aniskin, V.M., Filipenko, M.A., Sharipov, F., Tadrist, L.: The temperature jump at water–air interface during evaporation. Int. J. Heat Mass Transf. 104, 800–812 (2017)

Gatapova, E.Y., Semenov, A.A., Zaitsev, D.V., Kabov, O.A.: Evaporation of a sessile water drop on a heated surface with controlled wettability. Coll. Surf. A Physicochem. Eng. Asp. 441, 776–785 (2014)

Georgiadis, A., Muhamad, F.N., Utgenannt, A., Keddie, J.L.: Aesthetically textured, hard latex coatings by fast IR-assisted evaporative lithography. Progress in Organic Coatings 76(12), 1786–1791 (2013)

Georgiadis, A., Routh, A.F., Murray, M.W., Keddie, J.L.: Bespoke periodic topography in hard polymer films by infrared radiation-assisted evaporative lithography. Soft Matter 7, 11098–11102 (2011)

Harris, D.J., Hu, H., Conrad, J.C., Lewis, J.A.: Patterning colloidal films via evaporative lithography. Phys. Rev. Lett. 98(14), 148301 (2007)

Haschenko, A.A., Vecher, O.V., Diskaeva, E.I.: A study of temperature dependence of evaporation rate of liquids from a free surface and liquid boiling rate on a solid heating surface. Izvestiya of Altai State University Journal 89(1), 84–87 (2016). (in Russian)

Hu, H., Larson, R.G.: Evaporation of a sessile droplet on a substrate. J. Phys. Chem. B. 106(6), 1334–1344 (2002)

Kang, Q., Duan, L., Zhang, L., Yin, Y., Yang, J., Hu, W.: Thermocapillary convection experiment facility of an open cylindrical annuli for sj-10 satellite. Microgravity Sci. Technol. 28(2), 123–132 (2016)

Kolegov, K.S.: Mathematical modelling of heat and mass transfer in colloidal liquid evaporating from the cell under a mask and IR radiative heating. CASPIAN JOURNAL: Control and High Technologies 4(36), 85–98 (2016). (in Russian)

Lloyd, J.R., Moran, W.R.: Natural convection adjacent to horizontal surface of various planforms. J. Heat Transfer 96(4), 443–447 (1974)

Maron, S.H., Fok, S.M.: Rheology of synthetic latex. J. Coll. Sci. 10(5), 482–493 (1955)

Matveyenko, V.N., Kirsanov, E.A.: Viscosity and structure of disperse systems. Bulletin of the Moscow University. Ser. 2. Chemistry 52(4), 243–276 (2011). (in Russian)

Okuzono, T., Aoki, N., Kajiya, T., Doi, M.: Effects of gelation on the evaporation rate of polymer solutions. J. Phys. Soc. Jpn. 79(9), 094801 (2010)

Oron, A.: Nonlinear dynamics of irradiated thin volatile liquid films. Phys. Fluids 12(1), 29–41 (2000)

Parneix, C., Vandoolaeghe, P., Nikolayev, V.S., Quéré, D., Li, J., Cabane, B.: Dips and rims in dried colloidal films. Phys. Rev. Lett. 105, 266103 (2010)

Routh, A.F., Russel, W.B.: Horizontal drying fronts during solvent evaporation from latex films. AIChE J. 44(9), 2088–2098 (1998)

Saverchenko, V.I., Fisenko, S.P., Khodyko, Y.A.: Kinetics of picoliter binary droplet evaporation on a substrate at reduced pressure. Coll. J. 77(1), 71–76 (2015)

Tarasevich, Y., Vodolazskaya, I., Isakova, O.: Desiccating colloidal sessile drop: dynamics of shape and concentration. Coll. Polym. Sci. 289(9), 1015–1023 (2011)

Tarasevich, Y.Y., Vodolazskaya, I. V.: Mass transfer during drying of colloidal film beneath a patterned mask that contains a hexagonal array of holes. J. Phys. Conf. Ser. 681(1), 012033 (2016)

Tarasevich, Y.Y., Vodolazskaya, I.V., Isakova, O.P., Abdel Latif, M.S.: Evaporation-induced flow inside circular wells: analytical results and simulations. Microgravity Sci. Technol. 21, 39–44 (2009)
Acknowledgements
The author expresses gratitude to Prof., D.Sc. Yu.Yu. Tarasevich for a useful discussion of some details of the work.
Additional information
This article belongs to the Topical Collection: Non-Equilibrium Processes in Continuous Media under Microgravity
Guest Editor: Tatyana Lyubimova
The reported study was funded by RFBR according to the research project No. 16-38-00439.
About this article
Cite this article
Kolegov, K.S. Simulation of Patterned Glass Film Formation in the Evaporating Colloidal Liquid under IR Heating. Microgravity Sci. Technol. 30, 113–120 (2018). https://doi.org/10.1007/s12217-017-9587-0
Received:

Accepted:

Published:

Issue Date:
Keywords
Evaporative lithography

Capillary flow

Infrared radiation

Glass formation