Abstract
Aircraft parabolic flights repetitively provide up to 23 seconds of reduced gravity during ballistic flight manoeuvres. Parabolic flights are used to conduct short microgravity investigations in Physical and Life Sciences and in Technology, to test instrumentation prior to space flights and to train astronauts before a space mission. The use of parabolic flights is complementary to other microgravity carriers (drop towers, sounding rockets), and preparatory to manned space missions on board the International Space Station and other manned spacecraft, such as Shenzhou and the future Chinese Space Station. After 17 years of using the Airbus A300 ZERO-G, the French company Novespace, a subsidiary of the 'Centre National d'Etudes Spatiales' (CNES, French Space Agency), based in Bordeaux, France, purchased a new aircraft, an Airbus A310, to perform parabolic flights for microgravity research in Europe. Since April 2015, the European Space Agency (ESA), CNES and the 'Deutsches Zentrum für Luft- und Raumfahrt e.V.' (DLR, the German Aerospace Center) use this new aircraft, the Airbus A310 ZERO-G, for research experiments in microgravity. The first campaign was a Cooperative campaign shared by the three agencies, followed by respectively a CNES, an ESA and a DLR campaign. This paper presents the new Airbus A310 ZERO-G and its main characteristics and interfaces for scientific experiments. The experiments conducted during the first European campaign are presented.
Access options
Buy single article
Instant access to the full article PDF.
US$ 39.95
Tax calculation will be finalised during checkout.
Subscribe to journal
Immediate online access to all issues from 2019. Subscription will auto renew annually.
US$ 79
Tax calculation will be finalised during checkout.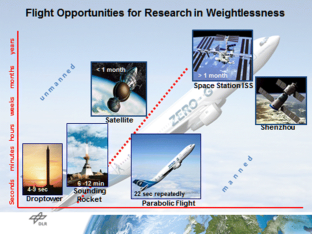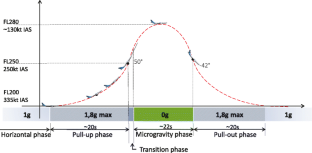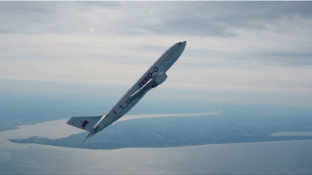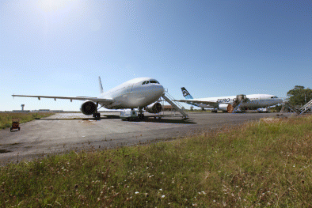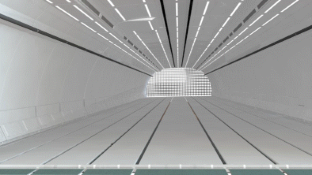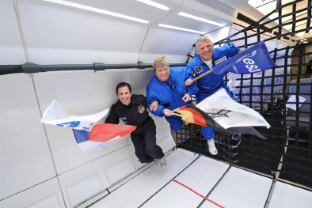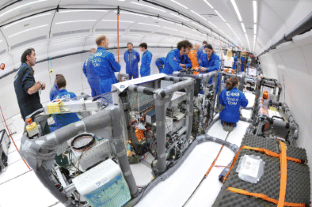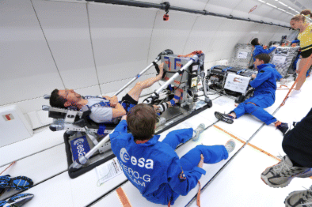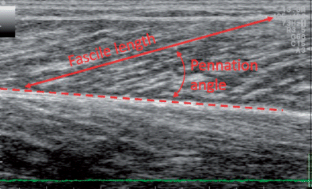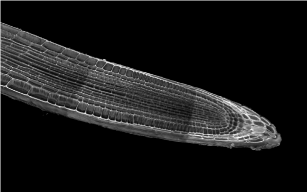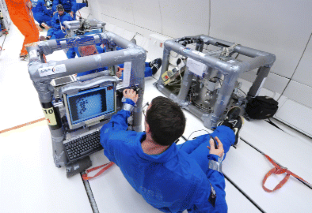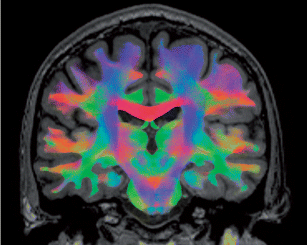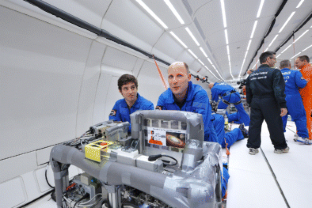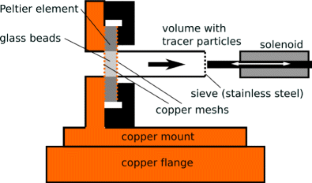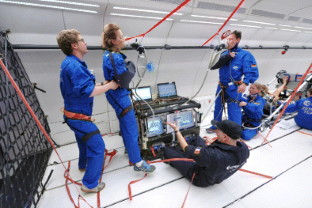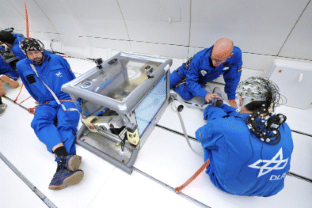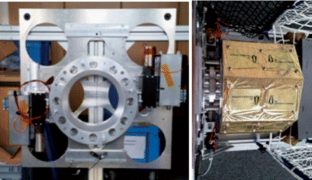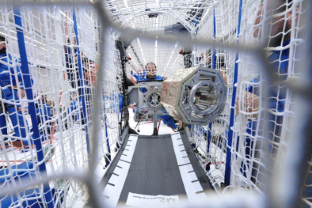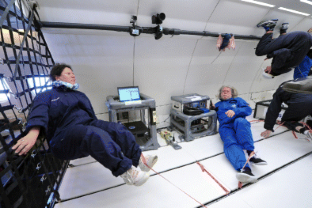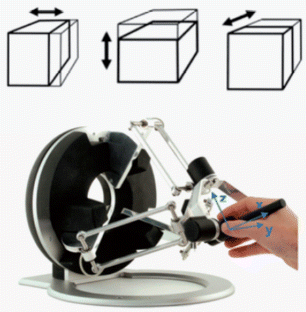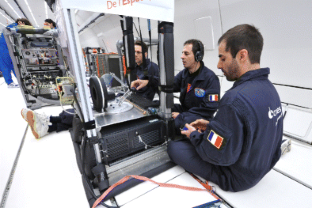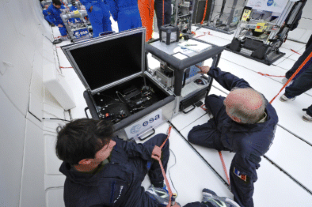 References
Callens, N., Ventura-Traveset, J., De Lophem, T.L., Lopez De Echazarreta, C., Pletser, V., Van Loon, J.: ESA Parabolic flights, drop tower and centrifuge opportunities for university students. Microgravity Sci. Technol. 23-2, 181–189 (2011). http://www.springerlink.com/content/p32353422p1120n5/fulltext.pdf

Demertzi, A., Van Ombergen, A., Tomilovskaya, E., Jeurissen, B., Pechenkova, E., Di Perri, C., Litvinova, L., Amico, E., Rumshiskaya, A., Rukavishnikov, I., Sijbers, J., Sinitsyn, V., Kozlovskaya, I.B., Sunaert, S., Parizel, P.M., Van de Heyning, P.H., Laureys, S.S.L., Wuyts, F.L.: Cortical reorganization in an astronaut's brain after long-duration spaceflight, Brain Structure and Function, pp. 1-4. (2015). doi:10.1007/s00429-015-1054-3

Geiger, R., Ménoret, V., Stern, G., Zahzam, N., Cheinet, P., Battelier, B., Villing, A., Moron, F., Lours, M., Bidel, Y., Bresson, A., Landragin, A., Bouyer, P.: Detecting inertial effects with airborne matter-wave interferometry. Nat. Commun. 2, 474 (2011). doi:10.1038/ncomms1479

Hametner, B., Heusser, K., Moestl, S., Gauger, P., Limper, U., Wassertheurer, S., Tank, J.: Wave reflection, assessed by pulse wave separation, is reduced under acute -g conditions in parabolic flight. Poster presented at Joint Life Science meeting, Toulouse (2016)

Kothe, S., Blum, J., Weidling, R., Güttler, C.: Free collisions in a microgravity many-particle experiment. III. The collision behavior of sub-millimeter-sized dust aggregates. Icarus 225, 75–85 (2013)

Kothe, S.: Mikrogravitationsexperimente Zur Entwicklung Eines Empirischen Stoßmodells Für Protoplanetare Staubagglomerate, Ph.D. Thesis, Institut für Geophysik und extraterrestrische Physik, Technische Universität Braunschweig (2016)

Ménoret, V., Geiger, R., Stern, G., Zahzam, N., Battelier, B., Bresson, A., Landragin, A., Bouyer, P.: Dual-wavelength laser source for onboard atom interferometry. Opt. Lett. 36(21), 4128–4130 (2011)

Moestl, S.: Development, Verification and practical application of a signal analysis program for determining systolic time intervals in parabolic flight. Master thesis, university of applied sciences aachen, DLR, Cologne (2016)

Novespace document: Experiment Design Guidelines in Parabolic Flight, Ref. GDL-2014-6 . http://www.novespace.fr/en,vol.html (2014)

Novespace document: Experiment Design Requirements in Parabolic Flight, Ref. RQ-2015-03. http://www.novespace.fr/en,vol.html (2015a)

Novespace document: A310 ZERO-G Interfaces Document, Ref. ITF-2015-1. http://www.novespace.fr/en,vol.html(2015b)

Pletser, V., Paulis, P.E., Loosveldt, E., Gering, D., Body, M., Schewijck, R.: A new ESA educational initiative: Euro Space Center class teachers in microgravity during parabolic flights. Acta Astronautica, 57- 12, 910–919 (2005). http://www.sciencedirect.com/science/article/pii/S0094576505001943

Pletser, V., Pacros, A., Minster, O.: The ESA Parabolic Flight Programme for Physical Sciences, 3rd Int. Symp. Physical Sciences in Space (ISPS). Nara J. Japan Soc. of Microgravity Appl. 25-3, 635–640 (2008)

Pletser, V., Winter, J., Duclos, F., Friedrich, U., Clervoy, J.F., Gharib, T., Gai, F., Minster, O., Sundblad, P.: The first Joint European Partial-g Parabolic Flight Campaign at Moon and Mars gravity levels for science and exploration. Microgravity Sci. Technol., special Issue ELGRA 2011(24–6), 383–395 (2012)

Pletser, V., Rouquette, S., Friedrich, U., Clervoy, J.F., Gharib, T., Gai, F., Mora, C.: European parabolic flight campaigns with Airbus A300 ZERO-g: looking back at the A300 and looking forward to the A310. Adv. Space Res., 1003–1013 (2015). doi:10.1016/j.asr.2015.05.022

Renard, J. -B., Hadamcik, E., Couté, B., Jeannot, M., Levasseur-Regourd, A.C.: Wavelength dependence of linear polarization in the visible and near infrared domain for large levitating grains (PROGRA2 instruments). J. Quant. Spectrosc. Radiat. Transf. 146, 424–430 (2014)

Schneider, S., Brümmer, V., Carnahan, H., Dubrowski, A., Askew, C.D., Stü, der, H.K.: What happens to the brain in weightlessness? A first approach by EEG tomography. Neurolmage 42(4), 1316–1323 (2008a). doi:10.1016/j.neuroimage.2008.06.010

Schneider, S., Brümmer, V., Mierau, A.V., Carnahan, H., Dubrowski, A., Stüder, H.K.: Increased brain cortical activity during parabolic flights has no influence on a motor tracking task. Exp. Brain Res. 185(4), 571–579 (2008b). doi:10.1007/s00221-007-1187-6

Sieber, M., Kaltenbach, S., Hanke, W., Kohn, F.P.M.: Conductance and capacity of plain lipid membranes under conditions of variable gravity, Journal of Biomedical Science and Engineering, (in press) (2016)

Teiser, J., Schywek, M., de Beule, C., Wurm, G.: Sub-surface gas flow in porous bodies, American Astronomical Society, DPS meeting #,47, id.420.04. http://adsabs.harvard.edu/abs/2015DPS....4742004T (2015)

Van Ombergen, A., Jeurissen, B., Demertzi, A., Heine, L., Sinitsyn, V., Mershina, E., Pechenkova, E., Sunaert, S., Laureys, S., Kozlovskaya, I., Tomilovskaya, E., Sijbers, J., Parizel, P.M., Loeckx, D., Van de Heyning, P.H., Morukov, B.V., Choukèr, A., Lutz, J., Schelling, G., Wuyts, F.L.: Neuroplasticity in Astronauts Studied with Novel MRI Methods: Preliminary Results of the BRIAN DTI Project. Presented at the 19th IAA Humans in Space Symposium, Cologne, Germany (2013)

Weidling, R., Güttler, C., Blum, J.: Free collisions in a microgravity Many-Particle experiment. i. Dust aggregate sticking at low velocities. Icarus 218, 688–700 (2012)

Wollseiffen, P., Vogt, T., Abeln, V., Strüder, H. K., Askew, C.D., Schneider, S.: Neuro-cognitive performance is enhanced during short periods of microgravity. Physiol. Behav. 155, 9–16 (2016). doi:10.1016/j.physbeh.2015.11.036
Additional information
This article belongs to the Topical Collection: Advances in Gravity-related Phenomena in Biological, Chemical and Physical Systems
Guest Editors: Valentina Shevtsova, Ruth Hemmersbach
About this article
Cite this article
Pletser, V., Rouquette, S., Friedrich, U. et al. The First European Parabolic Flight Campaign with the Airbus A310 ZERO-G. Microgravity Sci. Technol. 28, 587–601 (2016). https://doi.org/10.1007/s12217-016-9515-8
Received:

Accepted:

Published:

Issue Date:
Keywords
Aircraft parabolic flights

Microgravity experiments

A310 ZERO-G

International cooperation