Abstract
Ground-based simulators of microgravity such as fast rotating 2-D clinostats are valuable tools to study gravity related processes. We describe here a versatile g-value-adjustable 2-D clinostat that is suitable for plant analysis. To avoid seedling adaptation to 1 g after clinorotation, we designed chambers that allow rapid fixation. A detailed protocol for fixation, RNA isolation and the analysis of selected genes is described. Using this clinostat we show that mRNA levels of LONG HYPOCOTYL 5 (HY5), MIZU-KUSSEI 1 (MIZ1) and microRNA MIR163 are down-regulated in 5-day-old Arabidopsis thaliana roots after 3 min and 6 min of clinorotation using a maximal reduced g-force of 0.02 g, hence demonstrating that this 2-D clinostat enables the characterization of early transcriptomic events during root response to microgravity. We further show that this 2-D clinostat is able to compensate the action of gravitational force as both gravitropic-dependent statolith sedimentation and subsequent auxin redistribution (monitoring D R5 r e v ::G F P reporter) are abolished when plants are clinorotated. Our results demonstrate that 2-D clinostats equipped with interchangeable growth chambers and tunable rotation velocity are suitable for studying how plants perceive and respond to simulated microgravity.
Access options
Buy single article
Instant access to the full article PDF.
USD 39.95
Price excludes VAT (USA)
Tax calculation will be finalised during checkout.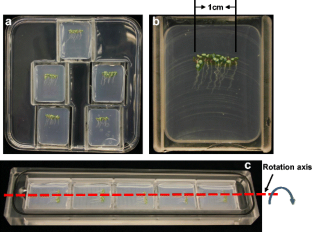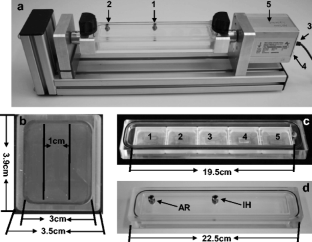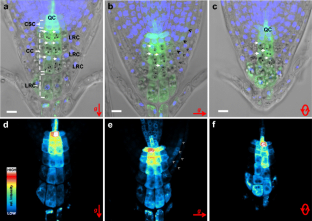 References
Aarrouf, J., Darbelley, N., Demandre, C., Razafindramboa, N., Perbal, G.: Effect of horizontal clinorotation on the root system development and on lipid breakdown in rapeseed (Brassica napus) seedlings. Plant Cell Physiol 40, 396–405 (1999)

Adamchuk, N.I., Fomishina, R.N., Mikhaylenko, N.F., Zolotareva, E.K.: Photosynthetic apparatus of pea leaves under clinorotation conditions. J. Gravit. Physiol 6, 143–144 (1999)

Aubry-Hivet, D., Nziengui, H., Rapp, K., Oliveira, O., Paponov, I.A., Li, Y., Hauslage, J., Vag, t N., Braun, M., Ditengou, F.A., Dovzhenko, A., Palme K.: Analysis of gene expression during parabolic flights reveals distinct early gravity responses in Arabidopsis roots. Plant Biol. (Stuttg) 16(Suppl 1), 129–141 (2014)

Blancaflor, E.B., Masson, P.H.: Plant gravitropism. Unraveling the ups and downs of a complex process. Plant Physiol 133, 1677–1690 (2003)

Brungs, S., Egli, M., Wuest. S.L., Christianen, P.C.M., Van Loon, J., Ngo Anh, J., Hemmersbach, R.: Ground-Based Facilities to Simulate Microgravity. Microgravity Sci. Technol (2015). this issue

Brunoud, G., Wells, D.M., Oliva, M., Larrieu, A., Mirabet, V., Burrow, A.H., Beeckman, T, Kepinski, S, Traas, J, Bennett, M J, Vernoux, T.A.: Novel sensor to map auxin response and distribution at high spatio-temporal resolution. Nature 482, 103–106 (2012)

Brykov, V., Kordyum, E.: Clinorotation impacts root apex respiration and the ultrostructure of mitochondria. Cell Biol. Int 39, 475–483 (2015)

Cui, D., Zhao, J., Jing, Y., Fan, M., Liu, J., Wang, Z., Xin, W, Hu, Y.: The Arabidopsis IDD14, IDD15, and IDD16 cooperatively regulate lateral organ morphogenesis and gravitropism by promoting auxin biosynthesis and transport. PLoS Genet 9, e1003759 (2013)

Ditengou, F.A., Teale, W.D., Kochersperger, P., Flittner, K.A., Petrova, I., van der Graaf, E., Nziengui, H., Li, X., Nitschke, R., Laux, T., Palme, K.: Mechanical induction of de novo lateral root initiation in Arabidopsis. Proc. Natl. Acad. Sci. USA 105, 18818–18823 (2008)

Gallegos, G.L., Hilaire, E.M., Peterson, B.V., Brown, C.S., Guikema, J.A.: Effects of microgravity and clinorotation on stress ethylene production in two starchless mutants of Arabidopsis thaliana. J Gravit Physiol 2, 153–154 (1995)

Harrison, B.R., Masson, P.H.: ARL2, ARG1 and PIN3 define a gravity signal transduction pathway in root statocytes. Plant J 53, 380–392 (2008)

Hashiguchi, Y., Tasaka, M., Morita, M.T.: Mechanism of higher plant gravity sensing. Am. J. Botany 100, 91–100 (2013)

Hemmersbach, R., Von der Wiesche, M., Seibt, D.: Ground-based experimental platforms in gravitational biology and human physiology. Signal Transduct 6, 381–387 (2006)

Herranz, R., Anken, R., Boonstra, J., Braun, M., Christianen, P.C.M, de Geest, M., Hauslage, J., Hilbig, R., Hill, J.A., Lebert, M., Medina, J., Vagt, N., Ullrich, O., van Loon, J.W.A., Hemmersbach, R.: Ground-based facilities for simulation of microgravity, including terminology and organism-specific recommendations for their use. Astrobiology 13, 1–17 (2013)

Jung, J.H., Park, C.M.: MIR166/165 genes exhibit dynamic expression patterns in regulating shoot apical meristem and floral development in Arabidopsis. Planta 225, 1327–1338 (2007)

Kaneyasu, T., Kobayashi, A., Nakayama, M., Fujii, N., Takahashi, H., Miyazawa, Y.: Auxin response, but not its polar transport, plays a role in hydrotropism of Arabidopsis roots. J. Exp. Bot 58, 1143–1150 (2007)

Kordyum, E.L., Danevich, L.A.: Calcium balance changes in tip growing plant cells under clinorotation. J. Gravit. Physiol 2, 147–148 (1995)

Kordyum, E., Adamchuk, N.: Clinorotation affects the state of photosynthetic membranes in Arabidopsis thaliana (L.) Heynh. J. Gravit. Physiol 4, 77–78 (1997)

Koornneef, M., Rolff, E., Spruit, C.J.P.: Genetic-Control of Light-Inhibited Hypocotyl Elongation in Arabidopsis-thaliana (L) Heynh. Z. Pflanzenphysiol 100, 147–160 (1980)

Leitz, G., Kang. B.-H., Schoenwaelder, M.E.A., Staehelin, L.A.: Statolith sedimentation kinetics and force transduction to the cortical endoplasmic reticulum in gravity-sensing Arabidopsis columella cells. Plant Cell, 21843–860 (2009)

Liao, C.Y., Smet, W., Brunoud, G., Yoshida, S., Vernoux, T., Weijers, D.: Reporters for sensitive and quantitative measurement of auxin response. Nat. Methods 12, 207–210 (2015)

Moriwaki, T., Miyazawa, Y., Nobuharu, F., Takahashi, H.: Light and abscisic acid signalling are integrated by MIZ1 gene expression and regulate hydrotropic response in roots of Arabidopsis thaliana. Plant Cell Environ 35, 1359–1368 (2012)

Ottenschläger, I., Wolff, P., Wolverton, C., Bhalerao, R., Sandberg, G., Ishikawa, H., Evans, M., Palme, K.: Gravity-regulated differential auxin transport from columella to lateral root cap cells. Proc. Natl. Acad. Sci. USA 100, 2987–2991 (2003)

Palme, K. In: Elman-Larsen, B. (ed.) : Microgravity applications programme. Successful teaming of science and industry, pp 396–403 (2005)

Sack, F.D., Suyemoto, M.M., Leopold, A.C.: Amyloplast sedimentation kinetics in gravistimulated maize roots. Planta 165, 295–300 (1985)

Sang, D., Chen, D., Liu, G., Liang, Y., Huang, L., Meng, X., Chu, J., Sun, X., Dong, G., Yuan, Y., Qian, Q., Li, J., Wang, Y.: Strigolactones regulate rice tiller angle by attenuating shoot gravitropism through inhibiting auxin biosynthesis. Proc. Natl. Acad. Sci. USA 111, 11199–112204 (2014)

Shevchenko, G.V., Kordyum, E.L.: Organization of cytoskeleton during differentiation of gravisensitive root sites under clinorotation. Adv. Space Res 35, 289–295 (2005)

Singh, M., Gupta, A., Laxmi, A.: Glucose and phytohormone interplay in controlling root directional growth in Arabidopsis. Plant Signal Behav 9, e29219 (2014)

Sobol, M.A., González-Camacho, F., Kordyum, E.L., Medina, F.J.: Changes in the two-dimensional proteome of the soluble fraction of nuclear proteins from Lepidium sativum root meristematic cells grown under clinorotation. J. Gravit. Physiol 14, 109–110 (2007)

Soh, H., Auh, C., Soh, W.Y., Han, K., Kim, D., Lee, S., Rhee, Y.: Gene expression changes in Arabidopsis seedlings during short- to long-term exposure to 3-D clinorotation. Planta 234, 255–270 (2011)

Syvash, O.O., Adamchuk, N.I., Dovbysh, E.P, Zolotareva, E K: Effect of clinorotation on growth and pigment biosynthesis in etiolated barley plants. J. Gravit. Physiol 8, 47–48 (2001)

Teale, W.D., Ditengou, F.A., Dovzhenko, A.D., Li, X., Molendijk, A.M., Ruperti, B., Paponov, I.A., Palme, K.: Auxin as a model for the integration of hormonal signal processing and transduction. Mol. Plant 1, 229–237 (2008)

Thiel, C.S., Paulsen, K., Bradacs, G., Lust, K., Tauber, S., Dumrese, C., Hilliger, A., Schoppmann, K., Biskup, J., Golz, N., Sang, C., Ziegler, U., Grote, K.H., Zipp, F., Zhuang, F., Engelmann, F., Hemmersbach, R., Cogoli, A., Ullrich, O.: Rapid alterations of cell cycle control proteins in human T lymphocytes in microgravity. Cell Commun. Signal 10, 1 (2012)

Teale, W.D., Paponov, I.A., Palme, K.: Auxin in action: signaling, transport and the control of plant growth. Nat. Rev. Mol. Cell Biol 7, 847–859 (2006)

Yamazaki, T., et al.: MIZ1, an essential protein for root hydrotropism, is associated with the cytoplasmic face of the endoplasmic reticulum membrane in Arabidopsis root cells. FEBS Lett 586, 398–402 (2012)

Yu, X., Pasternak, T., Eiblmeier, M., Ditengou, F., Kochersperger, P., Sun, J., Wang, H., Rennenberg, H., Teale, W., Paponov, I., Zhou, W., Li, C., Li, X., Palme, K.: Plastid-localized glutathione reductase2-regulated glutathione redox status is essential for Arabidopsis root apical meristem maintenance. Plant Cell 25, 4451–4468 (2013)
Acknowledgments
This work was supported by the Excellence Initiative of the German Federal and State Governments (EXC 294), the European Space Agency, and the German Aerospace Center, Space Administration on behalf of the Bundesministerium für Wirtschaft und Technologie (BMWi) and National Natural Science Foundation of China (31570291). We thank all members of our team for their help and support.
About this article
Cite this article
Wang, H., Li, X., Krause, L. et al. 2-D Clinostat for Simulated Microgravity Experiments with Arabidopsis Seedlings. Microgravity Sci. Technol. 28, 59–66 (2016). https://doi.org/10.1007/s12217-015-9478-1
Received:

Accepted:

Published:

Issue Date:

DOI: https://doi.org/10.1007/s12217-015-9478-1
Keywords
Arabidopsis thaliana

Clinostat

Gene expression

Gravity

Auxin

Signal transduction