Abstract
Unexpected finding of Egyptian blue emerged in Raphael's fresco Triumph of Galatea at Villa Farnesina, in Rome. This pigment is the oldest man-made blue, dating back to Egyptians who manufactured it first and whose occurrence was thought to be lost with Romans. Thanks to advanced imaging techniques it has been possible to non-invasively map its distribution throughout the frescoed surface and to obtain a non-invasive imaging stratigraphic analysis indicating whether pure painting layers, mixtures or overlapping occurred. Egyptian blue identification on Raphael's Galatea is so far the earliest of sixteenth century, and could be the first step towards its tracking in Renaissance, demonstrating that non-invasive techniques are a mandatory step not only for materials identification but also for understanding art history and its dynamics.
Access options
Buy single article
Instant access to the full article PDF.
US$ 39.95
Tax calculation will be finalised during checkout.
Subscribe to journal
Immediate online access to all issues from 2019. Subscription will auto renew annually.
US$ 79
Tax calculation will be finalised during checkout.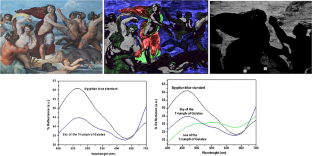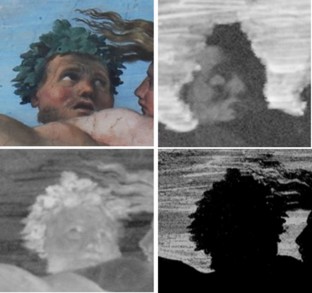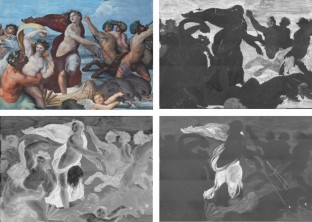 Notes
1.

C. Seccaroni, P. Moioli, Pigmenti a base di rame. Fonti storiche e analisi scientifiche. O.P.D. Restauro, 216–252, (1995).

2.

A. Pabst, Structures of some tetragonal sheet silicates. Acta Cryst. 12, 733–739 (1959).

3.

G. Accorsi, G. Verri, M. Bolognesi, N. Armaroli, C. Clementi, C.Miliani, A. Romani, The exceptional near-infrared luminescence properties of cuprorivaite (Egyptian blue), Chem. Commun., 23, 3392–3394, 2009.

4.

G.Verri, D. Saunders, J. Ambers, T. Sweek, Digital mapping of Egyptian blue: Conservation implications, Studies in Conservation, 55(sup2), 220–224, 2010.

5.

A. Daveri, M. Vagnini, F. Nucera, M. Azzarelli, A. Romani, C. Clementi, Visible-induced luminescence imaging: A user-friendly method based on a system of interchangeable and tunable LED light sources, Microchemical Journal, 125, 130–141, 2016.

6.

C. Miliani, A. Daveri, B. Brunetti, A. Sgamellotti, CO2 entrapment in natural ultramarine blue, Chemical Physics Letters, 466(s 4–6), (2008), pp. 148–151.

7.

M. Vagnini, C. Anselmi, A. Sgamellotti, unpublished results.

8.

Marcus Vitruvius Pollio, De Architectura, VII, 8–9, 336–341, 1990.

9.

Marcus Vitruvius Pollio, De Architectura, VII, 11, 344–345, 1990.

10.

 J. Bredal-Jørgensen, J. Sanyova, V. Rask, M.L. Sargent, R.H. Therkildsen, Striking presence of Egyptian blue identified in a painting by Giovanni Battista Benvenuto from 1524, Analytical and Bioanalytical Chemistry, 401 n. 4, 1433–1439, 2011.

11.

 M. Spring, R. Billinge, G. Verri, A Note on an Occurrence of Egyptian Blue in Garofalo's The Holy Family with Saints Elizabeth, Zacharias, John the Baptist (and Francis?), National Gallery Technical Bulletin, 40, 74–85, 2019.

12.

G.S. de Vivo, A. van Loon, P. Noble, A. Hirayama, Y. Abe, I. Nakai, D. Bull, An Unusual Pigment in 16th-century Ferrara: 'Egyptian Blue' in Garofalo's Adoration of the Magi and Ortolano's St Margaret, in A. Haack Christensen (ed.), Trading paintings and painters' materials 1550–1800, 136–148, London 2019.
Acknowledgements
Conservator Dr. Virginia Lapenta, and the Staff of Villa Farnesina in Rome, are gratefully acknowledged by the authors.
Additional information
Publisher's Note
Springer Nature remains neutral with regard to jurisdictional claims in published maps and institutional affiliations.
This contribution is a peer-reviewed version of a paper presented at the international meeting of the Non Destructive Techniques on Cultural Heritage (NDT-CH 2018) held October 12, 2018 in Buenos Aires (Argentina)S. I :Non-destructive techniques for cultural heritage
About this article
Cite this article
Anselmi, C., Vagnini, M., Seccaroni, C. et al. Imaging the antique: unexpected Egyptian blue in Raphael's Galatea by non-invasive mapping. Rend. Fis. Acc. Lincei 31, 913–917 (2020). https://doi.org/10.1007/s12210-020-00960-4
Received:

Accepted:

Published:

Issue Date:
Keywords
Raphael

Egyptian blue

Macro X-ray fluorescence (MAXRF)

Red-induced luminescence (RIL)

Non-invasive analyses

Villa farnesina