Abstract
In 2013, an outbreak of Xylella fastidiosa was identified for the first time in Europe, in the extreme South of Italy (Apulia, Salento territory). The locally identified subspecies turned to be lethal for olive trees, starting an unprecedented phytosanitary emergency for one of the most iconic cultivations of the Mediterranean area. The Apulian-monitoring program of the epidemic amassed data on several hundreds of thousands of laboratory screening for the bacterium presence, jointly with georeferenced sample information. Starting from these data, it is possible to show that Xylella fastidiosa spreads by forming new, tightly clustered groups of infected plants (epidemic hotspots), with 98% of the infected trees separated by less than 100 mt from another infected tree. Surprisingly, more than three quarters of the newly detected epidemic hotspots are farther than 1 km from any previously known infected plants. Considering this finding, either long-range spreading of the bacterium is underestimated, or the current monitoring strategy must be called into question. In both cases, however, it can be anticipated that, under the current monitoring protocol, yearly epidemic spreading 1–15 km far from olive trees currently labeled as infected will be more common than previously thought.
Access options
Buy single article
Instant access to the full article PDF.
US$ 39.95
Tax calculation will be finalised during checkout.
Subscribe to journal
Immediate online access to all issues from 2019. Subscription will auto renew annually.
US$ 79
Tax calculation will be finalised during checkout.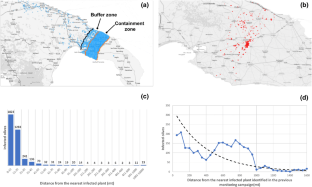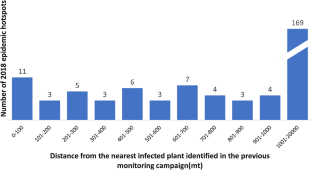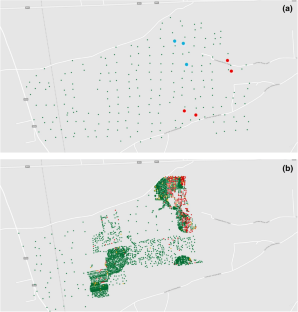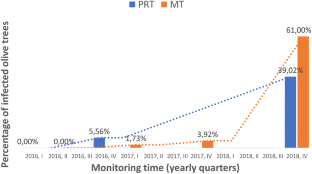 Availability of data and materials
All data are available upon request to the author.
Abbreviations
TAP:

Trans-adriatic pipeline

MT:

Microtunnel

PRT:

Pipeline receiving terminal

OQDS:

Olive quick decline syndrome
References
Bucci EM (2018) Xylella fastidiosa, a new plant pathogen that threatens global farming: ecology, molecular biology, search for remedies. Biochem Biophys Res Commun 502:173–182

EFSA Panel on Plant Health (PLH) (2015) Scientific opinion on the risks to plant health posed by Xylella fastidiosa in the EU territory, with the identification and evaluation of risk reduction options. EFSA J 13:3989

European Commission Directorate for Health and Food Safety (2018) Commission database of host plants found to be susceptible to Xylella fastidiosa in the Union territory - update 11

Fierro A, Liccardo A, Porcelli F (2019) A lattice model to manage the vector and the infection of the Xylella fastidiosa on olive trees. Sci. Rep. 9:8723

Halkka OK (1971) Factors determining the size and composition of island population of Philaenus spumarius (L.) (Hom.). Acta Entomol. Fenn

Halkka O, Raatikainen M, Vasarainen A, Heinonen L (1967) Ecology and ecological genetics of Philaenus spumarius (L.) (Homoptera). Ann Zool Fenn 4:1–18

Jeger M et al (2018) Updated pest categorisation of Xylella fastidiosa. EFSA J 16

King DR (1958) The ecology of the meadow spittlebug. State University, Ohio

Safady NG, Lopes JRS, Francisco CS, Coletta-Filho HD (2019) Distribution and genetic diversity of Xylella fastidiosa subsp. pauca associated with olive quick syndrome symptoms in Southeastern Brazil. Phytopathology 109:257–264

Strona G, Carstens CJ, Beck PSA (2017) Network analysis reveals why Xylella fastidiosa will persist in Europe. Sci Rep 7:71

White SM, Bullock JM, Hooftman DAP, Chapman DS (2017) Modelling the spread and control of Xylella fastidiosa in the early stages of invasion in Apulia, Italy. Biol Invasions 19:1825–1837

Wiegert RG (1964) Population energetics of meadow spittlebugs (Philaenus spumarius L.) as affected by migration and habitat. Ecol Monogr 34:217–241

Zarco-Tejada PJ et al (2018) Previsual symptoms of Xylella fastidiosa infection revealed in spectral plant-trait alterations. Nat Plants 4:432–439
Funding
The author received no funding for the present research work.
Ethics declarations
Conflict of interest
The author declares no competing interests for the present research work.
Additional information
Publisher's Note
Springer Nature remains neutral with regard to jurisdictional claims in published maps and institutional affiliations.
About this article
Cite this article
Bucci, E.M. Effectiveness of the monitoring of X. fastidiosa subsp. pauca in the olive orchards of Southern Italy (Apulia). Rend. Fis. Acc. Lincei 30, 681–688 (2019). https://doi.org/10.1007/s12210-019-00832-6
Received:

Accepted:

Published:

Issue Date:
Keywords
Xylella fastidiosa

Olive quick decline syndrome

Olive trees