Abstract
The objective of the present study was to investigate the potentiality of volatile oils extracted from Thymus capitatus (L.) Hofmanns and Link (Thyme) and Syzygium aromaticum (L.) Merr. et. L.M. Perry (Clove) on growth and protein profiles of some human and plant pathogenic bacteria. The aim was extended to study the anticancer effect of these oils on breast carcinoma cell line. Infrared (IR) spectrophotometer was used to analyze thyme and clove oils to attain information on the structural properties of their components through a large number of absorption bands; each band is an indicator for a specific functional group. Data revealed that by increasing the concentration of both oils separately, the inhibitory effect on the selected pathogenic bacterial species increased. The absolute unit (AU) of inhibition zones for the extracted thyme and clove oils with its different concentrations was calculated. The inhibitory effect of thyme oil on all bacterial species tested was greater compared to the clove oil. The presence of both thyme and clove oils in culture medium decreased the growth of the bacterial species which may be ascribed to its phenolic compounds, thymol and eugenol, respectively. The cytotoxic effect of both thyme and clove oils was tested on breast cancer cell lines (MCF7). Results showed that the increase in the concentrations of both oil types stimulate the inhibition of growth of MCF7 cell lines.
Access options
Buy single article
Instant access to the full article PDF.
USD 39.95
Price excludes VAT (USA)
Tax calculation will be finalised during checkout.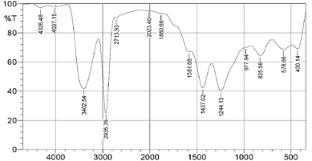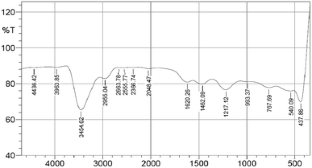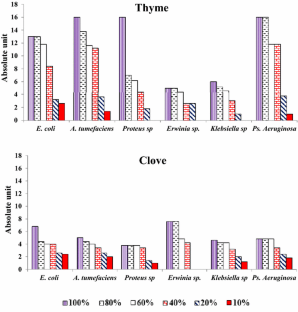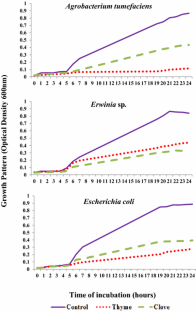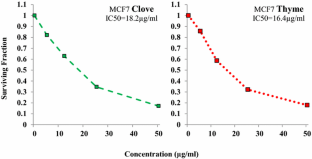 References
Abdellah F, Boukraâ L, Hammoudi SM, Alzahrani HA, Bakhotmah B (2012) Synergistic effect of honey and Thymus ciliatus against pathogenic bacteria. J Open Nutraceut 5:174–178

AitM'barek L, Ait Mouse H, Jaâfari A, Aboufatima R, Benharref A, Bénard J, El-Abbadi N, Bensalah M, Gamouh A, Chait A, Dalal A (2007) Cytotoxic effect of essential oil of thyme (Thymus broussonettii) on the IGR-OV1 tumor cells resistant to chemotherapy. J Braz Med Res 40:1537–1544

Bakkali F, Averbeck S, Averbeck D, Idaomar M (2008) Biological effects of essential oils: a review. Food Chem Toxicol 46:446–475

Barbour EK, Al-Sharif M, Sagherian VK, Habre AN, Talhouk RS, Talhouk SN (2004) Screening of selected indigenous plants of Lebanon for antimicrobial activity. J Ethnopharmacol 93:1–7

Bauer AW, Kirbyw WM, Sherris JC, Turck M (1966) Antibiotic susceptibility testing by a standardized single disk method. Am J Clinic Path 45:493–496

Betoni JE, Mantovani RP, Barbosa LN, Di-Stasi LC, Fernandes-Junior A (2006) Synergism between plant extract and antimicrobial drugs used on Staphylococcus aureus diseases. Mem Inst Oswaldo Cruz 101(4):387–390

Burt S (2004) Essential oils: their antibacterial properties and potential applications in foods: a review. Int J Food Microbiol 94:223–253

Burt S, Reinders RD (2003) Antibacterial activity of selected plant essential oils against Escherichia coli O157:H7. Lett Appl Microbiol 36(3):162–167

Burt S, Vlielander R, Haagsman HP, Veldhuizen EJA (2005) Increase in activity of essential oil components carvacrol and thymol against Escherichia coli O157: H7 by addition of food stabilizers. J Food Prot 68:919–926

Cosentino S, Tubeerso CIG, Pisano B, Satta M, Mascia V, Arzedi E, Palmas F (1999) In Vitro antimicrobial activity and chemical composition of Sardinian thymus essential oils. Lett Appl Microbiol 29:130–135

Di Pasqua R, Betts G, Hoskins N, Edwards M, Ercolini D, Mauriello G (2007) Membrane toxicity of antimicrobial compounds from essential oils. J Agric Food Chem 55:4863–4870

Dorman JD, Deans SG (2000) Antimicrobial agents from plants: antibacterial activity of plant volatile oils. J Appl Microbiol 88:308–316

Egwaikidi PA, Okeniyi SO, Gimba CE (2009) Screening for antimicrobial activity and phytochemical constituents of some Nigerian medicinal plants. J Med Plant Res 3:1088–1091

El-Masry MH, Khalil AL, Hassouna MS, Ibrahim HA (2002) In situ and in vitro suppressive effect of agricultural composts and their water extracts on some phytopathogenic fungi World. J Microbiol Biotechnol 18:551–558

Gunther z, Joseph S (1978) Paper chromatography and electrophoresis. In: Paper chromate raphy handbook series in chromatography. CRC Press, USA, pp 1001–1009

Hammer KA, Carson CF, Riley TV (1999) Antimicrobial activity of essential oils and other plant extracts. J Appl Microbiol 86:985–990

Hartwig S, Rolf Q, Hans K (2003) Rapid evaluation and quantitative analysis of thyme, oregano and chamomile essential oils by ATR-IR and NIR spectroscopy. J Molec Str 661:299–306

Ikbal S, Kasim HK, Amal AS (2005) Qualitative and quantitative evaluation of some organic compounds in Iraqi Thyme. Nat J Chem 19:366–379

Jin U, Kim D, Lee T, Lee D, Kim J, Lee I, Kim C (2006) Herbal formulation, Yukmi-jihang-tang-Jahage, regulates bone resorption by inhibation of phosphorylayion mediated by tyrosine kinase Src and cyclooxygenase expression. J Ethnopharmacol 106:333–343

Josiah O, Maurice O, Malebo H, Angira J, Njeru MP, Ndiege OI, Hassanali A (2005) Repellency of essential oils of some plants from the Kenyan coast against Anopheles gambiae. Acta Trop 95:210–218

Kumar A, Shukla R, Singh P, Prasad SC, Dubey KN (2008) Assessment of Thymus vulgaris L essential oil as a safe botanical preservative against post-harvest fungal infestation of food commodities. Innov Food Sci Em Techn 9:575–580

Luo Y (2006) Alzheimer's disease, the nematode Caenorhabditis elegans, and Ginkgo biloba leaf extract. J life Sci 78:2066–2072

Mai M, Isoko K, Hiroto N, Hironari M, Keiichiro S, Yuko K, Tomoko J, Kazuki K, Hiromi Y, Yoshiyuki M (2012) Effects of essential oils from herbal plants and citrus fruits on DNA polymerase inhibitory, cancer cell growth inhibitory, antiallergic, and antioxidant activities. J Agric Food Chem 60:11343–11350

Manou I, Bouillard L, Devleeschouwer MJ, Barel AO (1998) Evaluation of the preservative properties of Thymus vulgaris essential oil in topical applied formulations under challenge. J Appl Microbiol 84:368–376

Moses AG, Robert MN (2013) Fourier transformer infra-red spectrophotometer analysis of Warburgia ugandensis medicinal herb used for the treatment of diabetes, malaria and pneumonia in Kisii Region, Southwest Kenya. Glob J Pharmacol 7:61–68

Nikoli M, Glamo J, Isabel C, Ferreira FR, Calhelha RC, Fernandes Â, Markovi T, Markovi D, Giweli A, Sokovi M (2014) Chemical composition, antimicrobial, antioxidant and antitumor activity of Thymus serpyllum L, Thymus algeriensis Boiss and Reut and Thymus vulgaris L essential oils. Ind Crop Prod 52:183–190

Nzeako BC, Al-Kharousi ZS, Al-Mahrooqi Z (2006) Antimicrobial activities of clove and thyme extracts. Sultan Qaboos Univ Med J 6:33–39

Ozcan G, Sagdic O, Ozcan M (2003) Note: inhibition of pathogenic bacteria by essential oils at different concentrations. Food Sci Tech Int 9:85–88

Öztürk A, Özbek H (2005) The anti-inflammatory activity of Eugenia caryophyllata essential oil: an animal model of anti-inflammatory activity. Eur J Gen Med 2(4):159–163

Pandima KD, Sakthivel R, ArifNisha S, Suganthy N, Karutha Pandian S (2013) Eugenol alters the integrity of cell membrane and acts against the nosocomial pathogen Proteus mirabilis. Arch Pharm Res 36:282–292

Poor MHS, Khatami M, Azizi H, Abazari Y (2017) Cytotoxic activity of biosynthesized Ag nanoparticles by plantago major towards a human breast cancer cell line. Rend Fis Acc Lincei 28(4):693–699

Prashar A, Locke IC, Evans CS (2006) Cytotoxicity of clove (Syzygium aromaticum) oil and its major components to human skin cells. Cell Proliferat 39:241–248

Priti V, Shridhar P (2012) Effect of essential oils on MDR pathogens: a comparative study. J Env Res Develop 6(3):462–466

Rakib A, Mustafa A, Haidar H (2012) Antibacterial activity of clove, cinnamon, and datura extracts against Erwinia carotovora subsp atrosepticacausative agent of black stem and soft rot on potato. J Med Plants Res 6(10):1891–1895

Skehan P, Storeng R (1990) New coloremtric cytotoxicity assay for anticancer drug screening. J Natl Cancer Inst 82:1107–1112

Stahl-Biskup E (2004) Thyme. In: Peter KV (ed) Handbook of herbs and spices. Woodhead Publishing Limited, Cambridge, pp 297–318

Tapsell LC, Cobiac L, Sullivan DR, Fenech M, Patch CS, Roodenrys S, Keogh JB, Clifton PM, Williams PG, Fazio VA, Inge KE (2006) Health benefits of herbs and spices: the past, the present, the future. Med J Aust 185:1–24

Trombetta D, Castelli F, Sarpietro MG, Venuti V, Cristani M, Daniele C, Saija A, Mazzanti G, Bisignano G (2005) Mechanisms of antibacterial action of three monoterpenes. Antimic Agents Chemoth 49(6):2474–2478

Valero M, Giner MJ (2005) Effects of antimicrobial components of essential oils on growth of Bacillus cereus INRA L2104 in and the sensory qualities of carrot broth. Int J Food Microbiol 106:90–94

Yasunaka K, Abe F, Nagayama A (2005) Antibacterial activity of crude extracts from Mexican medicinal plants and purified coumarins and xanthones. J Ethnopharmacol 97:293–299

Zishan A, Anwar S, Shiwali S (2017) Evaluation of in vitro antioxidant activity, HPLC and GC–MS analysis along with chemoprofiling of Decalepis arayalpathra: a critically endangered plant of Western Ghats, India. Rend Fis Acc Lincei 28(4):711–720
About this article
Cite this article
El-Darier, S.M., El-Ahwany, A.M.D., Elkenany, E.T. et al. An in vitro study on antimicrobial and anticancer potentiality of thyme and clove oils. Rend. Fis. Acc. Lincei 29, 131–139 (2018). https://doi.org/10.1007/s12210-018-0672-0
Received:

Accepted:

Published:

Issue Date:

DOI: https://doi.org/10.1007/s12210-018-0672-0
Keywords
Thymus capitatus
Syzygium aromaticum

Antagonistic effect

Cytotoxicity