Abstract
The most important structural changes of the marine communities of the Ligurian Sea (Mediterranean Sea) are described and discussed, stemming from scientific contributions published in the last decades. The main causes of disturbance and stress along the coastline were, since long time ago: huge urban, touristic and industrial developments, harbour activities, building of littoral rail- and motorways, beach replenishments, presence of several polluted drainages, impact of fishery activities. Nevertheless, the EQR-CARLIT index recently evidenced a moderate seawater quality and ecological status, indicating a slow, but progressive improvement of the littoral environment. But, in a changing climate, thermal stress anomalies in 1999, 2003 and 2006 determined major changes in the structure of benthic and fish communities. In addition, the plankton showed significant changes, especially in terms of primary production, while the disappearance of some species and the arrival of others, even of commercial interest, were recorded. Starting from the late 1980s, some thermophilous and/or Lessepsian species reached the Ligurian Sea, often determining processes of "meridionalization" and "tropicalization" of the basin. In a relatively short time span, i.e., 30–40 years, the structural complexity of Ligurian marine communities changed dramatically as never observed before in historical times.
Access options
Buy single article
Instant access to the full article PDF.
US$ 39.95
Tax calculation will be finalised during checkout.
Subscribe to journal
Immediate online access to all issues from 2019. Subscription will auto renew annually.
US$ 79
Tax calculation will be finalised during checkout.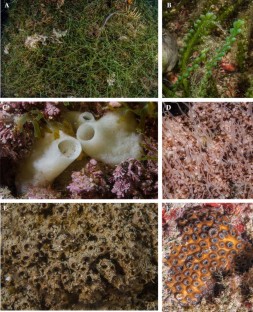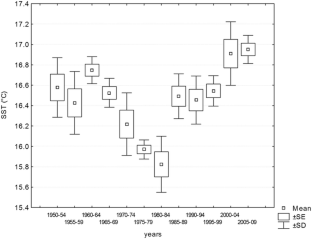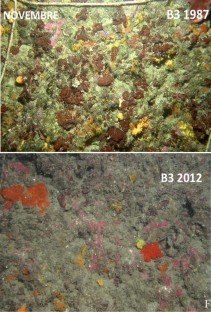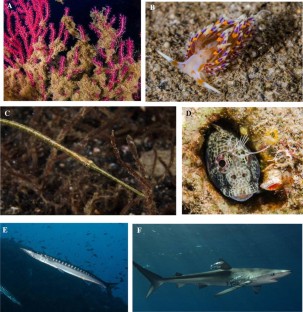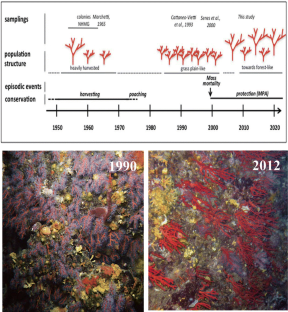 References
Airoldi L, Beck M (2007) Loss, status and trends for coastal marine habitats in Europe. Oceanogr Mar Biol Annu Rev 45:345–405

Asnaghi V, Chiantore M, Bertolotto RM, Parravicini V, Cattaneo-Vietti R, Gaino F, Moretto P, Privitera D, Mangialajo L (2009) Implementation of the European Water Framework Directive: natural variability associated with the CARLIT method on the rocky shores of the Ligurian Sea (Italy). Mar Ecol 30:505–513

Balestra V, Boero F, Carli A (1976) Andamento del pescato della tonnarella di Camogli dal 1950 al 1974. Valutazioni bio-statistiche. Bollettino Pesca Piscicoltura Idrobiologia Rome 31:105–115

Bavestrello G, Bertone S, Cattaneo-Vietti R, Cerrano C, Gaino E, Zanzi D (1994) Mass mortality of Paramuricea clavata (Anthozoa, Cnidaria) on Portofino Promontory cliffs, Ligurian Sea, Mediterranean Sea. Mar Life 4:15–19

Bavestrello G, Cerrano C, Zanzi D, Cattaneo-Vietti R (1997) Damage by fishing activities to the gorgonian coral Paramuricea clavata in the Ligurian Sea. Aquat Conserv Mar Freshw Ecosyst 7:253–262

Bavestrello G, Bo M, Bertolino M, Betti F, Cattaneo-Vietti R (2015) Long-term comparison of structure and dynamics of the red coral metapopulation of the Portofino Promontory (Ligurian Sea): a case-study for a marine protected area in the Mediterranean Sea. Mar Ecol 36:1354–1363

Bertolino M, Betti F, Bo M, Cattaneo-Vietti R, Pansini M, Romero J, Bavestrello G (2015) Changes and stability of a Mediterranean hard bottom benthic community over 25 years. J Mar Biol Assoc UK. https://doi.org/10.1017/S0025315415001186

Betti F, Cattaneo-Vietti R, Bava S (2015) Northernmost record of Godiva quadricolor (Gastropoda: Nudibranchia) in the SCI "Fondali Noli-Bergeggi" (Ligurian Sea). Mar Biodiver Rec 8:e26

Betti F, Bavestrello G, Bianchi CN, Morri C, Righetti E, Bava S, Bo M (2017a) Long-term life cycle and massive blooms of the intertidal hydroid Paracoryne huvei in the North-western Mediterranean Sea. Mar Biol Res 13:538–550

Betti F, Bavestrello G, Bo M, Asnaghi V, Chiantore M, Bava S, Cattaneo-Vietti R (2017b) Over 10-years climate regime shift in Mediterranean reef benthic communities. Mar Ecol. https://doi.org/10.1111/maec12439

Bianchi CN (2007) Biodiversity issues for the forthcoming tropical Mediterranean Sea. Hydrobiologia 580:7–21

Bianchi CN, Morri C (2000) Marine biodiversity of the Mediterranean Sea: situation, problems and prospects for future research. Mar Pollut Bull 40:367–376

Bianchi CN, Morri C (2004) Climate change and biological response in Mediterranean Sea ecosystems: a need for broad-scale and long-term research. Ocean Chall 13:32–36

Bianchi CN, Peirano A, Salvati E, Morri C (2001) Assessing interannual and decadal changes in marine epibenthic assemblages through UW photography: an example from Punta Mesco, Ligurian Sea. Arch Oceanogr Limnol 22:83–86

Bianchi CN, Morri C, Chiantore M, Montefalcone M, Parravicini V, Rovere A (2012) Mediterranean Sea biodiversity between the legacy from the past and a future of change. In: Stambler N (ed) Life in the Mediterranean Sea: a look at habitat changes. Nova Science Publishers, New York, pp 1–55

Bianchi C, Caroli F, Guidetti P, Morri C (2017) Seawater warming at the northern reach for southern species: Gulf of Genoa, NW Mediterranean. J Mar Biol Assoc UK 1–12. https://doi.org/10.1017/S0025315417000819

Boero F (2015a) The future of the Mediterranean Sea ecosystem: towards a different tomorrow. Rend Fis Acc Lincei 26:3–12

Boero F (2015b) Mediterranean scenarios. In: Bekken-Nielsen T, Gestwagen R (eds) The Inland Seas: towards an ecohistory of the Mediterranean and Black Sea. Geog Hist 35:387–398

Boero F, Kraberg AC, Krause G, Wiltshire KH (2015) Time is an affliction: why ecology cannot be as predictive as physics and why it needs time series. J Sea Res 101:12–18

Boero F, Brotz L, Gibbons MJ, Piraino S, Zampardi S (2016) 3.10 Impacts and effects of ocean warming on jellyfish. IUCN, Gland, pp 213–237

Britten GL, Dowd M, Minto C, Ferretti F, Boero F, Lotze H-K (2014) Predator decline leads to decreased stability in a coastal fish community. Ecol Lett 17(12):1518–1525

Cattaneo-Vietti R, Albertelli G, Aliani S, Bava S, Bavestrello G, Benedetti Cecchi L, Bianchi CN, Bozzo E, Capello M, Castellano M, Cerrano C, Chiantore M, Corradi N, Cocito S, Cutroneo L, Diviacco G, Fabiano M, Faimali M, Ferrari M, Gasparini GP, Locritani M, Mangialajo L, Marin V, Moreno M, Morri C, Orsi Relini L, Pane L, Paoli C, Petrillo M, Povero P, Pronzato R, Relini G, Santangelo G, Tucci S, Tunesi L, Vacchi M, Vassallo P, Vezzulli L, Würtz M (2010) The Ligurian Sea: state of the art, problems and perspectives. Chem Ecol 26:319–340

Cattaneo-Vietti R, Cappanera V, Castellano M, Povero P (2014) Yield and catch changes in a Mediterranean Small Tuna Trap: a climate change effect? Mar Ecol 35:1–12

Cerrano C, Bavestrello G (2009) Medium-term effects of die-off of rocky benthos in the Ligurian Sea What can we learn from gorgonians? Chem Ecol 24:73–82

Cerrano C, Bavestrello G, Bianchi CN, Cattaneo-Vietti R, Bava S, Morganti C, Morri C, Picco P, Sara G, Schiaparelli S, Siccardi A, Sponga F (2000) A catastrophic mass-mortality episode of gorgonians and other organisms in the Ligurian Sea (North-western Mediterranean), summer 1999. Ecol Lett 3:284–293

Cerrano C, Totti C, Sponga F, Bavestrello G (2006) Summer disease in Parazoanthus axinellae (Schmidt, 1862) (Cnidaria, Zoanthidea). Ital J Zool 73:355–361

Claudet J, Fraschetti S (2010) Human-driven impacts on marine habitats: a regional meta-analysis in the Mediterranean Sea. Biol Conserv 143:2195–2206

Coll M, Piroddi C, Steenbeek J, Kaschner K, Ben Rais Lasram F, Aguzzi J, Ballesteros E, Bianchi CN, Corbera J, Dailianis T, Danovaro R, Estrada M, Froglia C, Galil BS, Gasol JM, Gertwagen R, Gil J, Guilhaumon F, Kesner-Reyes K, Kitsos MS, Koukouras A, Lampadariou N, Laxamana E, López-Fé de la Cuadra CL, Lotze HK, Martin D, Mouillot D, Oro D, Raicevich S, Rius-Barile J, Saiz-Salinas JI, San Vicente C, Somot S, Templado J, Turon X, Vafidis D, Villanueva R, Voultsiadou E (2010) The biodiversity of the Mediterranean Sea: estimates, patterns, and threats. PLoS One 5:e11842

Cupido R, Cocito S, Sgorbini S, Bordone A, Santangelo G (2008) Response of a gorgonian (Paramuricea clavata) population to mortality events: recovery or loss? Aquat Conserv Mar Freshw Ecosyst 18:984–992

Faimali M, Giussani V, Piazza V, Garaventa F, Corrà C, Asnaghi V, Privitera D, Gallus L, Cattaneo-Vietti R, Mangialajo L, Chiantore M (2012) Toxic effects of harmful benthic dinoflagellate Ostreopsis ovata on invertebrate and vertebrate marine organisms. Mar Environ Res 76:97–107

Ferretti F, Myers RA, Serena F, Lotze HK (2008) Loss of large predatory sharks from the Mediterranean Sea. Conserv Biol 22(4):952–964

Francour P, Boudouresque CF, Harmelin JG, Harmelin-Vivien ML, Quignard JP (1994) Are the Mediterranean waters becoming warmer? Information from biological indicators. Mar Pollut Bull 28(9):523–526

Fraschetti S, Guarnieri G, Bevilacqua S, Terlizzi A, Claudet J, Russo GF, Boero F (2011) Conservation of Mediterranean habitats and biodiversity countdowns: what information do we really need? Aquat Conserv Mar Freshw Ecosyst 21(3):299–306

Garrabou J, Coma R, Benssousan N, Bally M, Chevaldonne P, Cigliano M, Diaz D, Harmelin JG, Gambi MC, Kersting DK, Ledoux JB, Lejeusne C, Linares C, Marschal C, Perez T, Ribes M, Romano JC, Serrano E, Teixido N, Torrents O, Zabala M, Zuberer F, Cerrano C (2009) Mass mortality in NW Mediterranean rocky benthic communities: effects of the 2003 heat wave. Glob Change Biol 15:1090–1103

Gatti G, Bianchi CN, Parravicini V, Rovere A, Peirano A, Montefalcone M, Massa F, Morri C (2015) Ecological change, sliding baselines and the importance of historical data: lessons from combing observational and quantitative data on a temperate reef over 70 years. PLoS One 10:e0118581

La Mesa G, Guidetti P, Bussotti S, Cattaneo-Vietti R, Manganaro A, Molinari A, Russo GF, Spanò N, Vetrano G, Tunesi L (2013) Rocky reef fish assemblages at six Mediterranean marine protected areas: broad-scale patterns in assemblage structure, species richness and composition. Ital J Zool 80:90–103

Lejeusne C, Chevaldonné P, Pergent-Martini C, Boudouresque CF, Pérez T (2010) Climate change effects on a miniature ocean: the highly diverse, highly impacted Mediterranean Sea. Trends Ecol Evol 25(4):250–260

Leydet KP, Hellberg ME (2015) The invasive coral Oculina patagonica has not been recently introduced to the Mediterranean from the western Atlantic. BMC Evol Biol 15(1):79

Linares CL, Coma R, Diaz D, Zabala M, Hereu B, Dantart L (2005) Immediate and delayed effects of a mass mortality event on gorgonian population dynamics and benthic community structure in the NW Mediterranean Sea. Mar Ecol Progr Ser 305:127–137

Linares CL, Terron-Sigler A, Casado de Amezua P, Goffredo S Ozalp B (2017) Oculina patagonica. The IUCN red list of threatened species 2017: e.T133511A98556570. https://doi.org/10.2305/IUCN.UK.2017-1.RLTS.T133511A985565

Longobardi L, Bavestrello G, Betti F, Cattaneo-Vietti R (2017) Long-term changes in a Ligurian infralittoral community (Mediterranean Sea): a warning signal? Reg Stud Mar Sci 14:15–26. https://doi.org/10.1016/jrsma201703011

Mangialajo L, Ruggieri N, Asnaghi V, Chiantore M, Povero P, Cattaneo-Vietti R (2007) Ecological status in the Ligurian Sea: the effect of coastline urbanization and the importance of proper reference sites. Mar Pollut Bull 55(30–4):1

Mangialajo L, Chiantore M, Cattaneo-Vietti R (2008) Loss of fucoid algae along a gradient of urbanisation and relationships with the structure of benthic assemblages. Mar Ecol Prog Ser 358:63–74

Mangialajo L, Ganzin N, Accoroni S, Asnaghi V, Blanfuné A, Cabrini M, Cattaneo-Vietti R, Chavanon F, Chiantore M, Cohu S, Costa E, Fornasaro D, Grossel H, Marco-Miralles F, Masó M, Reñé A, Rossi AM, Montserrat Sala M, Thibaut T, Totti C, Vila M, Lemée R (2010) Trends in Ostreopsis proliferation along the Northern Mediterranean coasts. Toxicon 57:408–420

Misic C, Castellano M, Covazzi-Arriague A (2011) Organic matter features, degradation and remineralization at two coastal sites in the Ligurian Sea (NW Mediterranean) differently influenced by anthropogenic forcing. Mar Environ Res 72:67–74

Modena M, Matricardi G, Vacchi M, Guidetti P (2000) Spreading of Caulerpa racemosa (Forsskl) J Agardh (Bryopsidaceae, Chlorophyta) along the coasts of the Ligurian Sea. Cryptogam Algologie 21(3):301–304

Montefalcone M, Morri C, Parravicini V, Bianchi CN (2014) A tale of two invaders: divergent spreading kinetics of the alien green algae Caulerpa taxifolia and Caulerpa cylindracea. Biol Invasions 17:2717–2728

Morri C, Bianchi CN (2001) Recent changes in biodiversity in the Ligurian Sea (NW Mediterranean): is there a climatic forcing? In: Faranda FM, Guglielmo L, Spezie G (eds) Mediterranean ecosystems: structure and processes. Springer, Italy, pp 375–384

Orsi Relini L (2010) Non-native marine fish in Italian waters. In: Golani D, Golani-Appelbaum B (eds) Fish invasion of the Mediterranean Sea: changes and renewal. Pensoft, Sofia, pp 267–292

Parravicini V, Micheli F, Montefalcone M, Morri C, Villa E, Castellano M, Povero P, Bianchi CN (2013) Conserving biodiversity in a human-dominated World: degradation of marine sessile communities within a Protected Area with conflicting human uses. PLoS One 8:e75767

Parravicini V, Mangialajo L, Mousseau L, Peirano A, Morri C, Francour P, Kulbicki M, Bianchi CN (2015) Climate change and warm-water species at the north-western boundary of the Mediterranean Sea. Mar Ecol 36:897–909

Petrillo M, Martorano D, Albertelli G, Della Croce N (1998) Uova di Engraulis encrasicolus e parametri ambientali nella Zona Pilota di Chiavari, Mar Ligure (1985–1996). Biologia Marina Mediterranea 5(3):349–360

Privitera D, Giussani V, Isola G, Faimali M, Piazza V, Garaventa F, Cantamessa E, Cattaneo-Vietti R, Chiantore M (2012) Toxic effects of Ostreopsis ovata on larvae and juveniles of Paracentrotus lividus. Harmful Algae 18:16–23

Puce S, Bavestrello G, Di Camillo CG, Boero F (2009) Long term changes in hydroid (Cnidaria, Hydrozoa) assemblages: effect of Mediterranean warming? Mar Ecol 30:313–326

Rivetti I, Fraschetti S, Lionello P, Zambianchi E, Boero F (2014) Global warming and mass mortalities of benthic invertebrates in the Mediterranean Sea. PLoS One 9(12):e115655

Rodolfo-Metalpa R, Richard C, Allemand D, Bianchi CN, Morri C, Ferrier-Pages C (2006) Response of zooxanthellae in symbiosis with the Mediterranean corals Cladocora caespitosa and Oculina patagonica to elevated temperatures. Mar Biol 150:45–55

Ruitton S, Javel F, Culioli JM, Meinesz A, Pergent G, Verlaque M (2005) First assessment of the Caulerpa racemosa (Caulerpales, Chlorophyta) invasion along the French Mediterranean coast. Mar Pollut Bull 50:1061–1068

Sala E, Ballesteros E, Panagiotis D, Di Franco A, Ferretti F, Foley D, Fraschetti S, Friedlander A, Garrabou J, Guclusoy H, Guidetti P, Halpern BS, Hereu B, Karamanlidis AA, Kizilkaya Z, Macpherson E, Mangialajo L, Mariani S, Micheli F, Pais A, Riser K, Rosenberg AA, Sales M, Selkoe KA, Starr R, Tomas F, Zabala M (2012) The structure of Mediterranean rocky reef ecosystems across environmental and human gradients, and conservation implications. PLoS One 7:e32742

Schiaparelli S, Castellano M, Povero P, Sartoni G, Cattaneo-Vietti R (2007) A benthic mucilage event in North-Western Mediterranean Sea and its possible relationships with the summer 2003 European heat-wave: short term effects on littoral rocky assemblages. Mar Ecol 28:1–13

Tunesi L, Molinari A (2005) Species richness and biogeographic outlines of the fish assemblage of the Portofino Marine Protected Area (Ligurian Sea). Biologia Marina Mediterranea 12:116–123

Turley CM (1999) The changing Mediterranean Sea, a sensitive ecosystem? Prog Oceanogr 44(1):387–400

Vacchi M, Morri C, Modena M, La Mesa G, Bianchi CN (2001) Temperature changes and warm-water species in the Ligurian Sea: the case of the ornate wrasse Thalassoma pavo (Linnaeus, 1758). Arch Oceanogr Limnol 22:149–154

Venturini S, Campodonico P, Cappanera V, Fanciulli G, Cattaneo-Vietti R (2017) Recreational fishery in Portofino Marine Protected Area (MPA), Italy: some implications for the management. Fish Manag Ecol 24:382–391

Verlaque M, Ruitton S, Mineur F, Boudouresque CF (2015) CIESM atlas of exotic species of the Mediterranean macrophytes. CIESM Publishers, Monaco, pp 1–362

Vezzulli L, Pezzati E, Moreno M, Fabiano M, Pane L, Pruzzo C, VibrioSea Consortium (2009) Benthic ecology of Vibrio spp. and pathogenic Vibrio species in a coastal Mediterranean environment (La Spezia Gulf, Italy). Microb Ecol 58:808–818

Vezzulli L, Previati C, Pruzzo C, Marchese A, Bourne DG, Cerrano C, VibrioSea Consortium (2010) Vibrio infections triggering mass mortality events in a warming Mediterranean Sea. Environ Microbiol 12(7):2007–2019

Zenetos A, Ballesteros E, Verlaque M (2012) Alien species in the Mediterranean Sea. A contribution to the application of European Union's Marine Strategy Framework Directive (MSFD). Part 2. Introduction trends and pathways. Mediterr Mar Sci 13:328–352

Zibrowius H (1974) Oculina patagonica, scléractiniaire hermatypique introduit en Méditerranée. Helgoländer Meeresunters 26:153–173
About this article
Cite this article
Cattaneo-Vietti, R. Structural changes in Mediterranean marine communities: lessons from the Ligurian Sea. Rend. Fis. Acc. Lincei 29, 515–524 (2018). https://doi.org/10.1007/s12210-018-0670-2
Received:

Accepted:

Published:

Issue Date:
Keywords
Mediterranean Sea

Ligurian Sea

Global warming

Benthic communities

Fisheries

Biodiversity

Introduced species