Abstract
The forest vegetation of the southern sector of the Monti Lattari complex (Amalfi Coast) has been investigated due to the lack of information on vegetation within an area of worldwide relevance and with a high floristic richness. This area shows several environmental peculiarities due to the marked orography, with pedologic features varying from carbonate to volcanic character, and bioclimatic conditions varying in a relatively short space from Mediterranean to temperate types. The study involved an extensive phytosociological survey and the analyses revealed clear differences among the forest communities, whose syntaxonomical queries and the biogeographic and ecological characters have been discussed. The communities varied from the coastal sclerophyllous forests (Cyclamino repandi–Quercetum ilicis) to the mixed thermophilous deciduous forests (Festuco exaltatae–Aceretum neapolitani, Seslerio autumnalis–Aceretum obtusati), and from the mountain neutral–subacid forests (Salvio glutinosae–Alnetum cordatae, Castanea sativa groupment, Asperulo taurinae–Alnetum cordatae) to the mountain beech forest (Anemono apenninae–Fagetum sylvaticae). Multivariate analysis showed the high relevance of steepness, elevation and pyroclastic presence, and a low relevance of aspect in the discrimination of forest communities. Syntaxonomical interpretations showed the affinity of the local communities with those of the southern Italy, but also some interesting peculiarity. Data highlight the area as a geographical boundary and phytogeographic hinge between central and southern Italy.
Access options
Buy single article
Instant access to the full article PDF.
US$ 39.95
Tax calculation will be finalised during checkout.
Subscribe to journal
Immediate online access to all issues from 2019. Subscription will auto renew annually.
US$ 79
Tax calculation will be finalised during checkout.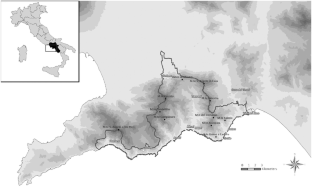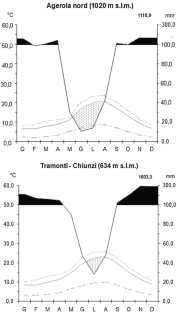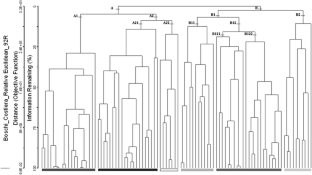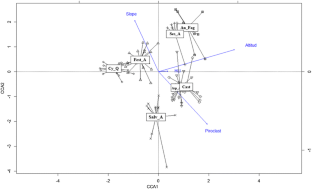 Notes
1.

The chestnut cultivation is documented throughout the area since Roman times. During the Middle Ages extended oak forests suffered severe reductions in favor of the chestnut groves and the progressive expansion of cattle grazing. Chestnut wood was used not only for naval construction, but also for good quality charcoal used in the nascent steel industry (XIV Century), especially in the Vallone delle Ferriere. Other portion of the forests also provided the raw material and fuel for cooking the calcareous stone, do produce mortars in the numerous "calcare" scattered everywhere (Barra 2003; Ercolino 2004). Another particularly widespread use was production of chestnut poles, used mainly as supports for the cultivation of vines and citrus groves (Caneva and Cancellieri 2007).
References
Arrigoni PV, Viciani D (2001) Caratteri fisionomici e fitosociologici dei Castagneti toscani. Parlatorea V:55–99

Barra F (2003) La costa d'Amalfi nell'età moderna, economia e società. "La Costa di Amalfi nel secolo XVII", Atti del Convegno di Studi, Amalfi, 1-4 aprile 1998, Amalfi, pp 7–34

Bernetti G (1995) Selvicoltura speciale. UTET, Torino

Bezzi A, Brandini P, Menguzzato G, Tabacchi G (1991) I boschi puri e densi di ontano napoletano nel Cilento. Indagine per un loro inquadramento vegetazionale, selvicolturale e produttivo. Annali Ist. Sper. Assest. Forestale e alpicoltura di Trento XII: 3-90 Trento

Biondi E, Casavecchia S, Gigante D (2003) Contribution to the syntaxonomic knowledge of the Quercus ilex L. woods of the Central European Mediterranean Basin. Fitosociogia 40(1):129–156

Biondi E, Casavecchia S, Pesaresi S (2010) Interpretation and management of the forest habitats of the Italian peninsula. Acta Bot Gallica 157(4):687–719

Biondi E, Burrascano S, Casavecchia S, Copiz R, Del Vico E, Galdenzi D, Gigante D, Lasen C, Spampinato G, Venanzoni R, Zivkovic L, Blasi C (2012) Diagnosis and syntaxonomic interpretation of Annex I Habitats (Dir. 92/43/EEC) in Italy at the alliance level. Plant. Sociology 49(1):5–37

Blasi C, Di Pietro R, Filesi L (2004) Syntaxonomical revision of Quercetalia pubescentis petraeae in the Italian Peninsula. Fitosociologia 41(1):87–164

Blasi C, Filibeck G, Rosati L (2006) Classification of Southern Italy Ostrya carpinifolia woods. Fitosociologia 43(1):3–23

Bonin G (1978) Contribution à la connaissance de la Végétation des montagnes de l'Appennines centro-meridional. Univ. Doit d'Economie et de Sciences (Aix-Maiselle III). Fac. Sc. Tech. St. Jérome. Thése pour obteneir le grade de Docteur en Sciences

Bonin G, Briane JP, Gamisans J (1977) Quelques aspect des forests supraméditerranéenes et montagnardes de l'Apennin meridional. Ecol Mediter 2:101–122

Braun-Blanquet J (1932) Plant sociology. The study of plant communities. Authorized english translation of pflanzensoziologie. Mcgraw-Hill Book Company, Inc., New York

Brullo S, Scelsi F, Spampinato G (2001) La vegetazione dell'Aspromonte. Studio fitosociologico. Laruffa Editore, Reggio Calabria

Cancellieri L (2008) Studio delle serie di vegetazione del Complesso dei Monti Lattari (Campania). PhD diss. Università degli Studi Roma Tre

Caneva G, Cancellieri L (eds.) (2007) Il paesaggio vegetale della Costiera Amalfitana. Gangemi Editore, Collana Paesaggio: Natura, Cultura, Arte, vol 1. Roma

Caneva G, Cutini M (eds) (2009) Flora, Vegetazione e Tradizioni Etnobotaniche di Maratea. Collana Paesaggio: Natura, Cultura, Arte, vol 2. Gangemi Editori, Roma

Caputo G, La Valva V, Nazzaro R, Ricciardi M (1989-1990) La flora della Penisola Sorrentina (Campania). Delpinoa 31-32: 3-97

Cavara F (1914) La gita a Faito di Castellammare di Stabia. L'Alpe, ser. II 1(7):1–13

Conti F, Abbate G, Alessandrini A, Blasi C (2005) An Annotated Checklist of Italian Flora. Ministero dell'Ambiente e della Tutela del Territorio—Dip. di Biologia Vegetale Università di Roma "La Sapienza". Palombi (ed.), pp 1–420

Corbetta F, Pirone G, Frattaroli AR, Ciaschetti G (2004) Lineamenti vegetazionali essenziali del Parco Nazionale del Cilento e Vallo di Diano. Braun-Blanquetia 36:1–61

Cutini M, Cancellieri L, Cioffi MT, Licursi C (2010) Phytosociology and phytogeography of fragmented Alnus glutinosa forests in a Tyrrhenian district. Ecol Mediter 36(2):55–73

D'Argenio B, Pescatore T, Scandone P (1973) Schema geologico dell'Appennino meridionale (Campania e Lucania). Quaderno n°183. Atti dal Convegno sul tema Moderne vedute sulla geologia dell'Appennino

De Dominicis V, Casini S, Mariotti M, Boscagli A (1988) La vegetazione di Punta Ala (Prov. Grosseto). Webbia 42(1):124–142

De Natale A, Strumia S (2007) La flora della costa sabbiosa del Parco Nazionale del Cilento e Vallo di Diano (Salerno). Webbia 62:53–76

Del Guacchio E (2010) Appunti di floristica campana: novità e precisazioni. Inf. Bot. Ital. 42(1):35–46

Di Gennaro A (2002) I sistemi di terre della Campania. Carta 1:250.000 e Leggenda. Regione Campania

Di Pietro R, Izco J, Blasi C (2004) Contribute to the nomenclatural knowledge of the beech-woodland syntaxa of southern Italy. Plant Biosystems 138(1):27–36

Di Pietro R, Azzella MM, Facioni L (2010) The forest vegetation of the Tolfa-Ceriti Mountains (Northern Latium-Central Italy). Hacquetia 9(1):5–64

Ercolino R (2004) La produzione della calce nella Penisola sorrentino-amalfitana. In: AA.VV, Le arti dell'acqua e del fuoco. Le attività produttive protoindustriali della costa di Amalfi. Centro di cultura e storia amalfitana, pp 215–261

Fenaroli L (1970) Note illustrative della Carta della Vegetazione reale d'Italia. Min. Agricoltura e Foreste. Collana Verde 28

Filesi L, Rosati L, Paura B, Cutini M, Strumia S, Blasi C (2010) Le serie di vegetazione della Campania. In: Blasi C (ed) La vegetazione d'Italia. Palombi & Partner S.r.l, Roma, pp 351–373

Filibeck G (2006) Notes on the distribution of Laurus nobilis L. (Lauraceae) in Italy. Webbia 61(1):45–56

Gamisans J, Gruber M, Quezel P (1983) Les forets de Castanea sativa, Alnus cordata et Ostrya carpinifolia du massif du San Petrone (Corse). Ecol Mediter 9:89–95

Gauch HG (1982) Multivariate analysis in community ecology. Cambridge University Press, London

Giacomini V (1972) Il Paesaggio Vegetale. In: AA.VV., Studio preliminare piano paesistico della Costiera Amalfitana. Cassa del Mezzogiorno. Soprintendenza ai Monumenti della Campania

Gigante D, Attorre F, Venanzoni R, Acosta ATR, Agrillo E, Aleffi M, Alessi N, Allegrezza M, Angelini P, Angiolini C, Assini S, Azzella MM, Bagella S, Biondi E, Bolpagni R, Bonari G, Bracco F, Brullo S, Buffa G, Carli E, Caruso G, Casavecchia S, Casella L, Cerabolini BEL, Ciaschetti G, Copiz R, Cutini M, Del Vecchio S, Del Vico E, Di Martino L, Facioni L, Fanelli G, Foggi B, Frattaroli AR, Galdenzi D, Gangale C, Gasparri R, Genovesi P, Gianguzzi L, Gironi F, Giusso Del Galdo G, Gualmini M, Guarino R, Lasen C, Lastrucci L, Maneli F, Pasta S, Paura B, Perrino EV, Petraglia A, Pirone G, Poponessi S, Prisco I, Puglisi M, Ravera S, Sburlino G, Sciandrello S, Selvaggi A, Spada F, Spampinato G, Strumia S, Tomaselli M, Tomaselli V, Uzunov D, Viciani D, Villani M, Wagensommer RP, Zitti S (2016) A methodological protocol for Annex I Habitats monitoring: the contribution of Vegetation science. Plant Sociology 53(2):77–87

Inventario Nazionale delle Foreste e del Carbonio (INFC) (2005) Corpo Forestale dello Stato. http://www3.istat.it/istat/eventi/2007/forestali/inventario_foreste_serbatoi_carbonio.pdf. Accessed 4 Sept 2017

Legendre P, Anderson MJ (1999) Distance-based redundancy analysis: testing multispecies responses in multifactorial ecological experiments. Ecol Monogr 69:1–24

Maiorca G, Spampinato G (1999) La vegetazione della Riserva Naturale Orientata "Valle del Fiume Argentino" (Calabria Nord-Occidentale). Fitosociologia 36(2):15–60

Maiorca G, Spampinato G, Caprio AC (2006) La vegetazione di Monte Mancuso (Calabria centro-occidentale). Fitosociologia 43(1):141–175

Marino P, Castiglia G, Bazan G, Domina G, Guarino R (2014) Tertiary relict laurophyllous vegetation in the Madonie mountains (Sicily). Acta Bot. Gallica 161(1):47–61

Mazzoleni S, Ricciardi M (1995) Boschi misti costieri in Campania. Ann. Bot. (Roma) 51 (10-2) (1993): 341-352

Mc Cune B, Mefford MJ (1999) PCORD for Windows: Multivariate Analysis of Ecological Data, Version 5.0. MjM Software, Gleneden Beach, OR

Mc Cune B, Grace JB, Urban DL (2002) Analysis of ecological communities, vol 28. MjM software design, Gleneden Beach, Oregon

Médail F, Diadema K (2009) Glacial refugia influence plant diversity patterns in the Mediterranean Basin. J Biogeogr 36:1333–1345

Montelucci G (1946) Investigazioni botaniche nel Lazio. 1. Lo Styrax officinalis nei dintorni di Tivoli. N. Giorn. Bot. Ital. n.s. 53: 230-268

Moretti V, Renzi G, Sateriano A, Salvati L (2015) Climate changes and forest ecosystems: a multivariate classification of meteorological conditions (1981–2012) in Castelporziano, central Italy. Rend Fis Acc Lincei 26(suppl. 3):297–304

Motti R, Salerno G (2006) La flora del complesso dei Monti Vesole, Soprano, Sottano e Chianello (Appennino campano, Salerno). Webbia 61(2):325–357

Orloci L (1978) Multivariate analysis in vegetation research (2nd ed.): Dr. W. Junk b.v., Publishers, The Hague, 451p

Pedrotti F, Gafta D (1992) Tipificazione di tre nuove associazioni forestali ripariali nell'Italia peninsulare. Doc. Phytosociol. XIV: 557-560

Pignatti S (1982) Flora d'Italia. 1-3. Edagricole, Bologna

Pignatti S (2005) Valori di bioindicazione delle piante vascolari della Flora d'Italia. Braun-Blanquetia 39:3–97

Pignatti S, Bianco PM, Tescarollo P, Scarascia Mugnozza GT (2001) La vegetazione della Tenuta Presidenziale di Castelporziano. In: Il Sistema ambientale della Tenuta Presidenziale di Castelporziano. Ricerche sulla complessità di un ecosistema forestale costiero mediterraneo, vol. II. Accademia Naz.le delle Scienze dette dei XL; Scritti e Documenti XXVI, pp 441–708

Pignatti S, Capanna E, Porceddu E (2015) Castelporziano, research and conservation in a Mediterranean forests ecosystem: presentation of the volume. Rend Fis Acc Lincei 26(suppl. 3):265–266

Pignatti-Wikus E, Pignatti S, D'Angeli D, De Nicola C, Maffei L, Testi A, Tinelli A (2015) The Laurisilva as a cultural heritage: proposal for the protection of the relict of laurel forest near Ponte Renaro. Rend Fis Acc Lincei 26(suppl. 3):643–649

Quézel P, Médail F (2003) Ecologie et biogéographie des forêts du bassin méditerranéen. Elsevier (Collection Environment), Paris

Rivas-Martinez S (1995) Clasificaciòn Bioclimatica de la Tierra (Bioclimatic classification system of the world). Folia Bot Matrit 16:3–29

Rivas-Martinez S, Loidi-Arregui J (1999) Bioclimatology of the Iberian Peninsula. In Rivas-Martinez et al., Iter Ibericum A.D. Min. Itinera Geobotanica, 13: 41-47

Rosati L, Di Pietro R, Blasi C (2005) La vegetazione forestale della regione temperata del Flysch del Cilento (Italia Meridionale). Fitosociologia 42(2):33–65

Rosati L, Lattanzi E, Del Vico E, Di Bello A (2006) Nuove entità per la flora del Cilento e della Campania. Inf Bot Ital 38(2):457–463

Rosati L, Filibeck G, De Lorenzis A, Lattanzi E, Surbera F, Fascetti S, Blasi C (2010) La vegetazione forestale dei Monti Alburni, nel Parco Nazionale del Cilento e Vallo di Diano (Campania): analisi fitosociologica e significato fitogeografico. Fitosociologia 47(2):17–55

Rosati L, Salerno G, Del Vico E, Lapenna MR, Villani MC, Filesi L, Fascetti S, Lattanzi E (2012) Un aggiornamento alla flora del Cilento e della Campania. Inf Bot Ital 44(1):111–119

Salerno G, Cancellieri L, Spada F (2007) Notulae alla Checklist della Flora vascolare Italiana: n°1308. Styrax officinalis L. (Styracaceae). Inf Bot Ital 39(1):251

Salvati L, Moretti V, Zitti M, Ferrara C (2015) Towards soil water scarcity? An exploratory time-series analysis of the aridity index in Castelporziano forest, Rome. Rend Fis Acc Lincei 26(suppl. 3):289–295

Santangelo A, Bernardo L, Bertani G, Bronzo E, Cancellieri L, Costalonga S, Croce A, Del Vico E, Fascetti S, Fortini P, Gangale C, Gubellini L, Iocchi M, Lapenna MR, Lattanzi E, Lavezzo P, Lupino F, Magrini S, Marino R, Uzunov D, Paura B, Peccenini S, Peruzzi L, Rosati L, Salerno G, Scoppola A, Strumia S, Tardella FM (2010) Contributo alla conoscenza floristica del Matese: resoconto dell'escursione del Gruppo di Floristica (S.B.I.) nel 2007. Inf Bot Ital 42(1):109–143

Savo V, Rossi D, Salvati L, Caneva G (2007) Lineamenti sulle caratteristiche fisiche del territorio. In: Caneva G, Cancellieri L (eds) Il paesaggio vegetale della Costa d'Amalfi. Gangemi (ed.), Rome, pp 13–32

Savo V, Caneva G, Salvati L, Mc Clatchey WC, Reedy D (2014) Combining environmental factors and agriculturalists' observations of environmental changes in the terrace system of the Amalfi Coast (Southern Italy. Ambio 43(3):297–310

Savo V, Salvati L, Caneva G (2016) In-between soil erosion and sustainable land management: climate aridity and vegetation in a traditional agro-forest system (Costiera Amalfitana, southern Italy). Int J Sustain Dev World Ecol 23(5):1–10

Scoppola A, Blasi C, Abbate G, Cutini M, Di Marzio P, Fabozzi C, Fortini P (1995) Analisi critica e considerazioni fitogeografiche sugli ordini e le alleanze dei querceti e boschi misti a caducifoglie dell'Italia peninsulare. Ann Bot 51(10):81–112

Taffetani A, Catorci A, Ciaschetti G, Cutini M, Di Martino L, Frattaroli AR, Paura B, Pirone G, Rismondo M, Zitti S (2012) The Quercus cerris woods of the alliance Carpinion Orientalis Horvat 1958 in Italy. Plant Biosys 146(4):918-953

Ter Braak CJF (1986) Canonical correspondence analysis, a new eigenvector technique for multivariate direct gradient analysis. Ecology 67:1167–1179

Ter Braak CJF (1987) The analysis of vegetation-environment relationships by canonical correspondence analysis. Vegetatio 69:69–77

Ubaldi D (2003) La vegetazione boschiva d'Italia.Manuale di fitosociologia. CLUEB, Bologna

Van der Maarel E (1979) Transformation cover-abundance values in phytosociology and its effects on community similarity. Vegetatio 39–2:97–114

Wagensommer RP, Marrese M, Perrino EV, Bartolucci F, Cancellieri L, Carruggio F, Conti F, Di Pietro R, Fortini P, Galasso G, Lattanzi E, Lavezzo P, Longo D, Peccenini S, Rosati L, Russo G, Salerno G, Scoppola A, Soldano A, Stinca A, Tilia A, Turco A, Medagli P, Forte L (2014) Contributo alla conoscenza floristica della Puglia: resoconto dell'escursione del Gruppo di Floristica (S.B.I.) 2011 nel settore meridionale dei Monti della Daunia. Inf Bot Ital 46(2):175–208
Acknowledgements
We are grateful to the Past President Prof. Raffaele Ferraioli and the staff of the "Comunità Montana della Penisola Amalfitana" for logistic support and for the evaluable information about the study area. We would also like to thank Roberta Grilli e Valeria Lombardozzi for the field support. Finally thanks to Valeria Lombardozzi e Neil Ellwood for English language checking.
Ethics declarations
Conflict of interest
No potential conflict of interest was reported by the authors.
Electronic supplementary material
Below is the link to the electronic supplementary material.
About this article
Cite this article
Cancellieri, L., Caneva, G. & Cutini, M. Phytosociology and ecology of the Mediterranean forests ecosystems in the Amalfi Coast (Monti Lattari, Italy). Rend. Fis. Acc. Lincei 28, 651–671 (2017). https://doi.org/10.1007/s12210-017-0635-x
Received:

Accepted:

Published:

Issue Date:
Keywords
Phytogeography

Forest vegetation

Southern Italy

Syntaxonomy

UNESCO site