Abstract
Agricultural anaerobic digestion plants have recently become a typical part of rural landscape in the Czech Republic due to massive governmental subvention programmes. Yet, their potential as an effective tool how to response to global climate changes at a local level is rather underused (maize used as a primary input mainly, usage of waste heat is limited, etc.). This situation is caused by misguided subvention policies. The aim of this contribution is first to analyse the agricultural anaerobic digestion plants in the rural space of the Moravian-Silesian Region, and second, to deepen the knowledge on the perception of the digestion plants among the population of municipalities in which such facility was constructed. A questionnaire survey has been carried out in three model municipalities (n = 369) located in the Moravian-Silesian Region. Several recommendations and notes for public administration and potential investors concerning the location of future anaerobic digestion plants projects and settings of supportive programmes have been defined.
This is a preview of subscription content, log in to check access.
Access options
Buy single article
Instant access to the full article PDF.
US$ 39.95
Price includes VAT for USA
Subscribe to journal
Immediate online access to all issues from 2019. Subscription will auto renew annually.
US$ 99
This is the net price. Taxes to be calculated in checkout.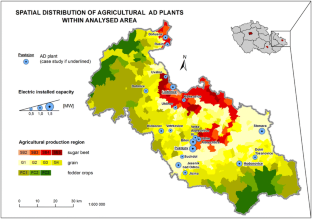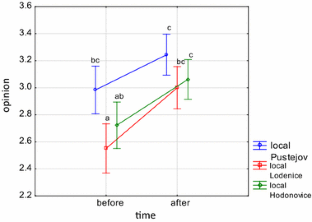 References
Balat M, Balat H (2009) Biogas as a renewable energy source—a review. Energy Sources Part A 31(14):1280–1293

Bristow G, Cowell R, Munday M (2012) Windfalls for whom? The evolving notion of 'community' in community benefit provisions from wind farms. Geoforum 43(6):1108–1120

Calleja EJ, Ilbery B, Mills PR (2012) Agricultural change and the rise of the British strawberry industry, 1920–2009. J Rural Stud 28(4):603–611

Chodkowska-Miszczuk J, Szymanska D (2013) Agricultural biogas plants—a chance for diversification of agriculture in Poland. Renew Sustain Energy Rev 20:514–518

Chodkowska-Miszczuk J, Kulla M, Novotny L (2017) The role of energy policy in agricultural biogas energy production in Visegrad countries. Bull Geogr Socio Econ Ser 35:19–34

Czech Biogas Association (www.czba.cz)

Czech Statistical Office (www.czso.cz)

Davis D, Carter J (2014) Finding common ground in weed management: peri-urban farming, environmental and lifestyle values and practices in southeast Queensland, Australia. Geogr J 180(4):342–352

Demény K, Centeri C (2008) Habitat loss, soil and vegetation degradation by land use change in the Gödöllő Hillside, Hungary. Cereal Res Commun 36:1739–1742

Devine-Wright P (2009) Rethinking NIMBYism: the role of place attachment and place identity in explaining place-protective action. J Community Appl Soc Psychol 19(6):426–441

Emmann CH, Arens L, Theuvsen L (2013) Individual acceptance of the biogas innovation: a structural equation model. Energy Policy 62:372–378

Energy Regulatory Office of the Czech Republic (www.eru.cz)

Fiorini E (2014) Nuclear energy and Anthropocene. Rend Fis Acc Lincei 25(1):119–126

Foxon TJ, Gross R, Chase A, Howes J, Arnall A, Anderson D (2005) UK innovation systems for new and renewable energy technologies: drivers, barriers and systems failures. Energy policy 33(16):2123–2137

Frantal B (2016) Living on coal: mined-out identity, community displacement and forming of anti-coal resistance in the Most region, Czech Republic. Resour Policy 49:385–393

Frantal B, Novákova E (2014) A curse of coal? Exploring unintended regional consequences of coal energy in the Czech Republic. Morav Geogr Rep 22(2):55–65

Frantál B, Malý J, Ouředníček M, Nemeškal J (2016) Distance matters. Assessing socioeconomic impacts of the Dukovany nuclear power plant in the Czech Republic: local perceptions and statistical evidence. Morav Geogr Rep 24(1):2–13

Groot JC, Rossing WA, Jellema A, Stobbelaar DJ, Renting H, Van Ittersum MK (2007) Exploring multi-scale trade-offs between nature conservation, agricultural profits and landscape quality—a methodology to support discussions on land-use perspectives. Agric Ecosyst Environ 120(1):58–69

Holden S, Barrett CB, Hagos F (2006) Food-for-work for poverty reduction and the promotion of sustainable land use: can it work? Environ Dev Econ 11(01):15–38

Hruska V (2014) Proměny přístupů ke konceptualizaci venkovského prostoru v rurálních studiích. Sociologický časopis/Czech Sociol Rev 50(4):581–601

Iglinski B, Buczkowski R, Iglińska A, Cichosz M, Piechota G, Kujawski W (2012) Agricultural biogas plants in Poland: investment process, economical and environmental aspects, biogas potential. Renew Sustain Energy Rev 16(7):4890–4900

Ilbery B (ed) (2014) The geography of rural change. Routledge, London

Janečková Molnárová K, Skřivanová Z, Kalivoda O, Sklenička P (2017) Rural identity and landscape aesthetics in exurbia: some issues to resolve from a Central European perspective. Morav Geogr Rep 25(1):2–12

Kabai G (2017) The social conditions of regionalism in the Hungarian Balaton Region. DETUROPE Cent Eur J Region Dev Tourism 9(1) (in press)

Klusacek P, Krejci T, Martinat S, Kunc J, Osman R, Frantal B (2013) Regeneration of agricultural brownfields in the Czech Republic—case study of the South Moravian Region. Acta Univ Agric Silvic Mendel Brun 61(2):549–561

Konecny O (2014) Geographical perspectives on agritourism in the Czech Republic. Morav Geogr Rep 22(1):15–23

Krzysztofik R, Tkocz M, Sporna T, Kantor-Pietraga I (2016) Some dilemmas of post-industrialism in a region of traditional industry: the case of the Katowice conurbation, Poland. Morav Geogr Rep 24(1):42–54

Lantz M, Svensson M, Björnsson L, Börjesson P (2007) The prospects for an expansion of biogas systems in Sweden—incentives, barriers and potentials. Energy Policy 35(3):1830–1843

Marsden T, Sonnino R (2008) Rural development and the regional state: denying multifunctional agriculture in the UK. J Rural Stud 24(4):422–431

Martinat S, Navratil J, Dvorak P, Van der Horst D, Klusacek P, Kunc J, Frantal B (2016) Where AD plants wildly grow: the spatio-temporal diffusion of agricultural biogas production in the Czech Republic. Renew Energy 95:85–97

Ministry of Agriculture of the Czech Republic (www.eagri.cz)

Morrice E, Colagiuri R (2013) Coal mining, social injustice and health: a universal conflict of power and priorities. Health Place 19:74–79

Musall FD, Kuik O (2011) Local acceptance of renewable energy—a case study from southeast Germany. Energy Policy 39(6):3252–3260

Pasqualetti MJ, Pijawka KD (1996) Un siting Nuclear Power Plants: decommissioning risks and their land Use context. Prof Geogr 48(1):57–69

Picha K, Navratil J, Svec R (2017) Preference to local food vs. preference to "National" and regional food. J Food Prod Market 1–21 (in press)

Quinn GP, Keough MJ (2002) Experimental design and data analysis for biologists. Cambridge University Press, Cambridge

Renting H, Rossing WAH, Groot JCJ, Van der Ploeg JD, Laurent C, Perraud D, Stobbelaar DJ, Van Ittersum MK (2009) Exploring multifunctional agriculture. A review of conceptual approaches and prospects for an integrative transitional framework. J Environ Manage 90:112–123

Robinson GM (1998) Methods and techniques in human geography. Wiley, Chichester

Setti L, Balzani V (2011) Road Map towards an integrated energy management system in Italy. Rend Lincei 22(1):55–64

Smith SL, Thelen KD, MacDonald SJ (2013) Yield and quality analyses of bioenergy crops grown on a regulatory brownfield. Biomass Bioenerg 49:123–130

Soland M, Steimer N, Walter G (2013) Local acceptance of existing biogas plants in Switzerland. Energy Policy 61:802–810

Suchacek J, Seda P, Friedrich V, Koutsky J (2014) Media portrayals of regions in the Czech republic: selected issues. E & M Ekonomie Manag 4:125

Svobodova H, Veznik A (2009) To the problems of agricultural brownfields in the Czech Republic—case study of the Vysocina Region. Agric Econ Czech 55(11):550–556

Szendi D (2016) Territorial differences of the life quality, as s complex indicator in Germany and Hungary. DETUROPE Cent Eur J Region Dev Tourism 8(2):23–35

Tamásy C (2013) Areas of intensive livestock agriculture as emerging alternative economic spaces? Appl Geogr 45:385–391

Troost C, Walter T, Berger T (2015) Climate, energy and environmental policies in agriculture: simulating likely farmer responses in Southwest Germany. Land Use Policy 46:50–64

Van der Horst D (2005) UK biomass energy since 1990; the mismatch between project types and policy objectives. Energy Policy 33(5):705–716

Van der Horst D (2007) NIMBY or not? Exploring the relevance of location and the politics of voiced opinions in renewable energy siting controversies. Energy Policy 35(5):2705–2714

Walford N (2003) Productivism is allegedly dead, long live productivism. Evidence of continued productivist attitudes and decision-making in South-East England. J Rural Stud 19(4):491–502

Wilson GA (2001) From productivism to post-productivism… and back again? Exploring the (un)changed natural and mental landscapes of European agriculture. Trans Inst Br Geogr 26(1):77–102

Wüstenhagen R, Wolsink M, Bürer MJ (2007) Social acceptance of renewable energy innovation: an introduction to the concept. Energy Policy 35(5):2683–2691

Zagata L (2010) How organic farmers view their own practice: results from the Czech Republic. Agric Hum Values 27(3):277–290

Zasada I (2011) Multifunctional peri-urban agriculture—a review of societal demands and the provision of goods and services by farming. Land use Policy 28(4):639–648

Zecchina A (2014) Energy sources and carbon dioxide waste. Rend Fis Acc Lincei 25(1):113–117
Acknowledgements
The research was kindly supported by the Grant Agency of the Czech Republic 'Exploring socio-spatial diffusion of renewable energy projects in the Czech Republic: lessons for adaptive governance of energy transition' (16-04483S).
About this article
Cite this article
Martinat, S., Navratil, J., Trojan, J. et al. Interpreting regional and local diversities of the social acceptance of agricultural AD plants in the rural space of the Moravian-Silesian Region (Czech Republic). Rend. Fis. Acc. Lincei 28, 535–548 (2017). https://doi.org/10.1007/s12210-017-0628-9
Received:

Accepted:

Published:

Issue Date:
Keywords
Agricultural AD plants

Czech Republic

Rural geography

Spatial distribution

Perception

Acceptance