Abstract
In order to identify a metal bioaccumulation marker usable in monitoring programs, we analyzed the metal content in Mytilus galloprovincialis gill and gonadal tissues and its relationship with π-gst expression levels after a laboratory exposure for 24 h to individual chlorides of Ni, Cu, 5, 15, 35 µM and Cd 1,5; 5, 10 µM in artificial sea water. Inductively coupled plasma-mass spectrometry showed that metal content increased in both tissues in an exposure dose-dependent fashion except for Ni in gonadal tissues, where a low value at the highest exposure was observed. Metal bioaccumulation was higher in gill than gonadal tissues as was π-gst expression level, measured by RT-qPCR, except for the highest Cu exposure. In the gonadal tissue, Ni induced the highest π-gst increase resulting in 2.5- and 4-fold at 5 and 35 μM, respectively, while only about twofold for some Cu and Cd dose exposure. In gill tissue, instead Cd produced π-gst dose-dependent increase being 2.3- and 9.6-fold at 5 and 10 μM, respectively. Ni and Cu meanwhile produced 12- and 5-fold expression levels only at the highest concentration used. Mytilus galloprovincialis shows also a selectivity to accumulate the investigated metals, since metal concentration reduction in ASW, after exposure, was 96–97 %; 85.1–90 % and 4.5–10 % for Cd, Cu and Ni, respectively. Finally, π-gst expression levels correlated particularly with the amount of bioaccumulated Cd in gill tissue, indicating π-gst as a potential marker, even if not univocally, of significative cadmium bioaccumulation usable in environmental monitoring programs.
Access options
Buy single article
Instant access to the full article PDF.
USD 39.95
Price excludes VAT (USA)
Tax calculation will be finalised during checkout.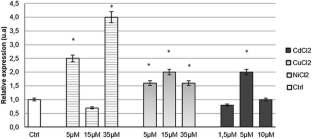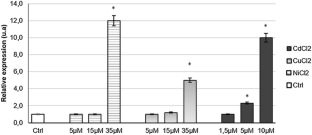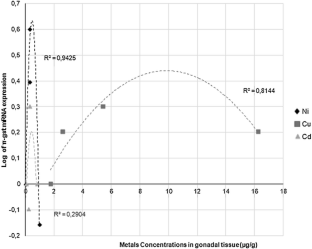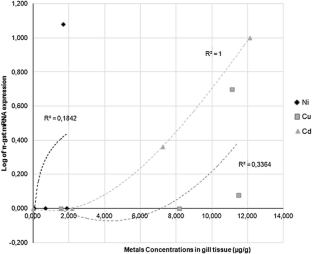 References
Adams WJ, Blust R, Borgmann U, Brix KV, DeForest DK, Green AS, Meyer JS, McGeer JC, Paquin PR, Rainbow PS, Wood CM (2011) Utility of tissue residues for predicting effects of metals on aquatic organisms. Integr Environ Assess Manage 7:75–98

Lee KW et al (2008) Expression of glutathione S-transferase (GST) genes in the marine copepod Tigriopus japonicus exposed to trace metals. Aquat Toxicol (Amsterdam, Netherlands) 89:158–166

Blackmore G, Wang WX (2003) Inter-population differences in Cd, Cr, Se, and Zn bioaccumulation by the green mussel Perna viridis acclimated at different salinities. Aquat Toxicol 62:205–218

Blanchette B, Feng X, Singh BR (2007) Marine glutathione S-transferase. Mar Biotechnol 23:513–542

Brown M, Depledge M (1998) Determinants of trace metal concentrations in marine organisms. In: Langston W, Bebianno M (eds) Metal metabolism in aquatic environments. Springer US, 185-217

Calabrese EJ (2008) Hormesis: why it is important to toxicology and toxicologists. Environ Toxicol Chem 27(7):1451–1474

Calabrese EJ, Baldwin LA (2001) The frequency of U-shaped dose responses in the toxicological literature. Toxicol Sci 62:330–338

Calabrese EJ, Baldwin LA (2002) Defining hormesis. Hum Exper Toxicol 21:91–97

Calabrese EJ, Blain RB (2009) Hormesis and plant biology. Environ Pollut 157:42–48

Canesi L, Viarengo A, Leonzio C, Filippelli M, Gallo G (1999) Heavy metals and glutathione metabolism in mussel tissues. Aquat Toxicol 46:67–76

Canesi L, Barmo C, Fabbri R, Ciacci C, Vergani L, Roch P, Gallo G (2010) Effects of vibrio challenge on digestive gland biomarkers and antioxidant gene expression in Mytilus galloprovincialis. Comp Biochem Physiol C Toxicol Pharmacol 152(3):399–406

Cantillo AY (1998) Comparison of results of mussel watch programs of the United States and France with worldwide mussel watch studies. Mar Pollut Bull 36(9):712–717

Chapman PM (1997) Is bioaccumulation useful for predicting impacts. Mar Pollut Bull 34:282–283

Chapman PM (2001) The implication of hormesis to ecotoxicology and ecological risk assessment. Hum Exp Toxicol 20(10):499–505

Chatel A, Faucet-Marquis V, Perret M et al (2012) Genotoxicity assessment and detoxification induction in Dreissena polymorpha exposed to benzo[a]pyrene. Mutagenesis 27:703–711

Chatel A, Faucet-Marquis V, Pfohl-Leszkowicz A et al (2014) DNA adduct formation and induction of detoxification mechanisms in Dreissena polymorpha exposed to nitro-PAHs. Mutagenesis 29:457–465

Chavan VR, Muley DV (2014) Effect of heavy metals on liver and gill of fish Cirrhinus mrigala. Int J Curr Microbiol App Sci 3(5):277

Das S, Raj R, Mangwani N, Dash H, Chakraborty J (2014) Heavy metals and hydrocarbons: adverse effects and mechanism of toxicity. In: Elsevier (ed) Microbial biodegradation and bioremediation, USA

Dondero F, Piacentini L, Banni M, Rebelo M, Burlando B (2005) Quantitative PCR analysis of two molluscan metallothionein genes unveils differential expression and regulation. Gene 345:259–270

Dubovskiy IM, Martemyanov VV, Vorontsova YL, Rantala MJ, Gryzanova EV, Glupov VV (2008) Effect of bacterial infection on antioxidant activity and lipid peroxidation in the midgut of Galleria mellonella L. larvae (Lepidoptera, Pyralidae). Comp Biochem Physiol C 148:1–5

El-Gendy KS, Radwan MA, Gad AF (2009) In vivo evaluation of oxidative stress biomarkers in the land snail, Theba pisana exposed to copper-based pesticides. Chemosphere 77:339–344

Fang ZQ, Cheung RY, Wong MH (2003) Heavy metals in oysters, mussels and clams collected from coastal sites along the Pearl River Delta, South China. J Environ Sci (China) 15:9–24

Gaber HS (2007) Impact of certain heavy metals on the gill and liver of the Nile tilapia (Oreochromıs Niloticus). Egypt J Aquat Biol Fish 11(2):100

Gobas FAPC, Morrison HA (2000) Bioconcentration and biomagnification in the aquatic environment. In: Handbook of property estimation methods for chemicals. CRC Press

Goldberg ED (1975) The mussel watch A first step in global marine monitoring. Mar Pollut Bull 6(7):111

Goldberg ED, Koide M, Hodge V, Flegal AR, Martin JH (1983) US mussel watch: 1977–1978 results on trace metals and radionuclides. Estuar Coast Shelf Sci 16:69–93

Gong J, Jaiswal R, Mathys JM, Combes V, Grau GE, Bebawy M (2012) Microparticles and their emerging role in cancer multidrug resistance. Cancer Treat Rev 38:226–234

Hagestuen ED, Campiglia AD (1999) New approach for screening polycyclic aromatic hydrocarbons in water samples. Talanta 49:547–560

Hayes JD, Pulford DJ (1995) The glutathione S-transferase supergene family: regulation of GST and the contribution of the isoenzymes to cancer chemoprotection and drug resistance. Crit Rev Biochem Mol Biol 30(6):445–600

Hayes JD, Flanagan JU, Jowsey IR (2005) Glutathione transferases. Annu Rev Pharmacol Toxicol 2005(45):51–88

Hoarau P, Garello G, Gnassia-Barelli M, Romeo M, Girard JP (2004) Effect of 4-4′ DDE, methoxychlor and imidazole on glutathione S-transferase in the clam Ruditapes decussatus. Aquat Toxicol 68:87–94

Imagawa M, Osada S, Koyama Y, Suzuki T, Hirom PC, Diccianni MB, Morimura S, Muramatsu M (1991) SF-B that binds to a negative element in glutathione transferase P gene is similar or identical to trans-activator LAP/IL6-DBP. Biochem Biophys Res Commun. 179(1):293–300

Kim JH, Dahms HU, Rhee JS, Lee YM, Lee J, Han KN, Lee JS (2010) Expression profiles of seven glutathione S-transferase (GST) genes in cadmium-exposed river pufferfish (Takifugu obscurus). Comp Biochem Physiol Toxicol Pharmacol CBP 151:99–106

Kim JH, Liang PW, Williams ST, Cho N, Chueh CC, Glaz MS, Ginger DS, Jen AK (2015) High-performance and environmentally stable planar heterojunction perovskite solar cells based on a solution-processed copper-doped nickel oxide hole-transporting layer. Adv Mater 27(4):695–701

Laborde E (2010) Glutathione transferases as mediators of signaling pathways involved in cell proliferation and cell death. Cell Death Differ 17:1373–1380

Li X, Lin L, Luan T, Yang L, Lan C (2008) Effects of landfill leachate effluent and bisphenol A on glutathione and glutathione-related enzymes in the gills and digestive glands of the freshwater snail Bellamya purificata. Chemosphere 70:1903–1909

Li X, Zhang X, Zhang J, Zhang X, Starkey SR, Zhu KY (2009) Identification and characterization of eleven glutathione S-transferase genes from the aquatic midge Chironomus tentans (Diptera: Chironomidae). Insect Biochem Mol Biol 39:745–754

Lian J, Zhouli L, Wei C, Yin Y, Shuai Y, Xingyuan H (2015) Hormesis effects induced by cadmium on growth and photosynthetic performance in a hyperaccumulator, Lonicera japonica Thunb. J Plant Growth Regul 34(1):13–21

Liu W, Lee HK (1998) Quantitative analysis of pesticides by capillary column high performance liquid chromatography combined with solid-phase extraction. Talanta 45:631–639

Livak KJ, Schmittgen TD (2001) Analysis of relative gene expression data using real-time quantitative PCR and the 22DDCt method. Methods 25:402–408

Livingstone DR (1998) The fate of organic xenobiotics in aquatic ecosystems: quantitative and qualitative differences in biotransformation by invertebrates and fish. Comp Biochem Physiol A Mol Integr Physiol 120:43–49

Luoma SN, Rainbow PS (2005) Why is metal bioaccumulation so variable? Biodynamics as a unifying concept. Environ Sci Technol 39:1921–1931

Martín-Díaz ML, Jiménez-Tenorio N, Sales D, Delvalls TA (2008) Accumulation and histopathological damage in the clam Ruditapes philippinarum and the crab Carcinus maenas to assess sediment toxicity in Spanish ports. Chemosphere 71(10):1916–1927

Meador JP, McCarty LS, Escher BI, Adams WJ (2008) 10th anniversary critical review: the tissue-residue approach for toxicity assessment: concepts, issues, application, and recommendations. J Environ Monit 10(12):1486–1498

Meesun K, In-Young A, Jina C, Hyun P (2009) Molecular cloning and thermal stress-induced expression of a pi-class glutathione S-transferase(GST) in the Antarctic bivalve Laternula elliptica. Comp Biochem Physiol A 152:207–213

Mottana A, Carrà S, Doglioni C (2016) Levels of water and soil natural pollutions in Italy. Rend Fis Acc Lincei 27:3–6

Myrnes B, Nilsen IW (2007) Glutathione S-transferase from the Icelandic scallop (Chlamys islandica): isolation and partial characterization. Comp Biochem Physiol C Toxicol Pharmacol 144:403–407

Nair PM, Choi J (2011) Identification, characterization and expression profiles of Chironomus riparius glutathione S-transferase (GST) genes in response to cadmium and silver nanoparticles exposure. Aquat Toxicol (Amsterdam, Netherlands) 101:550–560

Naser HA (2013) Assessment and management of heavy metal pollution in the marine environment of the Arabian Gulf: a review. Mar Pollut Bull 72:6–13

Navaneethaiyer U, Kasthuri SR, Youngdeuk L, Ilson W, CheolYC Jehee L (2012) A novel molluscan sigma-like glutathione S-transferase from Manila clam. Ruditapes philippinarum: cloning, characterization and transcriptional profil-ing. Comp Biochem Physiol C 155:539–550

Niti C, Sunita S, Kamlesh K, Rakesh K (2013) Bioremediation: an emerging technology for remediation of pesticides. Res J Chem Environ 17:18

Poynton HC, Vulpe C (2009) Ecotoxico genomics: emerging technologies for emerging contaminants. J Am Water Resour Assoc 45:83–96

Poynton HC, Varshavsky JR, Chang B, Cavigiolio G, Chan S, Holman PS, Loguinov AV, Bauer DJ, Komachi K, Theil EC, Perkins EJ, Hughes O, Vulpe CD (2007) Daphnia magna ecotoxicogenomics provides mechanistic insights into metal toxicity. Environ Sci Technol 41:1044–1050

Poynton C, Robinson WE, Blalock BJ, Hannigan RE (2014) Correlation of transcriptomic responses and metal bioaccumulation in Mytilus edulis L. reveals early indicators of stress. Aquat Toxicol 155:129–141

Rainbow PS (1995) Biomonitoring of heavy metal availability in the marine environment. Mar Pollut Bull 31:183–192

Rainbow PS (2002) Trace metal concentrations in aquatic invertebrates: why and so what? Environ Pollut 120:497–507

Rauf A, Javed M, Ubaidullah M (2009) Heavy metal levels in three major carps (Catla catla, Labeo rohita and Cirrhina mrigala) from the river Ravi, Pakistan. Pakistan Vet J 29:1–24

Rave N, Crkvenjakov R, Boedtker H (1979) Identification of procollagen mRNAs transferred to diazobenzyloxymethyl paper from formaldehyde agarose gels. Nucleic Acids Res 6:3559–3567

Shahid A, Ahmad N, Anis M, Alatar AA, Faisal M (2015) Morphogenic responses of Rauvolfia tetraphylla L. cultures to Cu, Zn and Cd ions. Rend Fis Acc Lincei 27(2):369–374

Shahidul IM, Tanaka M (2004) Impacts of pollution on coastal and marine ecosystems including coastal and marine fisheries and approach for management: a review and synthesis. Mar Pollut Bull 48:624–649

Sole M, Porte C, Albaiges J (1994) Mixed-function oxygenase system components and antioxidant enzymes in different marine bivalves: its relation with contaminants body burdens. Aquat Toxicol 30:271–283

Stankovic S, Jovic M,. Stankovic Ana R, Katsikas L (2012) Heavy metals in seafood mussels. Risks for human health. In: Lichtfouse E, Schwarzbauer J, Robert D (eds) Environmental chemistry for a sustainable world volume 1: nanotechnology and health risk. Springer, ISBN 978-94-007-2442-6

Stebbing ARD (1998) A theory for growth hormesis. Mutat Res 403:249–258

Valko M, Rhodes CJ, Moncol J, Izakovic M, Mazur M (2006) Free radicals, metals and antioxidants in oxidative stress-induced cancer. Chem Biol Interact 160:1–40

Veldhoen N, Ikonomou MG, Helbing CC (2012) Molecular profiling of marine fauna: integration of omics with environmental assessment of the world's oceans. Ecotoxicol Environ Saf 76:23–38

Viarengo A, Canesi L (1991) Mussels as biological indicators of pollution. Biol Cultiv Mussels Aquac 94(2–3):225–243

Vijver MG, Elliott EG, Peijnenburg WJ, De Snoo GR (2011) Response predictions for organisms water-exposed to metal mixtures: a meta-analysis. Environ Toxicol Chem 30:1482–1487

Vinagre TM, Alciati JC, Regoli F, Bocchetti R, Yunes JS, Bianchini A, Monserrat JM (2003) Effect of microcystin on ion regulation and antioxidant system in gills of the estuarine crab Chasmagnathus granulatus (Decapoda, Grapsidae). Comp Biochem Physiol C Toxicol Pharmacol 135(1):67–75

Vyshal D (2012) Development of a challenge test for the blue mussel, Mytilus edulis. PHD Thesis. http://lib.ugent.be/fulltxt/…/RUG01-001894276_2012_0001_AC.pdf

Wan Q, Whang I, Lee J (2008) Molecular cloning and characterization of three sigma glutathione S-transferases from disk abalone (Haliotis discus discus). Comp Biochem Physiol B Biochem Mol Biol 151(3):257–267

Wright P, Mason CF (1999) Spatial and seasonal variation in heavy metals in the sediments and biota of two adjacent estuaries, the Orwell and the Stour, in eastern England. Sci Total Environ 226:139–156

Zhang L, Qiu L, Wu H, Liu X, You L, Pei D, Chen L, Wang Q, Zhao J (2012) Expression profiles of seven glutathione S-transferase (GST) genes from Venerupis philippinarum exposed to heavy metals and benzo[a]pyrene. Comp Biochem Physiol C: Toxicol Pharmacol 155(3):517–527
Acknowledgments
We want thank the Cooperative Institute for Regional Development and Implementation of mussels (IRSVEM) Bacoli, in Naples for kindly providing the mussels used for this study.
Ethics declarations
Conflict of interest
The authors declare that they have no conflict of interest.
Ethics statement
The research described herein was performed on the marine invertebrate M. galloprovincialis (Lamarck 1819), which is not protected by any environmental agency in Italy. This study was conducted in strict accordance with European (Directive 2010/63) and Italian (Decreto Legislativo n. 116/1992) legislation on the care and use of animals for scientific purposes.
About this article
Cite this article
Piscopo, M., Ricciardiello, M., Palumbo, G. et al. Selectivity of metal bioaccumulation and its relationship with glutathione S-transferase levels in gonadal and gill tissues of Mytilus galloprovincialis exposed to Ni (II), Cu (II) and Cd (II). Rend. Fis. Acc. Lincei 27, 737–748 (2016). https://doi.org/10.1007/s12210-016-0564-0
Received:

Accepted:

Published:

Issue Date:

DOI: https://doi.org/10.1007/s12210-016-0564-0
Keywords
Mytilus galloprovincialis

ICP-MS

Heavy metals

Bioaccumulation

RT-qPCR

π-gst