Abstract
In the present study, four cold-adapted bacterial isolates were screened for multiple-enzyme production at low temperature (15 °C). The most potent isolate, Bacillus cereus GA6 (HQ832575), was subjected to mutation by UV radiation to obtain a mutant strain with elevated enzyme production. The mutant strain, designated as CUVGA6, with higher chitinase activity at low temperature was selected for enzyme production optimization using factorial design and response-surface methodology (RSM). Two statistically significant parameters (colloidal chitin and KH2PO4) for response were selected (p value = 0.008 and 0.004, respectively) along with pH and temperature and utilized to optimize the process. Central composite design of RSM was used to optimize the levels of key ingredients for the best yield of chitinase. Maximum chitinase production was predicted to be 428.57 U/ml for a 4.4-fold increase in medium containing 2 % colloidal chitin, 6.0 g/L K2HPO4 and pH 9.0 at 25 °C when incubated for 7 days in submerged fermentation. ANOVA of CCD suggested that the quadratic interaction effect of K2HPO4 with chitin, temperature and pH has high impact on the production of chitinase (p value = 0.007, 0.002, 0.035, respectively), although its linear effect was not significant as observed. The closeness of optimized values (R 2 = 82.28 %) to experimental values (R 2 = 80.13 %) proved the validity of statistical model. Thus, multi-enzyme producing cold-adapted mutant B. cereus GA6 (CUVGA6) could be exploited for the production of chitinase which is of industrial significance.
Access options
Buy single article
Instant access to the full article PDF.
USD 39.95
Price includes VAT (USA)
Tax calculation will be finalised during checkout.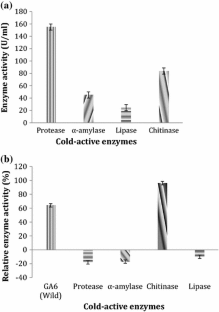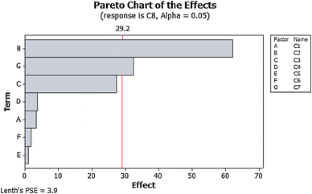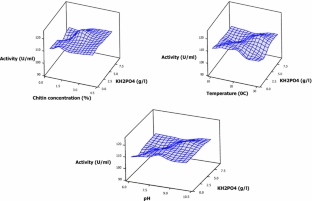 References
Abdelghani TTA, Adinarayana K, Poluri E (2005) Isolation and mutagenesis of streptokinase producing bacteria. Am J Immunol 1(4):125–129

Burhan AU, Nisa C, Gokhan C, Omer A, Ashabil Osman G (2003) Enzymatic properties of a novel thermostable, thermophilic, alkaline and chelator resistant amylase from an alkaliphilic Bacillus sp. isolate ANT-6. Process Biochem 38:1397–1403

Dahiya N, Tewari R, Hoondal GS (2006) Biotechnological aspects of chitinolytic enzymes: a review. Appl Microbiol Biotechnol 71:773–782

Dilipkumar M, Rajasimman M, Rajamohan N (2011) Optimization of inulinase production from garlic by Streptomyces sp. in solid state fermentation using statistical designs. Biotechnol Res Int. Article ID 708043. doi:10.4061/2011/708043

Feller G, Narinx E, Arpigny JL, Aittaleb M, Baise E, Genicot S, Gerday C (1996) Enzymes from psychrophilic organisms. FEMS Microbiol Rev 18:189–202

Guerola N, Ingraham JL, Cerda-Olmedo E (1971) Induction of closely linked multiple mutations by nitrosoguanidine. Nature 230:122–130

Hao Z, Cai Y, Liao X, Zhang X, Fang Z, Zhang D (2012) Optimization of nutrition factors on chitinase production from a newly isolated Chitiolyticbacter meiyuanensis SYBC-H1. Braz J Microbiol 43(1):177–186

Iftikhar T, Niaz M, Abbas SQ, Zia MA, Ashraf I, Lee KJ, Haq I (2010) Mutation induced enhanced biosynthesis of lipases by Rhizopus oligosporus var. microsporus. Pak J Bot 42:1235–1249

Jagger J (1961) A small and expensive ultraviolet dose-rate meter useful in biology experiments. Radiat Res 14:394–406

Jensen RG (1983) Detection and determination of lipase (acylglycerol hydrolase) activity from various sources. Lipids l8:650–657

Kammoun R, Naili B, Bejar S (2008) Application of a statistical design to the optimization of parameters and culture medium for alpha-amylase production by Aspergillus oryzae CBS 819.72 grown on gruel (wheat grinding by-product). Bioresour Technol 99(13):5602–5609

Karunya SK, Reetha D, Saranraj P, John MD (2011) Optimization and purification of chitinase produced by Bacillus subtilis and its antifungal activity against plant pathogens. Int J Pharma Biol Arch 2(6):1680–1685

Kaudewitz F (1959) Production of bacterial mutants with nitrous acid. Nature 183:1829–1838

Narasimhan A, Shivakumar S (2012) Optimization of chitinase produced by a biocontrol strain of Bacillus subtilisusing Plackett–Burman design. Eur J Exp Biol 2(4):861–865

Plackett RL, Burman JP (1946) The design of optimum multifactorial experiments. Biometrica 33:305–325

Roohi, Kuddus M (2014) Bio-statistical approach for optimization of cold-active α-amylase production by novel psychrotolerant M. foliorum GA2 in solid state fermentation. Biocatal Agri Biotechnol 3:175–181

Roohi, Kuddus M, Ahmad IZ, Arif JM (2011) Production of cold-active extracellular α-amylase by newly isolated Microbacterium foliorum GA2 from Gangotri glacier, Western Himalaya, India. Asian J Biotechnol 3:449–459

Shabbiri K, Adnan A, Noor B, Jamil S (2012) Optimized production, purification and characterization of alpha-amylase by Brevibacterium linens DSM 20158 using bio-statistical approach. Ann Microbiol 62(2):523–532

Sudhakar P, Nagarajan P (2011) Process optimization for chitinase production by Trichoderma harzianum. As J Food Ag-Ind 4(02):91–102

Swain MR, Kar S, Padmaja G, Ray CR (2006) Partial characterization and optimization of production of extracellular α-amylase from Bacillus subtilis isolated from Culturable cowdung microflora. Pol J Microbiol 55:289–296

Tasharrofi N, Adrangi S, Fazeli M, Rasteger H, Khoshayand MR, Faramarzi MA (2011) Optimization of chitinase production by Bacillus pumilus using plackett–burman design and response surface methodology. Iran J Pharm Res 10(4):759–768

Toharisman A, Suhartono MT, Spindler-Barth M, Hwang JK, Pyun YR (2005) Purification and characterization of thermostable chitinase from Bacillus licheniformis Mb-2. World J Microbiol Biotechnol 21:733–738

Tsuchida O, Yamagamata Y, Ishizuka T, Arai T, Yamada J, Takeuchi M, Ichisma E (1986) An alkaline protease from alkaliphilic Bacillussp, KSM-K16. Curr Microbiol 14:12–17

Vahed M, Ebrahim M, Garshasb R, Kambiz AN, Mohammad RS, Mehdi S, Gholamreza A (2013) Improving the chitinolytic activity of Bacillus pumilusSG2 by random mutagenesis. J Microbiol Biotechnol 23(11):1519–1528

Wang SL, Hwang JR (2001) Microbial reclamation of shellfish wastes for the production of chitinases. Enz Microbial Technol 28:376–382

Witkin EM (1969) Ultraviolet-induced mutation and DNA repair. Ann Rev Genet 3:525

Xu H, Sun L, Zhao D, Zhang B, Shi Y, Wu Y (2008) Production of α-amylase by Aspergillus oryzae As-3951 in solid state fermentation using spent brewing grains as substrate. J Sci Food Agri 88(3):529–535
Conflict of interest
There is no conflict of interest.
About this article
Cite this article
Roohi, Kuddus, M. Statistical optimization of cold-active chitinase production by mutagenized cells of multi-enzyme producing Bacillus cereus GA6. Rend. Fis. Acc. Lincei 26, 271–280 (2015). https://doi.org/10.1007/s12210-015-0447-9
Received:

Accepted:

Published:

Issue Date:
Keywords
Bacillus cereus

Central composite design

Cold-active chitinase

Plackett–Burman design

UV mutagenesis