Abstract
Anthocyanins add significant nutritional value to the plant-derived foods that contain them because of their health-promoting effects. In tomato (Solanum lycopersicum L.), anthocyanins are normally synthesized only in vegetative tissues. Atroviolacium (atv) is a mutant characterized by intense anthocyanin pigmentation in the vegetative tissues. In this study, we investigated the anthocyanin biosynthetic pathway in this mutant and in its genetic background (Ailsa Craig, AC) in order to reveal the molecular regulation of anthocyanin biosynthesis in this line, and to find out where the anthocyanin biosynthesis is intensified. To our knowledge, this is the first report showing the sucrose-induced accumulation of anthocyanins in vegetative tissues of tomato, and demonstrating the molecular regulation of anthocyanin biosynthesis in atv mutant.
Access options
Buy single article
Instant access to the full article PDF.
USD 39.95
Price excludes VAT (USA)
Tax calculation will be finalised during checkout.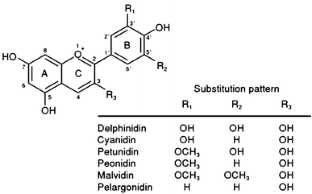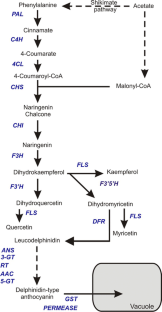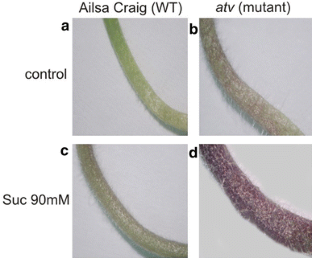 Abbreviations
F3′H:

Flavonoid 3′-hydroxylase

F3′5′H:

Flavonoid 3′5′-hydroxylase

DFR:

Dihydroflavonol 4-reductase

FLS:

Flavonols synthase

ANS:

Anthocyanidin synthase

3-GT:

Flavonoid 3-O-glucosyltransferase

5-GT:

Flavonoid 5-O-glucosyltransferase

RT:

Flavonoid 3-O-glucoside-rhamnosyltransferase

AAC:

Anthocyanin acyltransferase

GST:

Glutathione S-transferase

PAT:

Putative anthocyanin transporter

NAR:

Naringenin

DHK:

Dihydrokaempferol
References
Al Sane KO, Povero G, Perata P (2011) Anthocyanin tomato mutants: overview and characterization of an anthocyanin less somaclonal mutant. Plant Biosys 145:1–9

Andersen Q (2008) Recent advances in the field of anthocyanins-main focus on structures. In: Daayf F and Lattanzio V (eds). Recent Adv Polyphenol Res 1: 167-201

Andersen Q, Jordheim M (2006) The anthocyanins. In: Markham K (ed) Andersen Q., The flavonoids: chemistry, biochemistry, and applicationsTaylor & Francis Group, CRC Press, Boca Raton pp, pp 471–551

Baier M, Hemmann G, Holman R, Corke F, Card R, Smith C, Rook F, Bevan M (2004) Characterization of mutants in Arabidopsis showing increased sugar specific gene expression, growth, and developmental responses. Plant Physiol 134:81–91

Bovy A, de Vos R, Kemper M, Schijlen E, Almenar Pertejo M, Muir S, Collins G, Robinson S, Verhoeyen M, Hughes S, Santos-Buelga C, van Tunen A (2002) High flavonol tomatoes resulting from the heterologous expression of the maize transcription factor genes LC and C1. Plant Cell 14:2509–2526

Bovy A, Schijlen E, Hall RD (2007) Metabolic engineering of flavonoids in tomato (Solanum lycopersicum L.); the potential for metabolomics. Metabolomics 3:399–412

Couée I, Sulmon C, Gouesbet G, El Amrani A (2006) Involvement of soluble sugars in reactive oxygen species balance and responses to oxidative stress in plants. J Exp Bot 57:449–459

Davies K, Schwinn K, Deroles S, Manson D, Lewis D, Bloor S, Bradley J (2003) Enhancing anthocyanin production by altering competition for substrate between flavonol synthase and dihydroflavonol 4-reductase. Euphytica 131:259–268

Davies K, Zhang H, Schwinn K (2008) Recent advances in the molecular biology and metabolic engineering of flavonoid biosynthesis in ornamental plants. In: Daayf F, Lattanzio V (eds). Recent Adv Polyphenol Res 1: 139–166

De Jong WS, Eannetta NT, De Jong DM, Bodis M (2004) Candidate gene analysis of anthocyanin pigmentation loci in the Solanaceae. Theor Appl Genetics 108:423–432

Gibson S (2005) Control of plant development and gene expression by sugar signaling. Curr Opin Plant Biol 8:93–102

Giovanni P, Gonzali S, Bassolino L, Mazzucato A, Perata P (2011) Transcriptional analysis in high-anthocyanin tomatoes reveals synergistic effect of Aft and atv genes. J Plant Physiol 168:270–279

Gollop R, Farhi S, Peri A (2001) Regulation of the leucoanthocyanidin dioxygenase gene expression in Vitis vinifera. Plant Sci 161:579–588

Gollop R, Even S, Colova-Tsolova V, Peri A (2002) Expression of the grape dihydroflavonol reductase gene and analysis of its promoter region. J Exp Bot 53:1397–1409

Gonzali S, Mazzucato A, Perata P (2009) Purple as a tomato: towards high anthocyanin tomatoes. Trends Plant Sci 5:237–241

Gould K, Davies K, Winefield C (eds) (2009) Anthocyanins: biosynthesis, functions, and applications. Springer Science and Business Media, LLC, New York

Grotewold E (2006a) The genetics and biochemistry of floral pigments. Ann Rev Plant Biol 57:761–780

Grotewold E (ed) (2006b) The science of flavonoids. Springer Science and Business Media Inc, New York

Hinderer W, Petersen M, Seitz H (1984) Inhibition of flavonoid biosynthesis by gibberellic acid in cell suspension cultures of Daucus carota L. Planta 160:544–549

Holton T, Cornish E (1995) Genetics and biochemistry of anthocyanin biosynthesis. Plant Cell 7:1071–1083

Hughes N, Neufeld H, Burkey K (2005) Functional role of anthocyanins in high-light winter leaves of the evergreen herb Galax urceolata. New Phytol 168(3):575–587

Ilan A, Dougall DK (1994) Effects of gibberellic acid and uniconazole on the activities of some enzymes of anthocyanin biosynthesis in carrot cell cultures. J Plant Growth Reg 13:213–220

Ilan A, Zanewich KP, Rood SB, Dougall DK (1994) Gibberellic acid decreases anthocyanin accumulation in wild carrot cell suspension cultures but does not alter 3′-nucleotidase activity. Physiol Plant 92:47–52

Lattanzio V, Kroon Paul A, Quideau S, Treutter D (2008) Plant Phenolics: Secondary Metabolites with Diverse Functions. In: Daayf F, Lattanzio V (eds). Recent Adv Polyphenol Res 1: 1–35

Lewis M, Liu HW (2010) Comprehensive natural products II: chemistry and biology: 10 Volume Set vol 1. Secondary metabolites: organization and biosynthesis. Newnes Pub 7388

Lila MA (2004) Anthocyanins and human health: an in vitro investigative approach. J Biomed Biotechnol 5:306–313

Liu CJ, Blount JW, Steele CL, Dixon RA (2002) Bottlenecks for metabolic engineering of isoflavone glycoconjugates in Arabidopsis. Proc Nat Acad Sci USA 99:14578–14583

Loreti E, Povero G, Novi G, Solfanelli C, Alpi A, Perata P (2008) Gibberellins, jasmonate and abscisic acid modulate the sucrose-induced expression of anthocyanin biosynthetic genes in Arabidopsis. New Phytol 179:1004 1016

Mathews H, Clendennen SK, Caldwell CG, Liu XL, Connors K, Matheis N, Schuster DK, Menasco DJ, Wagoner W, Lightner J, Wagner DR (2003) Activation tagging in tomato identifies a transcriptional regulator of anthocyanin biosynthesis, modification, and transport. Plant Cell 15:1689–1703

Mazza G and Kay C (2008) Bioactivity, absorption, and metabolism of anthocyanins. In: Daayf F, Lattanzio V (eds). Recent Adv Polyphenol Res 1: 228–262

Mes PJ, Boches P, Myers JR (2008) Characterization of tomatoes expressing anthocyanin in the fruit. J Am Soc Hort Sci 133(2):262–269

Motohashi N, Sakagami H (2009) Anthocyanins as functional food colors. In: Motohashi N (ed) Bioactive heterocycles VII; flavonoids and anthocyanins in plants, and latest bioactive heterocycles II. Springer, Berlin Heidelberg, pp 1–41

Murashige T, Skoog F (1962) A revised medium for rapid growth and bioassays with tobacco tissue cultures. Physiol Plant 15:473–497

Perata P, Matsukura C, Vernieri P, Yamaguchi J (1997) Sugar repression of a gibberellin-dependent signaling pathway in barley embryos. Plant Cell 9:2197–2208

Pietta P (2000) Flavonoids as antioxidants. J Nat Prod 63:1035–1042

Rademacher W (2000) Growth retardants: effects on gibberellin biosynthesis and other metabolic pathways. Ann Rev Plant Physiol Plant Mol Biol 51:501–531

Roemmelt S, Zimmermann N, Rademacher W, Treutter D (2003) Formation of novel flavonoids in apple (Malusxdomestica) treated with the 2-oxoglutarate-dependent dioxygenase inhibitor prohexadione-Ca. Phytochemistry 64:709–716

Rolland F, Baena-Gonzalez E, Sheen J (2006) Sugar sensing and signaling in plants: conserved and novel mechanisms. Ann Rev Plant Biol 57:675–709

Ronchi A, Farina G, Gozzo F, Tonelli C (1997) Effects of a triazolic fungicide on maize plant metabolism: modifications of transcript abundance in resistance related pathways. Plant Sci 130:51–62

Schijlen E, Ric de Vos C, van Tunen A, Bovy A (2004) Modification of flavonoid biosynthesis in crop plants. Phytochemistry 65:2631–2648

Solfanelli C, Poggi A, Loreti E, Alpi A, Perata P (2006) Sucrose-specific induction of the anthocyanin biosynthetic pathway in Arabidopsis. Plant Physiol 140:637–646

Springob K, Nakajima JI, Yamazaki M, Saito K (2003) Recent advances in the biosynthesis and accumulation of anthocyanins. Natural Product Reports 20:288–303

Stafford H (1991) Flavonoid evolution: an enzymic approach. Plant Physiol 96:680–685

Tanaka Y, Ohmiya A (2008) Seeing is believing: engineering anthocyanin and carotenoid biosynthetic pathways. Curr Opin Biotechnol 19:190–197

Tanaka Y, Katsumoto Y, Brugliera F, Mason J (2005) Genetic engineering in floriculture. Plant Cell, Tissue Organ Cult 80:1–24

Taylor LP, Grotewold E (2005) Flavonoids as developmental regulators. Curr Opin Plant Biol 8:317–323

Torres C, Davies N, Yanez J, Andrews P (2005) disposition of selected flavonoids in fruit tissues of various tomato (Solanum lycopersicum L.) genotypes. J Agric Food Chem 53:9536–9543

Tsuda S, Fukui Y, Nakamura N, Katsumoto Y, Sakakibara KY, Fukuchi-Mizutani M, Ohira K, Ueyama Y, Ohkawa H, Holton TA, Takaaki Kusumi T, Tanaka Y (2004) Flower color modification of Petunia hybrida commercial varieties by metabolic engineering. Plant Biotechnol 21:377–386

Verhoeyen M, Bovy A, Collins G, Muir S, Robinson S, de Vos C, Colliver S (2002) Increasing antioxidant levels in tomatoes through modification of the flavonoid biosynthetic pathway. J Exp Bot 53:2099–2106

Willits MG, Kramer CM, Prata RT, De Luca V, Potter BG, Steffens JC, Graser G (2005) Utilization of the genetic resources of wild species to create a nontransgenic high flavonoid tomato. J Agric Food Chem 53:1231–1236

Winkel-Shirley B (2001) Flavonoid biosynthesis: a colorful model for genetics, biochemistry, cell biology, and biotechnology. Plant Physiol 126:485–493

Zuluaga D, Gonzali S, Loreti E, Pucciariello C, Degl'Innocenti C, Guidi L, Alpi A, Perata P (2008) Arabidopsis thaliana MYB75/PAP1 transcription factor induces anthocyanin production in transgenic tomato plants. Funct Plant Biol 35:606–618
Acknowledgments
Authors would like to thank Prof. Pierdomenico Perata and Giovanni povero (Scuola Superiore Sant' Anna, Italy) for their valuable assistance, support and guidance throughout this research work. Thanks, also, to Prof. Gian Piero Soressi (Department of Agrobiology and Agrochemistry, University of Tuscia, Viterbo, Italy) for providing us with the seeds of atroviolacium (atv) and its genetic background (Ailsa Craig). This research was supported by the Italian Ministry of University and Research (MiUR), PRIN2006, TomANTHO Project.
About this article
Cite this article
Al Sane, K.O., Hesham, A.EL. Biochemical and genetic evidences of anthocyanin biosynthesis and accumulation in a selected tomato mutant. Rend. Fis. Acc. Lincei 26, 293–306 (2015). https://doi.org/10.1007/s12210-015-0446-x
Received:

Accepted:

Published:

Issue Date:

DOI: https://doi.org/10.1007/s12210-015-0446-x
Keywords