Abstract
The excavations at Mount San Paolillo (Catania, Italy) led to the discovery of a Prehistoric site that still represents the most important evidence of Middle and Late Bronze Age settlement in this area. During the excavations, archeologists located a hut, a store for ceramic storage vessels, and a pottery workshop, all of which provided a large quantity of heterogeneous ceramics with apparent typological parallels in other areas of Sicily, such as Syracuse, Augusta, and Messina. A large number of specimens were selected in order to cover all the macroscopic types and the main classes. The results identified four petrographic fabrics. Most of the ceramics are characterized by abundant tempers consisting of volcanic rock fragments and occasionally of grog. Only a few samples contained common fine-grained quartz. The groundmass ranges from non-micaceous to very micaceous. In some cases, there is evidence of mixed clays. Analysis of the chemical composition of the ceramics revealed the existence of two groups with low and high CaO contents. The high Fe2O3 content (more than 8.7 wt%) is probably due to the use of temper from altered pyroclastic rocks which are of local provenance as SEM-EDX data suggest, even if petrographic and chemical results suggest that different raw materials may have been used. The data provided by these archeometric analyses have made a significant contribution to the study of Middle and Late Bronze Age pottery from the Catania area, by offering insights into the methods, production processes, and high technical level of the prehistoric craftsmen.
Access options
Buy single article
Instant access to the full article PDF.
US$ 39.95
Tax calculation will be finalised during checkout.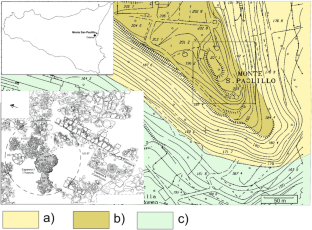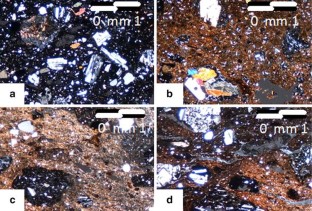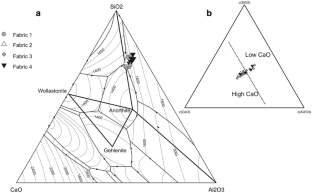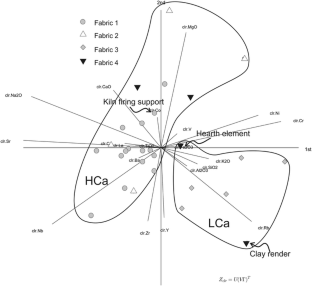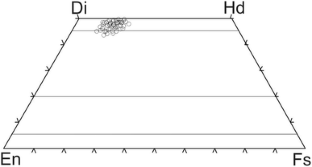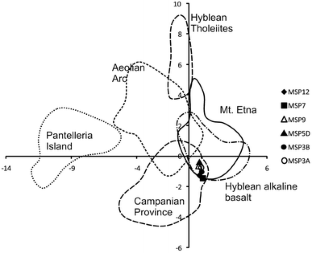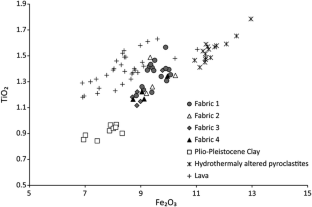 References
Agodi S, Gueli AM, Mazzoleni P, Mege D, Procelli E, Sapuppo L, Troja SO (2000) Il villaggio dell'Antico Bronzo di c.da Torricella: un progetto per lo studio e la datazione dei materiali. Bollettino dell'Accademia Gioenia di Scienze Naturali in Catania 33:175–186

Aitchinson J (1986) The statistical analysis of compositional data, monographs on statistics and applied probability. The Blackburn Press, Caldwell

Alberti G (2004) Contributo alla seriazione delle necropoli siracusane. In: La Rosa V (ed) Le presenze micenee nel territorio siracusano. Atti del Primo simposio siracusano di preistoria siciliana. Aldo Ausilio Editore, Padova, pp 99–150

Alberti G (2008) La ceramica eoliana della facies del Milazzese. Studio crono-tipologico e culturale sulla base dei dati editi da Filicudi, Lipari, Panarea, Salina. B.A.R.I.S. p 1767

Barone G, Lo Giudice A, Mazzoleni P, Pezzino A, Barilaro D, Crupi V, Triscari M (2005) Chemical characterization and statistical multivariate analysis of ancient pottery from Messina, Catania, Lentini and Siracusa (Sicily). Archaeometry 47:745–762

Barone G, Belfiore C, Mazzoleni P, Pezzino A, Viccaro M (2010) A volcanic inclusions based approach for provenance studies of archaeological ceramics: application to pottery from southern Italy. J Archaeol Sci 37:713–726

Barone G, Crupi V, Longo F, Majolino D, Mazzoleni P, Tanasi D, Venuti V (2011a) FT-IR spectroscopic analysis to study the firing processes of prehistoric ceramics. J Mol Struct 993:147–150

Barone G, Mazzoleni P, Tanasi D, Veca C (2011b) La tecnologia della produzione ceramica nel Bronzo Medio siciliano: il caso dei pithoi di Monte San Paolillo (Catania). Rivista di Scienze Preistoriche 61:175–198

Barone G, Mazzoleni P, Patané A, Tanasi D (2012) Analisi petrografiche e geochimiche su ceramiche preistoriche siciliane dell'età del Bronzo Medio (XV–XIII secolo a.C.). Atti del VI Congresso Nazionale di Archeometria, Scienza e Beni Culturali. Patron Editore, Bologna, pp 1–11

Barone G, Mazzoleni P, Aquilia E, Barbera G (2014) The hellenistic and roman Syracuse (Sicily) fine pottery production explored by chemical and petrographic analysis. Archaeometry 56:70–87

Branca S, Coltelli M, Groppelli G, Lentini F (2011) Geological evolution of a complex basaltic stratovolcano: Mount Etna, Italy. Ital J Geosci 130:306–317

Corsaro RA, Cristofolini R (1993) Nuovi dati petrochimici ed isotopici sulla successione del Mongibello Recente (Monte Etna). Bollettino dell'Accademia Gioenia di Scienze Naturali 26:185–225

La Rosa V (2004) Le presenze micenee nel territorio siracusano: per una storia del problema. In: La Rosa V (ed) Le presenze micenee nel territorio siracusano. Atti del Primo simposio siracusano di preistoria siciliana. Aldo Ausilio Editore, Padova, pp 9–44

Levi S, Jones R (2005) Analisi archeometriche delle ceramiche. In: Martinelli MC (ed) Villaggio dell'età del Bronzo Medio di Portella a Salina nelle Isole Eolie. Collana Origines, Firenze, pp 241–262

McConnell BE (1992) The early bronze age village of La Muculufa and prehistoric hut architecture in Sicily. Am J Archaeol 96:23–44

Morimoto N, Fabries J, Ferguson AK, Ginzburg IV, Ross M, Seifert FA, Zussmann Aoki K, Gottardi G (1988) Nomenclature of pyroxenes. Am Mineral 73:1123–1133

Newbury DE, Ritchie NWM (2013) Is scanning electron microscopy/energy dispersive X-ray spectrometry (SEM/EDS) quantitative? Scanning 35:141–168

Patanè A (1997–1998) Scavi e ricerche a Catania, Licodia Eubea, Grammichele, Ramacca. Kokalos XLIII–XLIV:189–195

Privitera F (2010) I disiecta membra delle età più antiche: l'area urbana fra Neolitico e Bronzo Medio. In: Branciforti MG, La Rosa V (eds) Tra lava e Mare: contributi all'archaiologhìa di Catania. Le Nove Muse Editrice, Catania, pp 45–62

Procelli E (2007) Il territorio di Catania: le grotte di Barriera. In: Privitera F, La Rosa V (eds) In Ima Tartara. Preistoria e leggenda delle grotte etnee. Publisicula, Palermo, pp 225–229

Tanasi D (2005) Mycenaean Pottery Imports and Local Imitations: Sicily VS Southern Italy. In: Laffineur R, Greco E (eds) Emporia. Aegeans in Central and Eastern Mediterranean, Acts of the 10th International Aegean Conference at the Italian School of Archaeology in Athens, Athens 14–18 April 2004. Aegaeum 25, Liège, pp 561–569

Tanasi D (2010) Gli scavi di Monte S. Paolillo e le presenze di tipo egeo nel territorio di Catania. In: Branciforti MG, La Rosa V (eds) Tra lava e Mare: contributi all'archaiologhìa di Catania. Le Nove Muse Editrice, Catania, pp 81–94

Van Wijngaarden GJ (2002) Use and appreciation of Mycenaean Pottery in the Levant. Amsterdam University Press, Cyprus and Italy

Whitbread IK (1986) The characterisation of argillaceous inclusions in ceramic thin sections. Archaeometry 28:79–88
Acknowledgments
This study was financially supported by Research Group RNM179 of the Junta de Andalucía and by the Research Project MAT2012-34473. We are grateful to Nigel Walkington for his assistance in translating the original text. C. R. and R. B. C. P. are very grateful for the "Faro-Global" Grant they received for their research at the University of Catania.
Additional information
This contribution is the extended, peer reviewed version of a paper presented at the session "Archaeometry and Cultural Heritage: the contribution of Geosciences" held during the conference "The future of the Italian Geosciences, the Italian Geosciences of the future," organized by the Società Geologica Italiana and the Società Italiana di Mineralogia e Petrologia, Milano, September 10–12, 2014.
About this article
Cite this article
Rodríguez, C., Bermúdez Coronel-Prats, R., Barone, G. et al. Petrographic and chemical characterization of Bronze Age pottery from the settlement of Mount San Paolillo (Catania, Italy). Rend. Fis. Acc. Lincei 26, 485–497 (2015). https://doi.org/10.1007/s12210-015-0421-6
Received:

Accepted:

Published:

Issue Date:
Keywords
Prehistoric pottery

Sicily

Petrographic analysis

Chemical analysis