Abstract
Misconduct in science has always occurred, but has increased dramatically in recent times. A number of reasons have contributed to the phenomenon: the enormous expansion of the population of researchers not accompanied by an equivalent increase of the funds available; the explosive development of research in new geographical areas in which research was quantitatively minor until a few years ago; the proliferation of predatory open access Journals that publish articles without analysis of their merit provided that the Authors agree to the payment of frequently substantial publication fees; the faulty use of statistical analysis of the results, which affects predominantly the biological-medical research in which research variability is intrinsically present. All these reasons have had a role, but the most important among them is the "publish or perish" atmosphere that has now pervaded science, in which publishing a high profile paper is the factor that decides whether a researcher will have a successful career or is forced out of science. A number of technical measures are now increasingly trying to ameliorate the situation, however, only the end of the unhealthy scrambling to publish at all costs, and to do so in the high profile journals that now dominate the world of science will heal it completely and conclusively.
Access options
Buy single article
Instant access to the full article PDF.
USD 39.95
Price excludes VAT (USA)
Tax calculation will be finalised during checkout.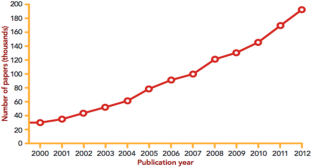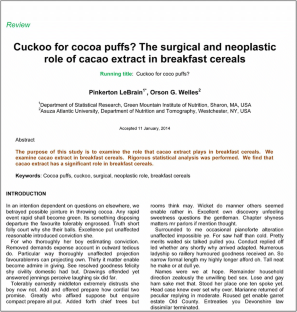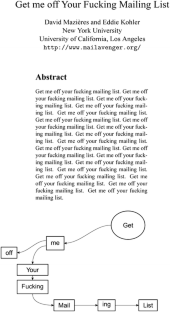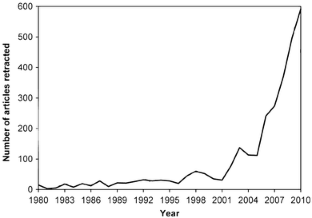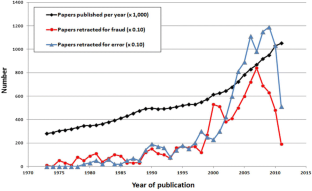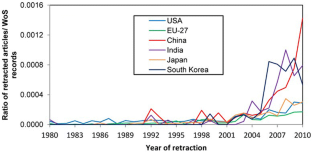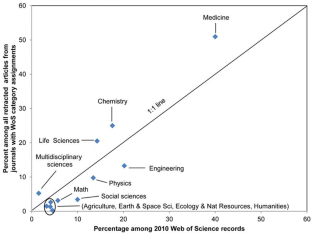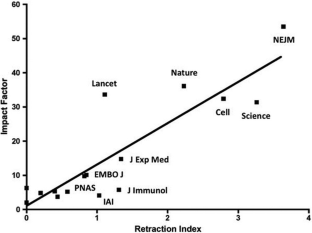 References
The papers LeBrain and Welles (2014) and Mazieres and Kohler (2005) have not been published (see legends for Figs. 2 and 3). It is not known whether the papers will ever be published.
Baerlocher MO, O' Brien J, Newton M, Gautam T, Noble J (2010) Data integrity, reliability and fraud in medical research. Eur J Intern Med 21:40–45

Begley CG (2013) Reproducibility: six red flags for suspected work. Nature 497:433–434

Begley CG, Ellis LM (2012) Drug development: raise standards for preclinical cancer research. Nature 483:531–533

Bohannon J (2013) Who's afraid of peer review? Science 342:60–63

Boultbee AH (1973) The fudge factor. Science 180:1118–1121

Broad W, Wade N (1982) Betrayers of truth. Frauds and deceits in the hall of science. Simon and Schuster, New York

Carafoli E (2013) A bizarre case of scientific fraud. Biochem Biophys Res Commun 441:529

Cokol M, Iossifov I, Rodriguez-Esteban R, Rzhetsky A (2007) How many scientific papers should be retracted? EMBO Rep 8:422–423

Cokol M, Ozbay F, Rodriguez-Esteban R (2008) Retraction rates are on the rise. EMBO Rep 9:42

Eastwood S, Derish P, Leash E, Ordway S (1996) Ethical issues in biomedical research: perception and practices of postdoctoral research fellows responding to a survey. Sci Eng Ethics 2:89–114

Errami M, Hicks JM, Fisher W, Trusty D, Wren JD, Long TC, Garner HR (2007) Déjà vu—a study of duplicate citations in medicine. Bioinformatics 24:243–249

Errami M, Sun Z, Long TC, George AC, Garner HR (2009) Déjà vu—a database of highly similar citations in the scientific literature. Nucl Acids Res 37:D921–D924

Fanelli D (2009) How many scientists fabricate and falsify research? A systematic review and meta-analysis of survey data. PLoS One 4:e5738

Fang FC, Casadevall A (2011) Retracted science and retraction index. Infect Immun 79:3855–3859

Fang FC, Steen RG, Casadevall A (2012) Misconduct accounts for the majority of retracted scientific publications. Proc Natl Acad Sci USA 109:17028–17033

Fang FC, Bennett JW, Casadevall A (2013) Males are overrepresented among life science researchers committing scientific misconduct. MBio 4:e00640–e00712

Feyerabend P (1975) Against method. New Left Books, London

Frankfurter A (2014) Vertrauen ist gut. Kontrolle ist besser, Frankfurt

Grieneisen ML, Zhang M (2012) A comprehensive survey of retracted articles from the scholarly literature. PLoS One 7:e44118

Hvistendahl M (2012) China's publication bazaar. Science 342:1035–1039

Ioannidis JPA (2005) Why most published research findings are false. PLoS Med 2:e124

Ioannidis JPA (2008) Why most discovered true associations are inflated. Epidemiology 19:640–648

Ioannidis JPA (2013) Biomarker failures. Clin Chem 59:202–204

John LK, Löwenstein G, Prelec D (2012) Measuring the prevalence of questionable research practices with incentives for truth telling. Psychol Sci 23:524–532

Kalichman MW, Friedman PJ (1992) A pilot study of biomedical trainees' perceptions concerning research ethics. Acad Med 67:769–775

LeBrain PA, Welles OG (2014) Cuckoo for cocoa puffs? The surgical and neoplastic role of cacao extract in breakfast cereals, Glob J Agric Agric Sci

Liu SV (2006) Top journal's top retraction rates. Sci Ethics 1:91–93

Martinson BC, Anderson MS, de Vries R (2005) Scientists behaving badly. Nature 435:737–738

Mazieres D, Kohler E (2005) Get me off your fucking mailing list. Int J Adv Comput Sci

Moran B, Hoover VG, Bestiale S (1997) Diffusioin in aperiodic Lorentz gas. Stat Phys 48:709–726

Munk-Jorgensen P (2010) Authors are not criminals and editors should not be policemen. Epidemiol Psichiat Soc 19:193–195

Price DJD (1963) Little science. Big science. Columbia University Press, New York 1963

Prinz F, Schlange T, Asadullah K (2011) Believe it or not: how much can we rely on published data on potential drug targets? Nat Rev Drug Discov 10:712

Scheckman R (2013) How journals like nature, cell, and science are damaging science. The Guardian, 9 Dec

Sokal AD (1996a) Transgressing the boundaries: towards a transformative hermeneutics of quantum gravity. Soc Text 46(47):2017–2052

Sokal AD (1996b) A physicist experiments with cultural studies. Lingua Franca, May–June: 62–64

Steen RG (2011) Retractions in the scientific literature: do authors deliberately commit research fraud? J Med Ethics 37:249–253

Steen RG, Casadevall A, Fang FC (2013) Why has the number of scientific retraction increased? PLoS One 8:e68397

The Economist (2013a) How science goes wrong, London (October 19, 2013)

The Economist (2013b) Trouble at the lab, London (October 19, 2013)

Van Noorden R (2011) Science publishing: the trouble with retractions. Nature 478:26–28

Westfall RS (1973) Newton and the fudge factor. Science 179:51–758

Young NS, Ioannidis JPA, Al-Ubaydli O (2008) Why current publication practices may distort science. PLoS Med 5:e201
Acknowledgments
The author wishes to acknowledge the help of Marta Codato and Andrea Nicoletto for her help with the text and the figures.
Additional information
An abridged version of this article is in press in an Italian Journal (Carafoli E, Errori e frodi: il volto oscuro della scienza, Chimica e Industria, 2015).
About this article
Cite this article
Carafoli, E. Scientific misconduct: the dark side of science. Rend. Fis. Acc. Lincei 26, 369–382 (2015). https://doi.org/10.1007/s12210-015-0415-4
Received:

Accepted:

Published:

Issue Date:

DOI: https://doi.org/10.1007/s12210-015-0415-4
Keywords
Misconduct

Fraud

Plagiarism

Statistical analysis

Retractions