Abstract
Fossil lynxes are quite common in the Plio-Pleistocene mammal assemblages of Europe. Despite of this abundant record, the phylogeny of the genus Lynx and the relationships among the different recorded species are far from being resolved. The most controversial species of this group is Lynx pardinus spelaeus or Lynx spelaeus according to different scholars, recorded in the Middle and Late Pleistocene of France and Italy. Here, we describe unpublished remains of fossil lynxes from different layers of the Valdemino cave (Middle to Late Pleistocene, Savona, Italy). The reported evidence suggests that the lynx from Valdemino represents probably the most ancient well-documented material of L. spelaeus in Europe further reinforcing the idea of progressive size reduction and acquisition of more trenchant dentition in the European lineages of lynx (L. pardinus and L. spelaeus) during the Middle to Late Pleistocene.
This is a preview of subscription content, log in to check access.
Access options
Buy single article
Instant access to the full article PDF.
US$ 39.95
Price includes VAT for USA
Subscribe to journal
Immediate online access to all issues from 2019. Subscription will auto renew annually.
US$ 99
This is the net price. Taxes to be calculated in checkout.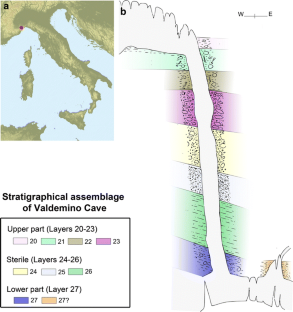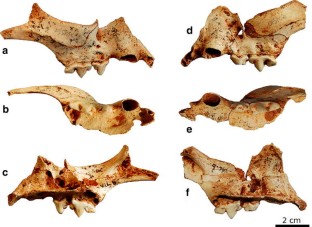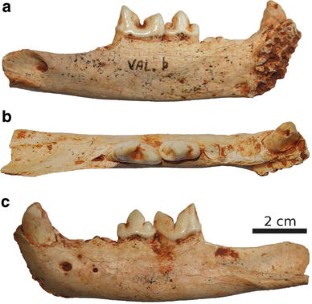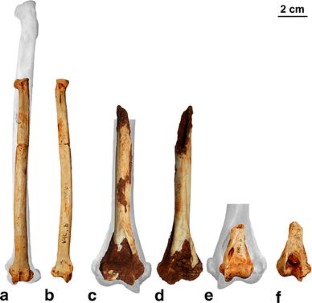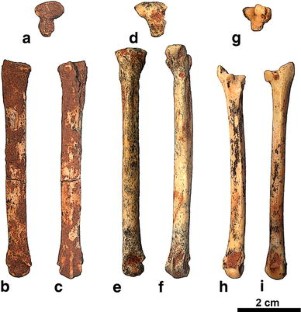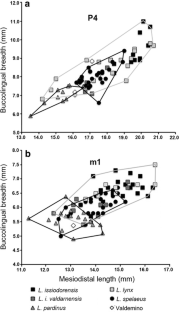 References
Bonifay MF (1971) Carnivores quaternaires du Sud-Est de la France. Mém Mus Nat Hist Nat Paris C-21(2):43–377

Boscaini A (2014) Plio-Pleistocene lynxes from the Iberian Peninsula. Taxonomy and phylogenetic relationships with the extant and fossil species. Master dissertation, Universitat Autònoma de Barcelona and Universitat de Barcelona

Boule M (1919) Géologie et Paléontologie. In: Villeneuve L de, Boule M, et al. (eds) Les Grottes de Grimaldi (Baoussé-Roussé). Imprimerie de Monaco, pp 271–279

Boule M, de Villeneuve L (1927) La grotte de l'Observatoire à Monaco. Arch Inst Paléont Hum 1:1–113

Cherin M, Iurino DA, Sardella R (2013) New well-preserved material of Lynx issiodorensis valdarnensis (Felidae, Mammalia) from the Early Pleistocene of Pantalla (central Italy). Boll Soc Paleontol I 54:103–111. doi:10.4435/BSPI.2013.16

Cipullo A (2010) L'evoluzione del genere Lynx dal Pliocene al Pleistocene medio nell'area mediterranea. Ph.D. disseration, Università degli Studi di Modena—Bologna—Roma La Sapienza

Davì F (1994) Microtus brecciensis (Giebel 1847) di Grotta Valdemino (Finale Ligure, Savona). Dissertation, Università di Ferrara

Fornasiero O (1989) Cronostratigrafia di due giacimenti quaternari continentali a mammiferi della liguria. Dissertation, Università di Ferrara

García N, Arsuaga JL (1998) The carnivore remains from the hominid-bearing Trinchera-Galería, Sierra de Atapuerca, Middle Pleistocene site (Spain). Géobios 31:659–674

García-Perea R, Gisbert J, Fernando P (1985) Review of the biometrical and morphological features of the skull of the Iberian Lynx, Lynx pardina (Temmmck, 1824). Säugetierkd Mitt 32:249–259

Garrido G (2008) Linces y guepardos (Felidae, Carnivora, Mammalia) en el Plioceno Superior terminal del Fonelas P-1 (Cuenca de Guadix, Granada). Cuad Mus Geomin 10:231–249

Johnson WE, Godoy JA, Palomares F et al (2004) Phylogenetic and Phylogeographic Analysis of Iberian Lynx Populations. J Hered 95:19–28

Kurtén B (1963) Return of a lost structure in the evolution of the felid dentition. Soc Sci Fenn Comment Biol 26(4):3–11

Kurtén B (1968) Pleistocene mammals of Europe. Aldine, Chicago

Kurtén B (1978) The lynx from Etouaires, Lynx issiodorensis (Croizet & Jobert), late Pliocene. Ann Zool Fenn 15:314–322

Kurtén B, Granqvist E (1987) Fossil pardel lynx (Lynx pardina spelaea Boule) from a cave in southern France. Ann Zool Fenn 24:39–43

Lamboglia N (1955) La scoperta di una nuova grotta a Borgio. Riv. Ingu Intemel, X(3):84–86

Lorfèvre F (2009) Les Lynx Plio-Pléistocènes: examen critique de leur phylogénie et intérêt paléoenvironnemental. Dissertation, Université Bordeaux 1

Moigne A-M, Palombo MR, Belda V et al (2006) Les faunes de grands mammifères de la Caune de l'Arago (Tautavel) dans le cadre biochronologique des faunes du Pléistocène moyen italien. L'anthropologie 110:788–831

Moulle PE (1992) Les grands mammifères du Pléistocène inférieur de la grotte du Valonnet (Roquebrune-Cap-Martin, Alpes Maritimes). Etude paléontologique des Carnivores, Equidé, Suidé et Bovidés. Ph.D. dissertation, Mus nat Hist Nat Paris

Nocchi G, Sala B (1997a) The fossil rabbit from Valdemino cave (Borgio Verezzi, Savona) in the context of western Europe Oryctolagini of Quaternary. Palaeovert 26:167–187

Nocchi G, Sala B (1997b) Oryctolagus burgi n. sp. (Mammalia: Lagomorpha) from the Middle Pleistocene levels of Grotta Valdemino (Borgio Verezzi, Savona, north-west Italy). Paleont Evol 30–31:19–38

Olive F (2006) Évolution des grands Carnivores au Plio Pléistocène en Afrique et en Europe occidentale. L'anthropologie 110:850–869

Palombo MR (2014) Deconstructing mammal dispersals and faunal dynamics in SW Europe during the quaternary. Quat Sci Rev 96:50–71

Palombo MR, Valli AMF (2003) Remarks on the biochronology of mammalian faunal complexes from the Pliocene to the Middle Pleistocene in France. Geol Rom 37:145–163

Palombo MR, Sardella R, Novelli M (2008) Carnivora dispersal in Western Mediterranean during the last 2.6 Ma. Quat Int 179:176–189

Rodriguez R, Ramìrez O, Valdiosera CE et al (2011) 50,000 years of genetic uniformity in the critically endangered Iberian lynx. Mol Ecol 20:3785–3795. doi:10.1111/j.1365-294X.2011.05231.x

Rustioni M, Sardella R, Rook L (1995) Note sulla distribuzione e sulla tassonomia del genere Lynx in Italia. Padusa 1:359–364

Sala B, Masini F (2007) Late Pliocene and Pleistocene small mammal chronology in the Italian peninsula. Quat Int 160:4–16

Sala B, Masini F, Ficcarelli G et al (1992) Mammal dispersal events in the Middle and Late Pleistocene of Italy and Western Europe. Cour Forsch Senck 153:59–68

Sardella R, Palombo MR, Petronio C et al (2006) The early middle pleistocene large mammal faunas of Italy: an overview. Quat Int 149:104–109

Testu A (2006) Etude paléontologique et biostratigraphique des Felidae et Hyaenidae pléistocènes de l'Europe méditerranéenne. Ph.D. dissertation, Université de Perpignan

Tozzi C (1969) Segnalazione di una grotta con fauna fossile a Borgio (Savona). Atti Soc Tosc Sci Nat Pisa 76:195–208

Tumlison R (1987) Felis lynx. American Society of Mammalogist. Mammalian Species 269:1–8

Viret J (1954) Le loess a bancs durcis de Saint-Vallier (Drome) et sa faune de mammifères villafranchiens. Nouv Arch Mus Hist Nat Lyon 4:1–200

Werdelin L (1981) The evolution of lynxes. Ann Zool Fenn 18:37–71
Acknowledgments
We are very grateful to B. Sala, P. Boscato, R.D. Kahlke, R. Sardella, D. Iurino, E. Cioppi, A. Farrel, G. Takeuchi, V. Vicedo, J. Quesada, G. Veron, and L. Costeur for providing access to skeletal collections under their care. This work has been supported by the University of Florence Grants (Fondi di Ateneo), and Spanish Ministerio de Ciencia e Innovación (CGL-2011-28681). This study also partly received support from the SYNTHESYS Project http://www.synthesys.info/ (project number FR-TAF-3311), which is financed by European Community Research Infrastructure Action under the FP7 "Capacities" Program. JMM participation in this project gained impetus during a stay at Sapienza University of Rome as visiting researcher contracted by the Italian MIUR (Ministero dell'Istruzione, dell'Università e della Ricerca).
About this article
Cite this article
Ghezzo, E., Boscaini, A., Madurell-Malapeira, J. et al. Lynx remains from the Pleistocene of Valdemino cave (Savona, Northwestern Italy), and the oldest occurrence of Lynx spelaeus (Carnivora, Felidae). Rend. Fis. Acc. Lincei 26, 87–95 (2015). https://doi.org/10.1007/s12210-014-0363-4
Received:

Accepted:

Published:

Issue Date:
Keywords
Felinae

Lynx evolution

Middle and late pleistocene

Taxonomy

Morphology