Abstract
Vanadium flow batteries (VFBs) are considered ideal for grid-scale, long-duration energy storage applications owing to their decoupled output power and storage capacity, high safety, efficiency, and long cycle life. However, the widespread adoption of VFBs is hindered by the use of expensive Nafion membranes. Herein, we report a soft template-induced method to develop a porous polyvinylidene fluoride (PVDF) membrane for VFB applications. By incorporating water-soluble and flexible polyethylene glycol (PEG 400) as a soft template, we induced the aggregation of hydrophilic sulfonated poly (ether ether ketone), resulting in phase separation from the hydrophobic PVDF polymer during membrane formation. This process led to the creation of a porous PVDF membrane with controllable morphologies determined by the polyethylene glycol content in the cast solution. The optimized porous PVDF membrane enabled a stable VFB performance for 200 cycles at a current density of 80 mA/cm2, and the VFB exhibited a Coulombic efficiency of 95.2% and a voltage efficiency of 87.8%. These findings provide valuable insights for the development of highly stable membranes for VFB applications.
Access options
Buy single article
Instant access to the full article PDF.
USD 39.95
Price excludes VAT (USA)
Tax calculation will be finalised during checkout.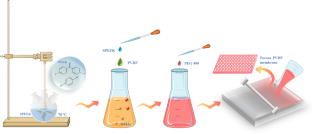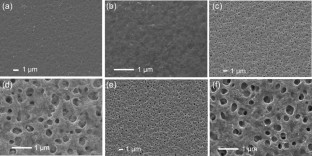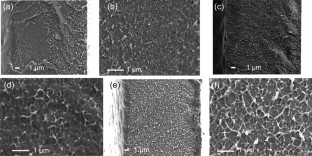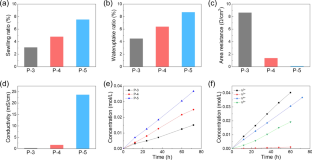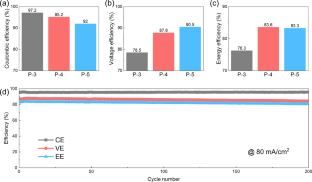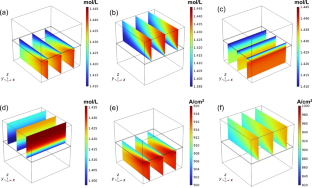 References
Wang F, Harindintwali JD, Yuan ZZ et al (2021) Technologies and perspectives for achieving carbon neutrality. Innovation (Camb) 2(4):100180

Wang W, Luo QT, Li B et al (2013) Recent progress in redox flow battery research and development. Adv Funct Mater 23(8):970–986

Yuan ZZ, Yin YB, Xie CX et al (2019) Advanced materials for zinc-based flow battery: development and challenge. Adv Mater 31(50):e1902025

Skyllas-Kazacos M, Chakrabarti MH, Hajimolana SA et al (2011) Progress in flow battery research and development. J Electrochem Soc 158(8):R55

Sum E, Rychcik M, Skyllas-kazacos M (1985) Investigation of the V(V)/V(IV) system for use in the positive half-cell of a redox battery. J Power Sources 16(2):85–95

Skyllas-Kazacos M, Rychcik M, Robins RG et al (1986) New all-vanadium redox flow cell. J Electrochem Soc 133(5):1057–1058

Shi Y, Wang ZY, Yao YX et al (2021) High-areal-capacity conversion type iron-based hybrid redox flow batteries. Energy Environ Sci 14(12):6329–6337

Chen DJ, Duan WQ, He YY et al (2020) Porous membrane with high selectivity for alkaline quinone-based flow batteries. ACS Appl Mater Interfaces 12(43):48533–48541

Janoschka T, Martin N, Martin U et al (2015) An aqueous, polymer-based redox-flow battery using non-corrosive, safe, and low-cost materials. Nature 527(7576):78–81

Zhang SH, Yin CX, Xing DB et al (2010) Preparation of chloromethylated/quaternized poly(phthalazinone ether ketone) anion exchange membrane materials for vanadium redox flow battery applications. J Membr Sci 363(1–2):243–249

Yuan ZZ, Li XF, Zhao YY et al (2015) Mechanism of polysulfone-based anion exchange membranes degradation in vanadium flow battery. ACS Appl Mater Interfaces 7(34):19446–19454

Yuan ZZ, Dai Q, Zhao YY et al (2016) Polypyrrole modified porous poly(ether sulfone) membranes with high performance for vanadium flow batteries. J Mater Chem A 4(33):12955–12962

Yuan ZZ, Duan YQ, Zhang HZ et al (2016) Advanced porous membranes with ultra-high selectivity and stability for vanadium flow batteries. Energy Environ Sci 9(2):441–447

Lu WJ, Yuan ZZ, Zhao YY et al (2017) Porous membranes in secondary battery technologies. Chem Soc Rev 46(8):2199–2236

Hu J, Yu DL, Li TY et al (2021) A highly stable membrane with hierarchical structure for wide pH range flow batteries. J Energy Chem 56:80–86

Dai Q, Xing F, Liu XN et al (2022) High-performance PBI membranes for flow batteries: from the transport mechanism to the pilot plant. Energy Environ Sci 15(4):1594–1600

Qiao L, Zhang HM, Lu WJ et al (2018) Advanced porous membranes with slit-like selective layer for flow battery. Nano Energy 54:73–81

Cao JY, Zhang HM, Xu WX et al (2014) Poly (vinylidene fluoride) porous membranes precipitated in water/ethanol dual-coagulation bath: the relationship between morphology and performance in vanadium flow battery. J Power Sources 249:84–91

Eum K, Kim DW, Choi Y et al (2020) Assembly of graphene oxide nanosheets on diamine-treated PVDF hollow fiber as nanofiltration membranes. ACS Appl Polym Mater 2(9):3859–3866

Xu WX, Li XF, Cao JY et al (2014) Morphology and performance of poly(ether sulfone)/sulfonated poly(ether ether ketone) blend porous membranes for vanadium flow battery application. RSC Adv 4(76):40400–40406

Qiao L, Zhang HM, Lu WJ et al (2019) Advanced porous membranes with tunable morphology regulated by ionic strength of nonsolvent for flow battery. ACS Appl Mater Interfaces 11(27):24107–24113

Shi DQ, Li CY, Yin YB et al (2023) Application of poly(ether sulfone)-based membranes in clean energy technology. Chem–Asian J 18(1): e202201038

Sun JW, Shi DQ, Zhong HX et al (2015) Investigations on the self-discharge process in vanadium flow battery. J Power Sources 294:562–568

Wei WP, Zhang HM, Li XF et al (2013) Hydrophobic asymmetric ultrafiltration PVDF membranes: an alternative separator for VFB with excellent stability. Phys Chem Chem Phys 15(6):1766–1771
Acknowledgements
This work was financially supported by Open Fund of Material Corrosion and Protection Key Laboratory of Sichuan Province of China (No. 2020CL09) and Hunan Key Laboratory of Applied Environmental Photocatalysis (No. 2214503).
Ethics declarations
Conflict of interest
The authors declare that there is no conflict of interest.
Rights and permissions
Springer Nature or its licensor (e.g. a society or other partner) holds exclusive rights to this article under a publishing agreement with the author(s) or other rightsholder(s); author self-archiving of the accepted manuscript version of this article is solely governed by the terms of such publishing agreement and applicable law.
About this article
Cite this article
Shi, D., Li, C., Yuan, Z. et al. Soft Template-Induced Porous Polyvinylidene Fluoride Membrane for Vanadium Flow Batteries. Trans. Tianjin Univ. 29, 284–292 (2023). https://doi.org/10.1007/s12209-023-00362-1
Received:

Revised:

Accepted:

Published:

Issue Date:

DOI: https://doi.org/10.1007/s12209-023-00362-1
Keywords