Abstract
Co-creation is a new paradigm that has captured the attention of management researchers and practitioners worldwide. Through this paper we attempt to understand the relationship between political marketing and co-creation and how it is bringing the transformation in political system through engaging the citizen at various levels. We have started with the literature review on co-creation and political marketing. Then we have identified the levels of co-creation in political marketing through literature review. We have followed the inductive case study approach to examine the phenomenon of co-creation in political scenarios where it was not used as a conscious political marketing tool. However, due to intense political situation, fewer political organization and leaders have understood the changing political climate and realized the increasing role of voters and thus involved voters at various level of decision making and product development which results in increased awareness and engagement of voters with that political party at that point of time. Based on this, we have selected three case studies and through within case and cross case analysis we have proposed the framework of political co-creation. This framework represents three categories of factors that indicate the different stages of co-creation in political system. First is the Co-creation indicating factors which include social dissatisfaction and local level CSO integration. Second group of factors is Co-creation process factors which include active actors and knowledge sharing and lastly Post co-creation factors which include aware citizen, engaged voters and proactive political system.
This is a preview of subscription content, log in to check access.
Access options
Buy single article
Instant access to the full article PDF.
US$ 39.95
Price includes VAT for USA
Subscribe to journal
Immediate online access to all issues from 2019. Subscription will auto renew annually.
US$ 99
This is the net price. Taxes to be calculated in checkout.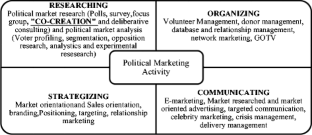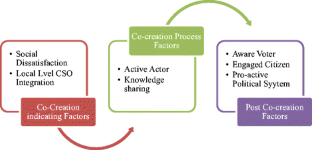 References
Anduiza, E., Cristancho, C., & Sabucedo, J. (2013). Mobilization through online social networks: The political protest of theindignadosin Spain. Information, Communication & Society, 17(6), 750–764.

Bolton, R. N. (2006). Foreword. In R. F. Lusch & S. L. Vargo (Eds.), The service dominant logic of marketing: Dialog, debate and directions (pp. ix–xi). Armonk: M.E. Sharpe.

Cabiddu, F. (2013). Tsz-Wai Lui, and Gabriele Piccoli. Managing value co-creation in the tourism industry. Annals of Tourism Research, 42, 86–107.

Coronel, S. S. (2004). The rulemakers: How the wealthy and well-born dominate congress. Philippine Center for Investigative Journalism.

Edwards, M. (2000). NGO rights and responsibilities: A new deal for global governance. London: The Foreign Policy Centre/NCVO.

Eraqi, M. I. (2011). Co-creation and the new marketing mix as an innovative approach for enhancing tourism industry competitiveness in Egypt. International Journal Of Services And Operations Management, 8(1), 76. doi:10.1504/ijsom.2011.037441.

Gill, L., White, L., & Cameron, I. D. (2011). Service co-creation in community-based aged healthcare. Managing Service Quality: An International Journal, 21(2), 152–177.

Henneberg, S. C. (1996). Second conference on political marketing. Journal of Marketing Management, 12(8), 777–783.

Hill, H. (2006). The Philippine conundrum. http://www.Aseanfocus.Com/asiananalysis/article.Cfm?Article ID, 929. Accessed March 2017.

Hopkin, J., & Paolucci, C. (1999). The business firm model of party organisation: Cases from Spain and Italy. European Journal of Political Research, 35(3), 307–339.

Hughes, N. (2011). 'young people took to the streets and all of a sudden all of the political parties got old': The 15M movement in Spain. Social Movement Studies, 10(4), 407–413.

Joppke, C. (1991). Social movements during cycles of issue attention: The decline of the anti-nuclear energy movements in West Germany and the USA. British Journal of Sociology, 42, 43–60.

König, M., & König, W. (2012). Government public opinion research and consultation: Experiences in deliberative marketing. Chapter 5. In J. Lees-Marshment (Ed.), Routledge Handbook of political marketing (pp. 48–60). London: Routledge.

Kotler, P. (2005). The role played by the broadening of marketing movement in the history of marketing thought. Journal of Public Policy & Marketing, 24(1), 114–116.

Kotler, P., & Kotler, N. (1999). Political marketing. In B. I. Newman (Ed.), Handbook of political marketing (pp. 3–18). Thousand Oaks: Sage.

Langmaid, Roy (2012) Co-creating the Future. Chaptere 6. In Routledge Handbook of Political Marketing. Jennifer Lees-Marshment (ed). Abingdon:Routledge.

Langmaid, R & Forsythe, N. (2003) Internal document, Promise London Quoted in Langmaid, R. (2012). Co-creating the Future. In J. Lees-Marshment, The Routledge Handbook of Political Marketing (1st ed.). Routledge. New York NY 10017

Lees-Marshment, J., Conley, B., & Cosgrove, K. (2014). Political marketing in the United States. Abingdon: Routledge.

Manrique, C. G., & Manrique, G. G. (2016). Social Media's role in alleviating political corruption and scandals: The Philippines during and after the Marcos Regime. In K. Demirhan, D Çakır-Demirhan (Eds.), Political scandal, corruption, and legitimacy in the age of social media (1st ed., pp. 205–222). IGI Global:Pennsylvania

Mautner, T. (1999). Dictionary of philosophy. London: Penguin.

McColl-Kennedy, J., Vargo, S., Dagger, T., Sweeney, J., & Kasteren, Y. (2012). Health care customer value Cocreation practice styles. Journal of Service Research, 15(4), 370–389. doi:10.1177/1094670512442806.

Mewes, H. (1983) The West German party. New German critique, no. 28 (winter, 1983), pp. 51-85.

O'curneen Cañas, S. (2014). Political Parties and Citizens: The Centro Democrático Liberal in Spain. In R. Cordenillo & S. Van der Staak, Political parties and citizen movements in Asia and Europe (1st ed., pp. 103–112). Sweden: The Asia-Europe Foundation, Hanns Seidel Foundation.

Papadakis, E. (2014). The green movement in West Germany (RLE: German politics) (Vol. 12). Abingdon: Routledge.

Prahalad, C. K., & Ramaswamy, V. (2004a). Co-creation experiences: The next practice in value creation. Journal of Interactive Marketing, 18(3), 5–14.

Prahalad, C. K., & Ramaswamy, V. (2004b). Co-creating unique value with customers. Strategy& Leadership, 32(3), 4–9.

Prahalad, C. K., & Ramaswamy, V. (2004c). The future of competition: Co-creating unique value with customers. Boston: Harvard Business Press.

Quadir, F., & Lele, J. (2004). Democracy and civil Society in Asia, vol 1 (1st ed.). Basingstoke: Palgrave Macmillan.

Quimpo, N. (2008). Contested democracy and the left in the Philippines after Marcos. New Haven: Yale University.

Robertson, D. (1986). Dictionary of politics. London: Penguin.

Rodrigo, K. (2014). The role of judicial review in the anti-corruption agenda in the Philippines: The case of the pork barrel system (master). Malmö University: Sweden

Rogers, S. (2004). Philippine politics and the rule of law. Journal of Democracy, 15(4), 111–125.

Savigny, H. (2008). The construction of the political consumer (or Politics: What not to consume). D. Lilleker, R. Scullion (Eds.).Cambridge scholars publishing:Newcastle, U.K.

Severino, R., & Salazar, L. (2007). Whither the Philippines in the 21st century? (1st ed.). Singapore: Institute of Southeast Asian Studies.

Teehankee, J. (2002). Electoral politics in the Philippines. Electoral Politics in Southeast and East Asia, 149–202.

Teehankee, J. C. (2009). Citizen-party linkages in the Philippines: Failure to connect? Reforming the Philippine Political Party System: Ideas and Initiatives, Debates and Dynamics (1st ed.). Friedrich Ebert Stiftung (FES). Metro Manila, Philipines 12271

Vargo, S. L., & Lusch, R. F. (2008). Service-dominant logic: Continuing the evolution. Journal of the Academy of Marketing Science, 36(1), 1–10.

Velasco, D. (2007). Marginalized groups and political participation: Perspectives from the Philippines. Development, 50(1), 117–121.

Yin, R. (1994). Case study research: Design and methods. Beverly Hills.
About this article
Cite this article
Kushwah, S., Shree, D. & Sagar, M. Evolution of a framework of co-creation in political marketing: select cases. Int Rev Public Nonprofit Mark 14, 427–445 (2017). https://doi.org/10.1007/s12208-017-0182-2
Received:

Accepted:

Published:

Issue Date:
Keywords
Political marketing

Co-creation

Political co-creation