Abstract
Despite strong evidence in current marketing theory and practice that a differentiated marketing approach increases recruitment success, blood services worldwide often use undifferentiated marketing strategies to address new blood donors. Relying on the assumption that differentiated marketing is highly promising; the authors developed an online experiment among 838 participants who had not donated blood during the past 10 years. The experiment tested the effects of a differentiated in comparison to an undifferentiated marketing campaign on three marketing outcomes: (1) awareness, (2) intention, and (3) behavioral enactment. Surprisingly and in contrast with most marketing studies in the for-profit context, the results of the blood donation experiment suggest that differentiated marketing is not more effective than undifferentiated marketing. This finding has important implications for marketing strategies and actions of blood services.
This is a preview of subscription content, log in to check access.
Access options
Buy single article
Instant access to the full article PDF.
US$ 39.95
Tax calculation will be finalised during checkout.
Subscribe to journal
Immediate online access to all issues from 2019. Subscription will auto renew annually.
US$ 99
Tax calculation will be finalised during checkout.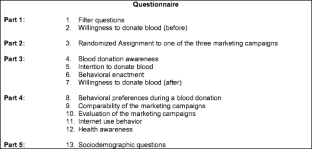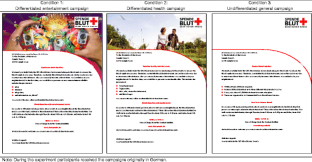 References
Aaker, J. L., Brumbaugh, A. M., & Grier, S. A. (2000). Nontarget markets and viewer distinctiveness: the impact of target marketing on advertising attitudes. Journal of Consumer Psychology, 9(3), 127–140.

Armitage, C. J., & Conner, M. (2001). Social cognitive determinants of blood donation. Journal of Applied Social Science, 31(7), 1431–1457.

Babin, L. A., & Bruns, A. C. (1997). Effects of print ad pictures and copy containing instructions to imagine on mental imagery that mediates attitudes. Journal of Advertising, 26(3), 33–44.

Beerli-Palacio, A., & Martín-Santana, J. D. (2015). How to increase blood donation by social marketing. International Review on Public and Nonprofit Marketing, 12(3), 253–266.

Bekkers, R., & Wiepking, P. (2011). A literature review of empirical studies of philanthropy: eight mechanisms that drive charitable giving. Nonprofit and Voluntary Sector Quarterly, 40(5), 924–973.

Bendapudi, N., Singh, S. N., & Bendapudi, V. (1996). Enhancing helping behavior: an integrative framework for promotion planning. Journal of Marketing, 60(3), 33–49.

Boenigk, S., & Scherhag, C. (2014). Effects of donor priority strategy on relationship fundraising outcomes. Nonprofit Management and Leadership, 24(3), 307–336.

Buente, W., & Robbin, A. (2008). Trends in internet information behavior, 2000–2004. Journal of the American Society for Information Science and Technology, 59(11), 1746–1760.

Butt, M. M., & de Run, E. C. (2011). Do target and non-target ethnic group adolescents process advertisements differently? Australasian Marketing Journal, 19(2), 77–84.

d'Astous, A., & Jacob, I. (2002). Understanding consumer reactions to premium-based promotional offers. European Journal of Marketing, 36(11/12), 1270–1286.

Dibb, S., & Simkin, L. (2010). Target segment strategy. In M. J. Baker & M. Saren (Eds.), Marketing theory: a student text (2nd ed., pp. 237–60). Los Angeles: Sage Publications.

García, M. R., González, L. I. Á., & Acebrón, L. B. (2013). The untapped potential of marketing for evaluating the effectiveness of nonprofit organizations: a framework proposal. International Review on Public and Nonprofit Marketing, 10(2), 87–102.

Gillespie, T. W., & Hillyer, C. D. (2002). Blood donors and factors impacting the blood donation decision. Transfusion Medicine Review, 16(2), 116–130.

Godin, G., Sheeran, P., Conner, M., Germain, M., Blondeau, D., Gané, C., et al. (2005). Factors explaining the intention to give blood among the general population. Vox Sanguinis, 89(3), 140–149.

Goette, L., Stutzer, A., Yavuzcan, G., & Frey, B. M. (2009). Free cholesterol testing as a motivation device in blood donations. Evidence from field experiments. Transfusion, 49(3), 524–531.

Goodwin, S., & Etgar, M. (1980). An experimental investigation of comparative advertising: impact of message appeal, information load, and utility of product class. Journal of Marketing Research, 17(2), 187–202.

Guiddi, P., Alfiere, S., Marta, E., & Saturni, V. (2015). New donors, loyal donors, and regular donors: which motivations sustain blood donation? Transfusion and Apheresis Science, 52(3), 339–344.

Hair, J. F., Black, W. C., Babin, B. J., & Anderson, R. E. (2010). Multivariate data analysis (7th ed.). Upper Saddle River: Prentice Hall.

Kalmus, V., Realo, A., & Siibak, A. (2011). Motives for internet use and their relationships with personality traits and socio-demographic factors. TRAMES, 15(65/60)(4), 385–403.

Kotler, P., & Levy, S. J. (1969). Broadening the concept of marketing. Journal of Marketing, 33(1), 10–15.

Kurverwaltung Bad Füssing (2015). http://www.bad-fuessing.de. Accessed 19 Nov 2015.

Lemmens, K. P. H., Abraham, C., Hoeksta, T., Ruiter, R. A. C., de Kort, W., Brug, J., & Schaalma, H. P. (2005). Why don't young people volunteer to give blood? An investigation of the correlates of donation intentions among young nondonors. Transfusion, 45(6), 945–955.

Malhotra, N. K. (2010). Marketing research: an applied orientation (6th ed.). Upper Saddle River: Pearson.

Manickam, S. A. (2014). Do advertising tools create awareness, provide information, and enhance knowledge? An exploratory study. Journal of Promotion Marketing, 20(3), 291–310.

Martín-Santana, J. D., & Beerli-Palacio, A. (2008). Potential donor segregation to promote blood donation. Transfusion and Apheresis Science, 38(2), 133–140.

Moschis, G. P. (2003). Marketing to older adults: an updated overview of present knowledge and practice. Journal of Consumer Marketing, 20(6), 516–525.

Müller-Steinhardt, M., Müller-Kuller, T., Weiß, C., Menzel, D., Wiesneth, M., Seifried, E., & Klüter, H. (2012). Safety and frequency of whole blood donations from elderly donors. Vox Sanguinis, 102(2), 134–139.

Ory, M., Kinney Hoffman, M., Hawkins, M., Sanner, B., & Mockenhaupt, R. (2003). Challenging aging stereotypes: strategies for creating a more active society. American Journal of Preventive Medicine, 25(3Sii), 164–171.

Peltier, J. W., & Schribrowksy, J. A. (1997). The use for need-based segmentation for developing segment-specific direct marketing strategies. Journal of Direct Marketing, 11(4), 53–62.

Reutterer, T., Mild, A., Natter, M., & Taudes, A. (2006). A dynamic segmentation approach for targeting and customizing direct marketing campaigns. Journal of Interactive Marketing, 20(3–4), 43–57.

Rijsdijk, S. A., Hultink, E. H., & Diamantopoulos, A. (2007). Product intelligence: its conceptualization, measurement and impact on consumer satisfaction. Journal of the Academy of Marketing Science, 35(3), 340–356.

Rupp, C., Kern, S., & Helmig, B. (2014). Segmenting nonprofit stakeholders to enable successful relationship marketing: a review. International Journal of Nonprofit and Voluntary Sector Marketing, 19(2), 76–91.

Schreiber, G. B., Sanchez, A. M., Glynn, S. A., & Wright, D. J. (2003). Increasing blood availability by changing donation patterns. Transfusin, 43(5), 591–597.

Schreiber, G. B., Sharma, U. K., Wright, D. J., Glynn, S. A., Ownby, H. E., Tu, Y., et al. (2005). First year donation patterns predict long-term commitment for first-time donors. Vox Sanguinis, 88(2), 114–121.

Shehu, E., Langmaack, C., Felche, E., & Clement, M. (2015). Profiling donors of blood, money, and time: a simultaneous comparison of the German population. Nonprofit Management and Leadership, 25(3), 269–295.

Socio-economic Panel (SOEP) (2011). Data for years 1984–2010. doi:10.5684/soep.v27.

ThreeSpeech.com (2008). http://threespeech.com. Accessed 30 Apr 2014.

Veldhuizen, I., Follea, G., & de Kort, W. (2013). Donor cycle and donor segmentation: new tools for improving blood donor management. Vox Sanguinis, 105(1), 28–37.

Walker, A. (2002). A strategy for active ageing. International Social Security Review, 55(1), 121–139.

Walker, S. N., Sechrist, K. R., & Pender, N. J. (1986). The health-promoting lifestyle profile: development and psychometric characteristics. Nursing Research, 36(2), 76–81.

Zhou, Y., Poon, P., & Yu, C. (2012). Segmenting blood donors in developing countries. Marketing Intelligence and Planning, 30(5), 535–552.
Acknowledgements
The authors would like to thank the German Red Cross Blood Services North-East for their support in developing the marketing campaigns and for their valuable feedback during the study.
Ethics declarations
Funding
This study did not receive any funding.
Conflict of interest
The authors declare that they have no conflict of interest.
Appendix
Appendix
About this article
Cite this article
Sundermann, L.M., Boenigk, S. & Willems, J. Under blood pressure – differentiated versus undifferentiated marketing to increase blood donations. Int Rev Public Nonprofit Mark 14, 321–340 (2017). https://doi.org/10.1007/s12208-017-0174-2
Received:

Accepted:

Published:

Issue Date:
Keywords
Differentiated marketing

Target groups

Blood donor recruitment

Blood donor management

Experiment