Abstract
Accreditation of MBA programs has become a subject of increasing importance to European business schools. The pros and cons of this quality improvement instrument have been well elaborated from a business school's point of view. However, how students perceive accreditations has not been subject of research yet. In order to contribute to close this research gap and to gain some insight into the customers' perception of accreditations, the authors have conducted an empirical survey amongst students and alumni of Executive MBA (EMBA) programs. Results of a multinomial logistic regression show that accreditation is by far not the most relevant criterion for the choice of an Executive program at this point in time. According to that and the low knowledge on accreditation among students and alumni one may raise the question why business schools invest so much time and effort in accreditation. Based on these results, the article implies possible shifts in the relationship between business schools and accrediting institutions.
Access options
Buy single article
Instant access to the full article PDF.
US$ 39.95
Tax calculation will be finalised during checkout.
Subscribe to journal
Immediate online access to all issues from 2019. Subscription will auto renew annually.
US$ 79
Tax calculation will be finalised during checkout.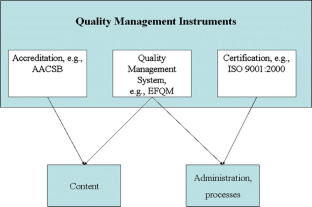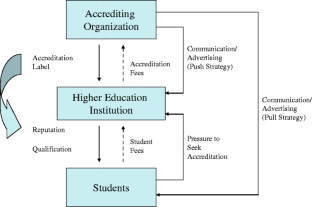 Notes
1.

All types of MBA programs are included in this figure.

2.

In addition, AACSB also accredits accounting programs.

3.

In the course of the paper however, no distinction between institutional accreditation and programmatic accreditation will be made.

4.

Authors argued on the possibility of considering only the respondents who know what an accreditation is. However, they decided to include all respondents since, even though one does not know what an accreditation is, it still has a signalling effect to some extent.

5.

Mann-Whithney-U-Test was applied instead of a T-test since the variable "importance of the accreditation for the choice of a program" was not normally distributed.

6.
References
AACSB (2009) Accreditation. Available via AACSB. http://www.aacsb.edu. Accessed 25 Nov 2009

Amaral A, Magalhães A (2004) Epidemiology and the Bologna Saga. High Educ 48(1):79–100

AMBA (2009) Accreditation service. Available via MBA world. http://www.mbaworld.com. Accessed 25 Nov 2009

Anderson SW, Daly JD, Johnson MF (1999) Why firms seek ISO 9000 certification: regulatory compliance or competitive advantage? Prod Oper Manag 8(1):28–43

Baker RL (2002) Evaluating quality and effectiveness: regional accreditation principles and practices. J Acad Librariansh 28(1):3–7

Bauer HH, Kieser A, Oechsler WA, Sauer NE (2003) Die Akkreditierung—Eine Leistungsbeurteilung mit system? Z Betriebwirtsch 73(3):25–58

Bickerstaffe G (2009) Which MBA? 21st edn. Economist Newspaper, London

Brennan LL, Austin WW (2003) Adressing the need for management processes for higher education accreditation. Innov High Educ 28(1):49–62

Cook CM (1999) Akkreditierung von Einrichtungen und Studienprogrammen im Hochschulwesen — US-amerikanische Erfahrungen. In: Hochschulrektorenkonferenz (ed) Beiträge zur Hochschulpolitik 4/1999, Hochschulrektorenkonferenz, Bonn, pp 127–133

Eaton JS (2003) Accreditation and recognition in the United States. Available Via CHEA. http://www.chea.or/international/OECD_JEPaper_0803.pdf. Accessed 17 Mar 2006

Ebrahim A (2005) Accountability myopia-losing sight of organizational learning. Nonprofit Volun Sect Q 34(1):56–87

EFMD (2009) EQUIS—the European quality improvement system. Available via EFMD. http://www.efmd.org/index.php/accreditation-/equis. Accessed 25 Nov 2009

European Ministers of Education (1999) The Bologna declaration of 19 June 1999-joint declaration of the european ministers of education. Available via http://bologna-berlin2003.de/pdf/bologna_declaration.pdf. Accessed 17 Oct 2007

FIBAA (2009) Programmakkreditierung. Available Via FIBAA. http://www.fibaa.de/programmakkreditierung.htm. Accessed 25 Nov 2009

Financial Times (2009) EMBA rankings 2009. Available via financial times. http://rankings.ft.com/exportranking/emba-rankings/pdf. Accessed 25 Nov 2009

Harvey L (2004) The power of accreditation: views of academics. J High Educ Policy Manag 26(2):207–223

Hedin SR, Barnes CH, Chen JCH (2005) AACSB 2003 accreditation standards: impact on continuous quality improvement. Int J Serv Stand 1(3):358–378

Hedmo T (2004) The emergence of European accreditation of management education. The development of European accreditation of management education. Dissertation, University of Uppsala

Henninger EA (1998) Dean's role in change: the case of professional accreditation reform of American collegiate business education. J High Educ Policy Manag 20(2):203–213

Hill Y, Lomas L, MacGregor J (2003) Students' perceptions of quality in higher education. Qual Assur Educ 11(1):15–20

Hosmer DW, Lemeshow S (2000) Applied logistic regression. Wiley, New York

Iniguez de Onzono SC (2007) The changing business model of B-schools. J Manag Dev 26(1):22–32

Jantzen RH (2000) AASCB mission-linked standards: effects on the accreditation process. J Educ Bus 75(6):343–347

Jeliazkova M, Westerheijden DF (2002) Systemic adaptation to a changing environment: towards a next generation of quality assurance models. High Educ 44(3/4):433–448

Julian SD, Ofori-Dankwa JC (2006) Is accreditation good for the strategic decision making of traditional business schools? Acad Manag Leadersh Educ 5(2):225–233

Koch JV, Fisher JL (1998) Higher education and total quality management. Total Qual Manag 9(8):659–668

Kran D (2009) 2009—Der MBA-Guide: Teilzeit-Fernstudien- und Vollzeitprogramme zum Master of Business Administration. Luchterhand, Neuwied

Küpper HU (2007) Entwicklungstendenzen der betriebswirtschaftlichen Ausbildung an einer öffentlichen Hochschule. Schmalenbachs Z betriebwirtsch Forsch 59(4):508–524

Lange J (1999) Ziele und Konsequenzen einer Verbindung von Evaluation und Akkreditierung. In: Hochschulrektorenkonferenz (ed) Beiträge zur Hochschulpolitik 4/1999, Hochschulrektorenkonferenz, Bonn, pp 127–133

Lindstrom P (2005) Institutional accreditation of european management schools: an empirical study of the EQUIS experience from the accredited schools' perspective. Difo-Druck, Bamberg

McKee MC, Mills AJ, Weatherbee T (2005) Institutional field of dreams: exploring the AACSB and the new legitimacy of Canadian business schools. Can J Adm Sci 22(4):288–301

Menard S (2001) Applied logistic regression analysis. Sage, Thousand Oaks

Mergen E, Grant D, Widrick SM (2000) Quality management applied to higher education. Total Qual Manag 11(3):345–352

Miles M, Hazeldine MF, Munilla LS (2004) The 2003 AACSB accreditation standards and implications for business faculty: a short note. J Educ Bus 80(1):29–34

Mottis N (2007) Bologna and business education: far from a model, just a process for a while…. In: Mazza C, Quattrone P, Riccaboni A (eds) European universities in transition. Elgar, Cheltenham, pp 93–112

Mottis N, Thévenet M (2003) Faut-il faire crédit à l'accréditation? Rev fr Gest 29(147):213–218

Pringle C, Michel M (2007) Assessment practice in AACS-accredited business schools. J Educ Bus 82(4):202–211

Roberts WA, Johnson R, Groesbeck J (2004) The faculty perspective on the impact of AACSB sccreditation. Acad Educ Leadersh J 8(1):111–125

Roller RH, Andrews BK, Bovee SLM (2003) Specialized accreditation of business schools: a comparison of alternative costs, benefits, and motivations. J Educ Bus 78(4):197–204

Rowley J (1996) Measuring quality in higher education. Qual High Educ 2(3):237–255

Sauer N (2001) Erfahrungen mit Akkreditierungen im Bereich Wirtschaftswissenschaften der Universität Mannheim. In: Hochschulrektorenkonferenz (eds) Beiträge zur Hochschulpolitik 8/2001, Hochschulrektorenkonferenz, Bonn, pp 651–669

Scherer RF, Javalgi RG, Bryant M, Tukel O (2005) Challenges of AACSB international: accreditation for business schools in the United States and Europe. Thunderbird Int Bus Rev 47(6):651–669

Shackleton J (2003) Opening up trade in higher education. World Econ 4(4):55–77

Stensaker B, Harvey L (2006) Old wine in new bottles? A comparison of public and private accreditation schemes in higher education. High Educ Policy 19(1):65–85

Sursock A (2001) Towards accreditation schemes for higher education in Europe? Final project report. CRE Project, Lisbon/Oeiras

Teerlak A, King AA (2006) The effect of certification with the ISO 9000 quality management standard: a signaling approach. J Econ Behav Organ 60(4):579–602

Trapnell JE (2007) AACSB international accreditation: the value proposition and a look to the future. J Manag Dev 24(1):67–72

Tullis KJ, Camey JP (2007) Strategic implications of specialized business school education: end of the line for some business education programs? J Educ Bus 83(1):45–51

Urgel J (2007) EQUIS accreditation: value and benefits for international business schools. J Manag Dev 26(1):73–83

Vroeijenstijn T (2003) Similarities and differences in accreditation: Looking for a common framework. The Hague

Westerheijden DF (2002) Quality assurance in complex higher education systems: a transatlantic comparison. Sacramento

Williams G (1993) Total quality management in higher education: panacea or placebo? High Educ 25(3):229–237

Wilson DA (2007) Tomorrow, tomorrow and tomorrow: the "Silent" pillar. J Manag Dev 26(1):84–86
About this article
Cite this article
Helmig, B., Bürgisser, S., Lichtsteiner, H. et al. On the relevance of accreditations of executive MBA programs—the perception of the customers. Int Rev Public Nonprofit Mark 7, 37–55 (2010). https://doi.org/10.1007/s12208-009-0044-7
Received:

Accepted:

Published:

Issue Date:
Keywords
Accreditation

EMBA programs

Higher education

Multinomial logistic regression

Student perceptions