Abstract
The threat of terrorism is a worldwide concern, often discussed in the context of our constantly changing world with new complex threats, risks and crises. This article focuses on terrorist attacks targeting rail bound traffic because of its extreme vulnerability for terrorist attacks. The article provides an empirical overview of the frequency and characteristics of attacks on rail bound traffic. At least in recent years, attacks have been a growing phenomenon. The results are interpreted through the lens of a contemporary terrorism paradigm which revolves around in which way which terrorist organizations organize their activity and if there is an increased religiously motivated terrorism and a presumed shift towards more indiscriminate killing through the use of new tactics and weapons. This article identifies the 20 biggest large-scale attacks on rail bound traffic, and they do resemble contemporary terrorism.
Access options
Buy single article
Instant access to the full article PDF.
US$ 39.95
Tax calculation will be finalised during checkout.
Subscribe to journal
Immediate online access to all issues from 2019. Subscription will auto renew annually.
US$ 79
Tax calculation will be finalised during checkout.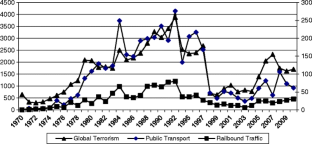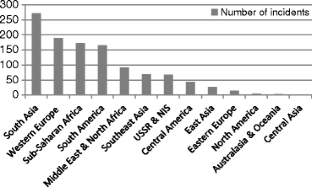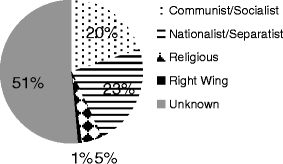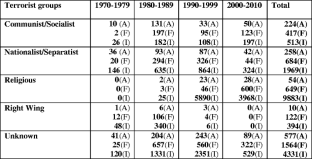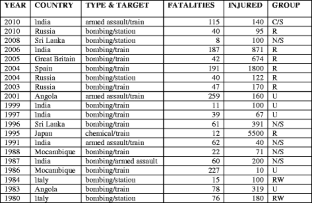 Notes
1.

The original data for 1993 has been lost, so the dataset does not include data for that year.

2.

GTD identifies three criteria that must be fulfilled for an event to be included in the database: 1) The act must be aimed at attaining a political, economic, religious, or social goal. 2) There must be evidence of an intention to coerce, intimidate, or convey some other message to a larger audience than the immediate victims. 3) The action must be outside the context of legitimate warfare activities. More detailed information can be found in the GTD codebook, accessible at http://www.start.umd.edu/gtd/downloads/Codebook.pdf.

3.

It should be noted that several attacks could be seen as aimed at multiple targets. For example, bombs are often placed on tracks with the aim of damaging a passing train. Each incident has been categorized based on its primary target. An explosion on the tracks while a train was passing is classified as a passenger train target. In addition, in cases in which the specific target is uncertain, data has been coded as targeting "train," thereby increases the percentage of incidents in that category.
References
Banks W (2009) Smart counterterrorism. Criminol Pub Pol 8(3):593–599

Ceballos JPG et al (2005) Casualties treated at the closest hospital in the Madrid, March 11, terrorist bombings. Crit Care Med 33(1):107–112

Chalk P (2005) Trends in terrorism—threats to the united states and the future of the terrorism risk insurance Act. RAND Cooperation, Pittsburgh

Crenshaw M (1987) Theories of terrorism: Instrumental and organizational approaches. J Strateg Stud 10(4):13–31

Cronin AK (2002/2003) Behind the curve globalization and international terrorism. Int Secur 27(3):30–58

Duyvesteyn I (2004) How new is the New terrorism. Stud Confl Terror 27(5):439–454

Enders W, Sandler T (2000) Is transnational terrorism becoming more threatening? A time-series investigation. J Confl Resolut 44(3):307–332

Enders W, Sandler T (2002) Patterns of transnational terrorism, 1970–1999: Alternative time-series estimates. Int Stud Q 46(2):145–165

Enders W, Sandler T (2005) After 9/11: Is it all different now? J Confl Resolut 49(2):259–277

Frykberg E (2002) Medical management of disasters and mass casualties from terrorist bombings: How can we cope? J Traum 53(2):201–212

Hoffman B, McCormick G (2004) Terrorism, signaling, and suicide attack. Stud Confl Terror 27(4):243–281

Hoffman B (2006) Inside terrorism. St. Andrew's University Press, London

International Union of Railways (2011), UIC world rail statistics Press Release No 18/2011.

Jenkins BM (1977) The potential for nuclear terrorism. RAND Cooperation, St Monica

Jenkins BM (2001) Protecting public surface transportation against terrorism and serious crime: An executive overview. the Mineta Transportation Institute, San Jose, MTI Report 01–14

Koblentz G (2011) Predicting peril or the peril of prediction? Assessing the risk of CBRN terrorism. Terror Pol Viol 23(4):501–520

Kurtulus E (2011) The new terrorism and its critics. Stud Conf Terror 34(6):476–500

LaFree G, Dugan L (2007) Introducing the global terrorism database. Terror Pol Viol 19(2):181–204

LaFree G et al. (2010) Trends in global terrorism. In: Wilkenfeld, Huth, Hewitt (eds) Peace and Conflict Report 2010, University of Maryland.

Laqueur W (2003) No end to war—terrorism in twenty—first century. Continuum, London

Lockey DJ et al (2005) London bombings July 2005: The immediate pre—hospital medical response. Resuscitation 66(2):ix–xii

National Counterterrorism Center (2010) 2009 Report on terrorism. Office of the Director of National Intelligence, Washington

Okumura T (1998) The Tokyo subway Sarin attack disaster: management, Part 1: Community emergency response. Acad Emerg Med 5(6):613–617

Pape R (2003) The strategic logic of suicide terrorism. Amer Pol Sci Rev 97(3):343–361

Plant J (2004) Terrorism and the railroads: Redefining security in the wake of 9/11. Rev Pol Res 21(3):293–305

Rapoport D (2004) The four waves of modern terrorism. In: Cronin &Ludes (eds) Attacking Terrorism—Elements of a Grand Strategy, Georgetown University Press.

Spencer A (2006) Questioning the concept of new terrorism, peace conflict & development, Issue 8

START Background Report: 9/11, Ten Years Later (2011), National Consortium for the Study of Terrorism and Responses to Terrorism.

Taleb NN (2007) The black swan. The impact of the highly improbable. Penguin, London

Tucker D (2001) What's new about the new terrorism and how dangerous is it. Terror Pol Viol 13:1–14

Weiman G (2004) How modern terrorism uses the internet. Spec Rep Unit Stat Inst Peace 31(116):1–12

Wilson J (2007) Securing america's passenger-rail systems. RAND Cooperation, Pittsburgh
Acknowledgments
Financial support for this work was received from the Section of Disaster Medicine, The National Board of Health and Welfare, Stockholm and the Department of Political Science, Umeå University, Umeå.
About this article
Cite this article
Strandberg, V. Rail bound traffic—a prime target for contemporary terrorist attacks?. J Transp Secur 6, 271–286 (2013). https://doi.org/10.1007/s12198-013-0116-0
Received:

Accepted:

Published:

Issue Date:
Keywords
Rail bound traffic

Terrorism

Mass-casualty attacks

Security